Grouping USAAF blouson A-2 peint « Lt. Robert L. Gilkey », 486th Bomb Group Heavy, 835th Bomb Squadron, 8th Air Force , ETO
Description
Painted and identified A-2 flight jacket grouping belonging to Lt. Robert L. Gilkey (AO - 713169) of the 486th Heavy Bomb Group / 835th Bomb Squadron « GREEN HORNETS ». This is the pinnacle of A-2 jacket groupings. The group consists of a patched and painted A-2 leather jacket that is named and fully identified with great history and provenance, two pieces of headgear and various paperwork with personal affects. The leather A-2 jacket is in excellent condition. Leather is perfect and free from dry rot, holes, rips, and tears. Original cuffs and knits with slight wear. The front of the jacket is patched with the hand sewn squadron patch of the « GREEN HORNETS » 835th Bombardment Squadron Heavy and on the right featuring a unique hand painted patch specifically for this crew « MAGICIAN » with the motto « LUX IN STIGIA ». Period applied officer bars on each shoulder. Jacket is manufactured by « POUGHKEEPSIE LEATHER COAT CO. INC » and sized « 42 ». Zipper is fully intact, functional, manufactured by « Talon » and has the unique period application of a British silver coin that has been soldered for easier access. The back of the jacket features the plane with its number « 453 » most likely the « RACK 'N' RUIN » under the command of Captain Jim Walker. 
http://www.486th.org/BS835/Walker.htm
The 486th Bomb Group flew both B-24s and B-17s, swapping from the former aircraft to the latter in late July 1944 after 49 missions. In total the Group flew 292 missions during the war and remarkably the 834th Bomb Squadron lost no aircraft or personnel on its first 100 missions. The Group bombed strategic sites in Germany and in northern France before D-Day, and after 6 June 1944, the Group undertook a greater number of missions in direct support of ground forces in France, Holland and on the Rhine. Walker and his crew completed a total of 44 missions. 
Link provided below from Captain Jim Walkers crew listing Lt Robert L. Gilkey as a « Mickey Operator ». Radar was invented by the British during WWII and the device was instrumental in the success of the 8th Army Air Force's bombing campaign. Often times targets were obscured by cloud cover which radar easily penetrated. The radar devices installed aboard the aircraft were known as « Mickey Sets », and were set up in the radio compartment. The gentlemen pictured below were trained to operate the « Mickey Sets » and were known as « Mickey Navigators ». The aircraft outfitted with radar were part of the Path Finder Force (PFF) and were often called « Mickey Ships ».
http://www.486th.org/Photos/Crew5/MO.htm
Service shirt and tie are in very good shape and both named to Gilkey. Bullion 8th Airforce patch included in the grouping. An early training booklet with Gilkey's name is also present.  Set of three dog tags with Gilkey's serial number and name are included in the group , boxed in cardboard shipping box. One excellent USAAF 50 missions crusher cap nicely named and identified to Gilkey with all the information marked on the interior of the sweatband. English manufactured cap by « THOMAS & STONE / LONDON ». Also included is a nice named summer crusher cap by « BANCROFT » also named to Gilkey. 
Inside the front pocket a love letter was found in an envelope dated 1943 from the girlfriend of Gilkey at the time. An emotional letter expressing her love to him and what would their future plans would be after/if the war when he returned safely back. This promise was kept. Gilkey married Betty after his return. The grouping was purchased from Betty before her entering a retirement home in California, USA. 
This is really a special opportunity to own the pinnacle of painted A-2 jacket groupings, the likes of which do not surface often on the open market.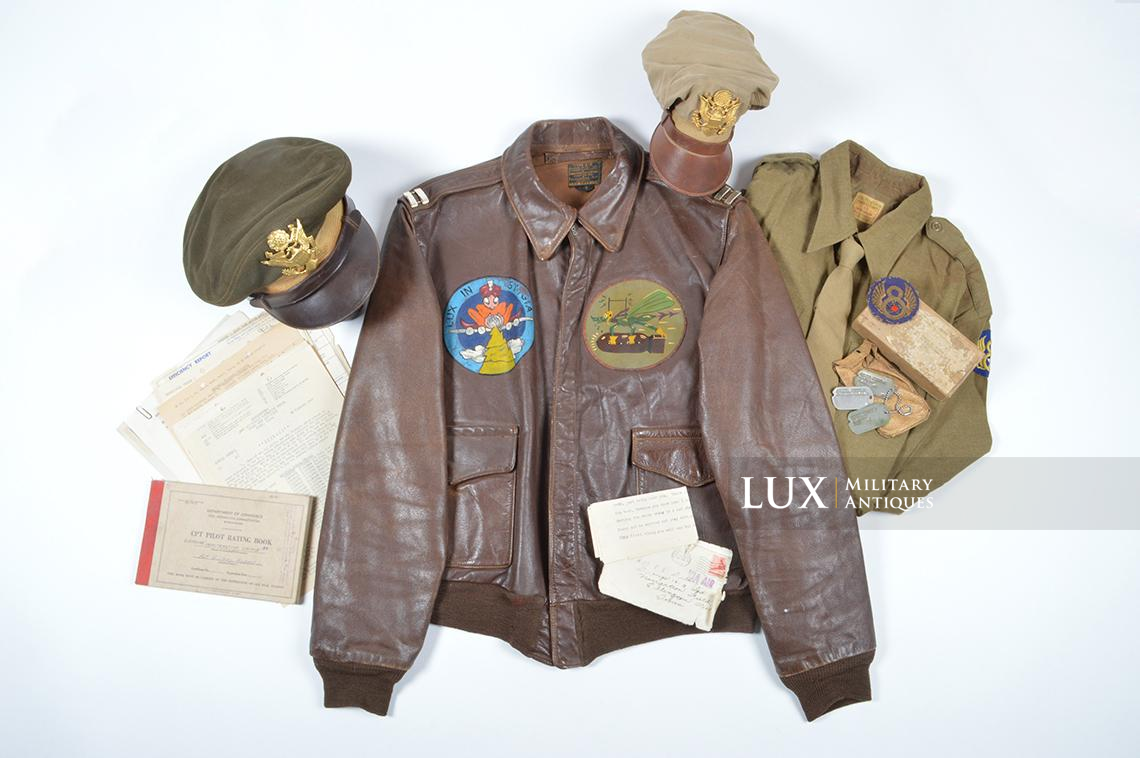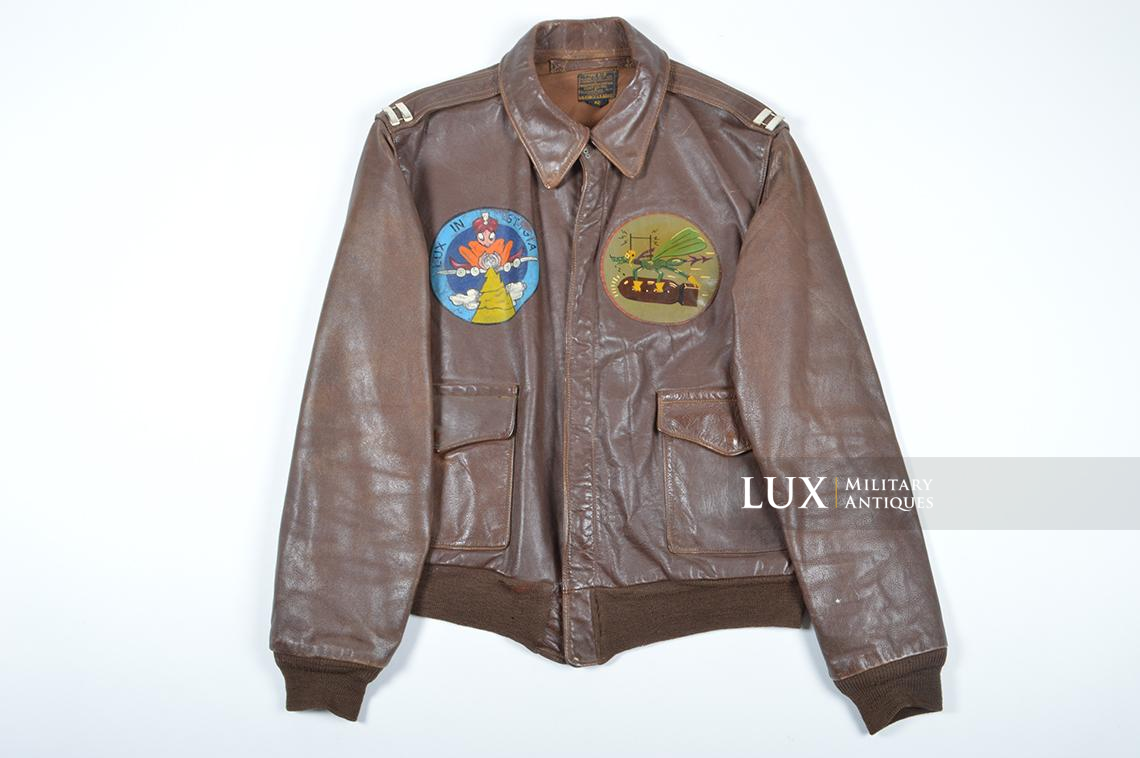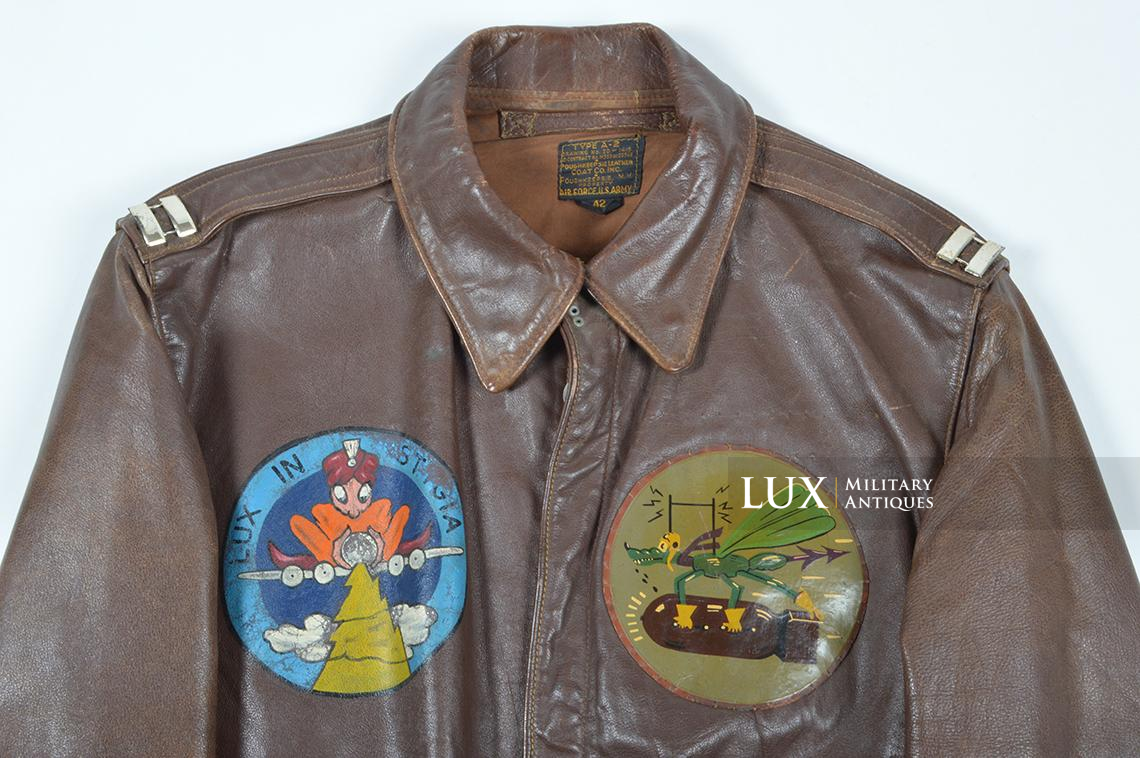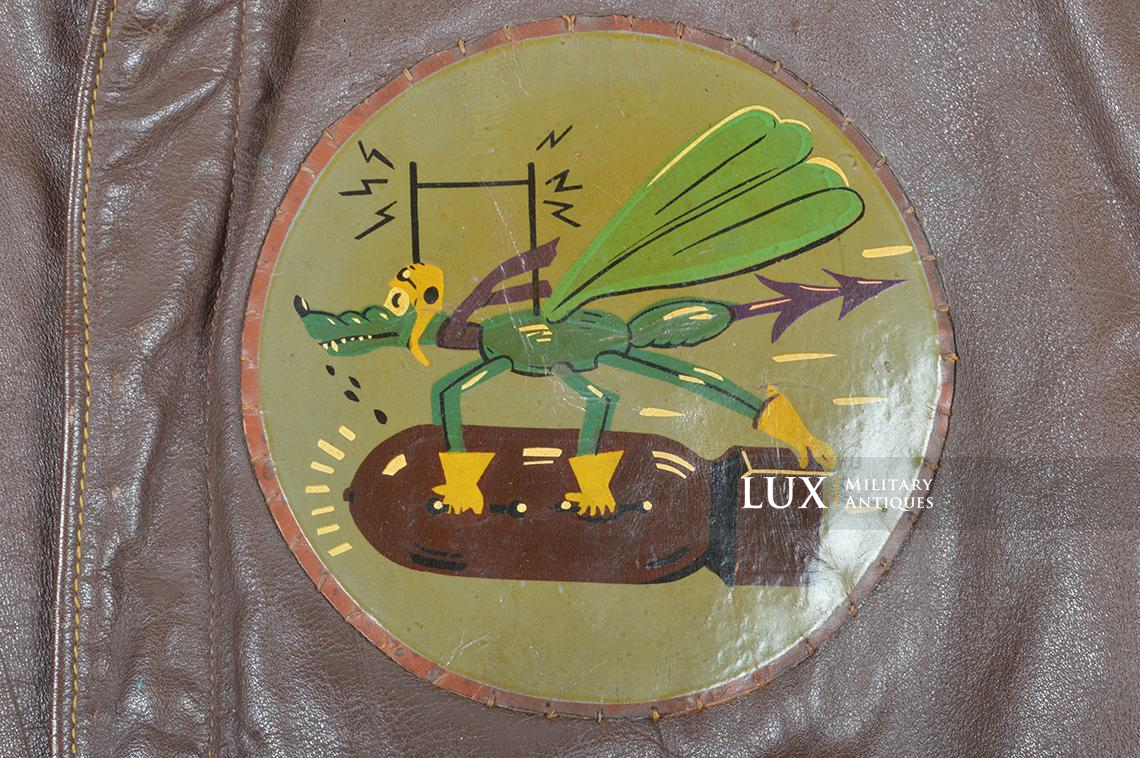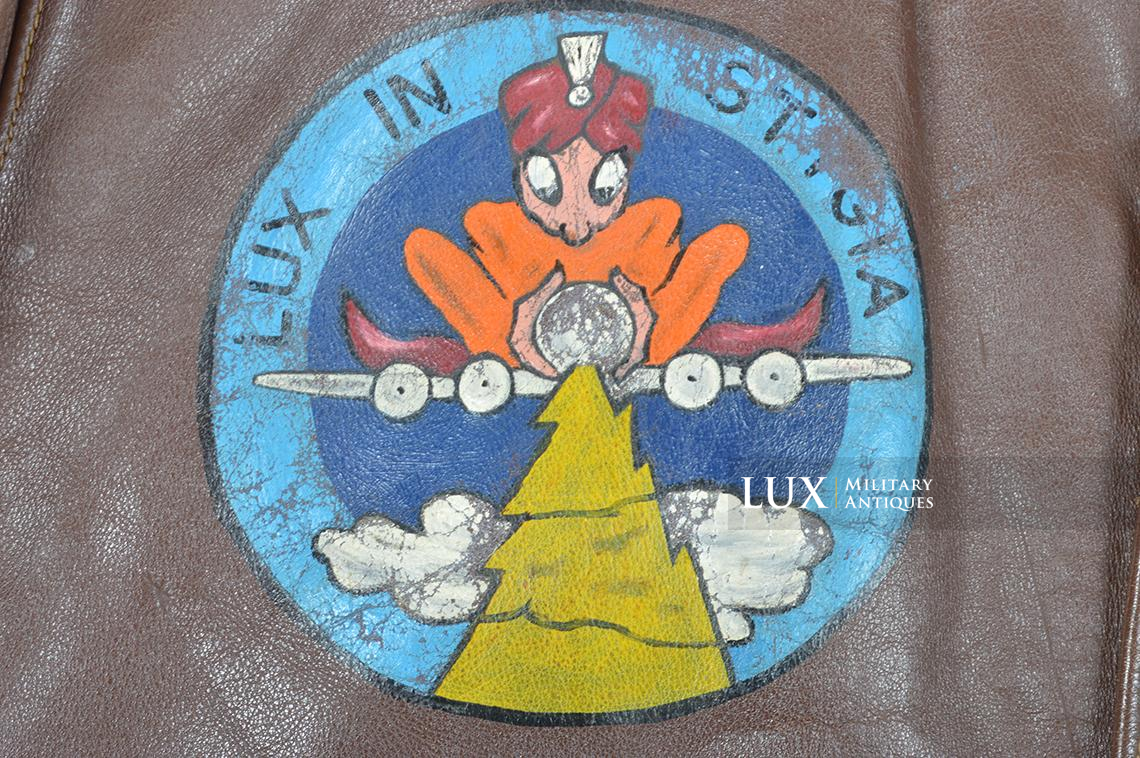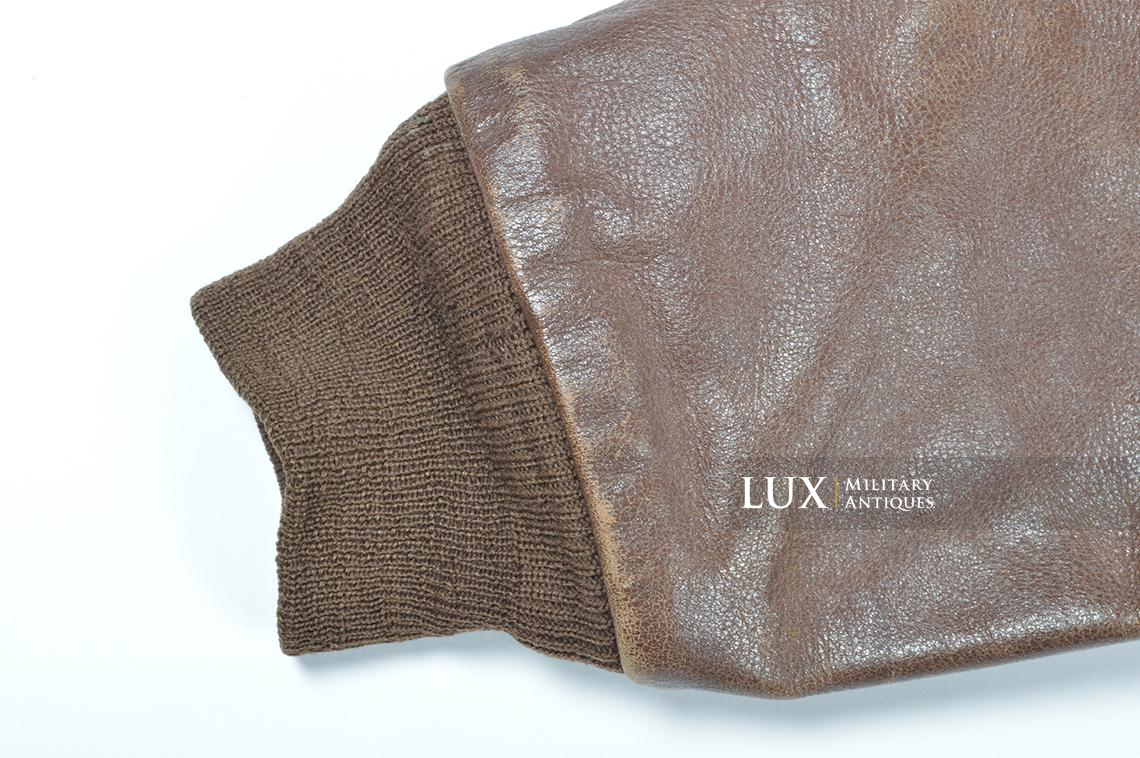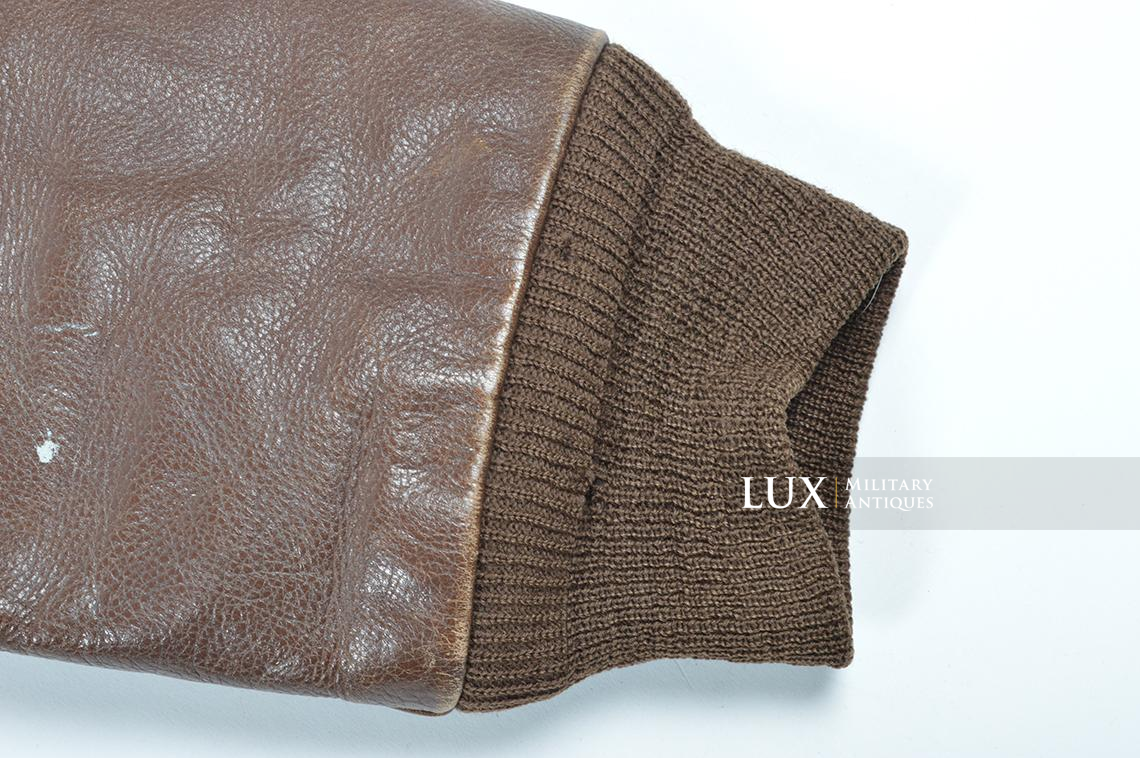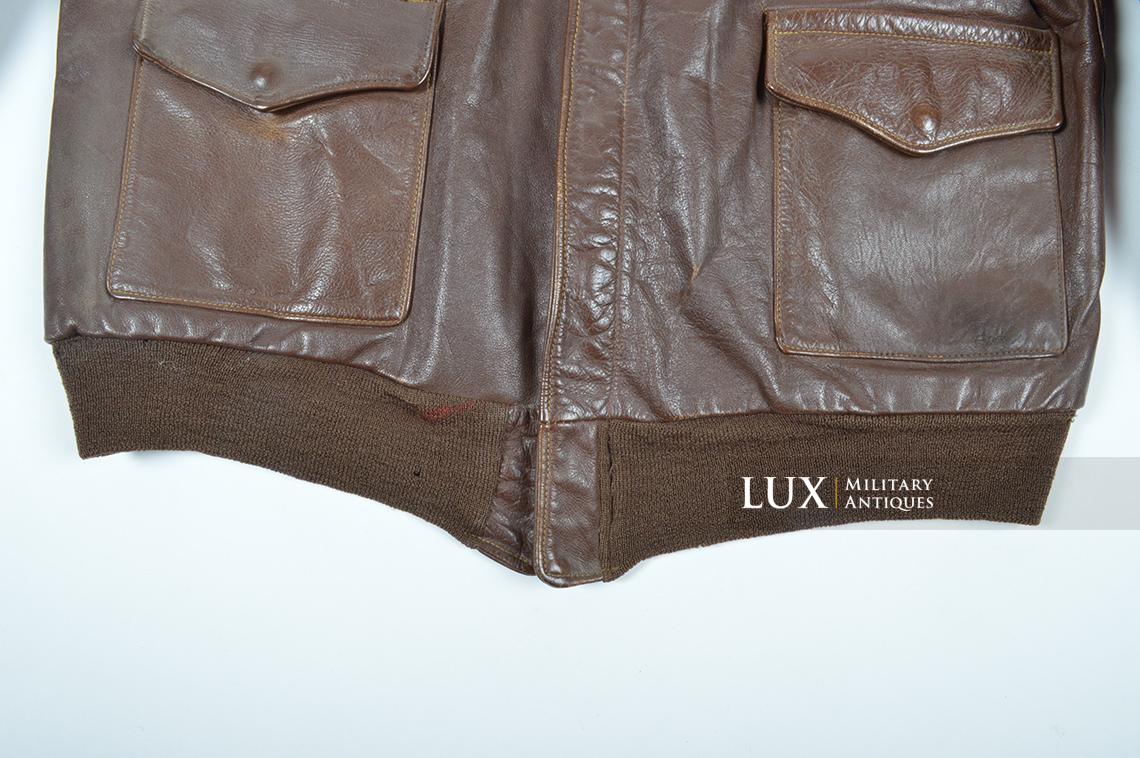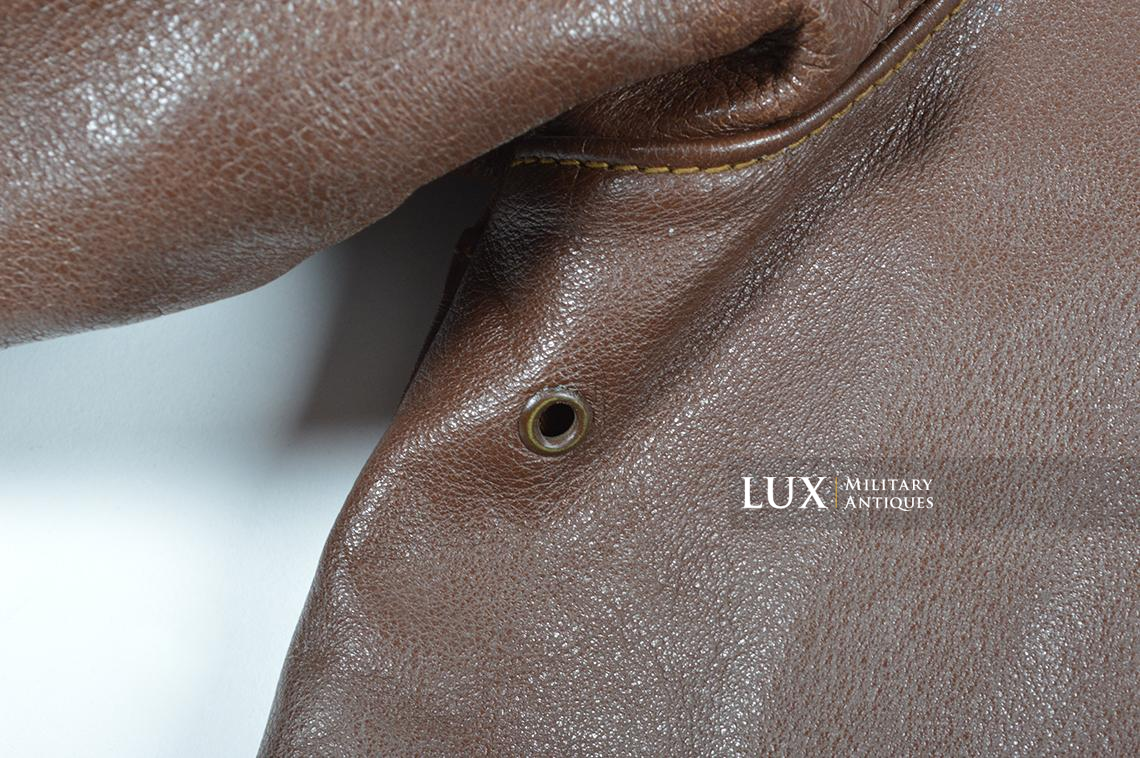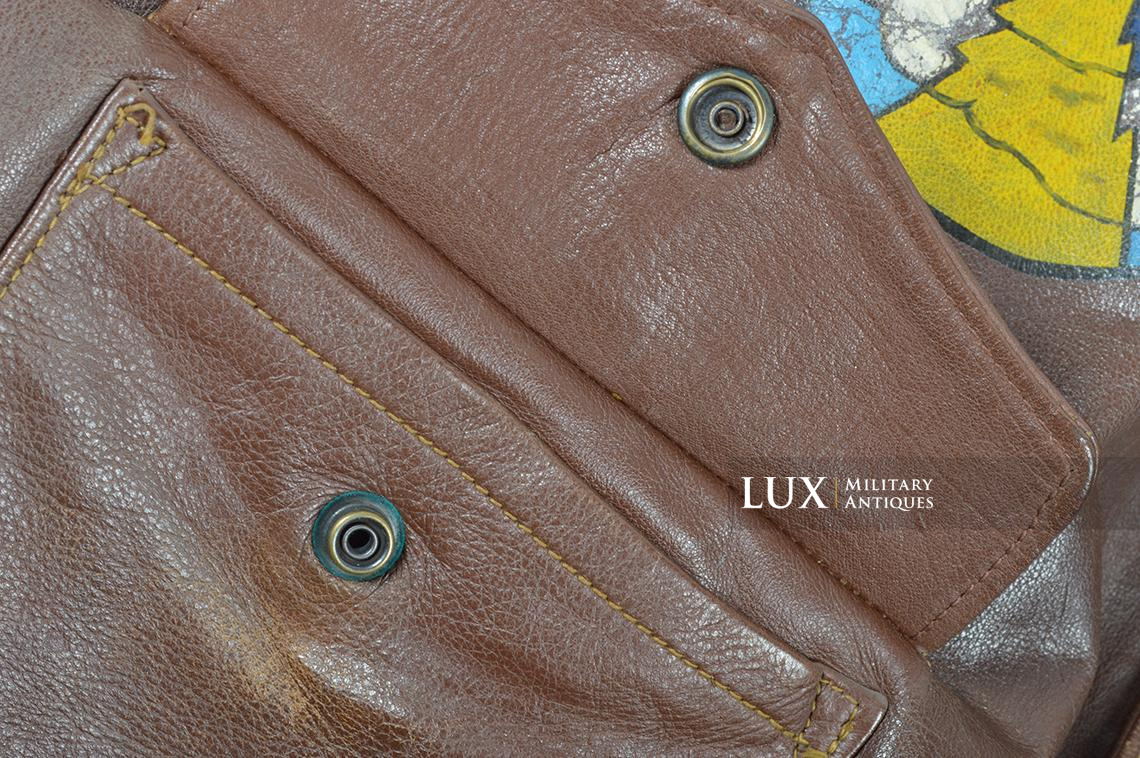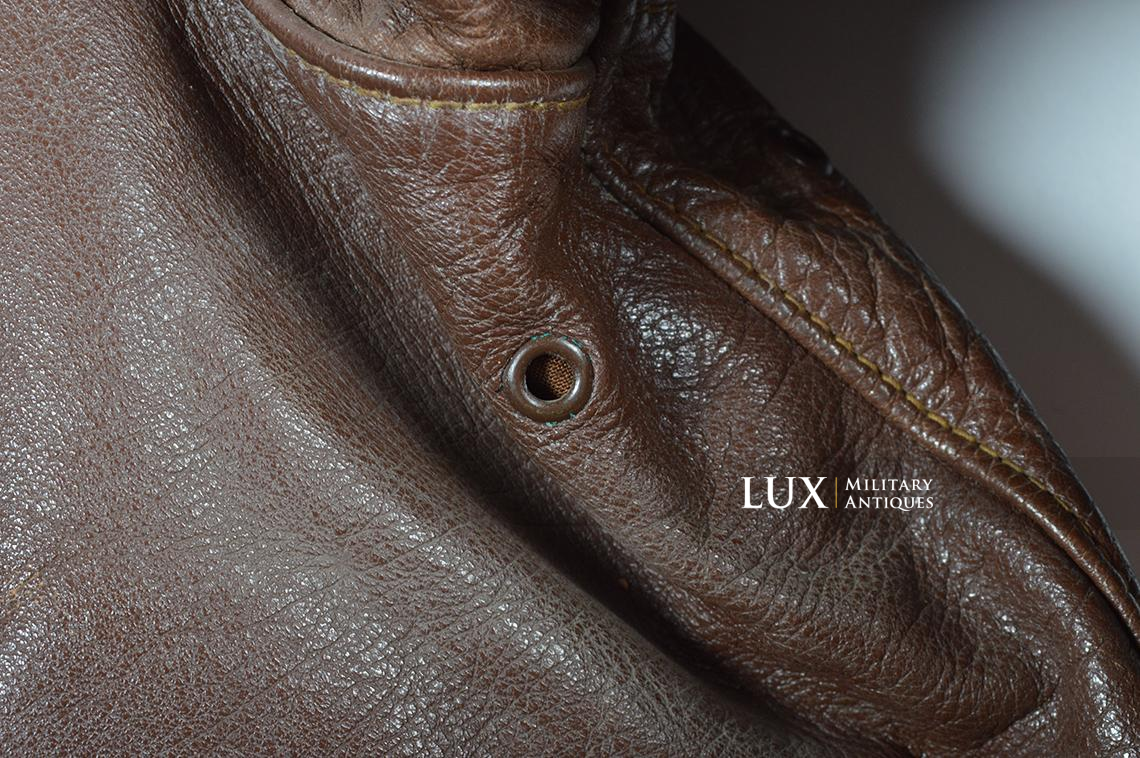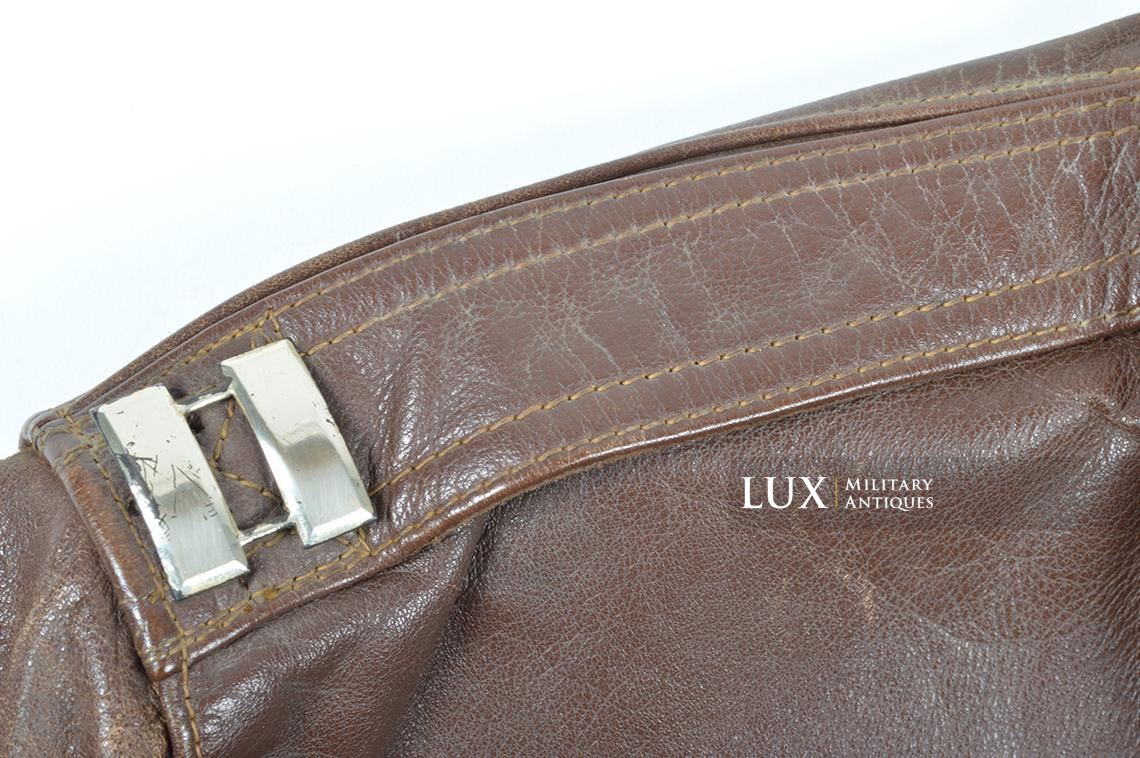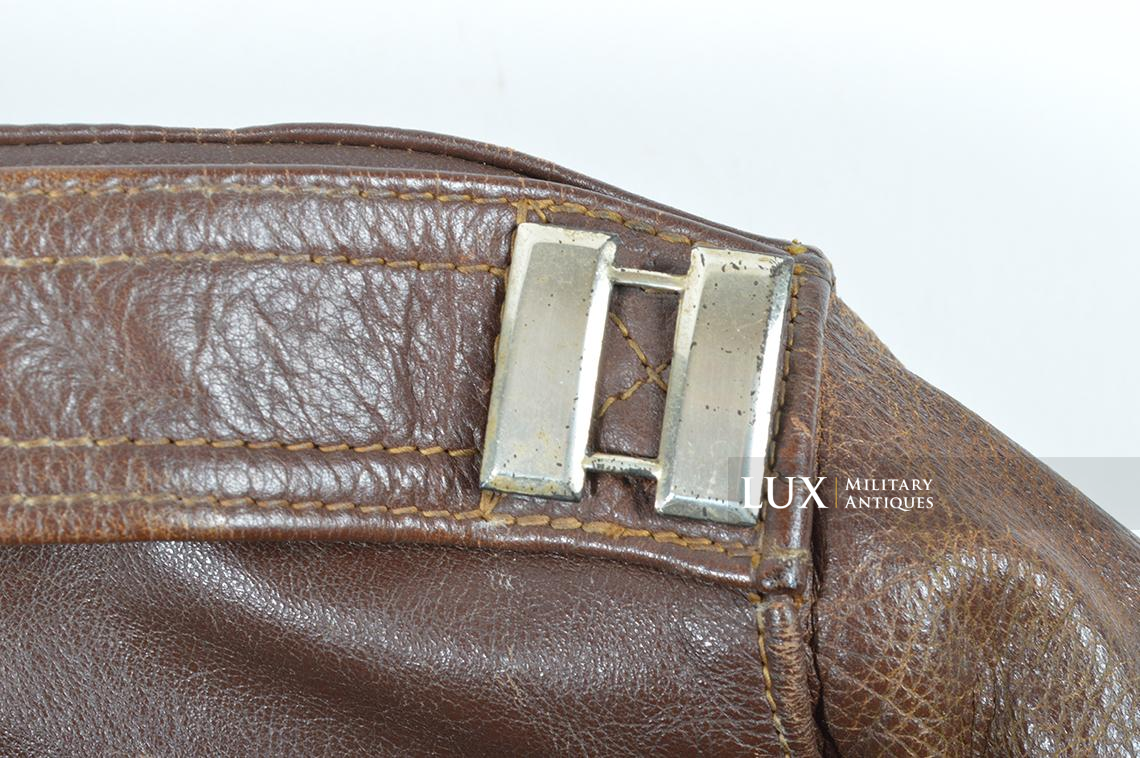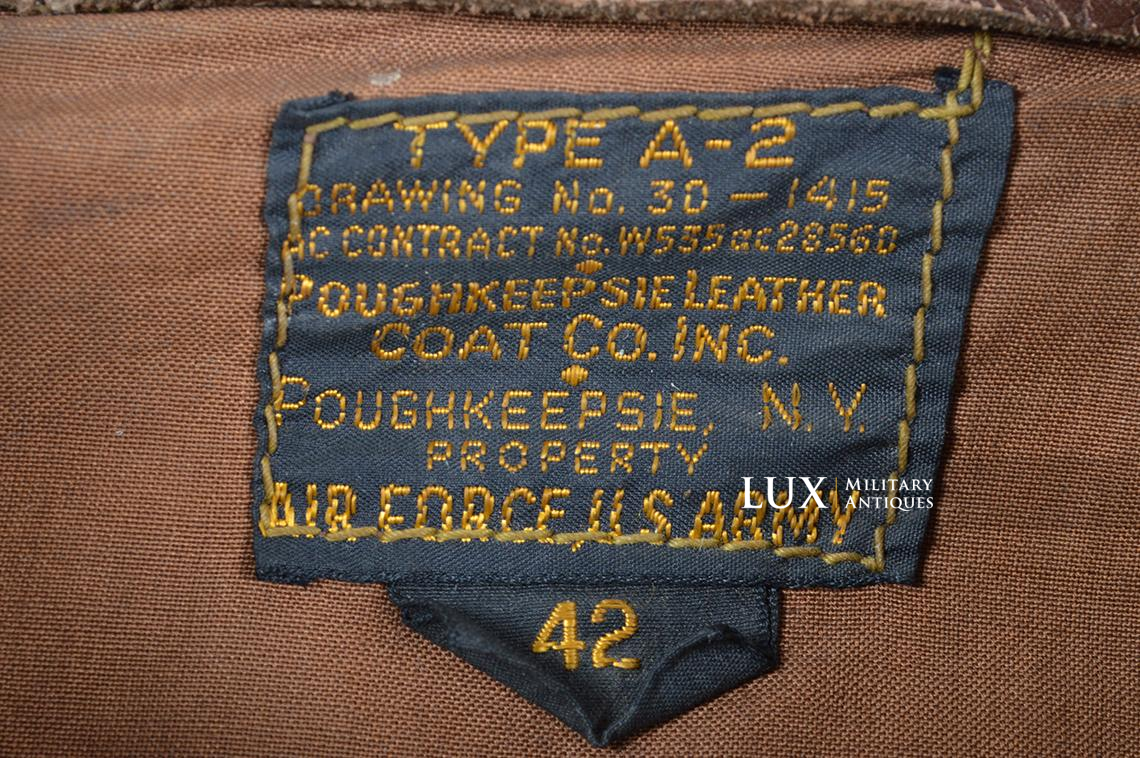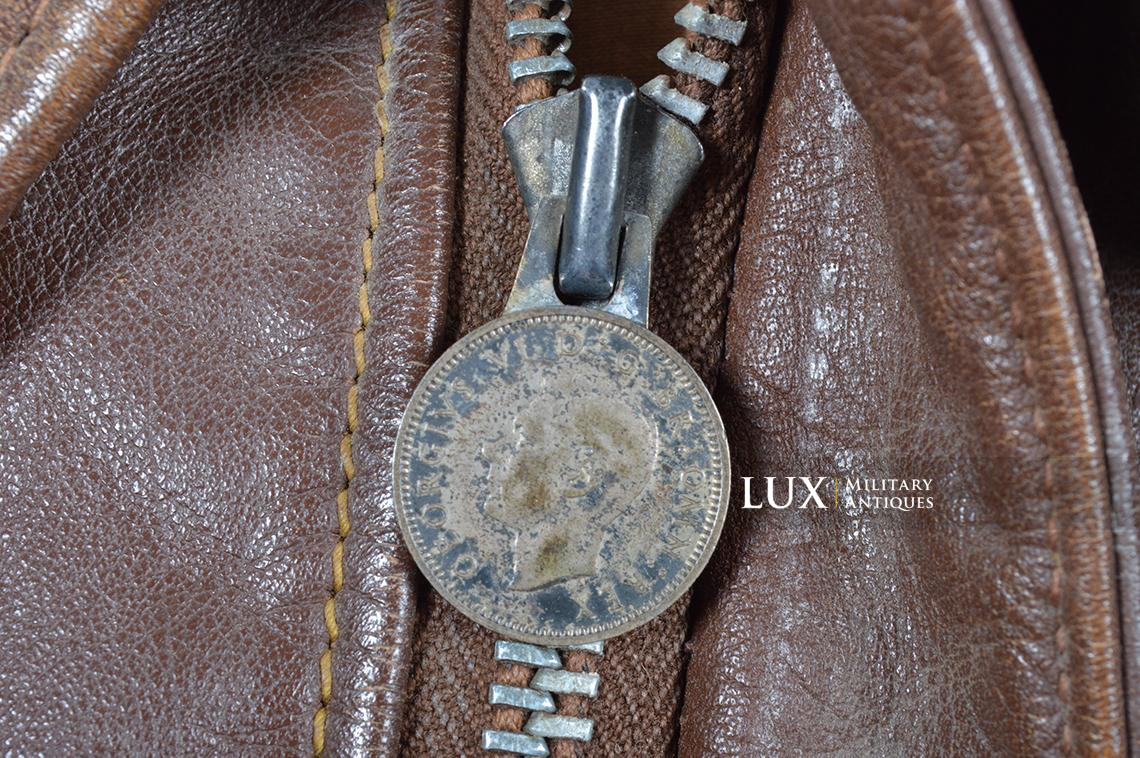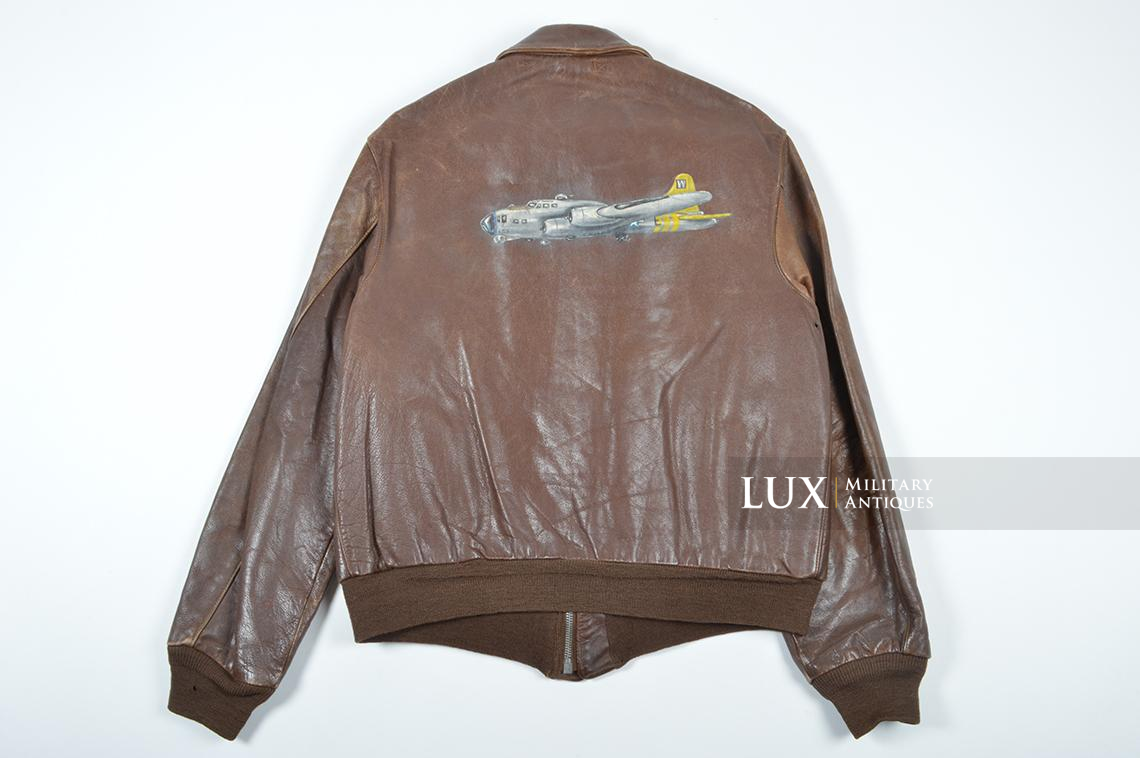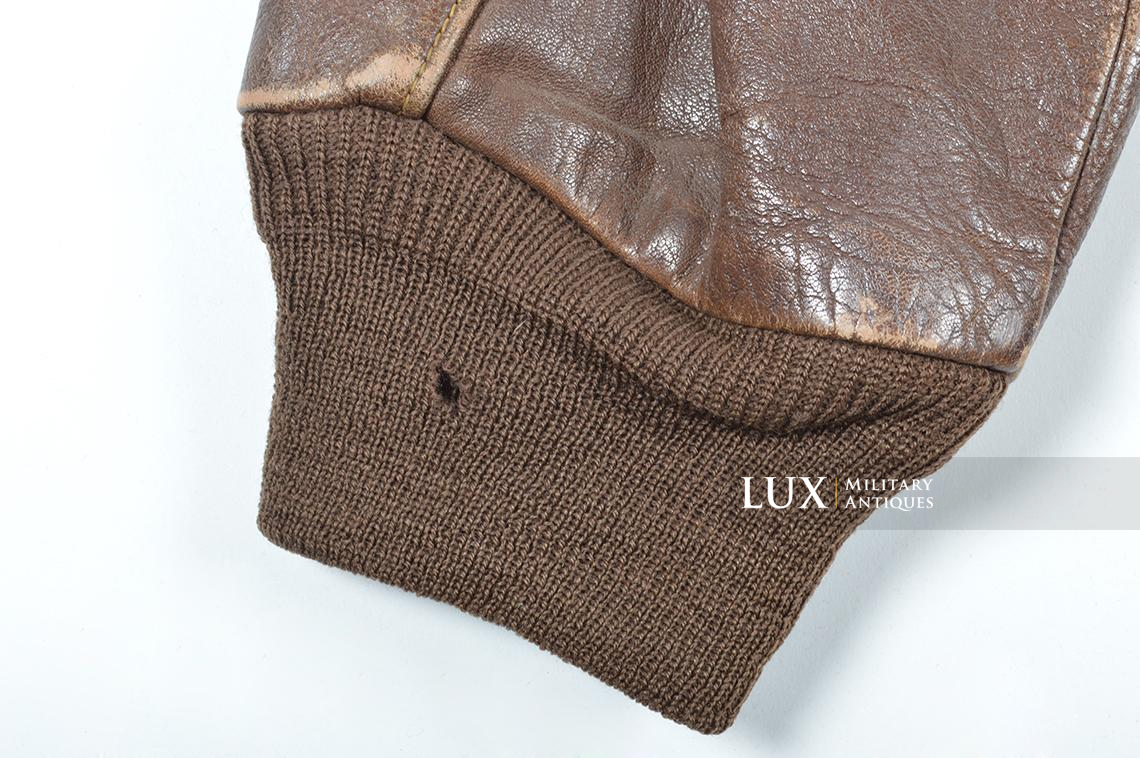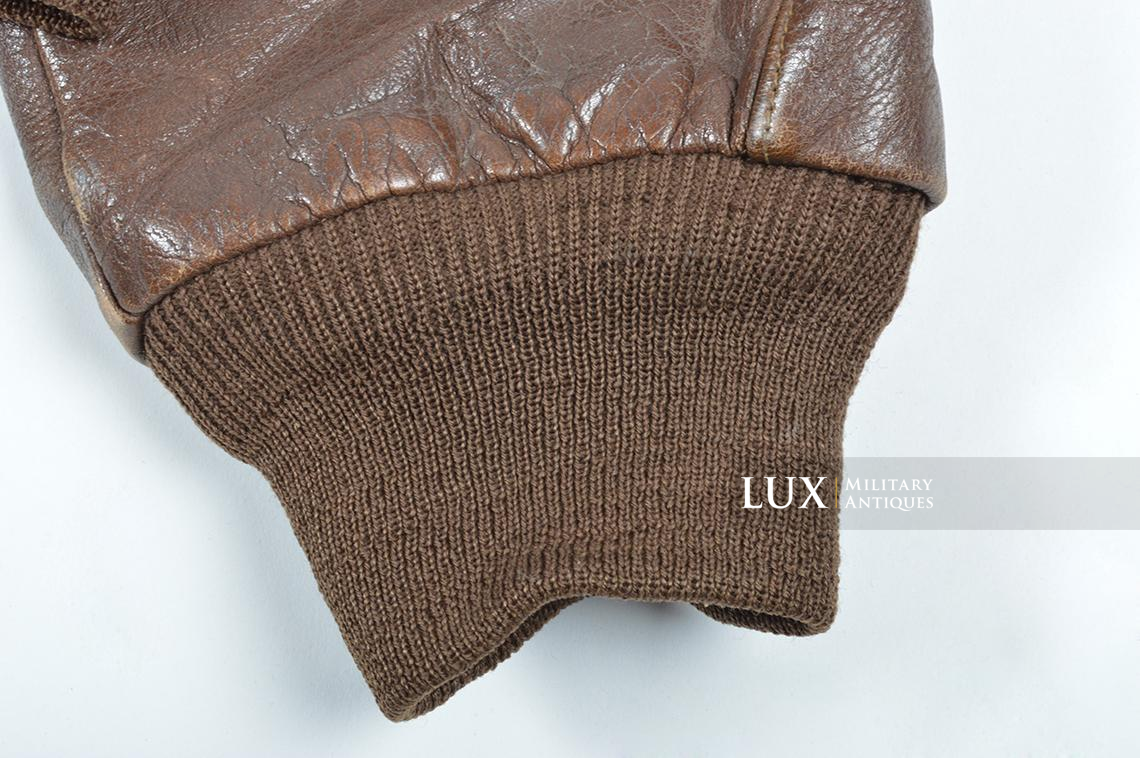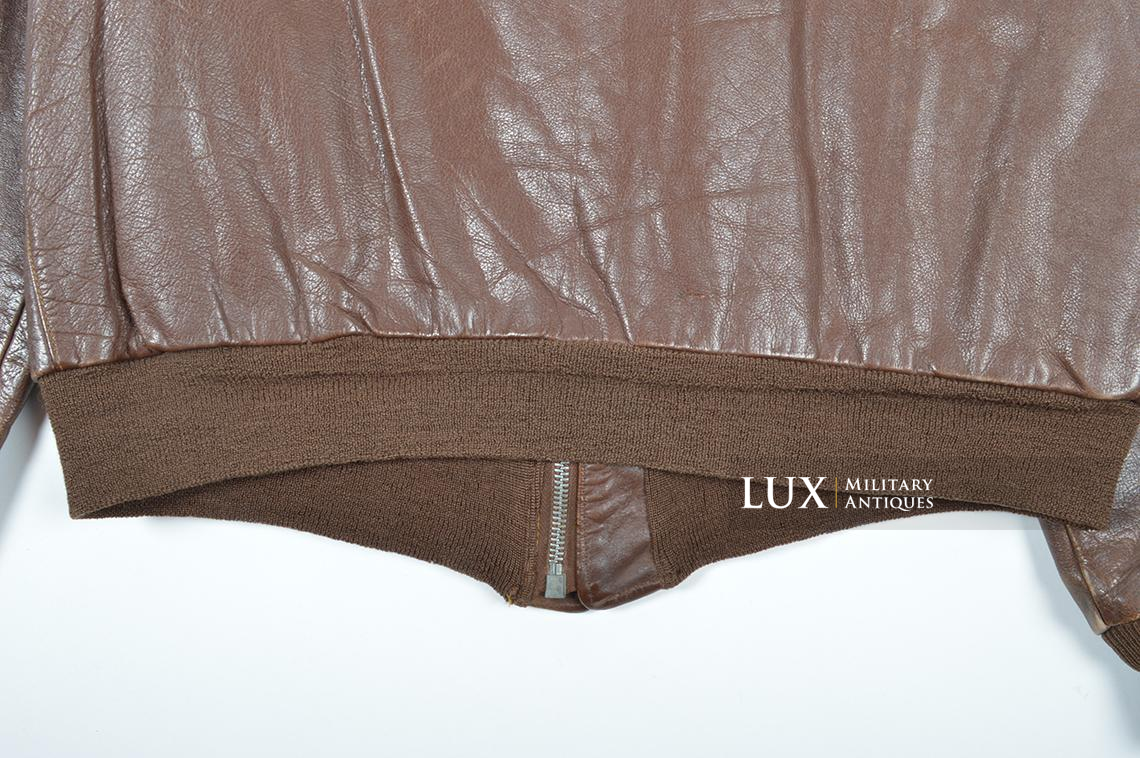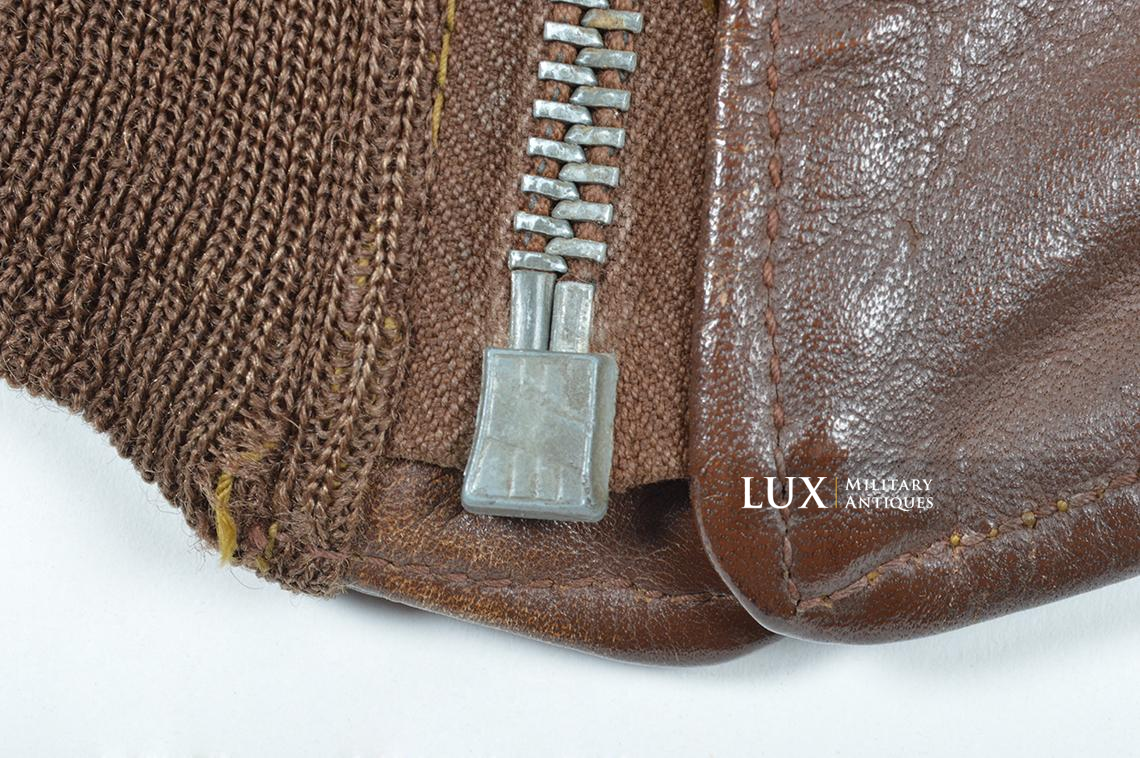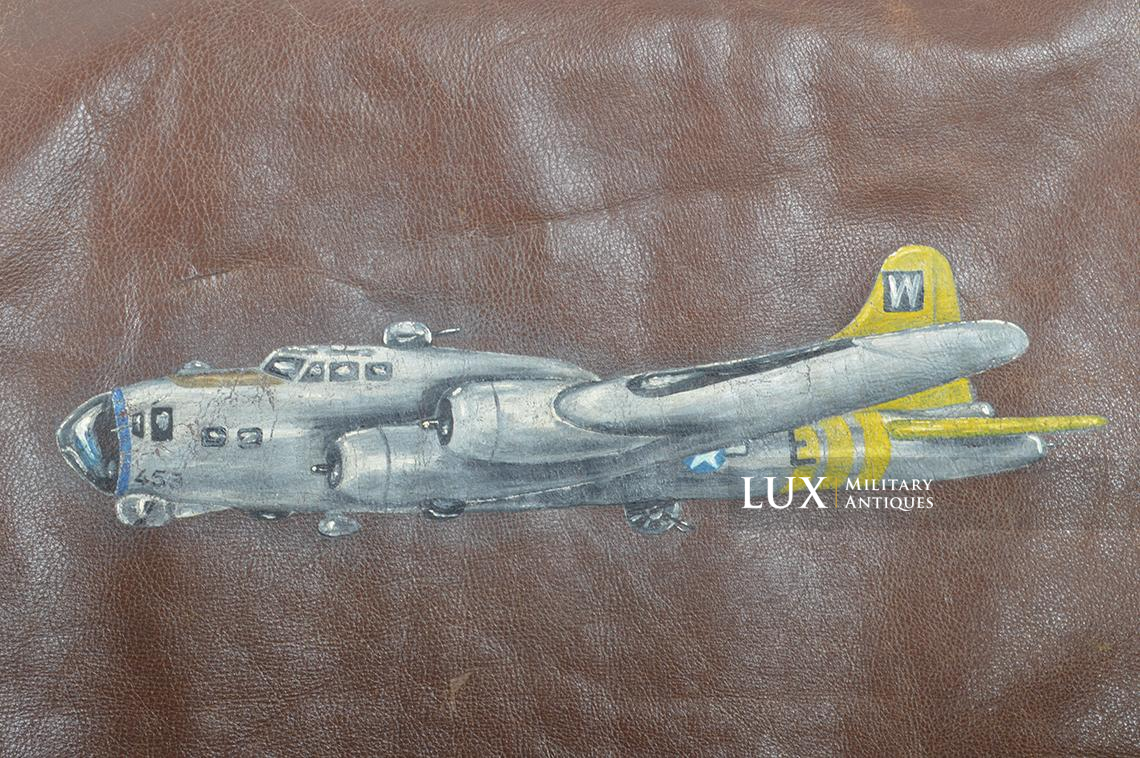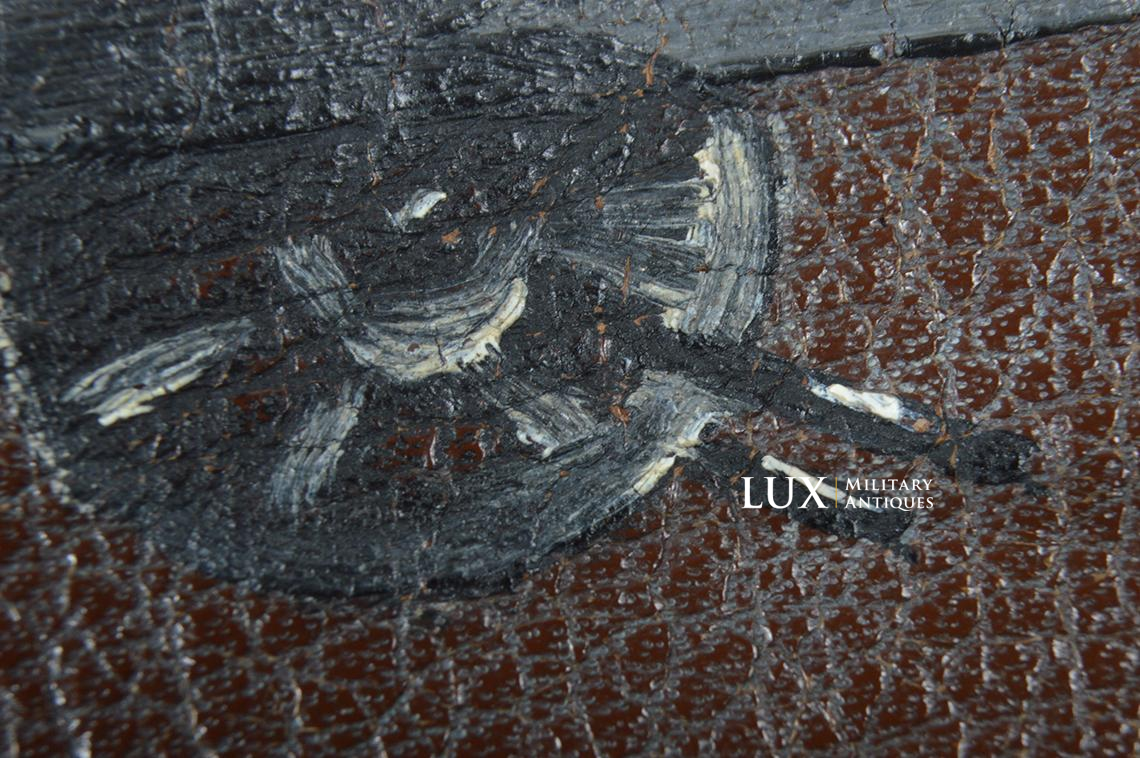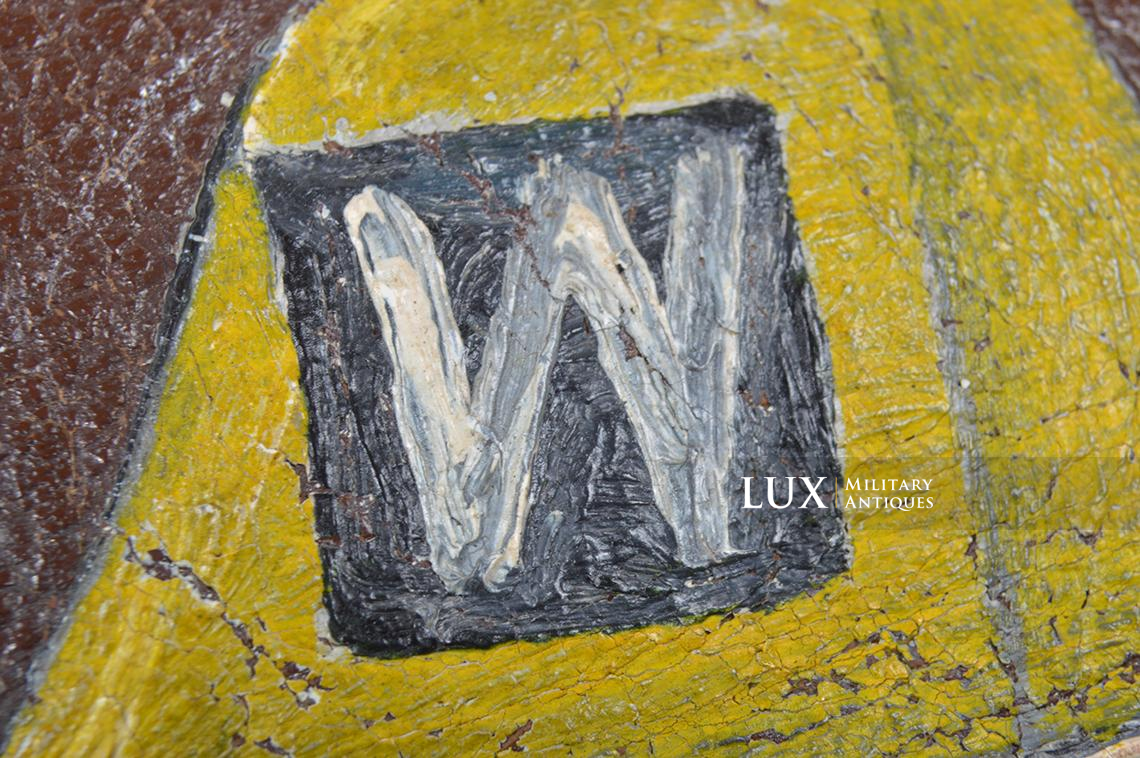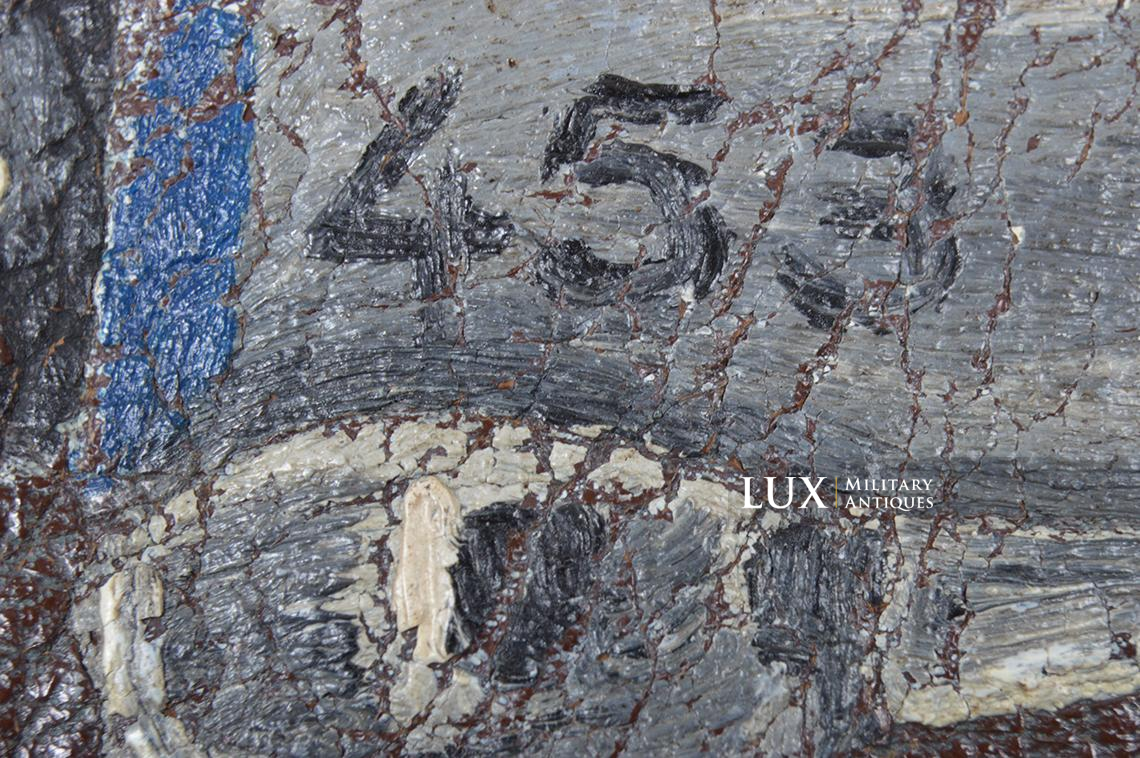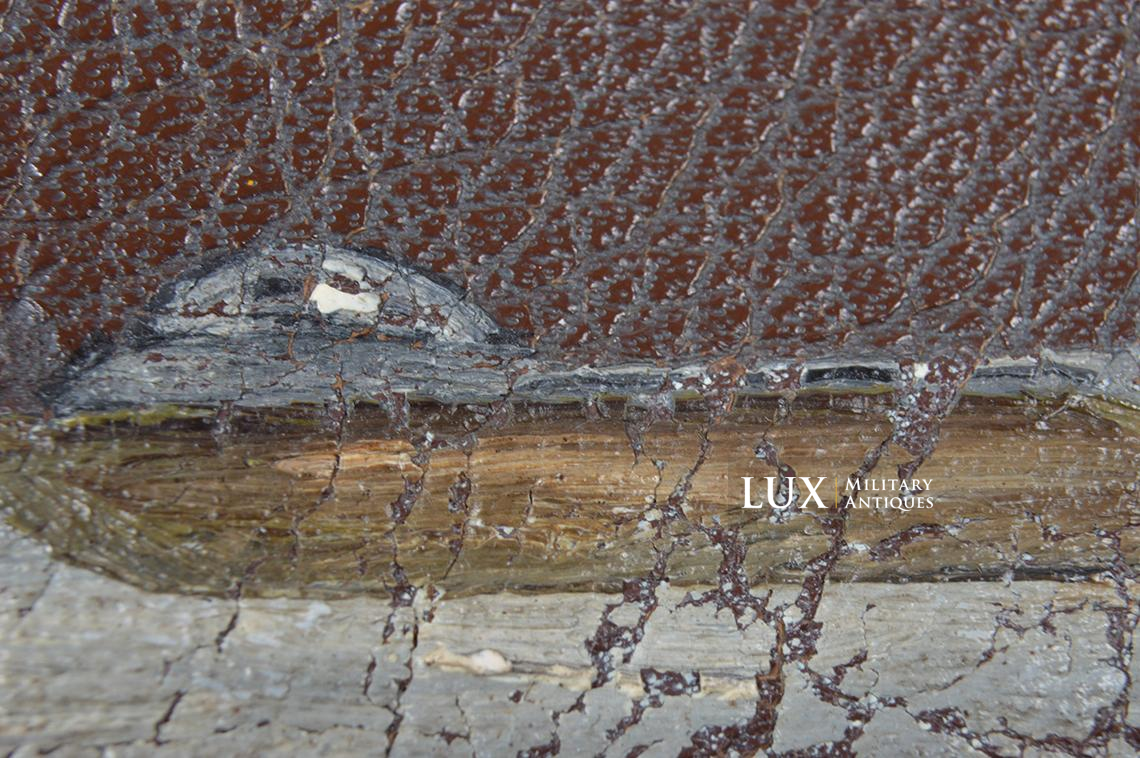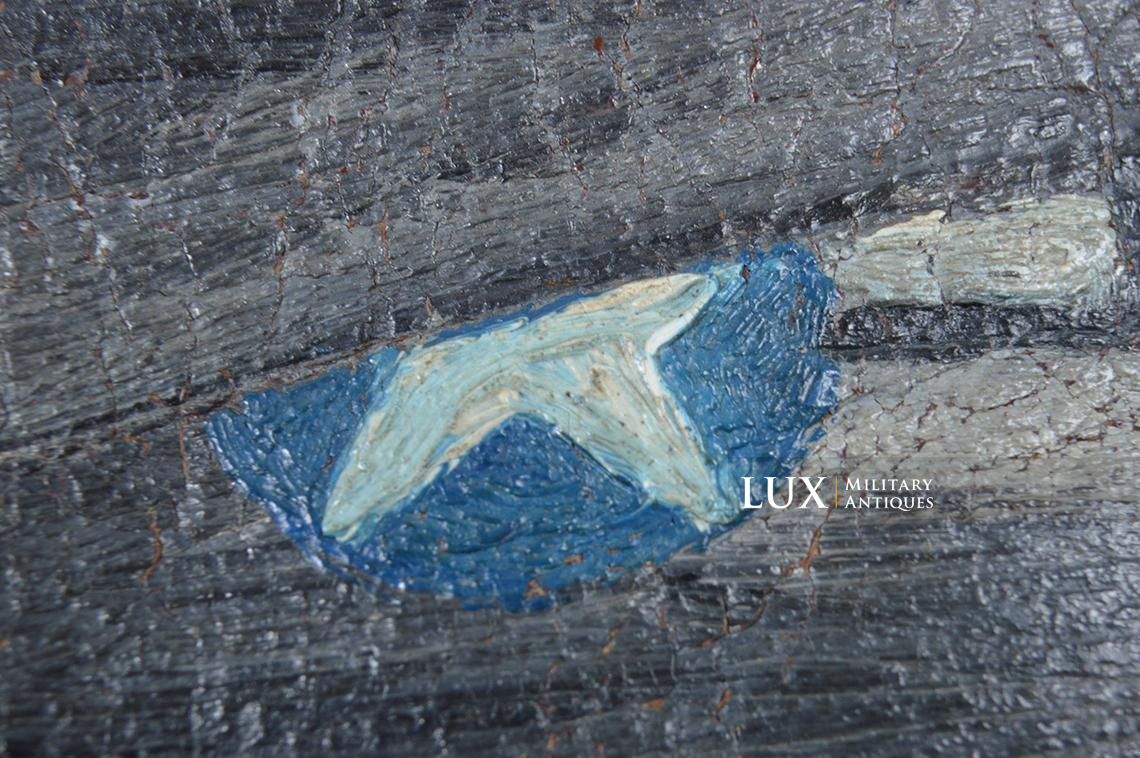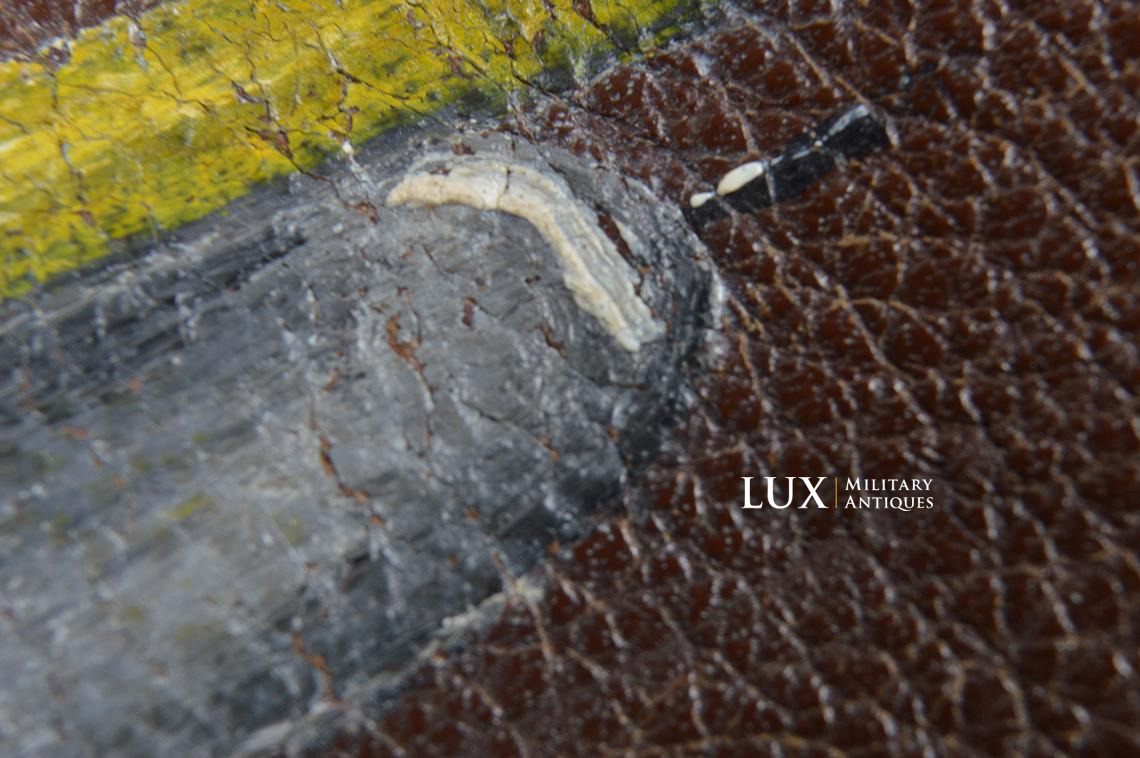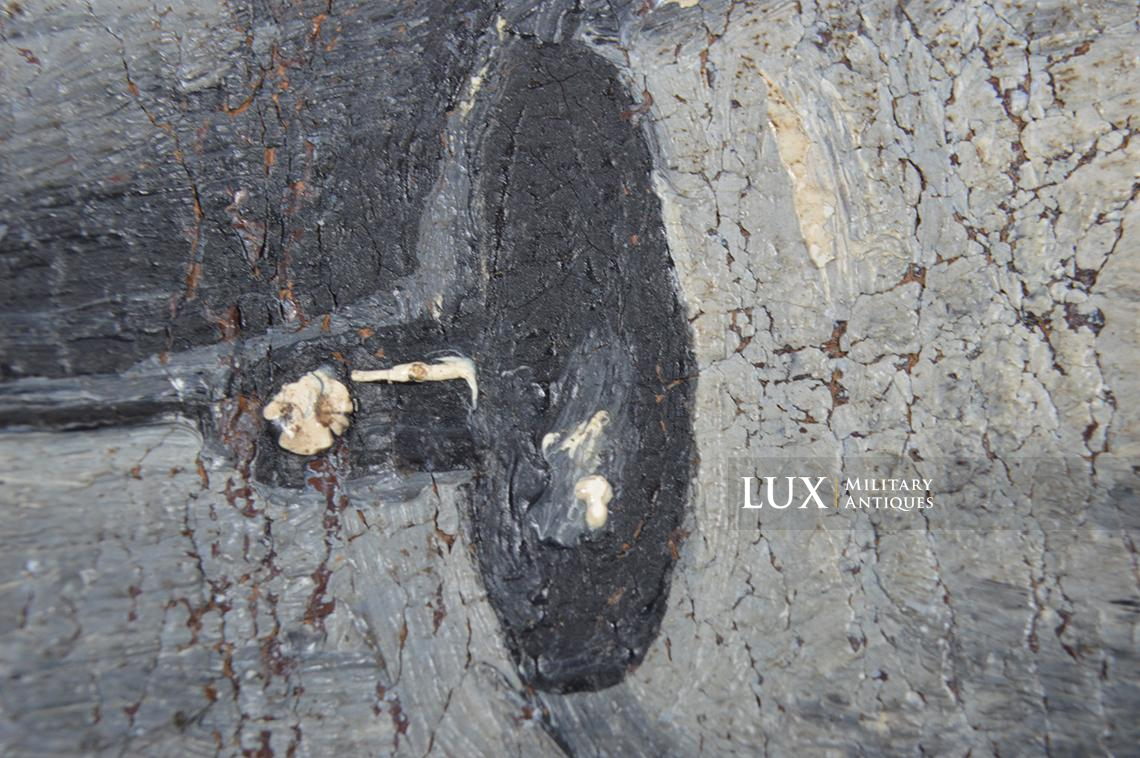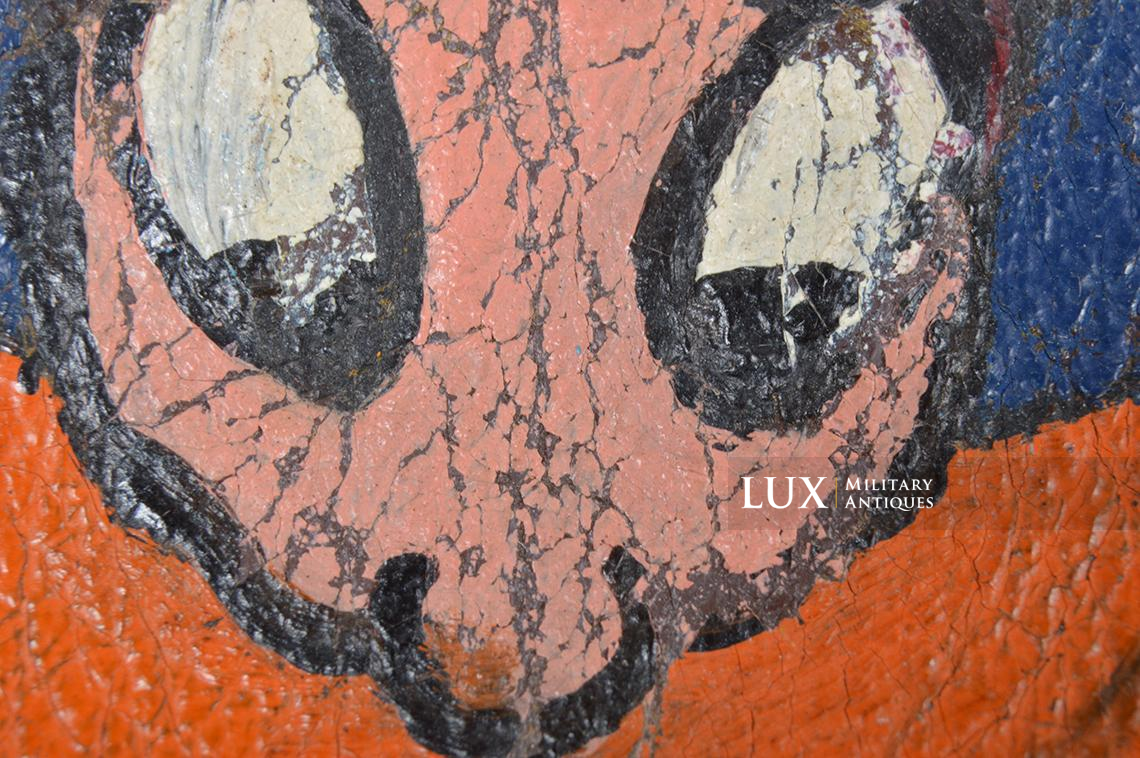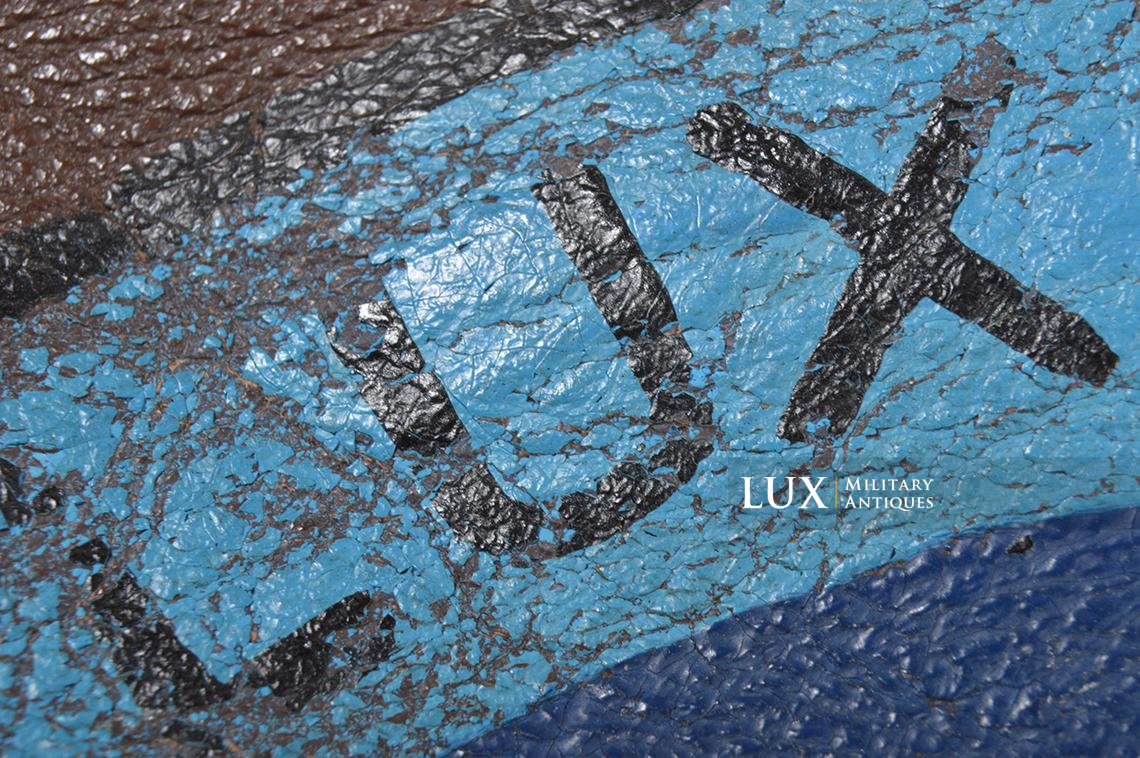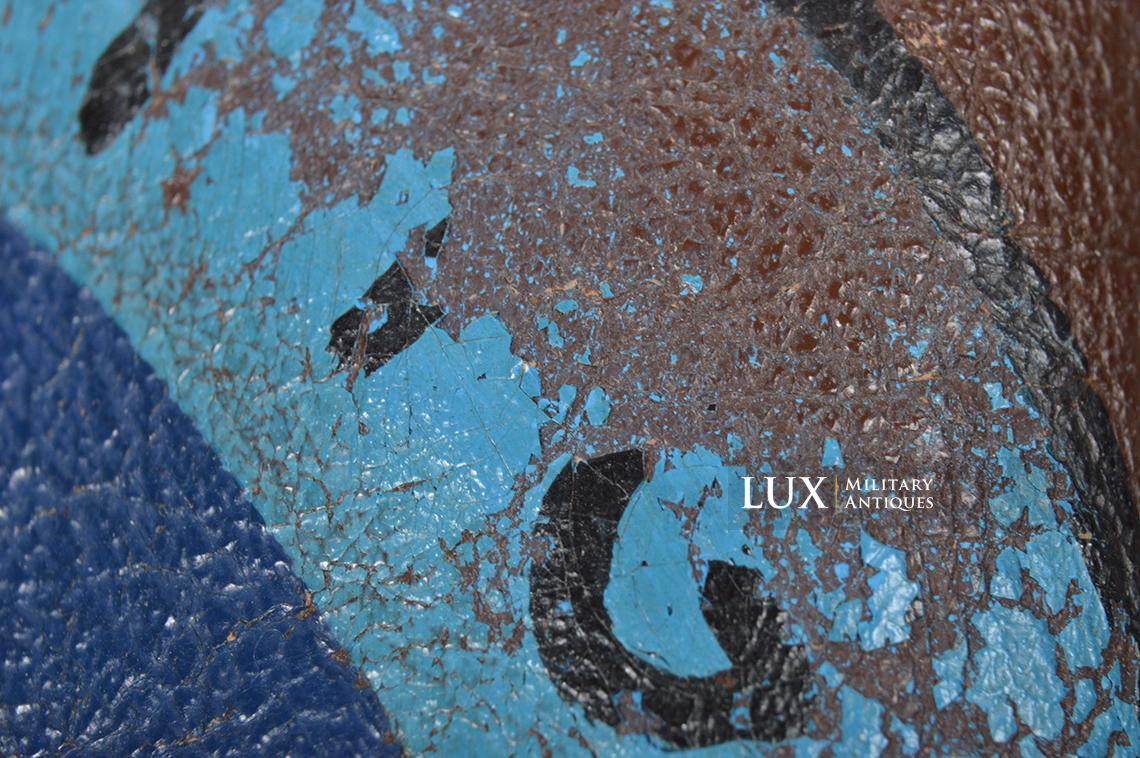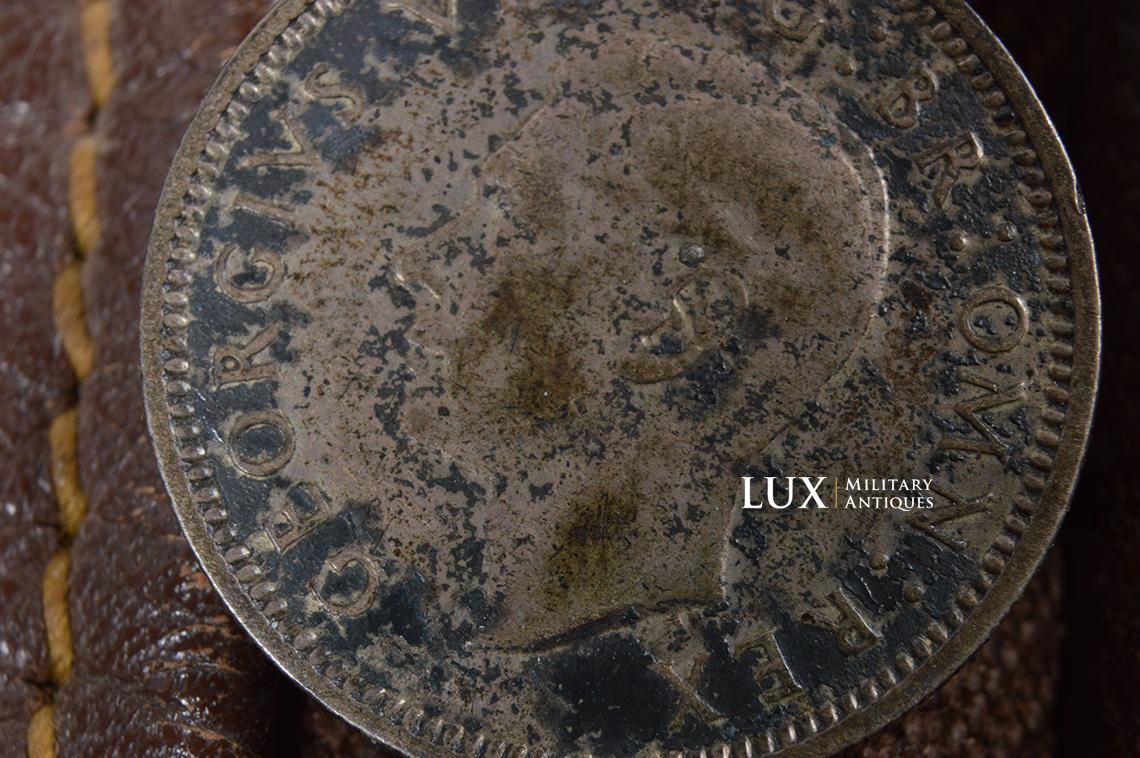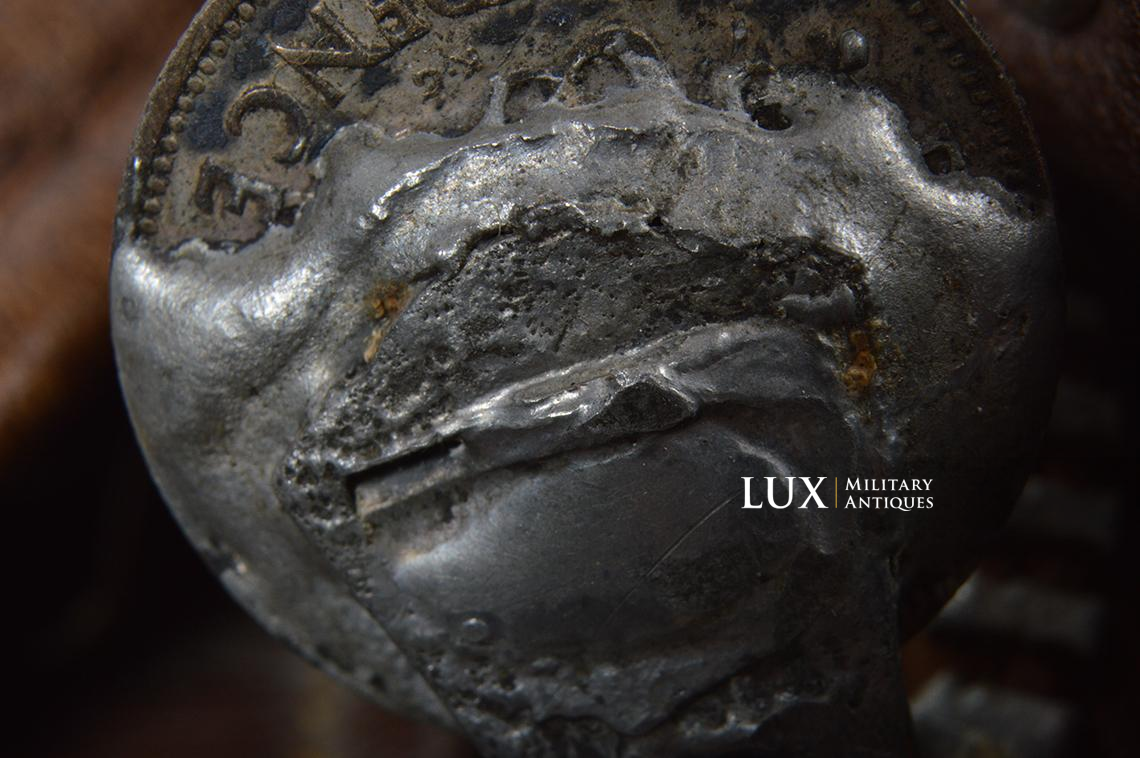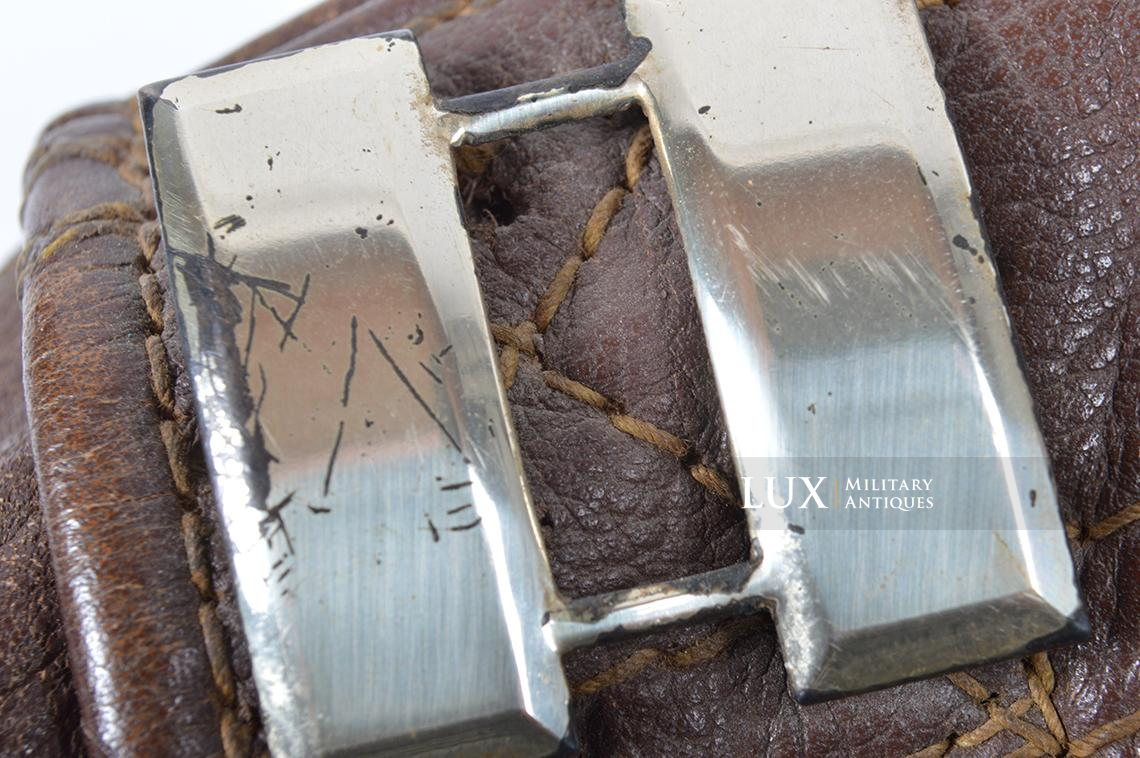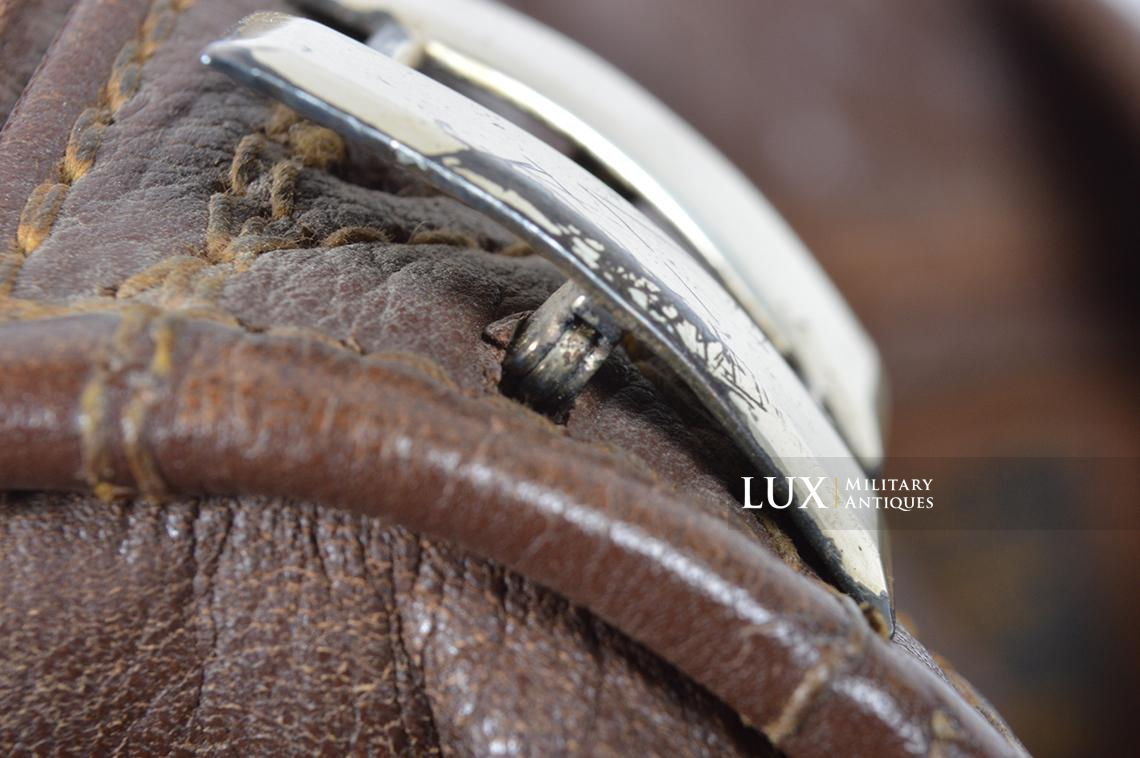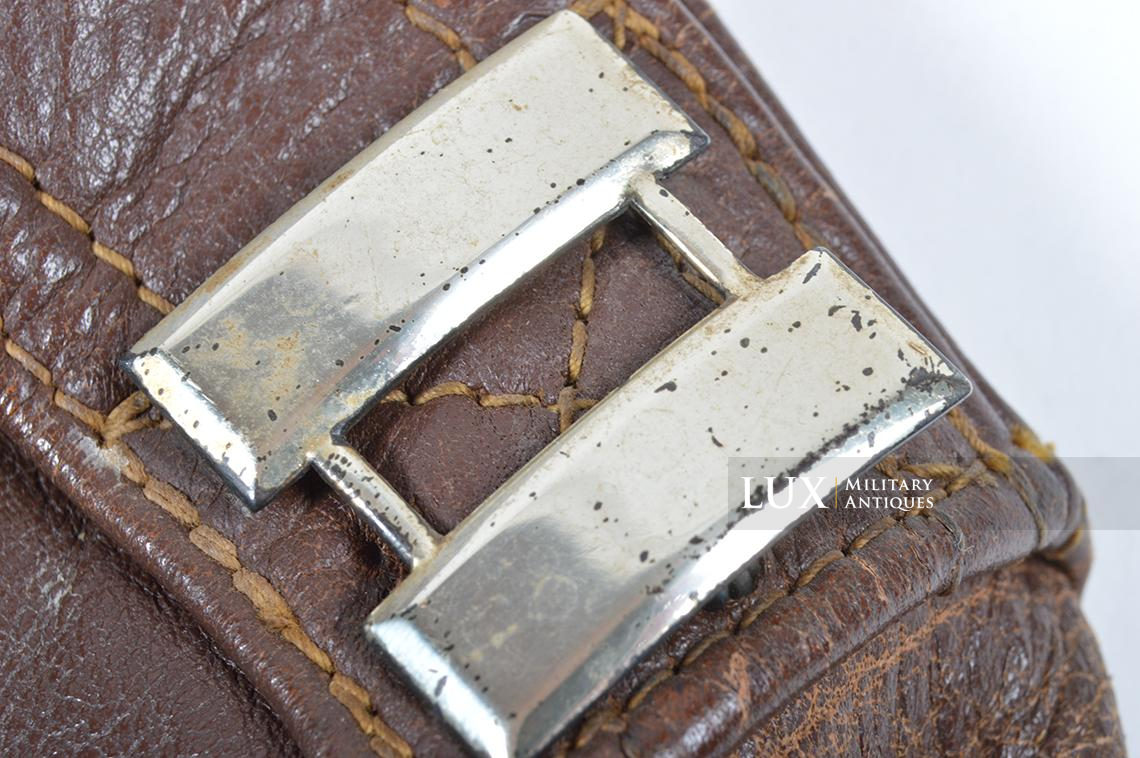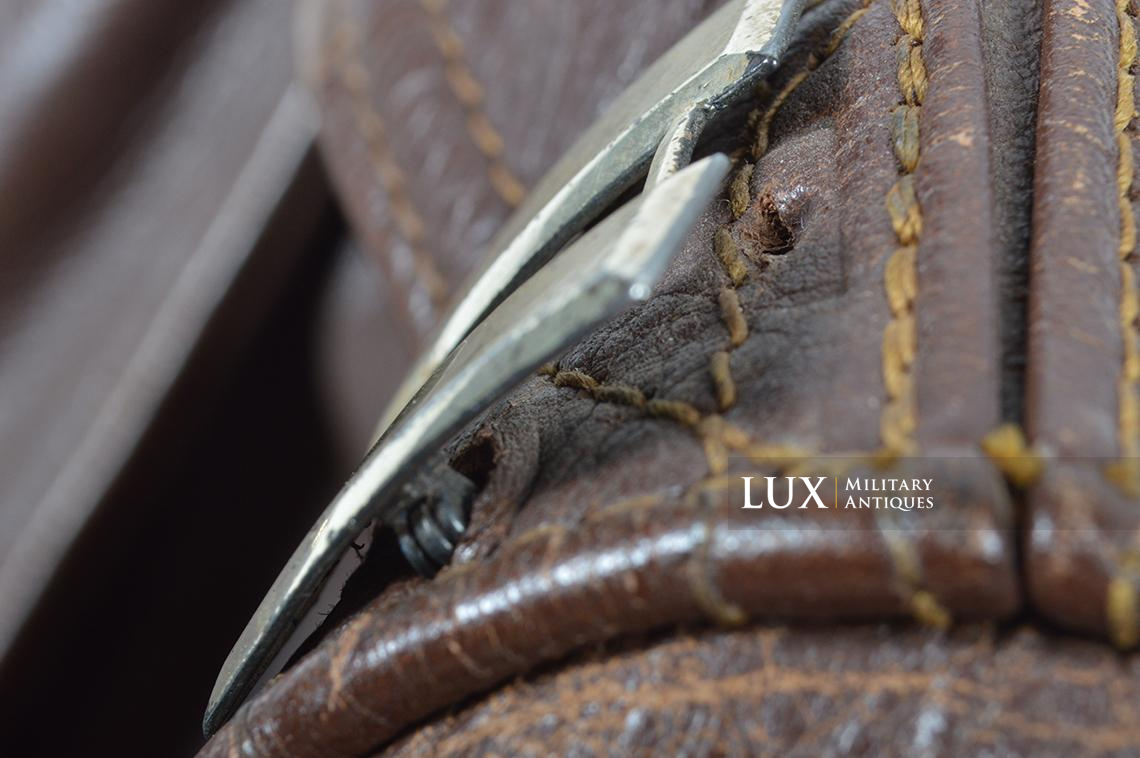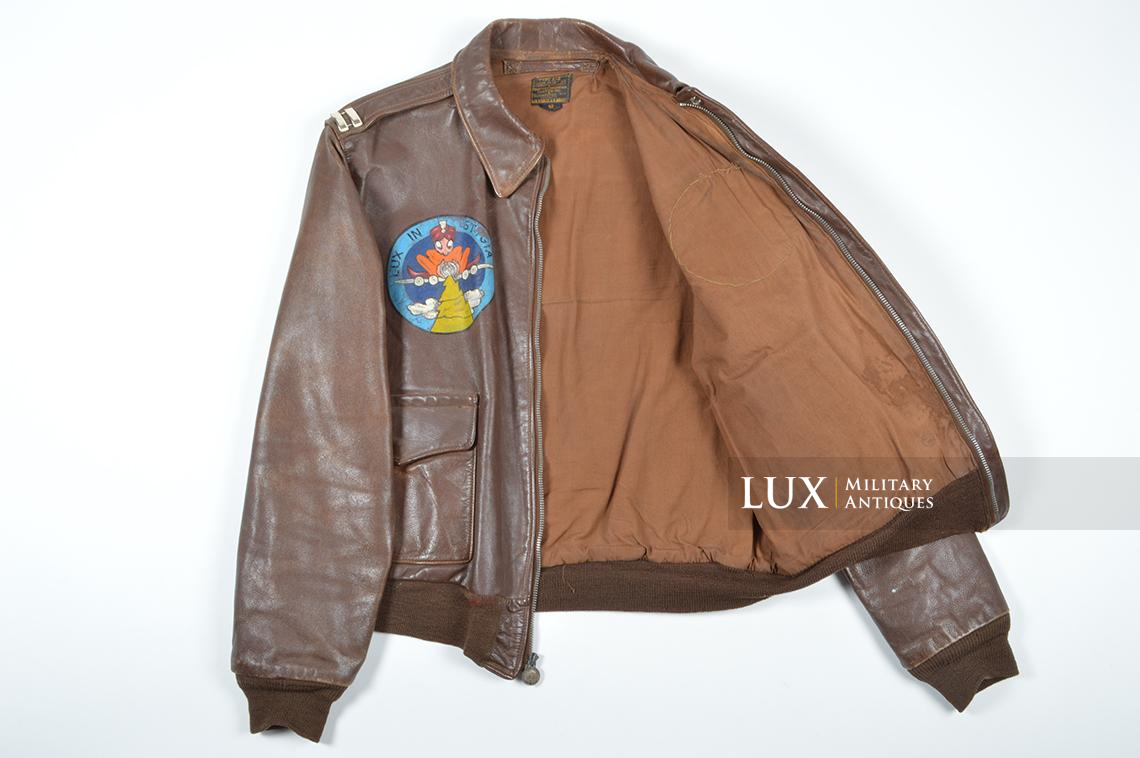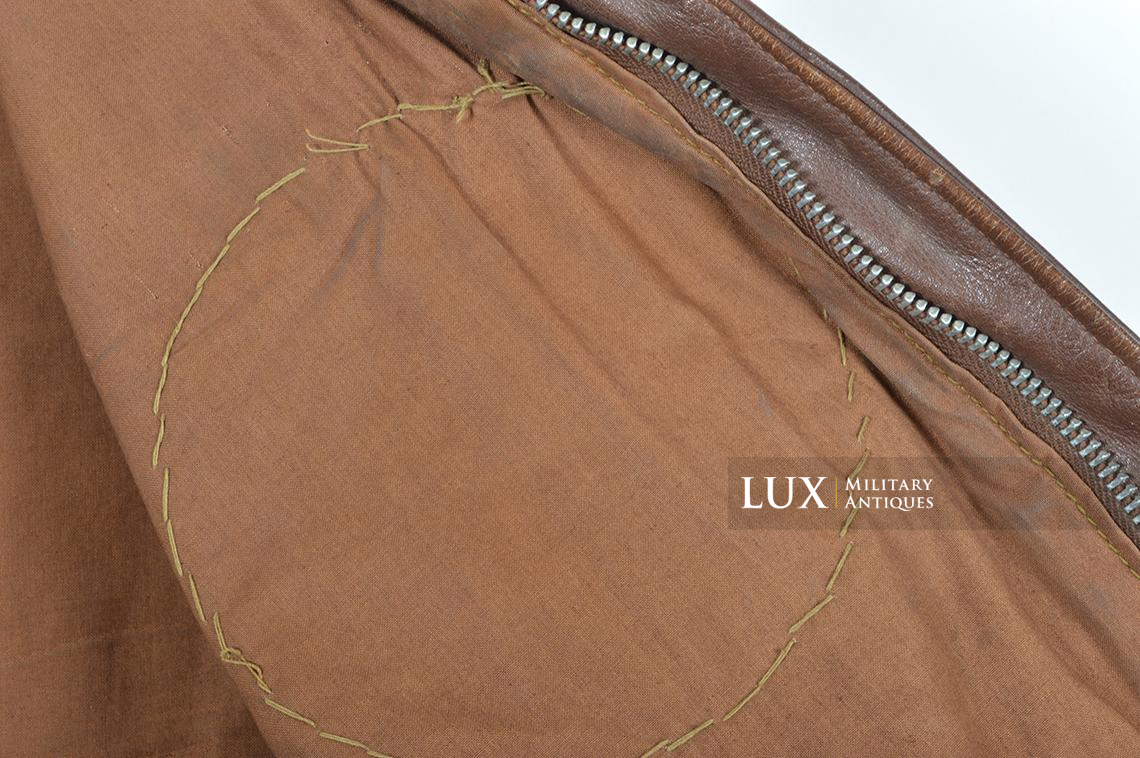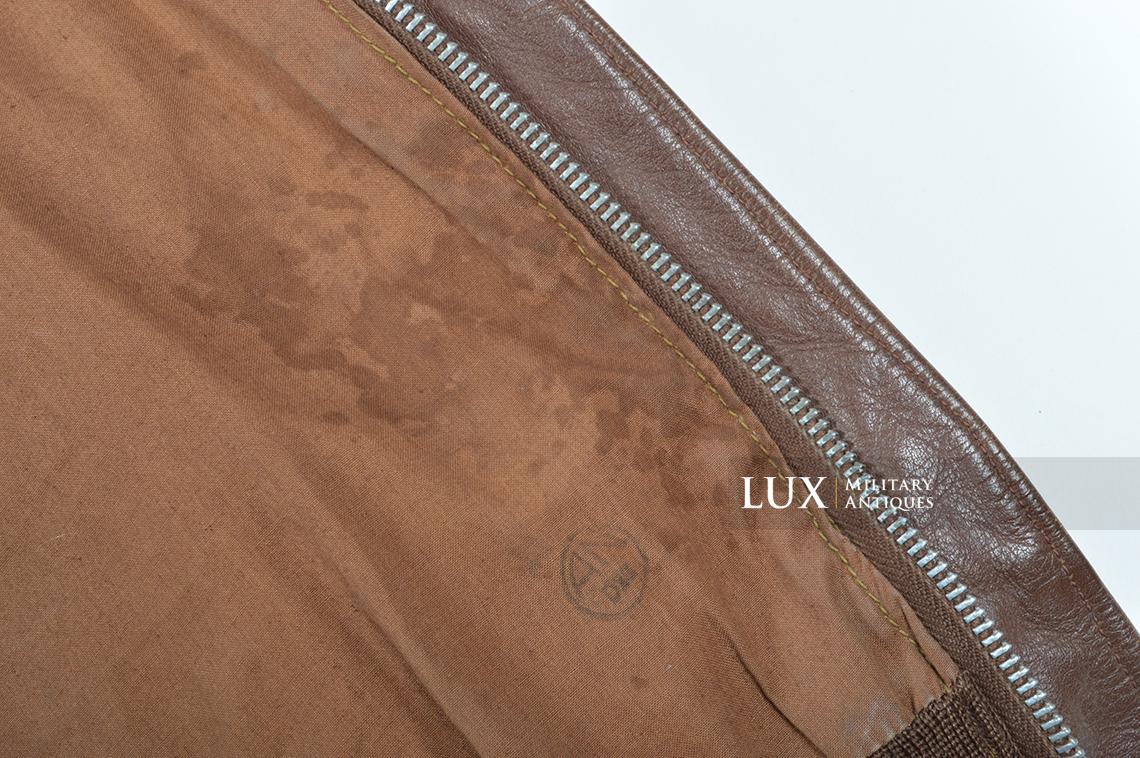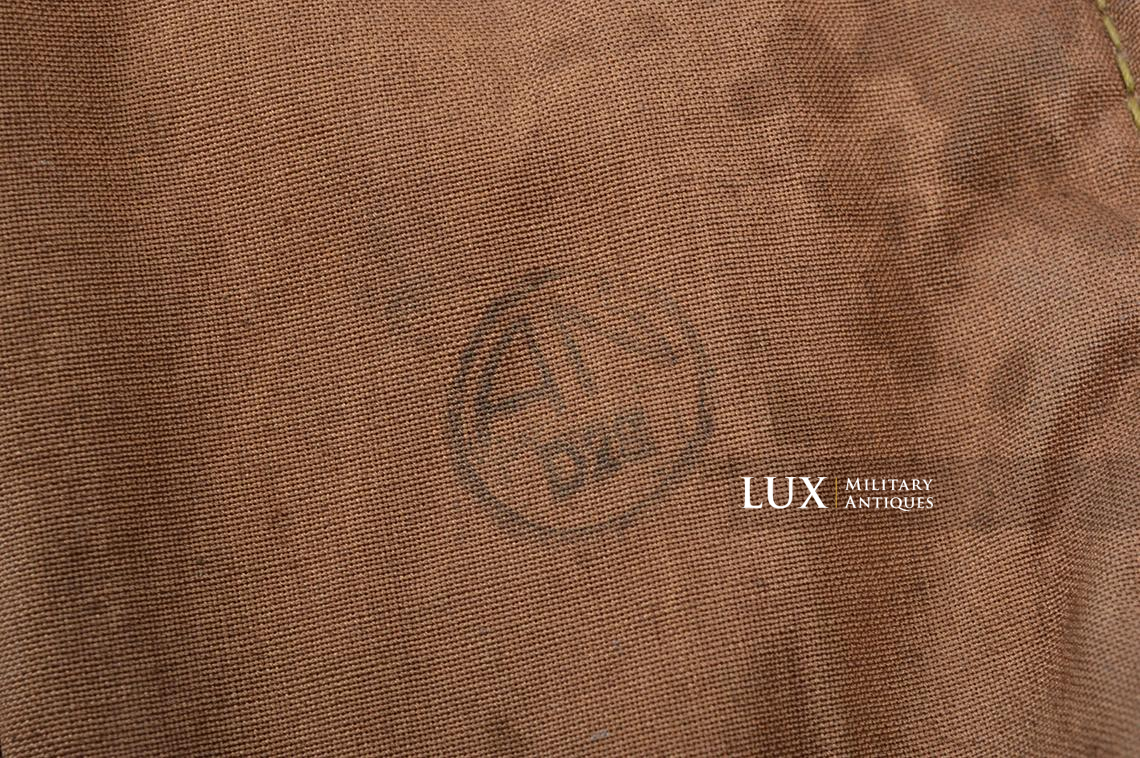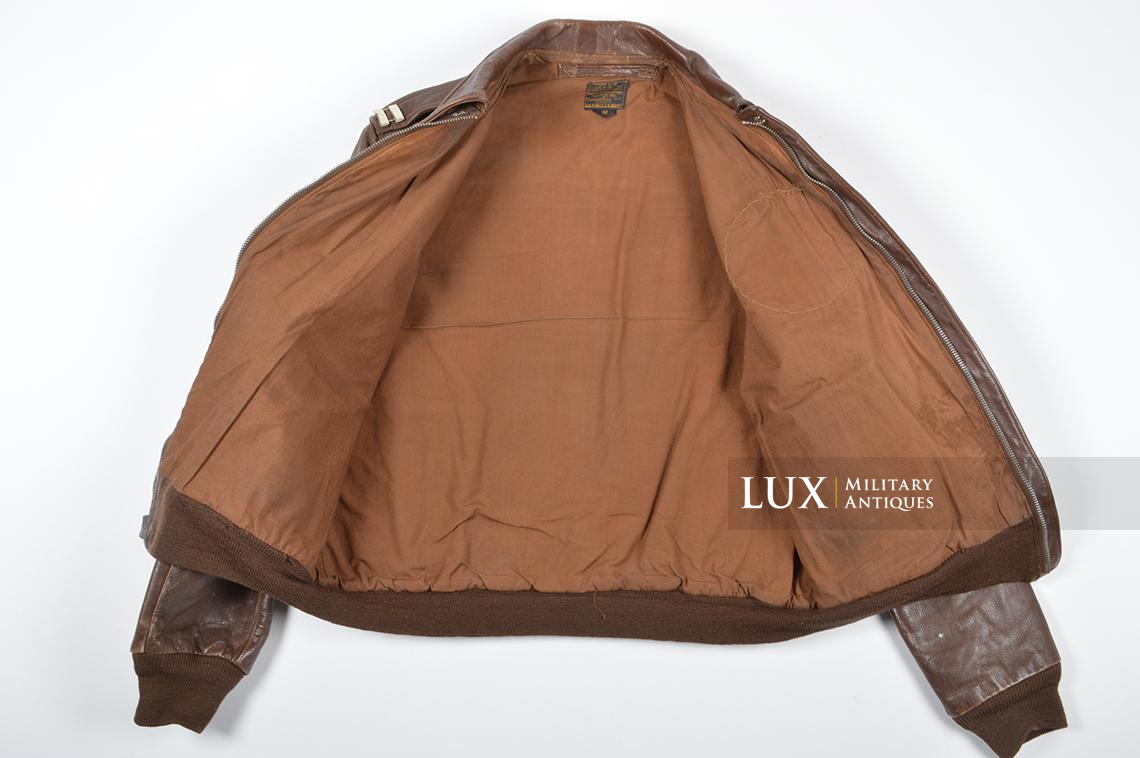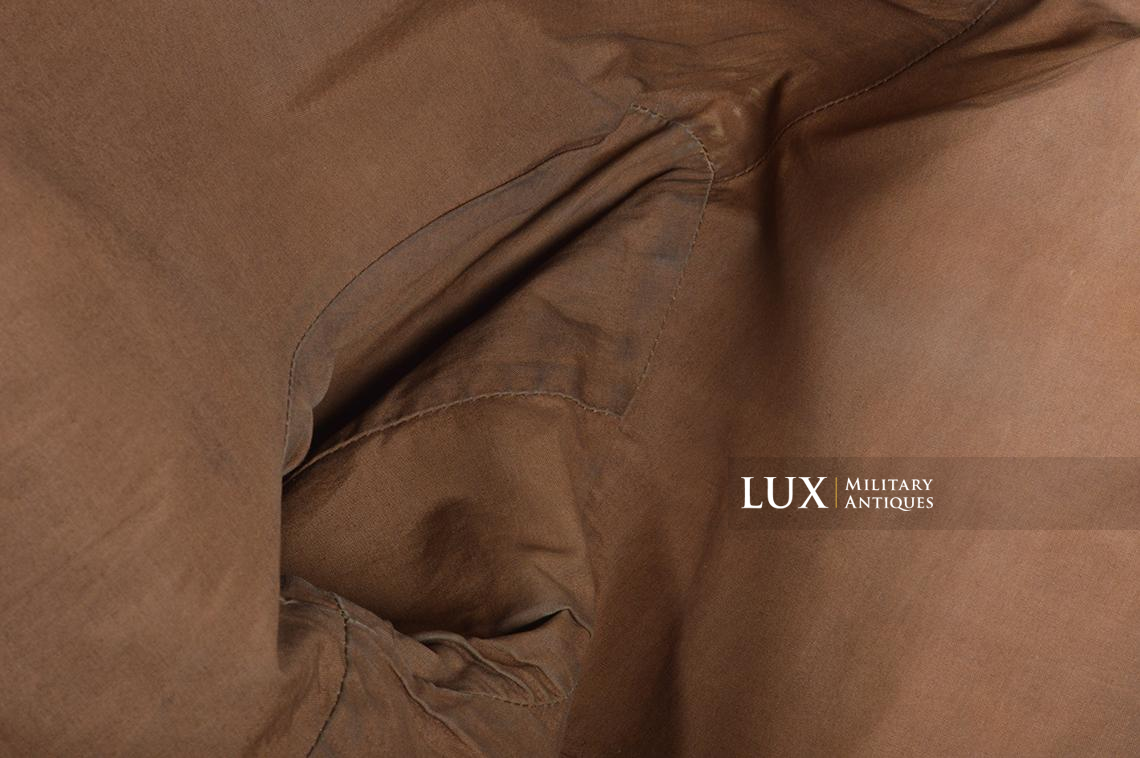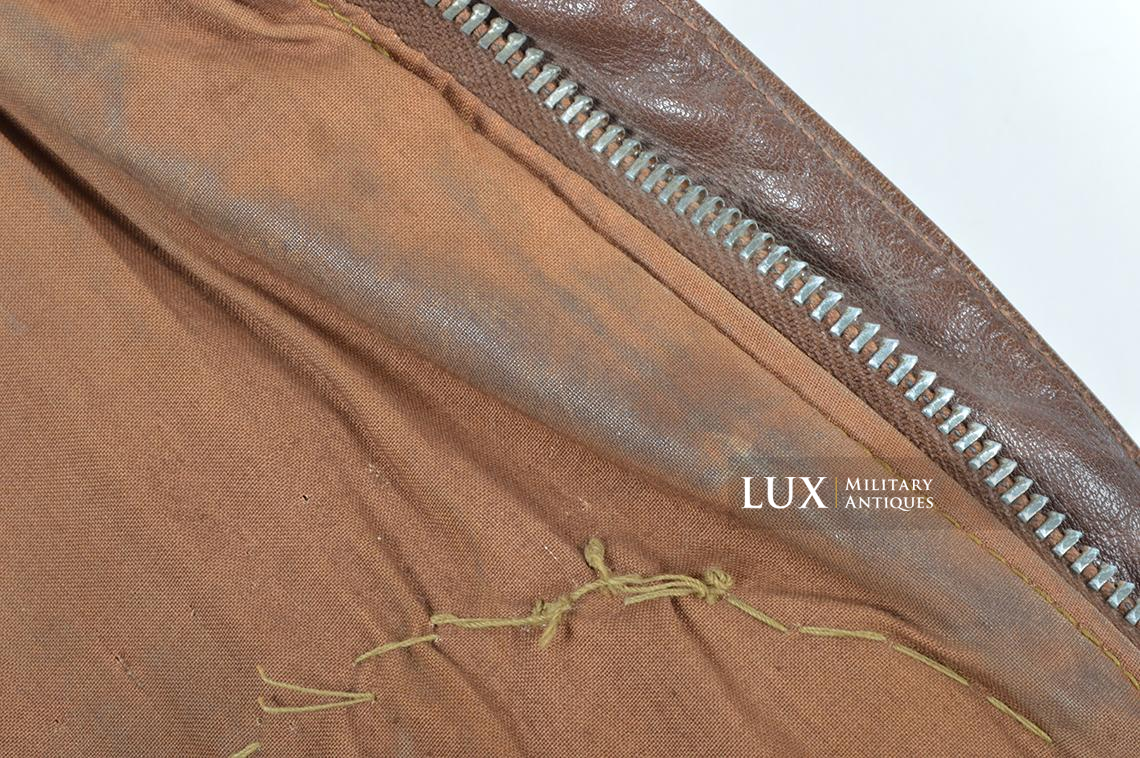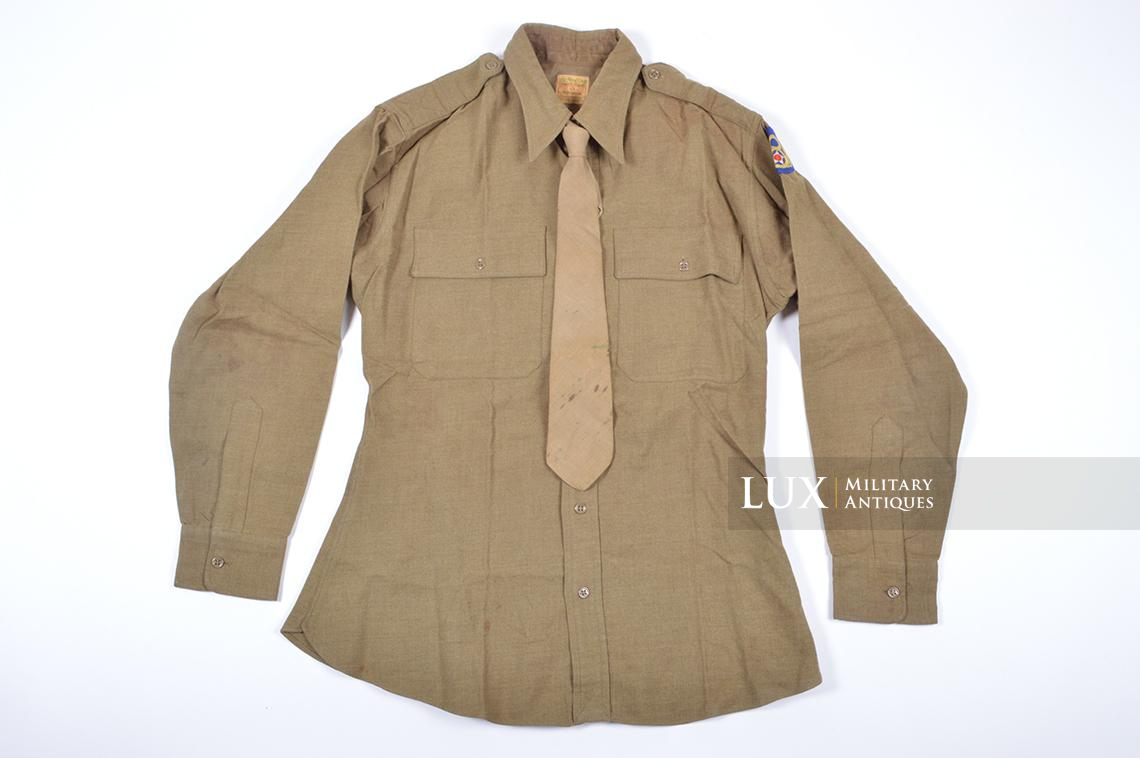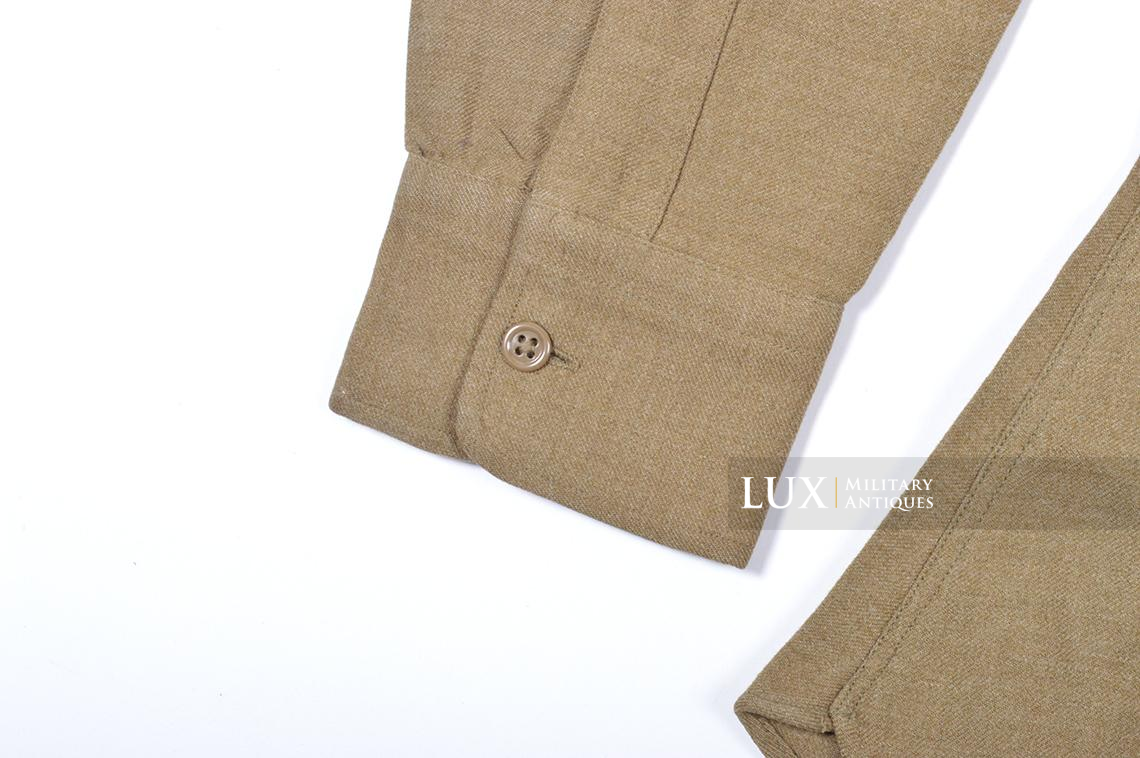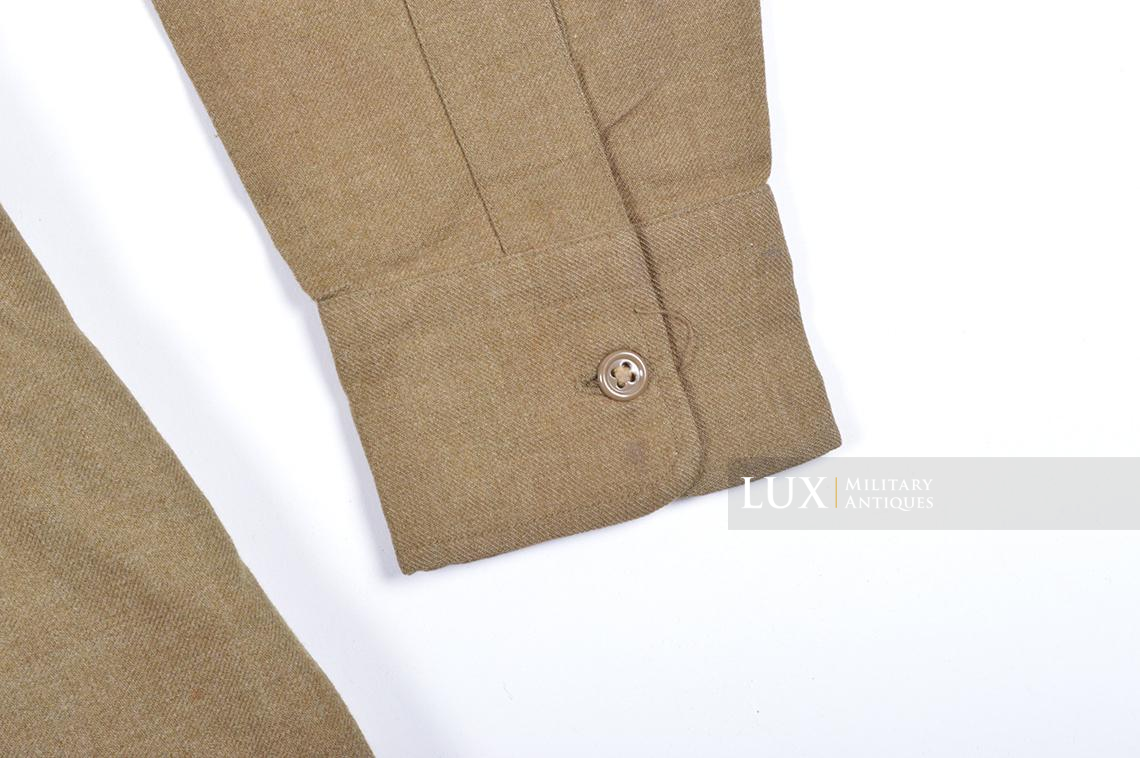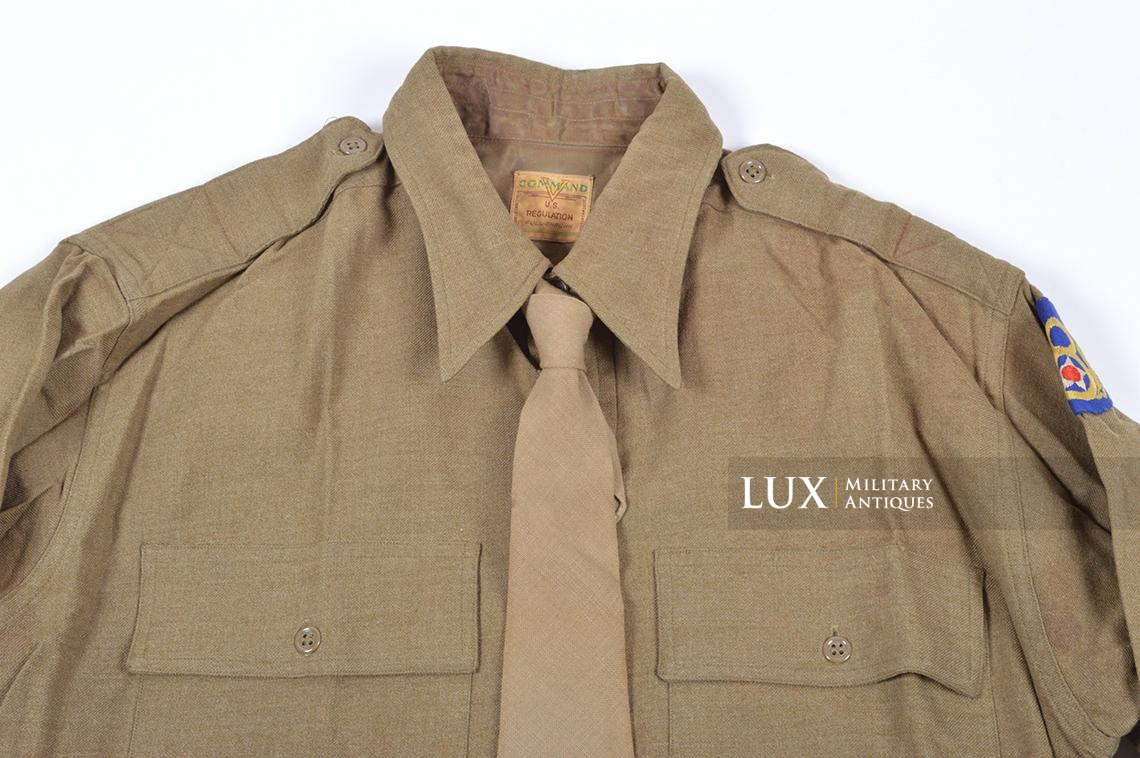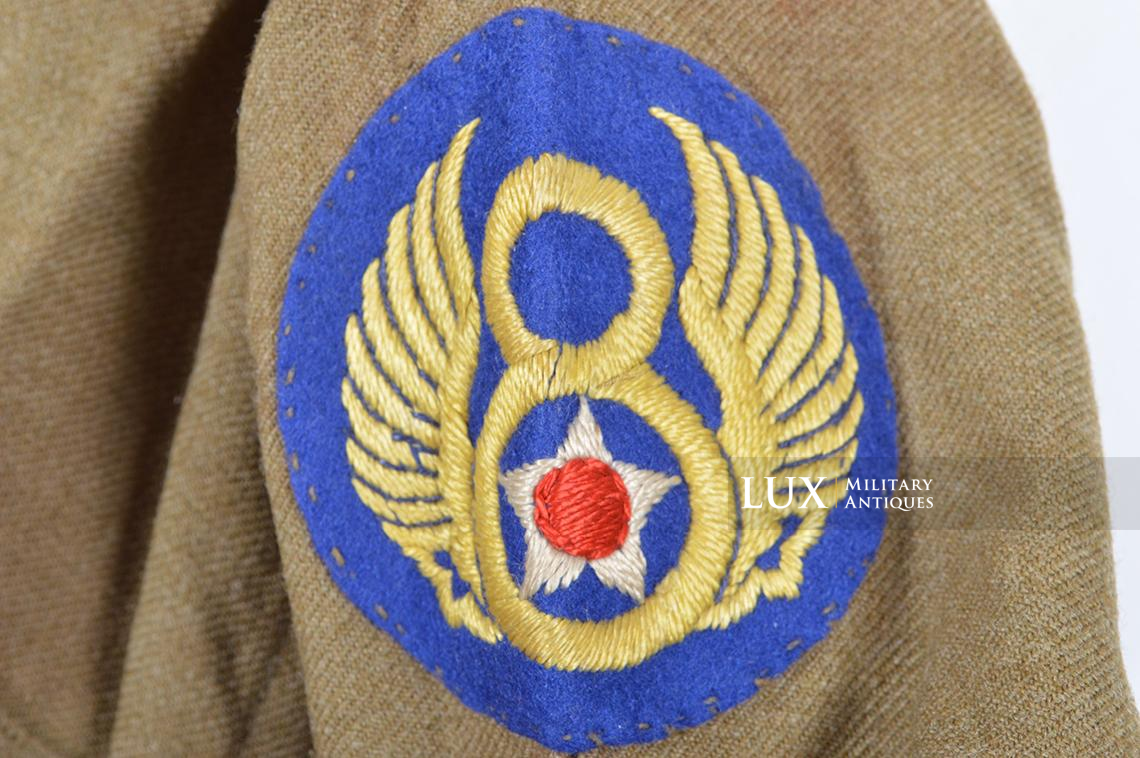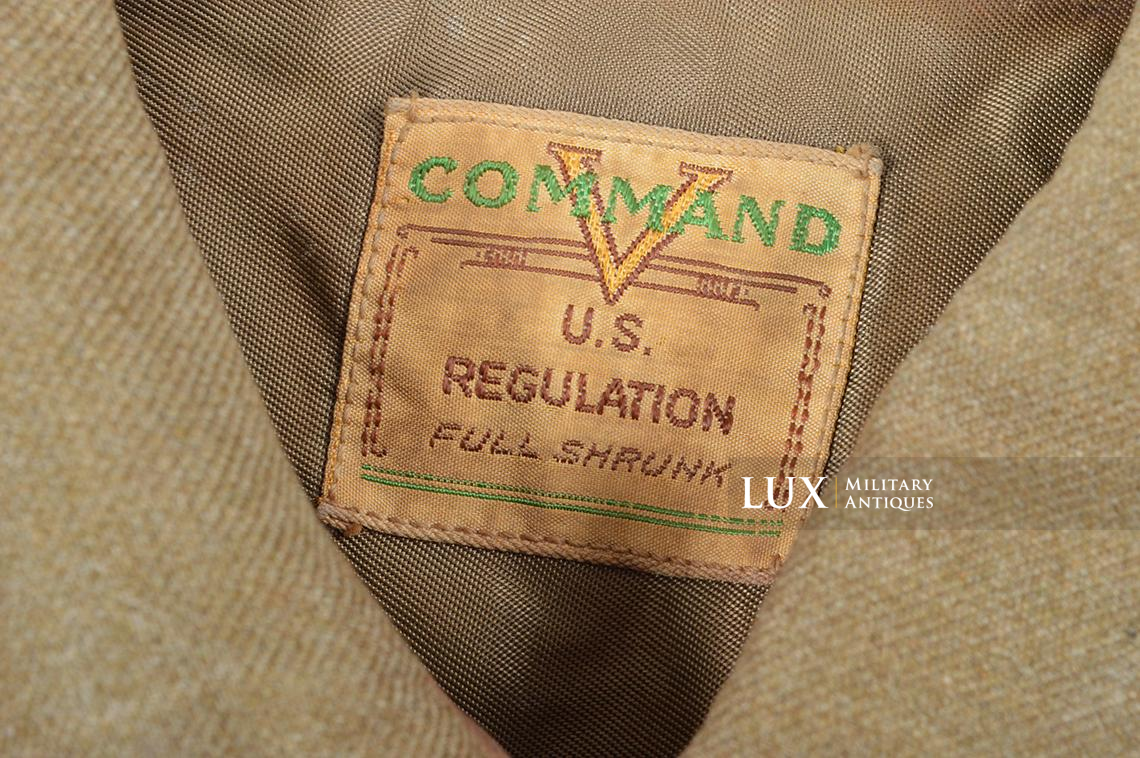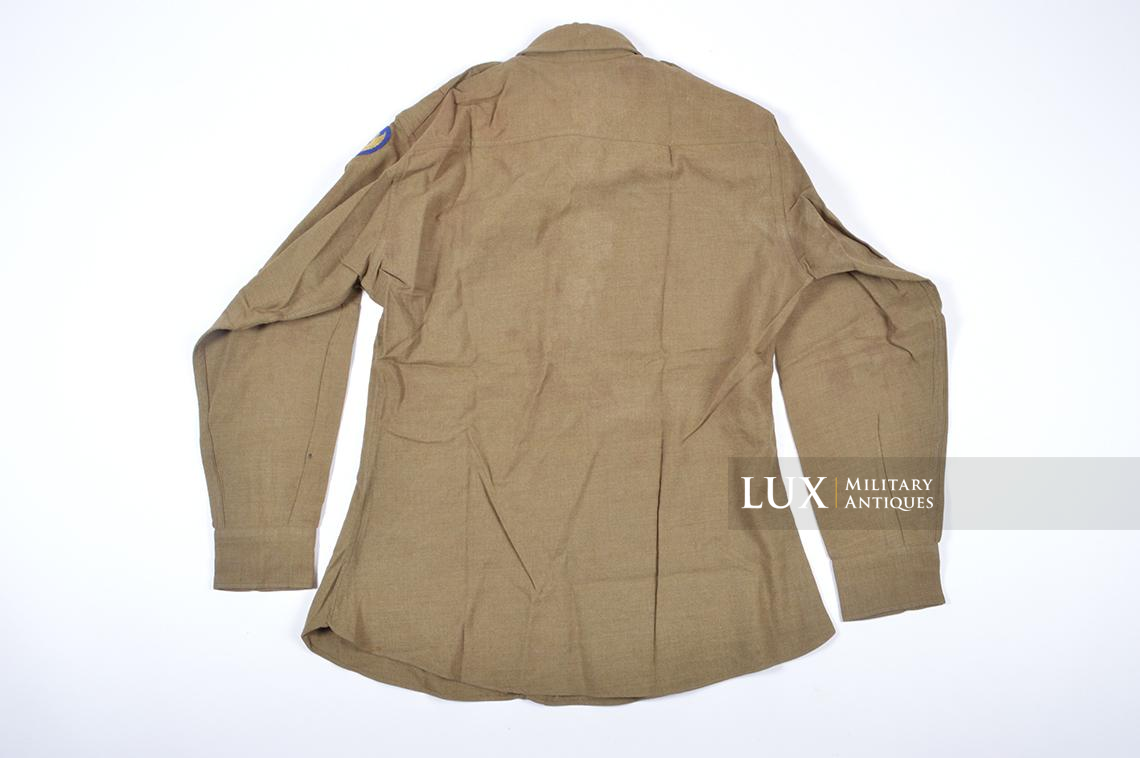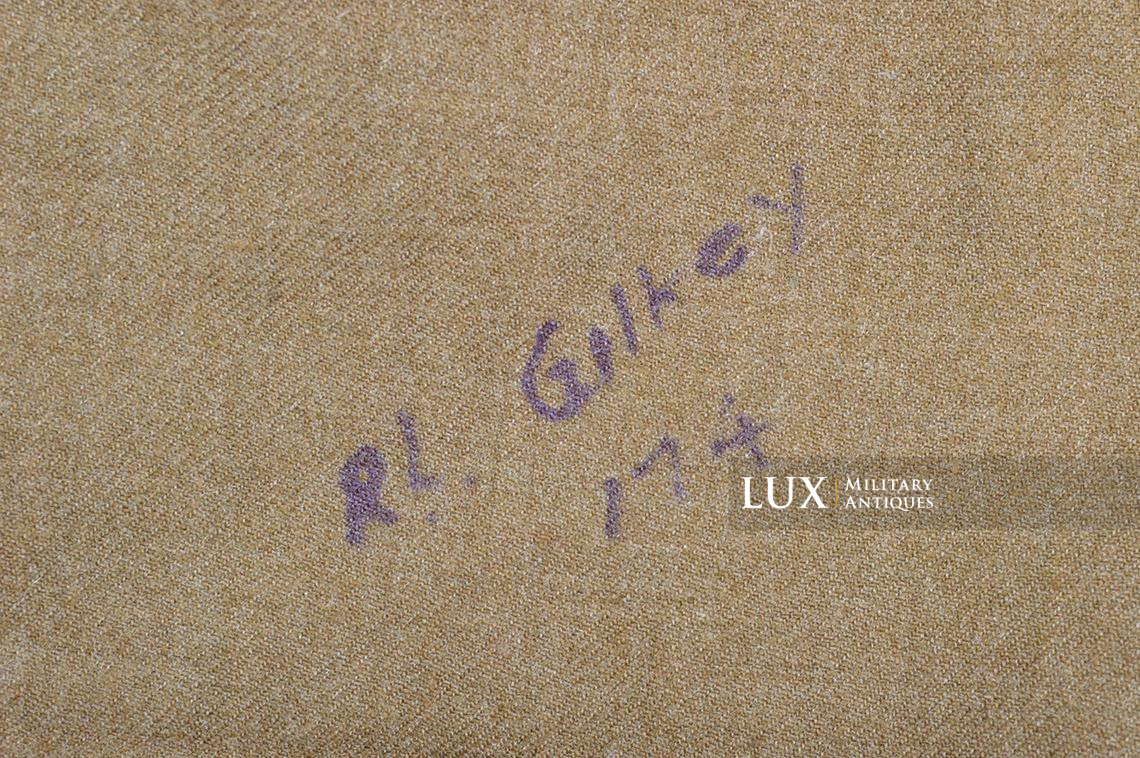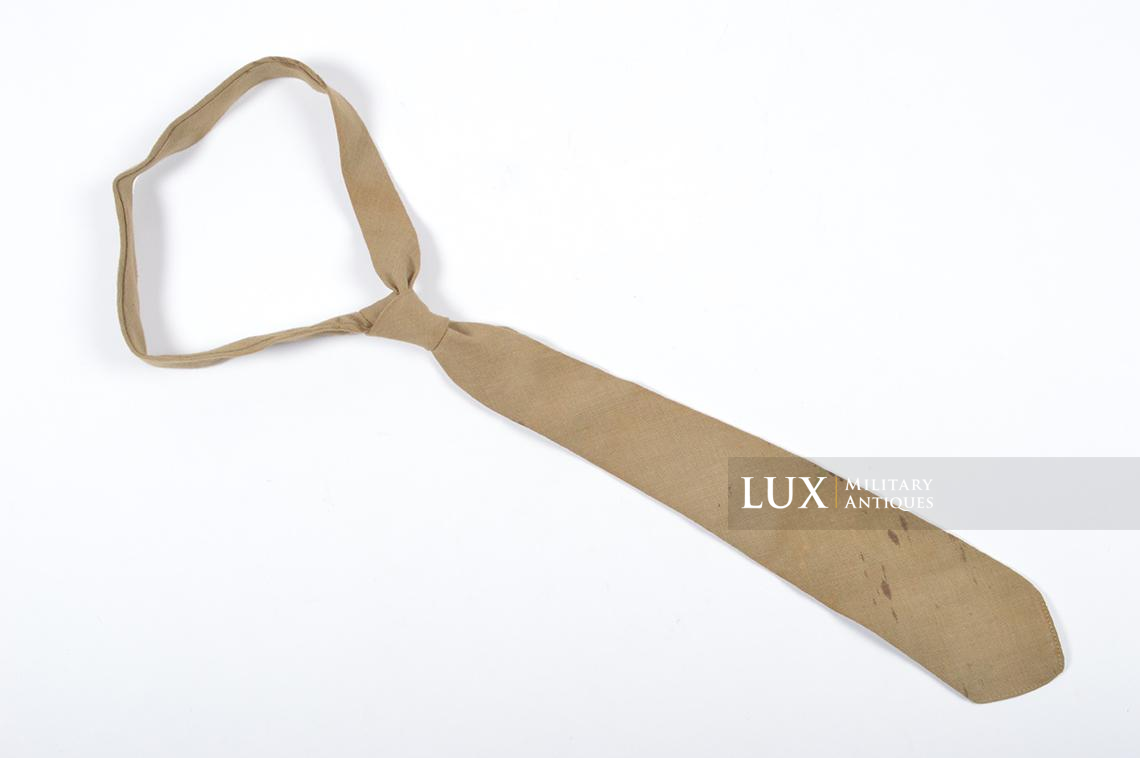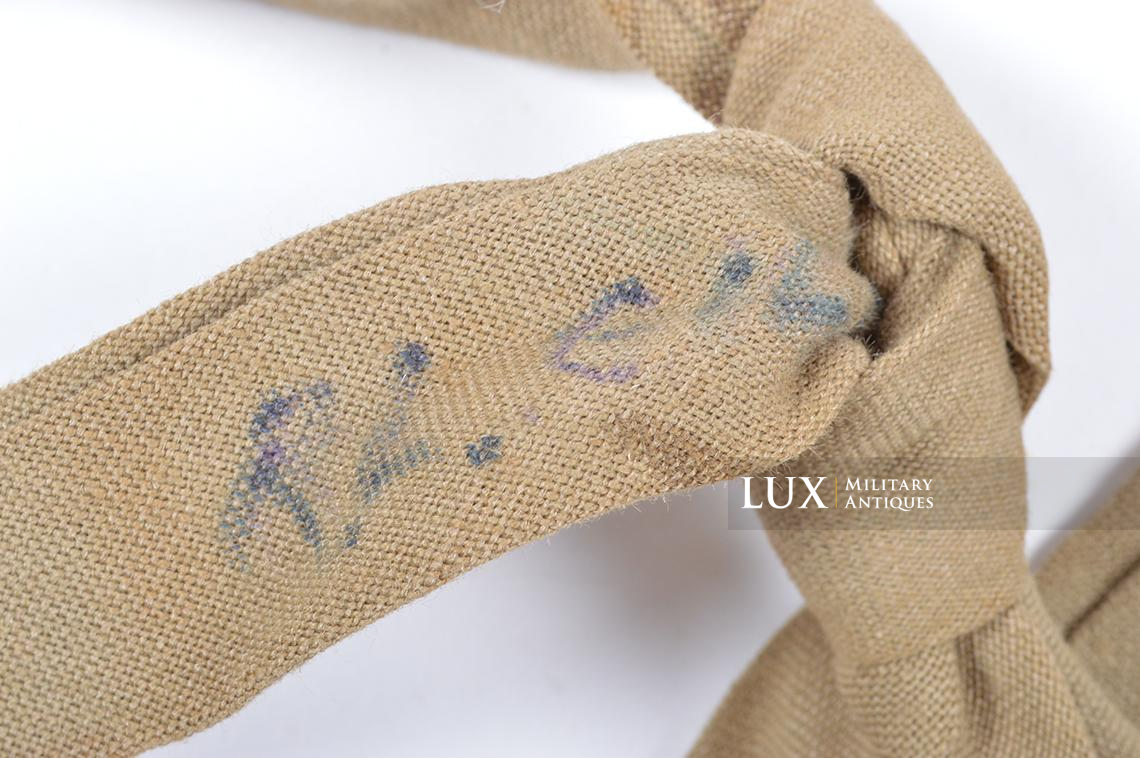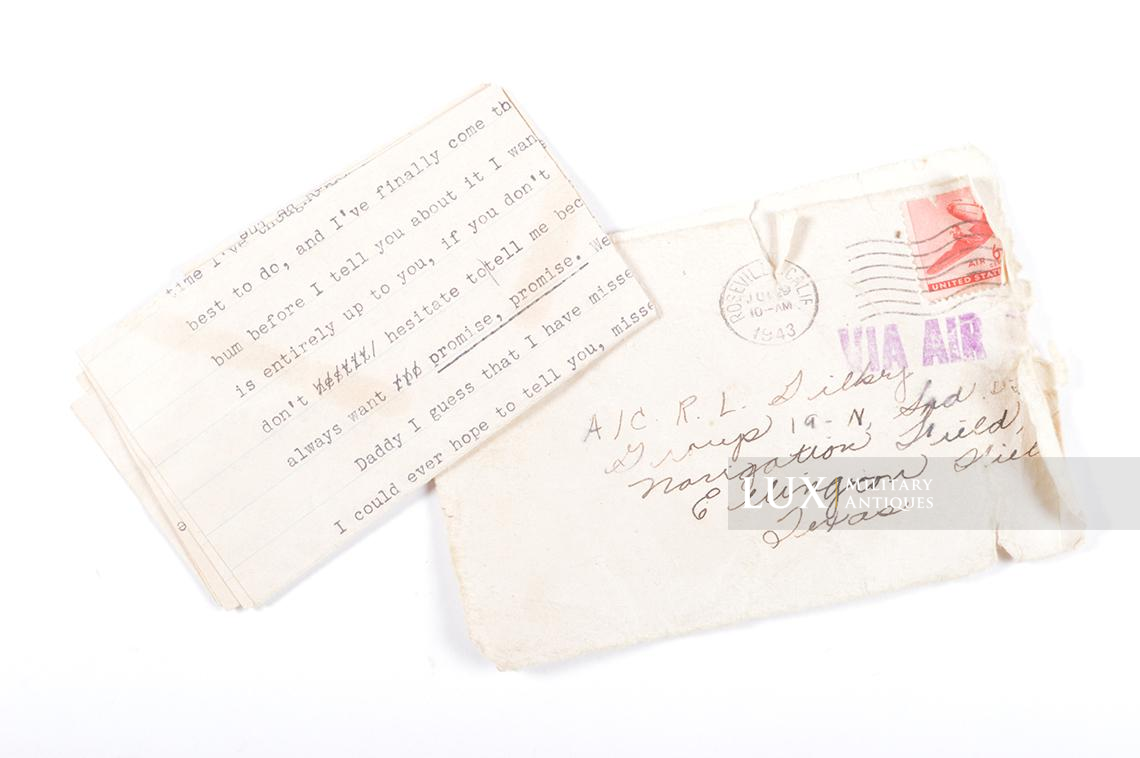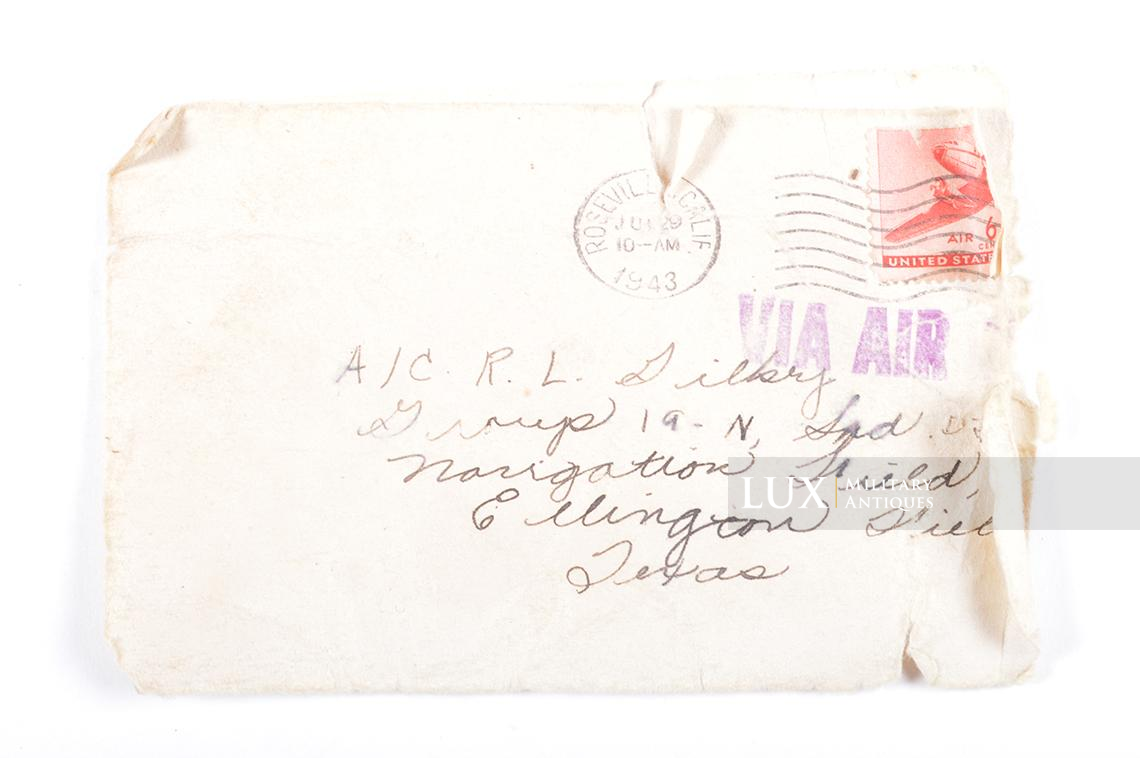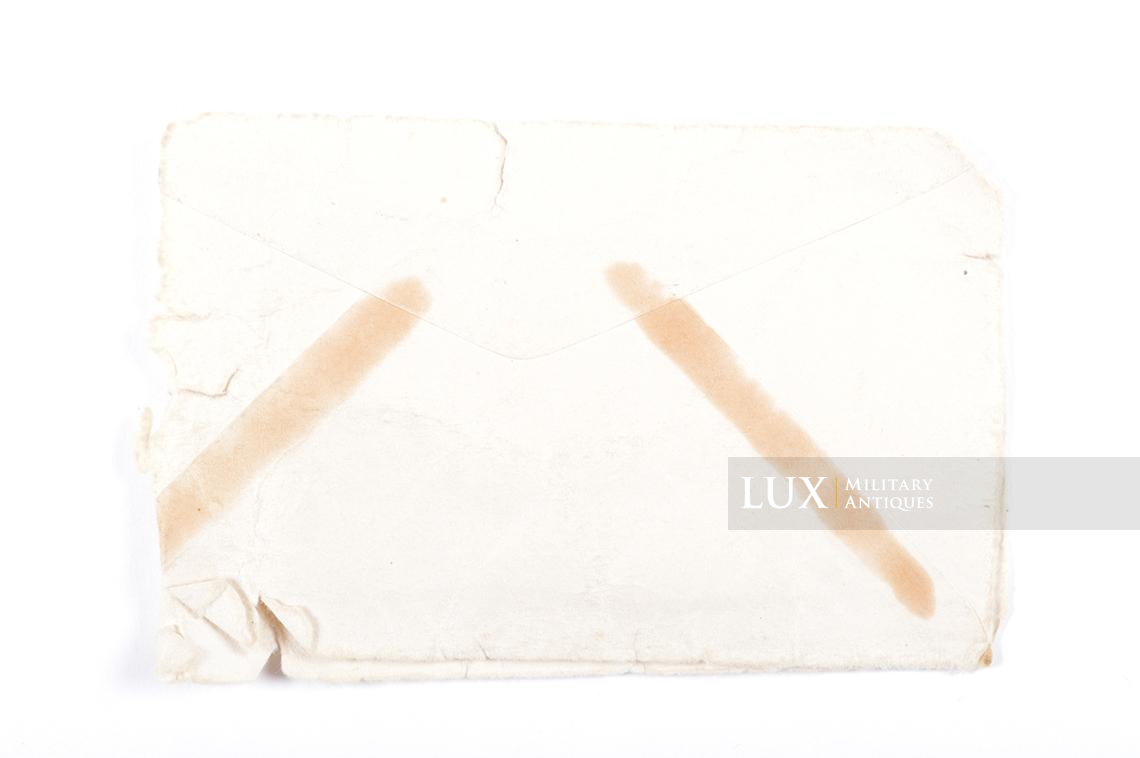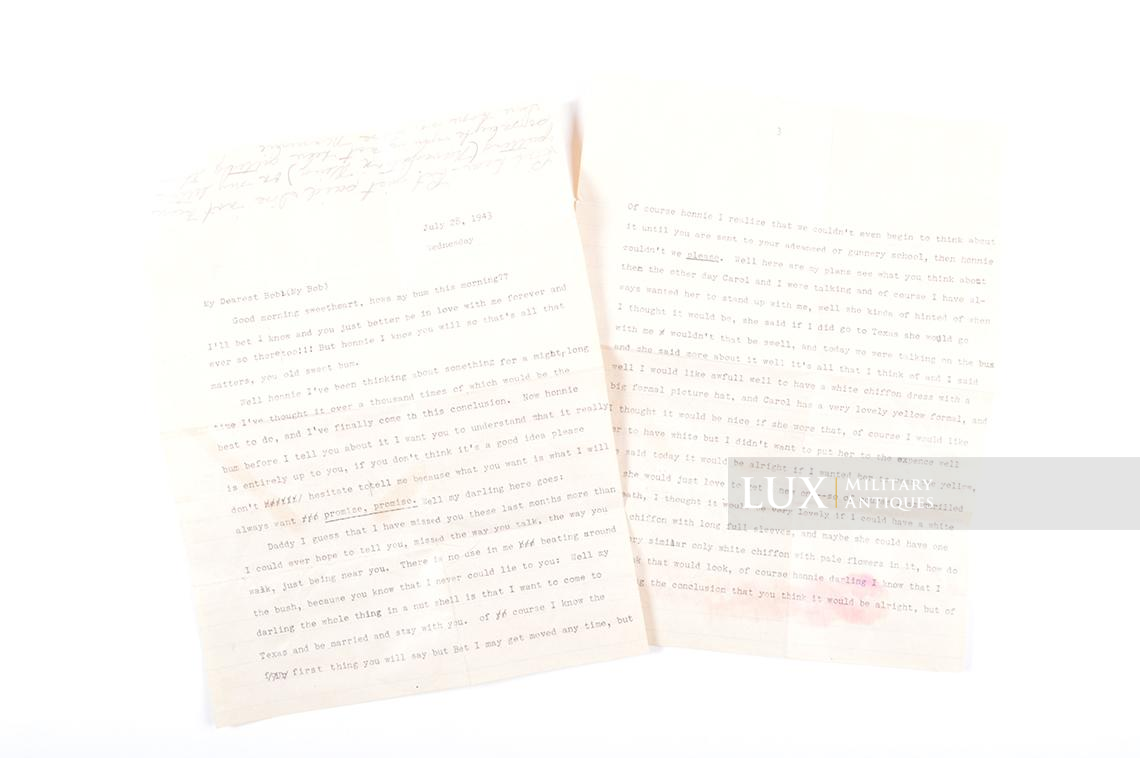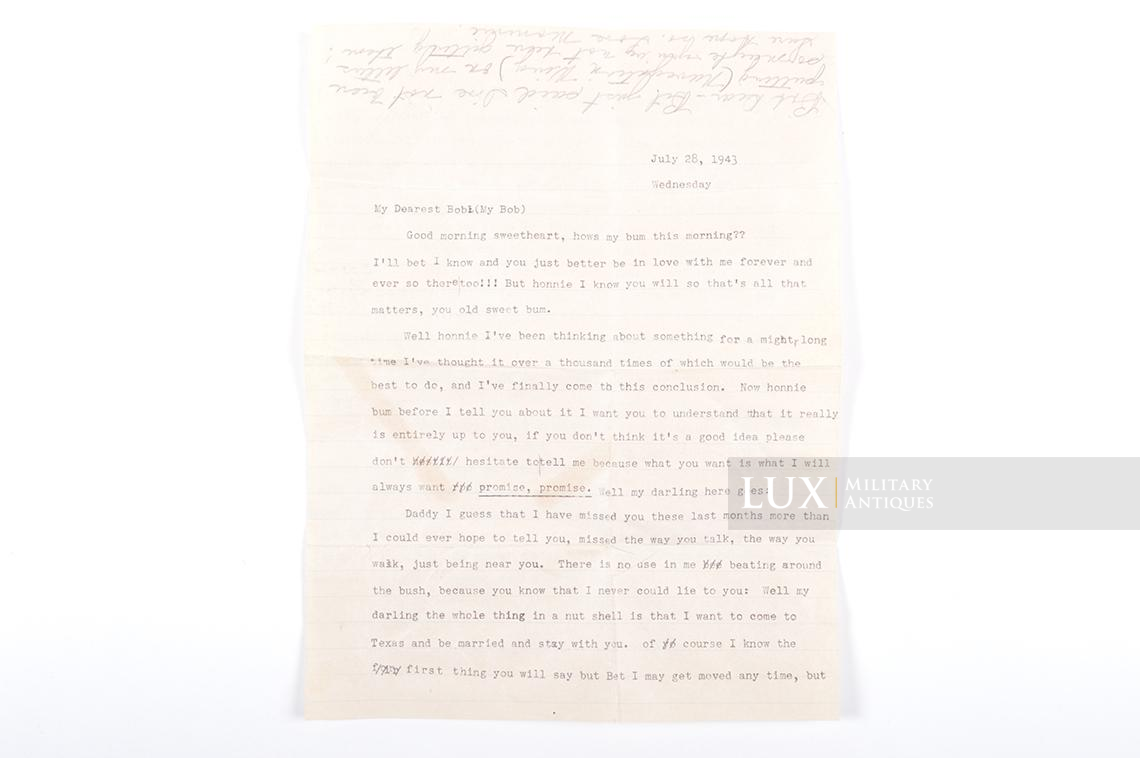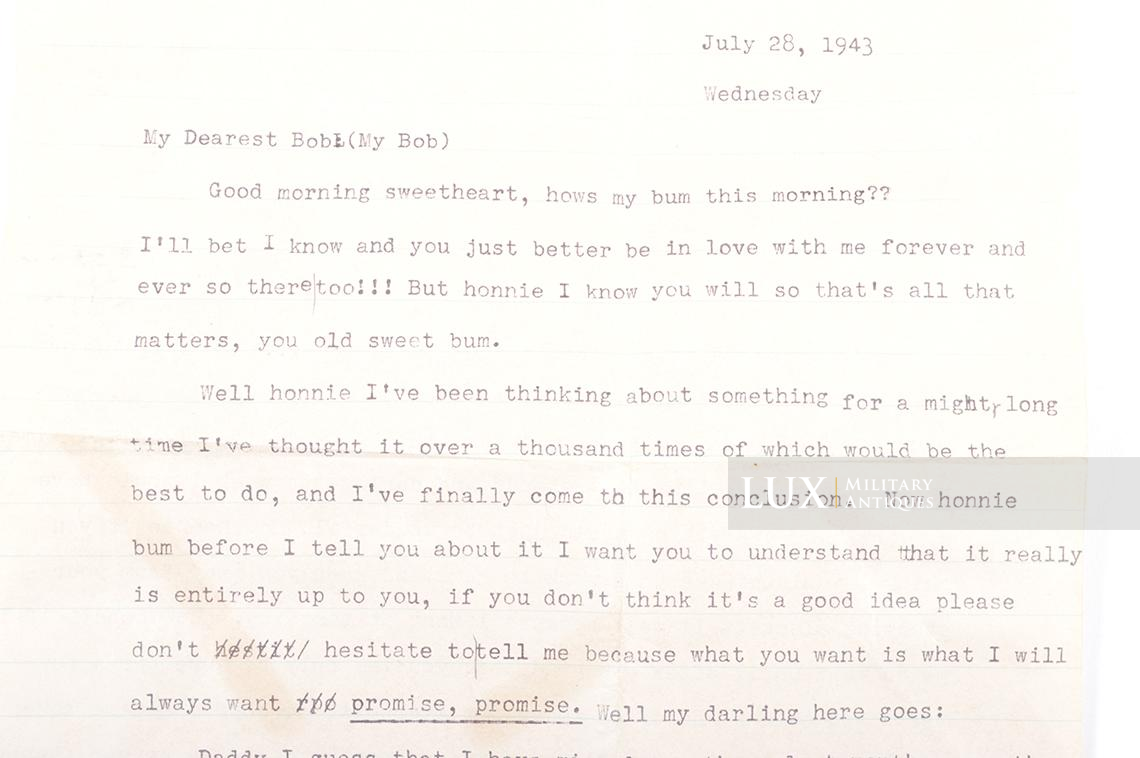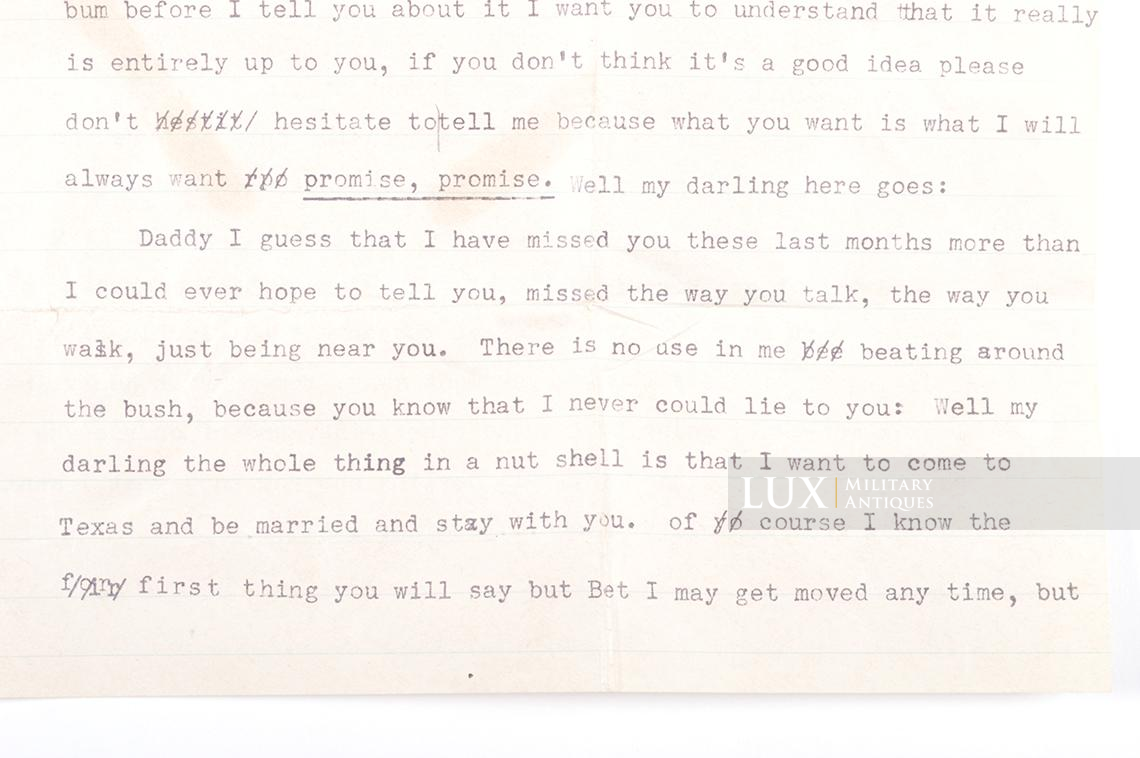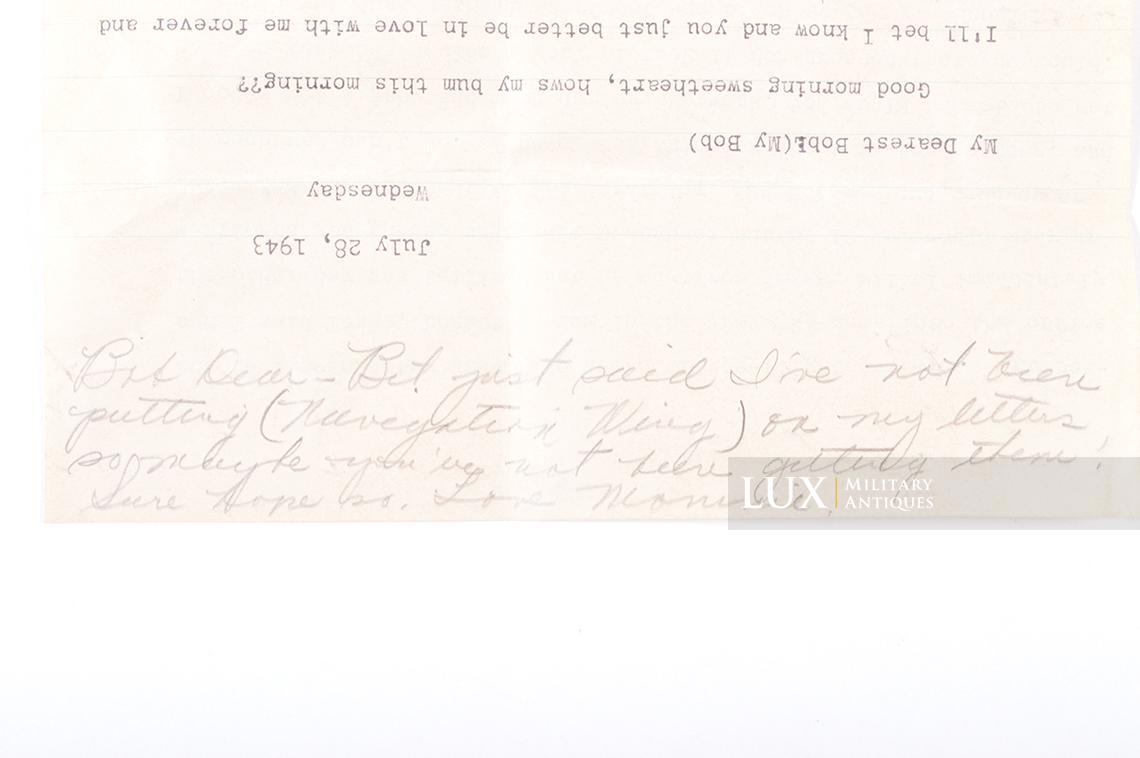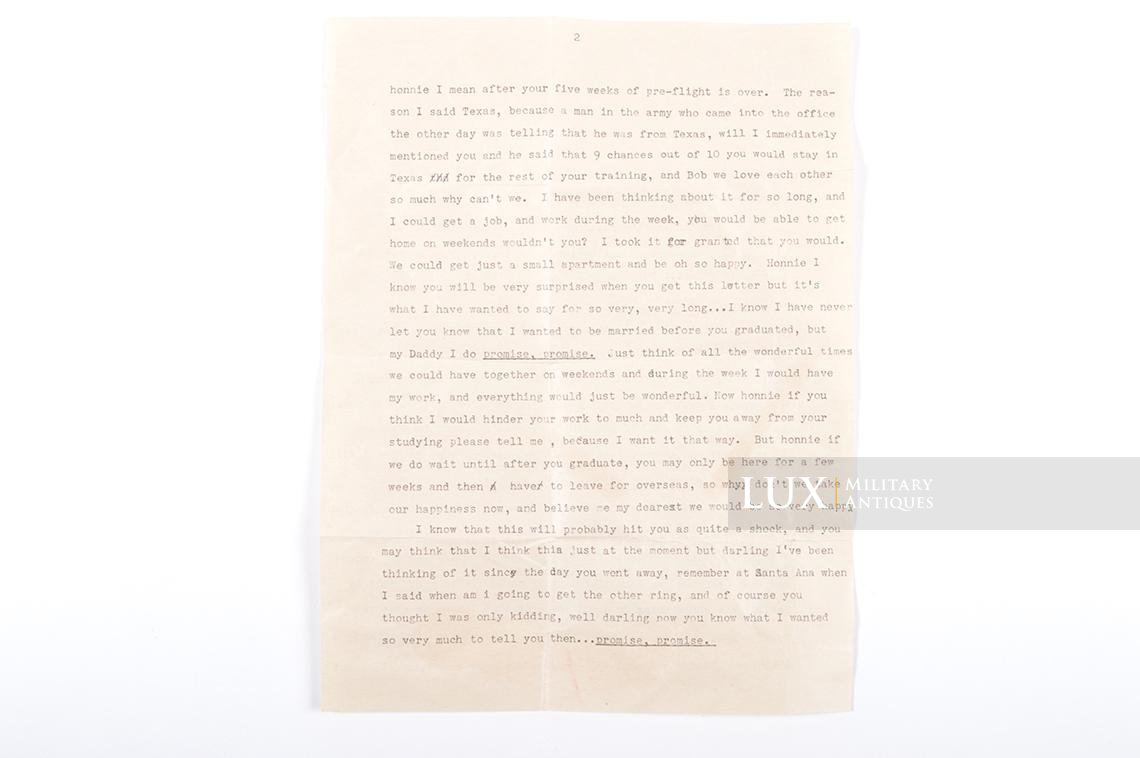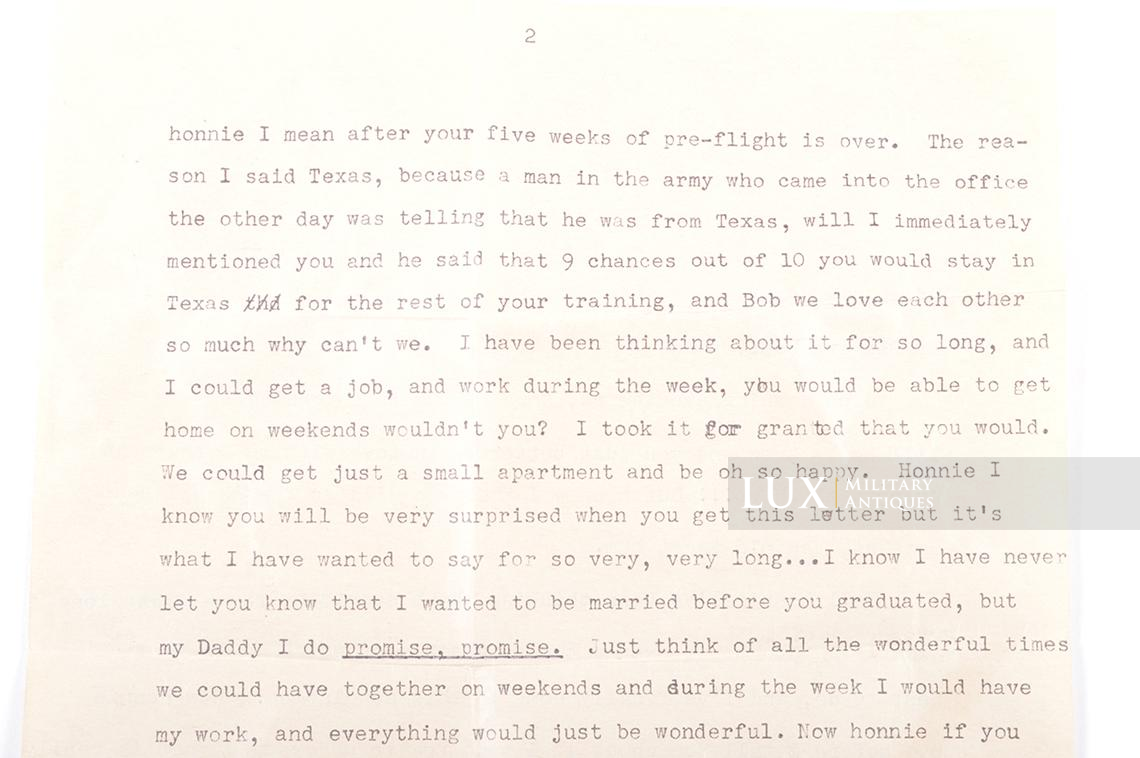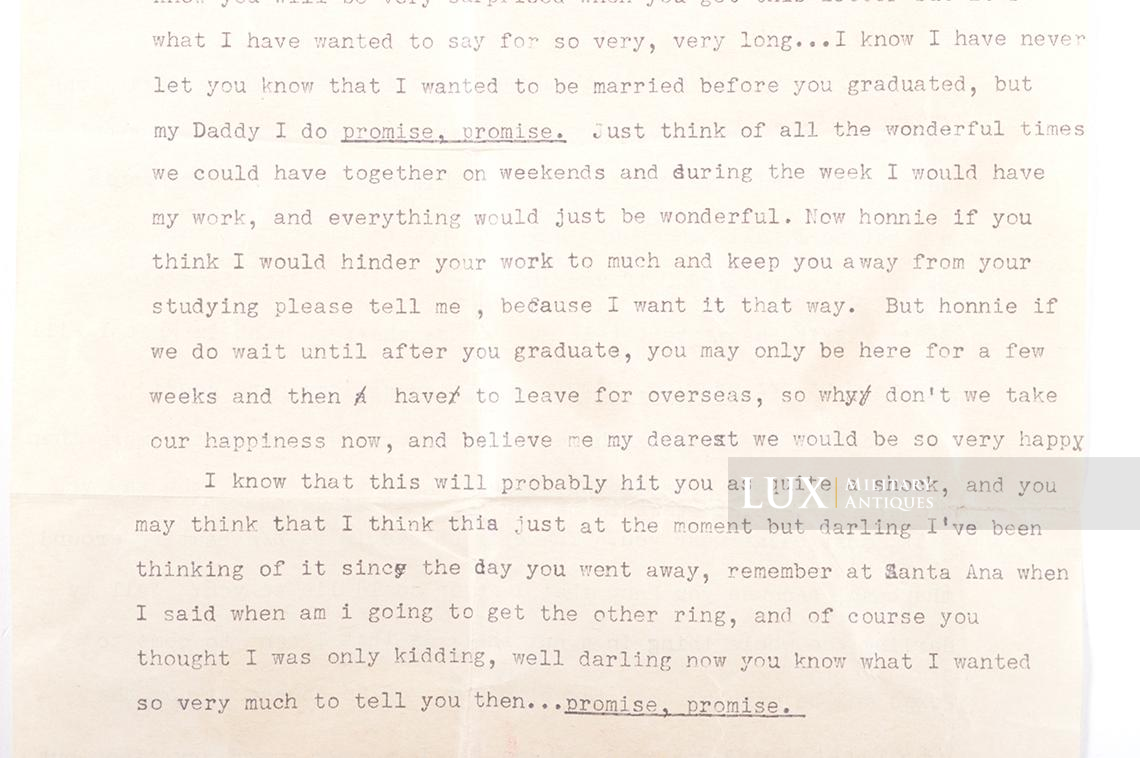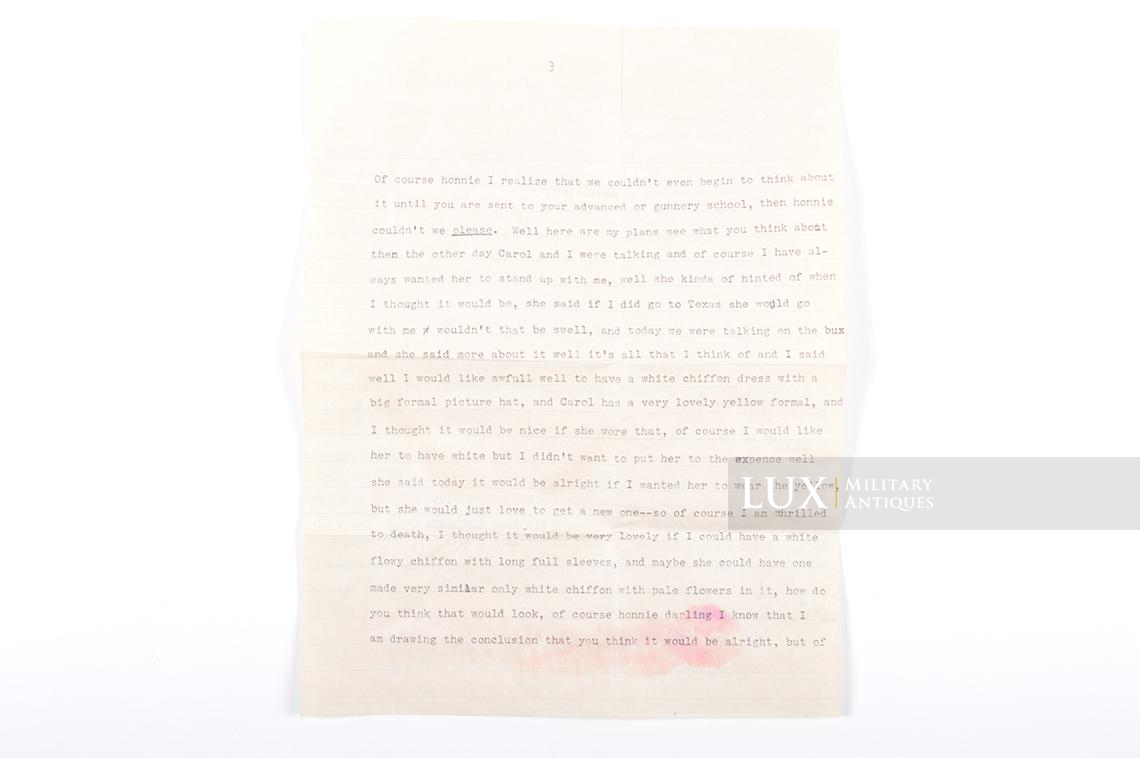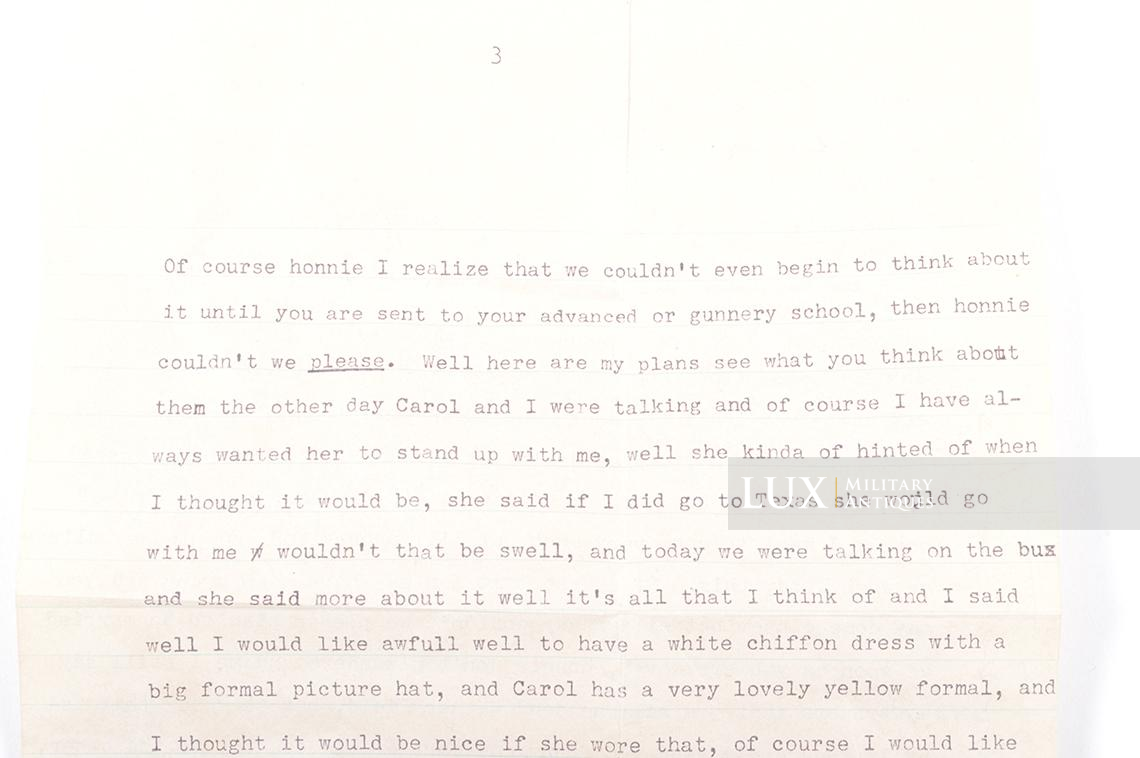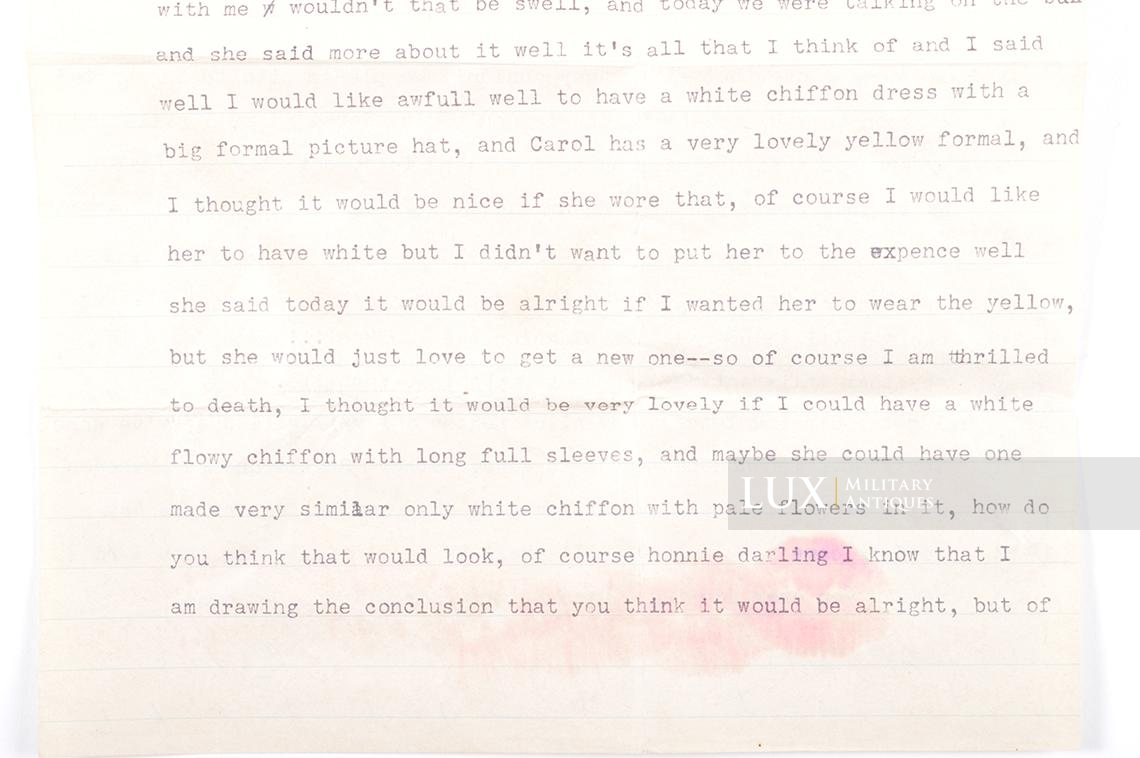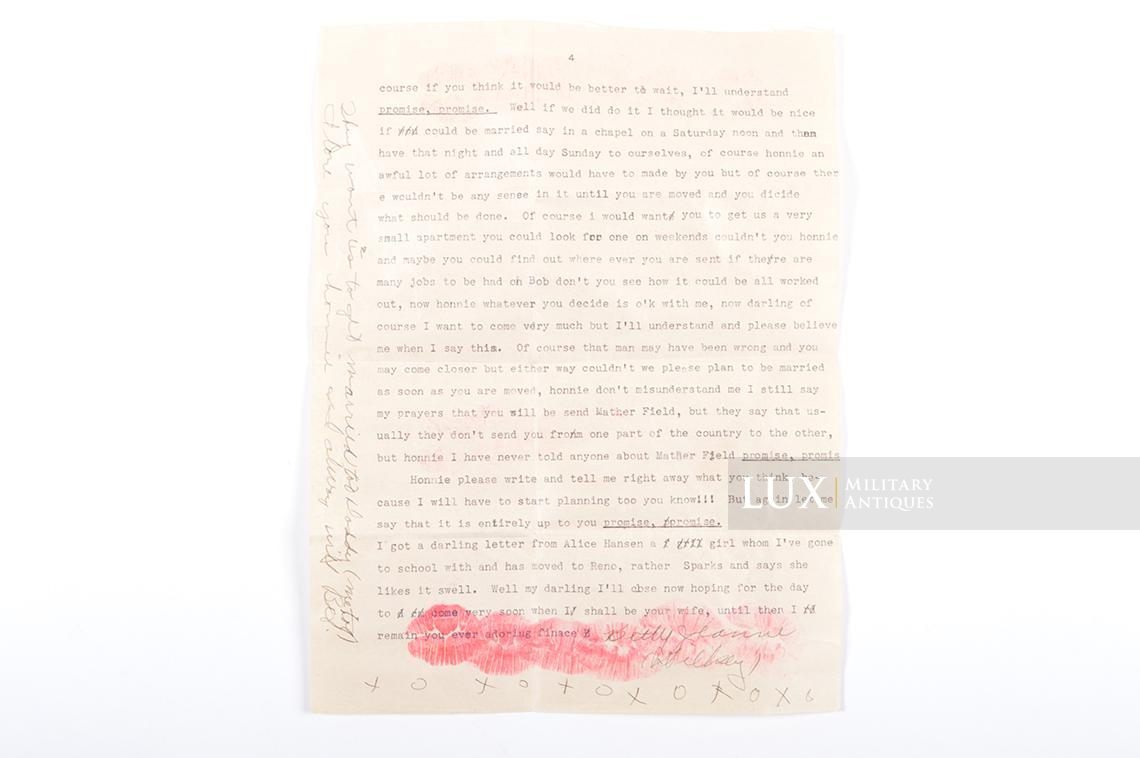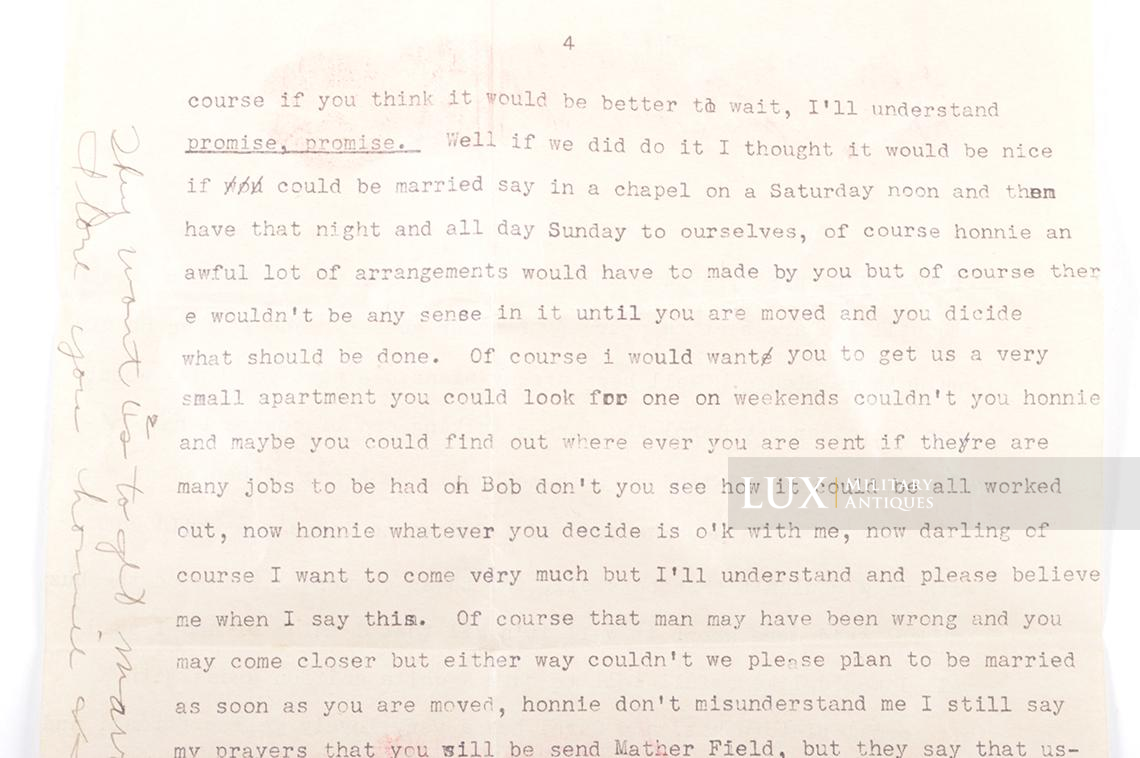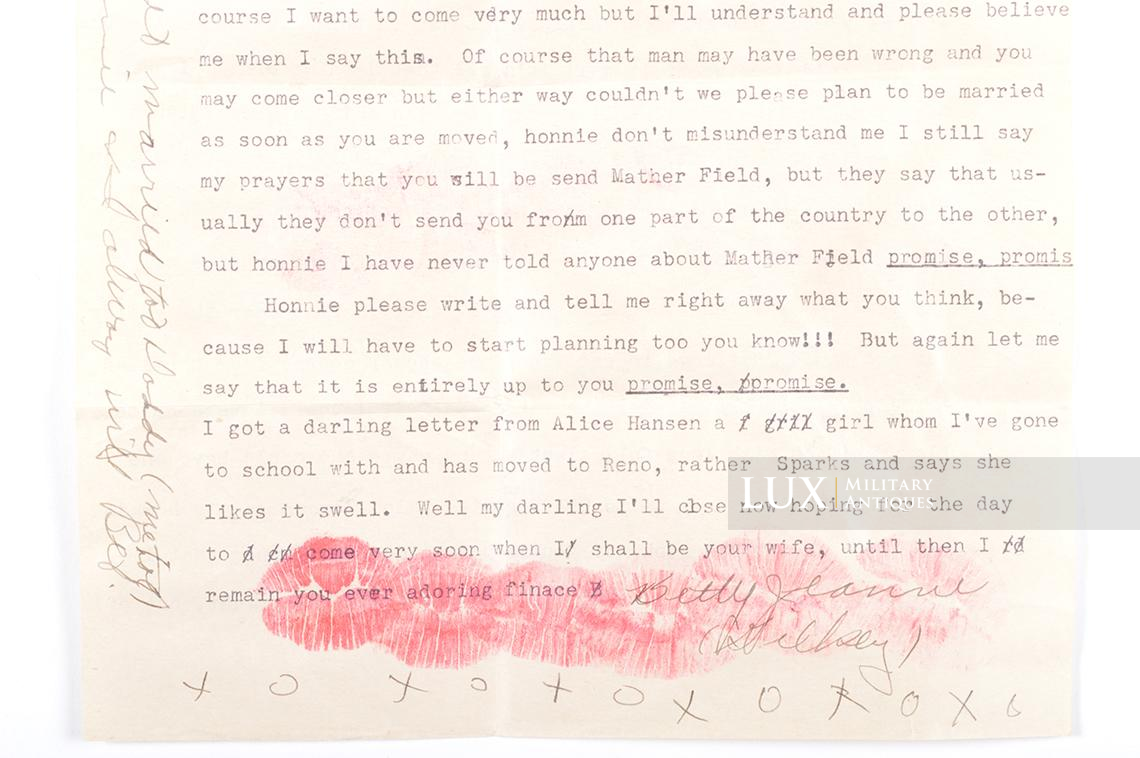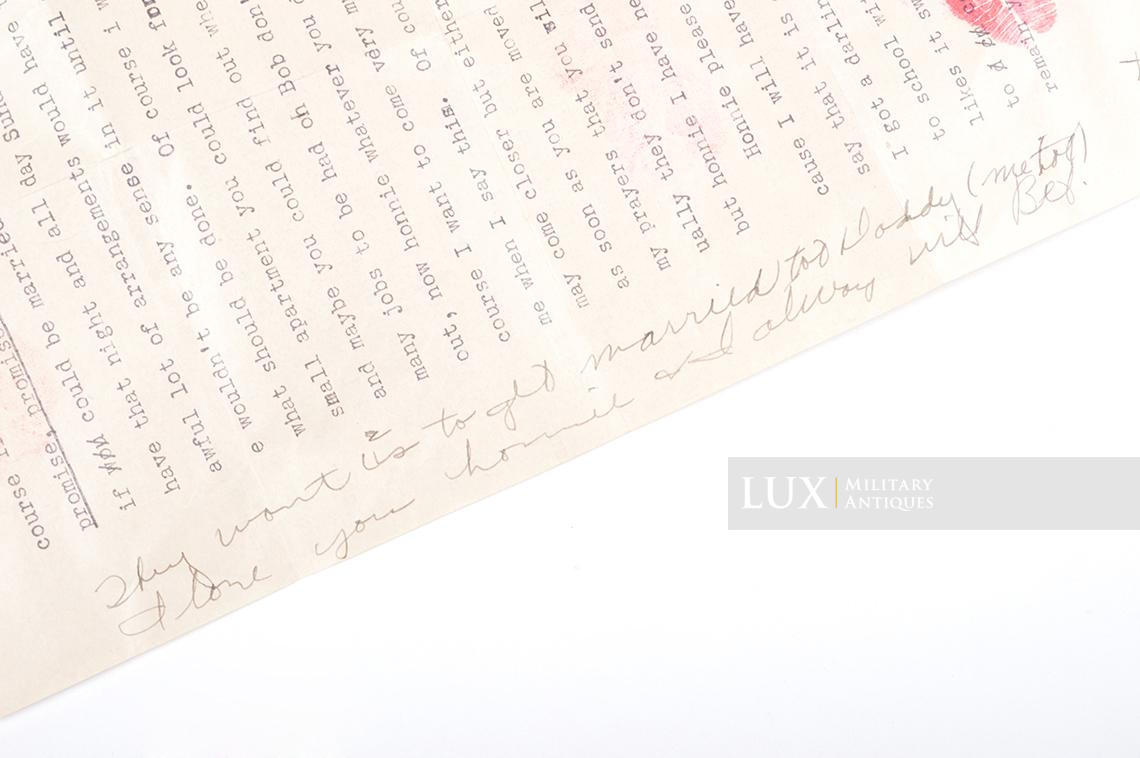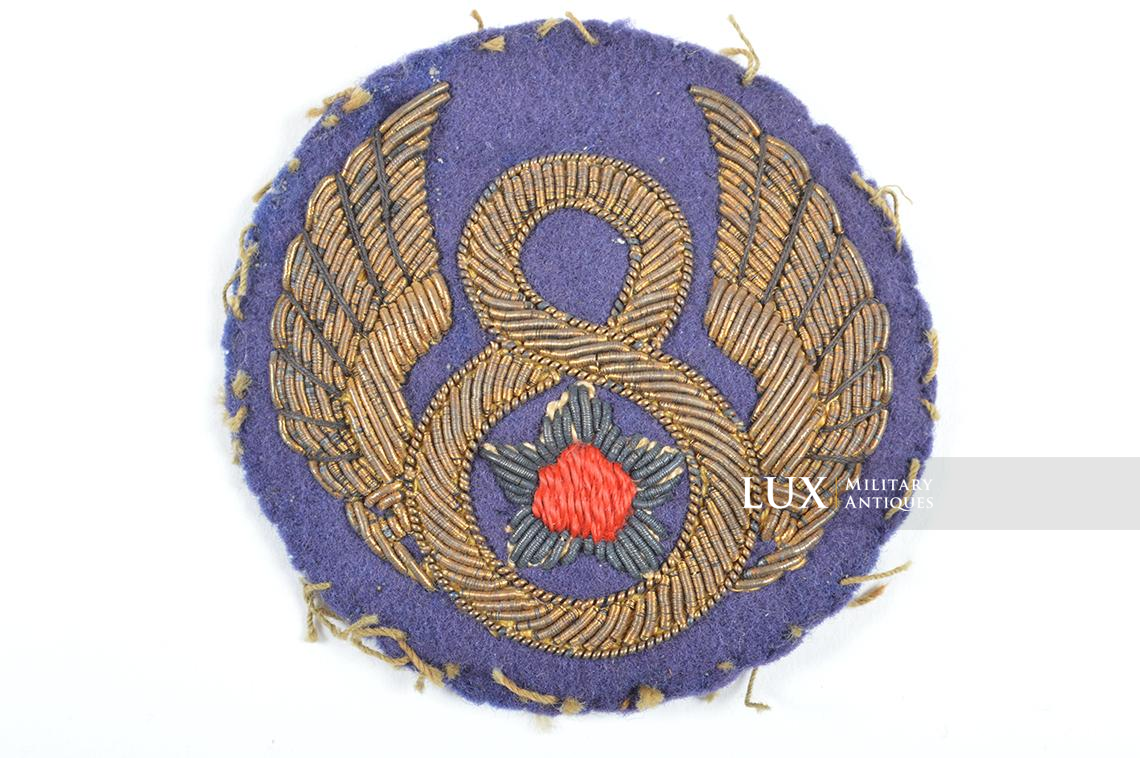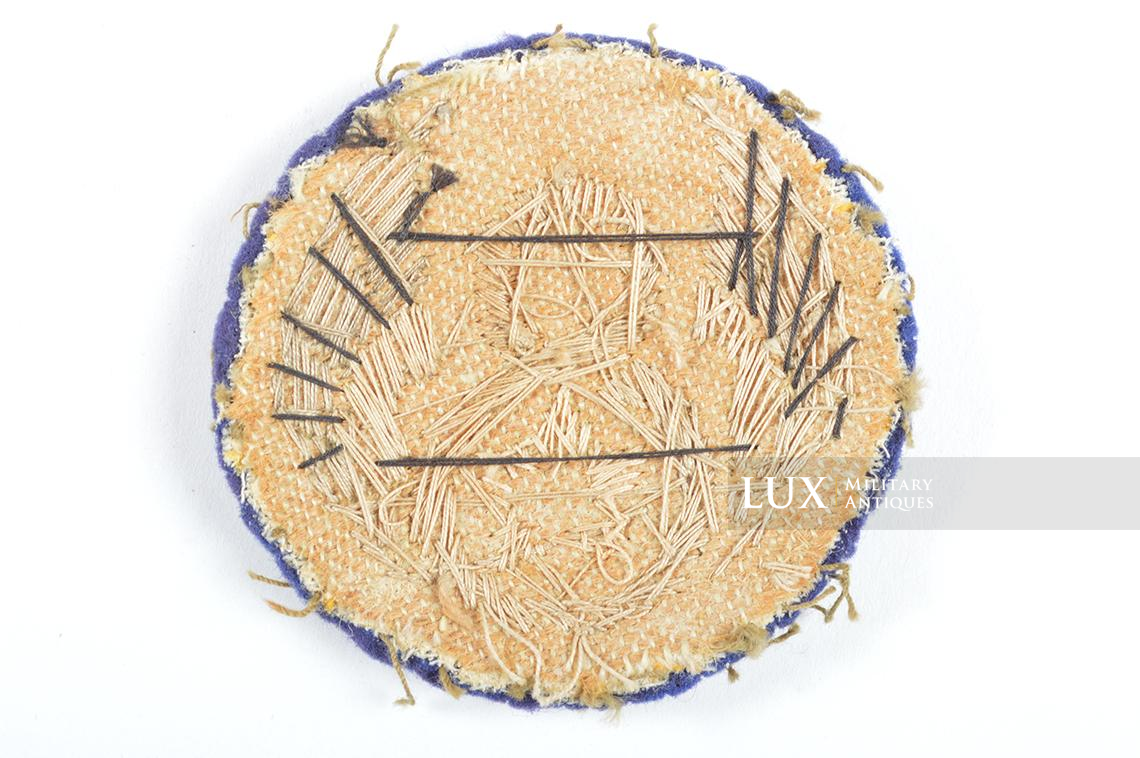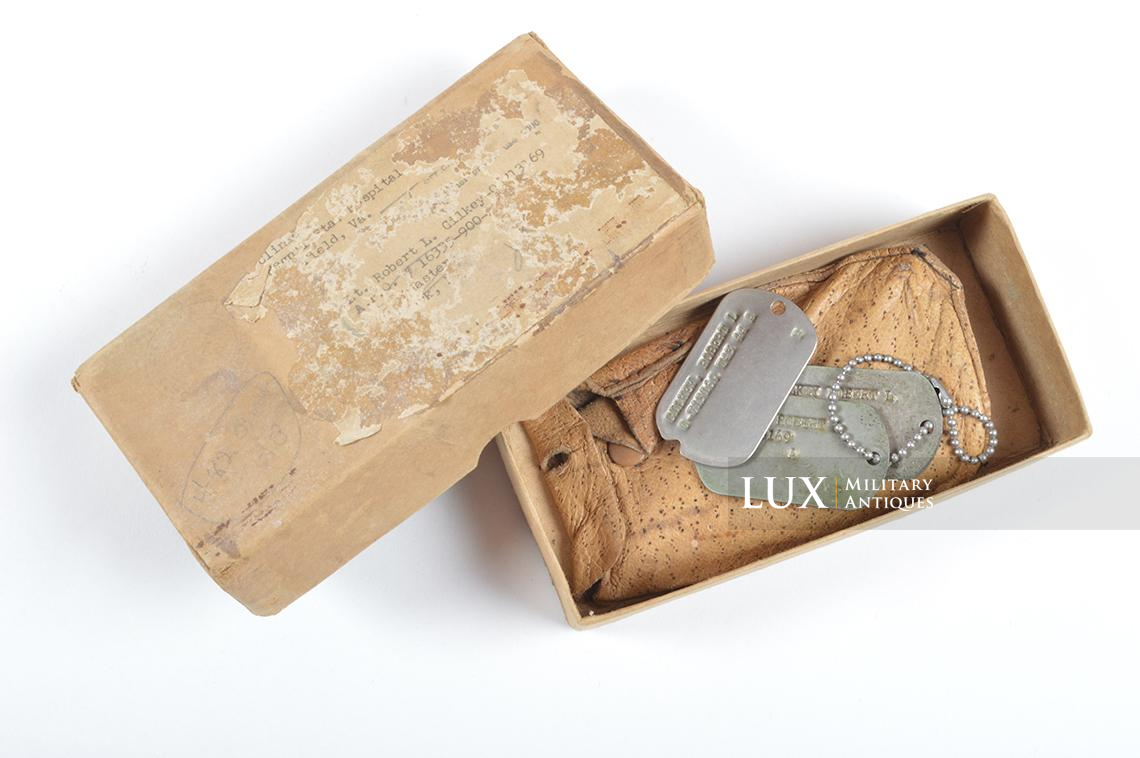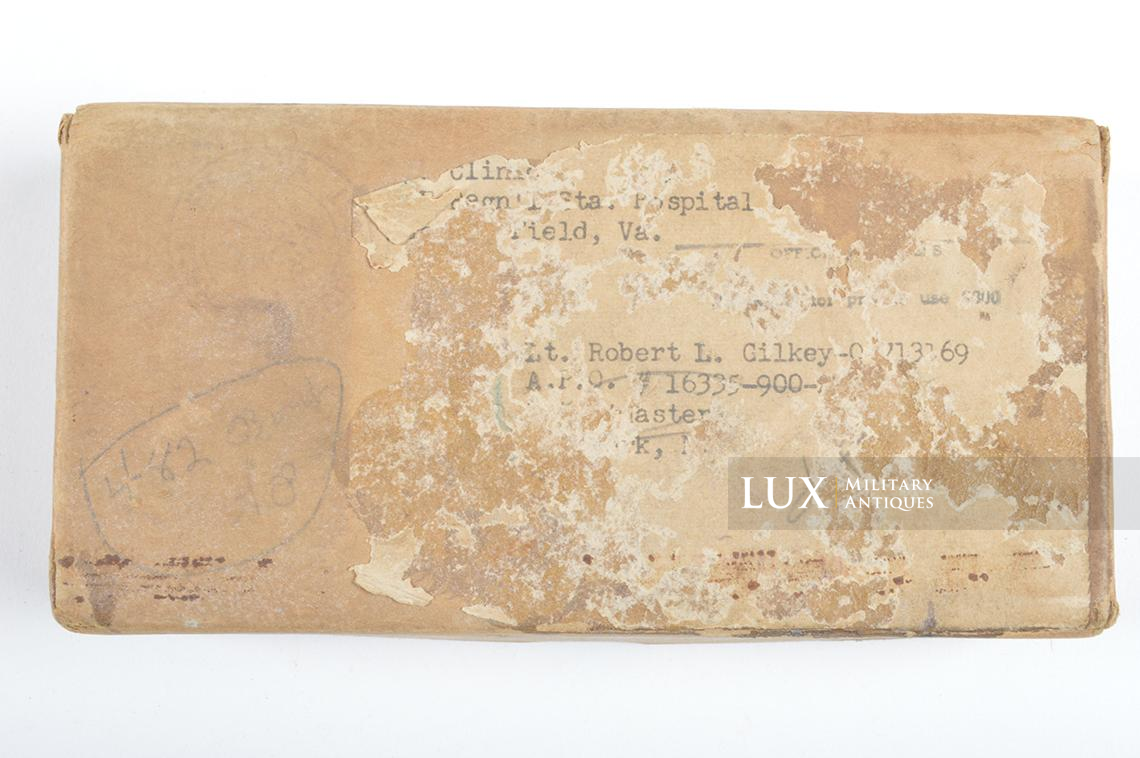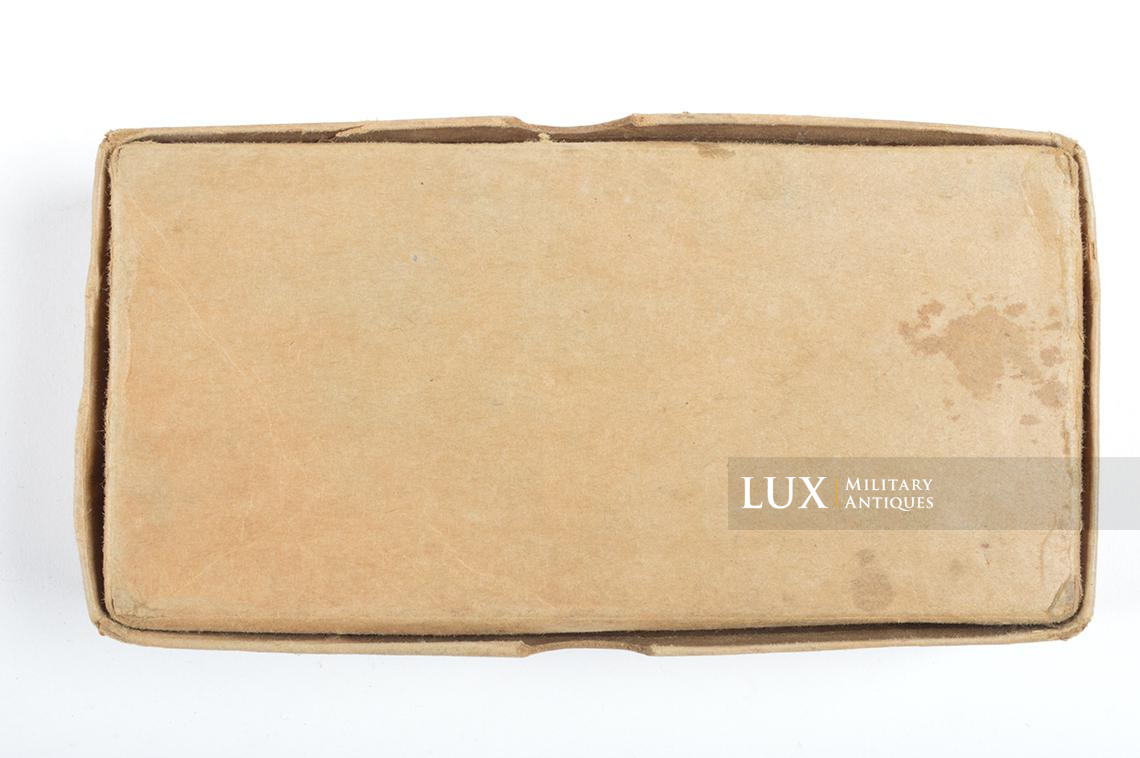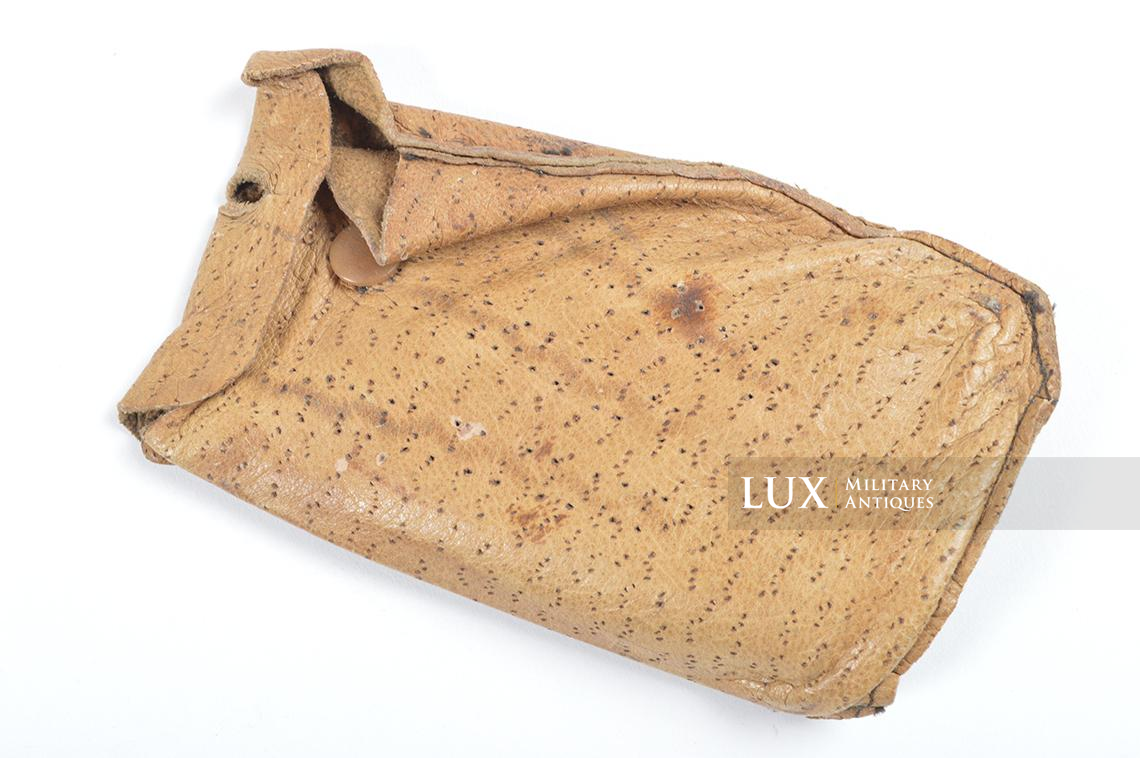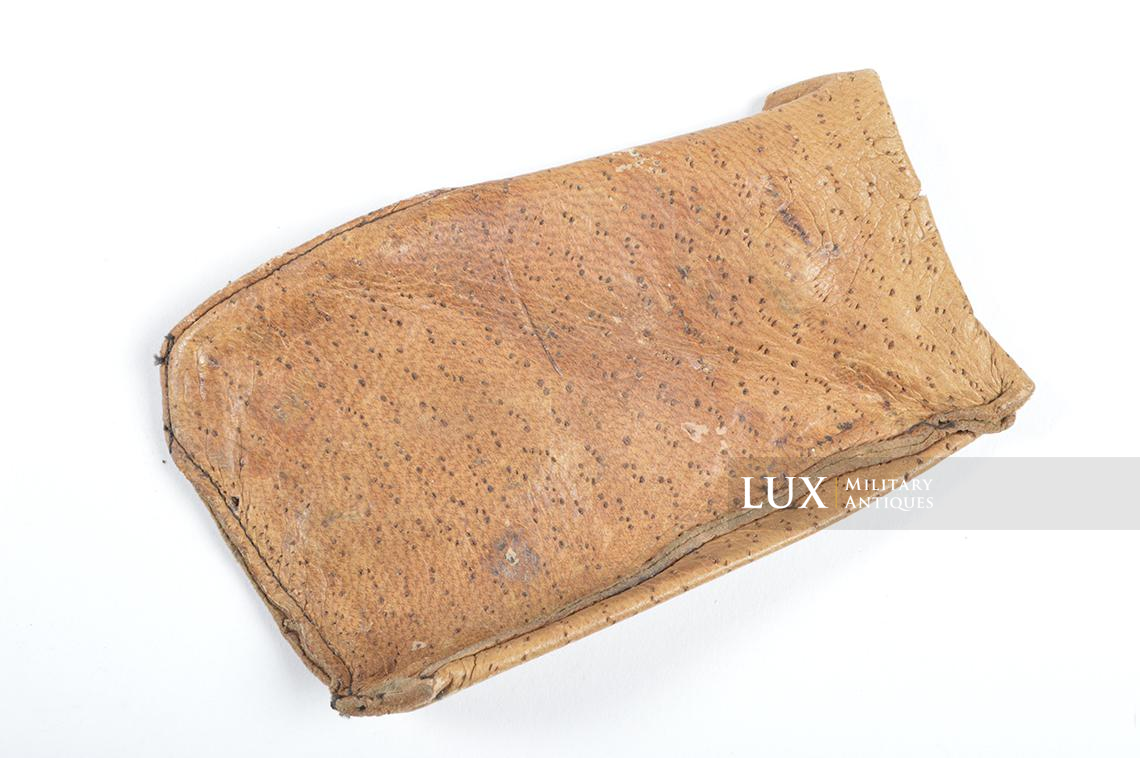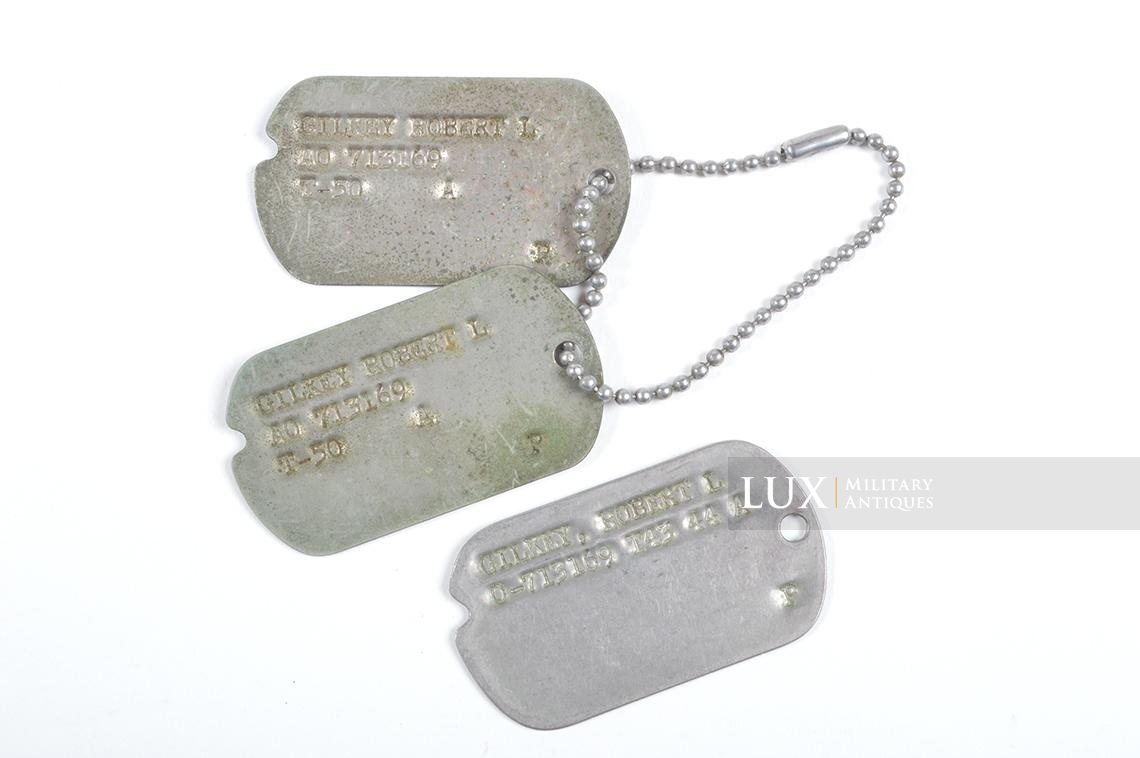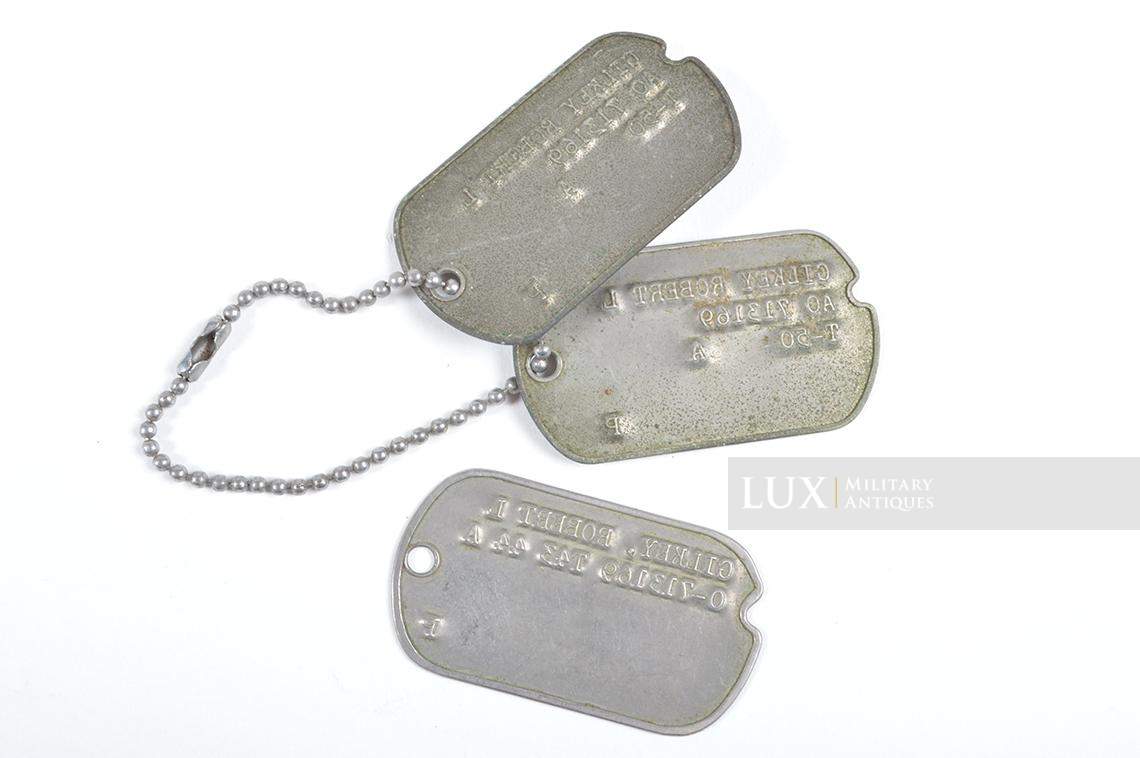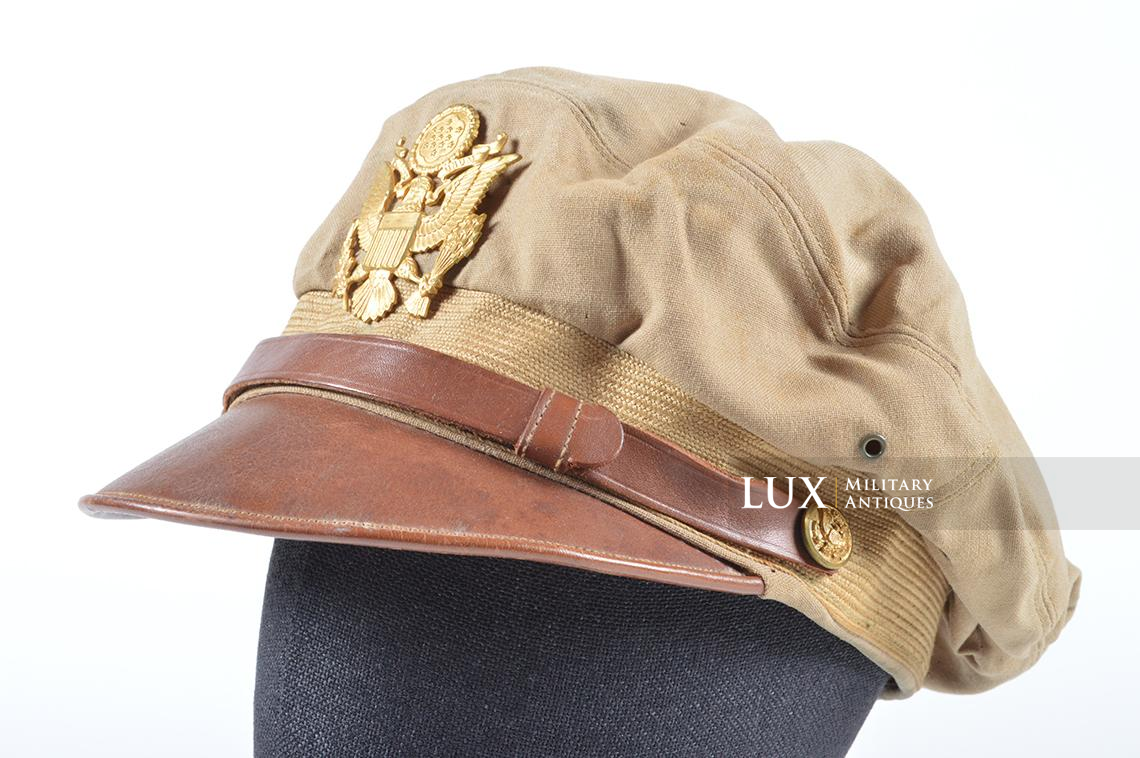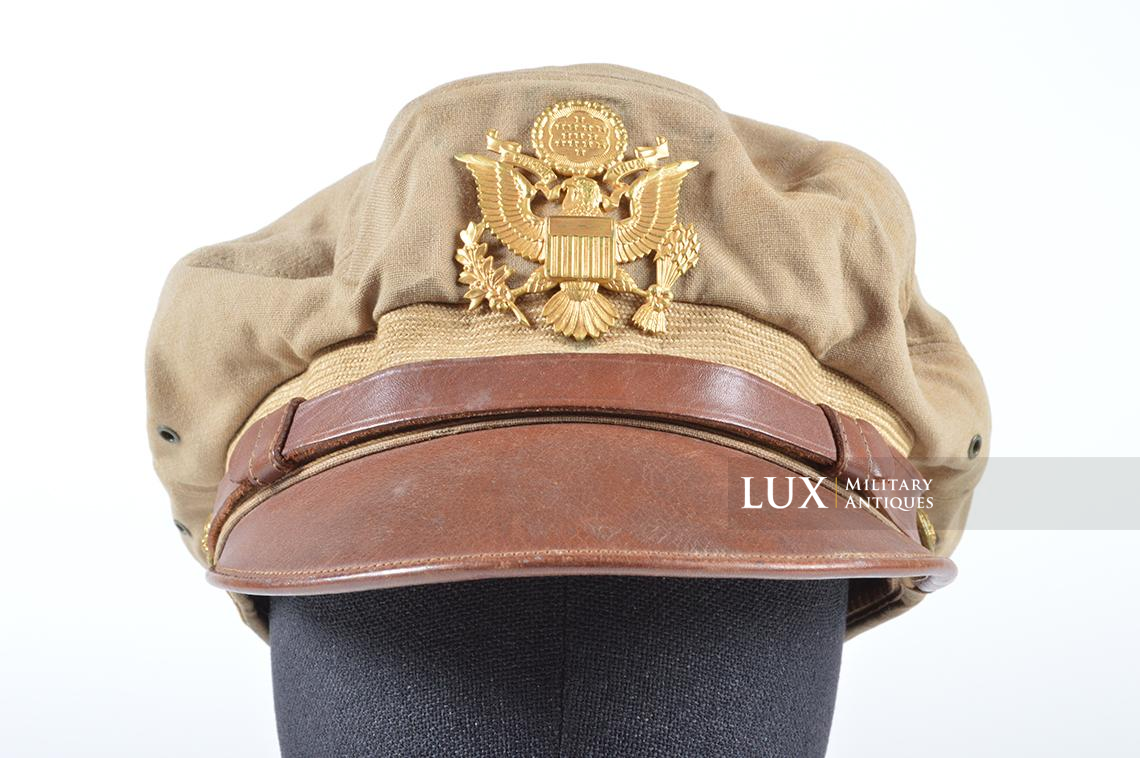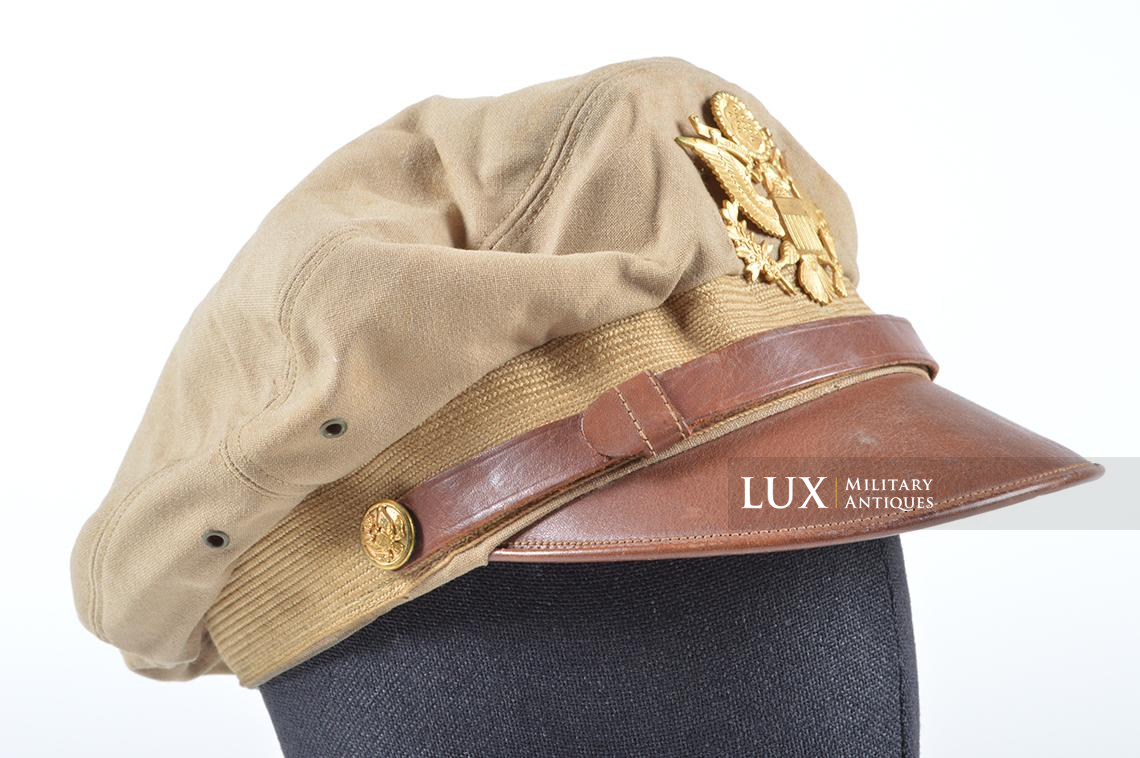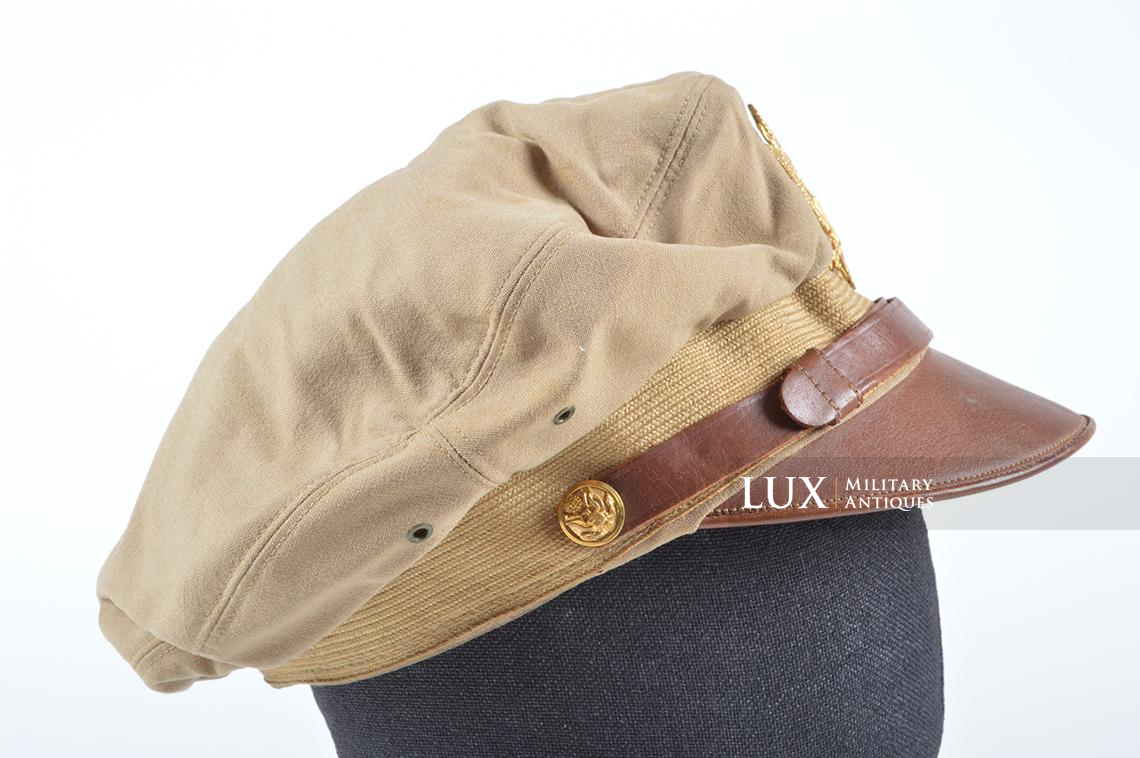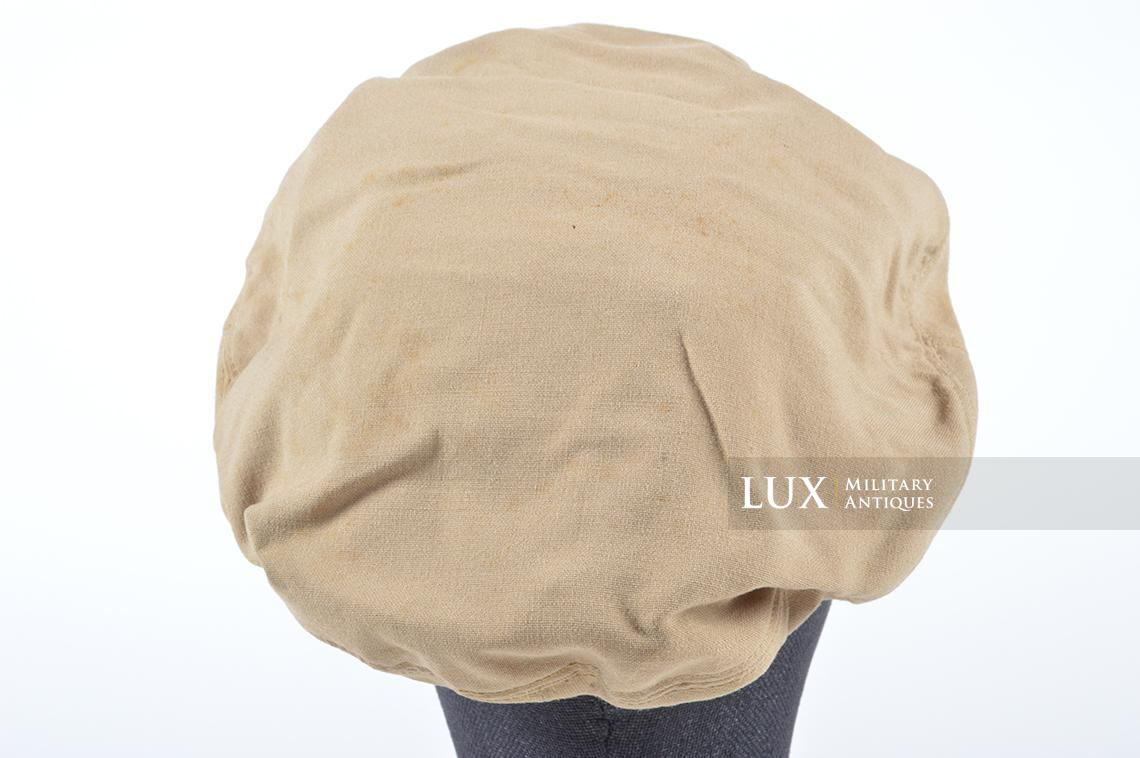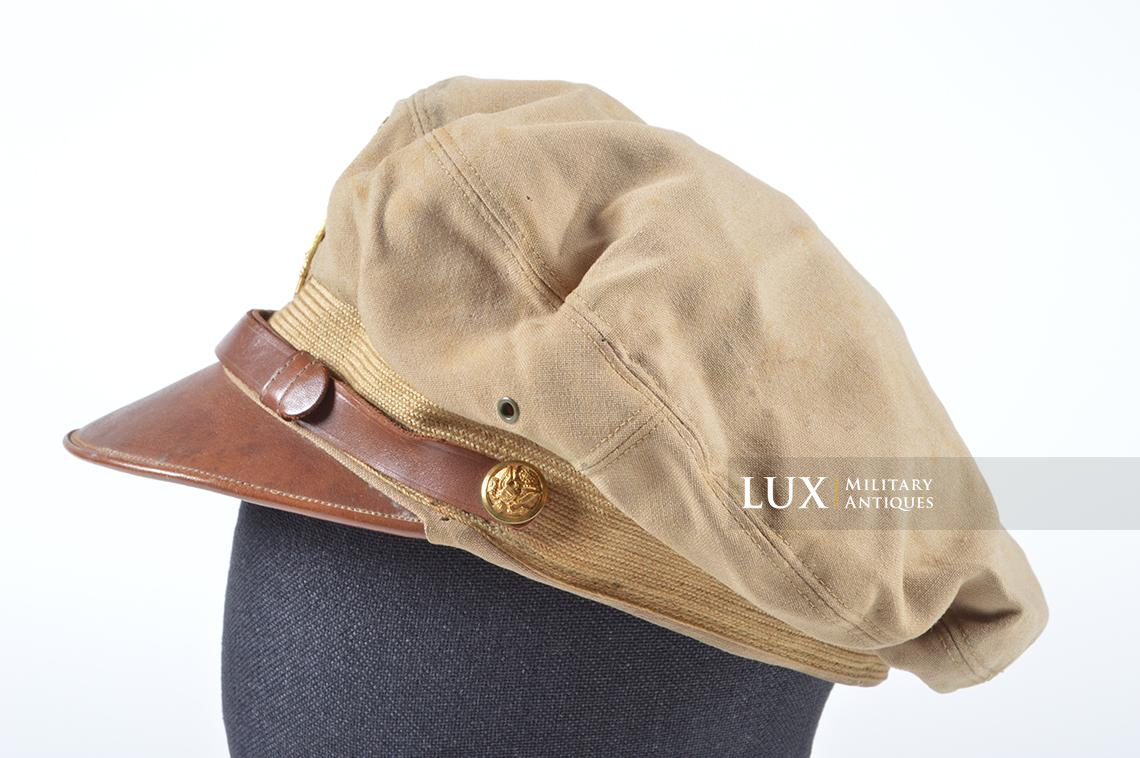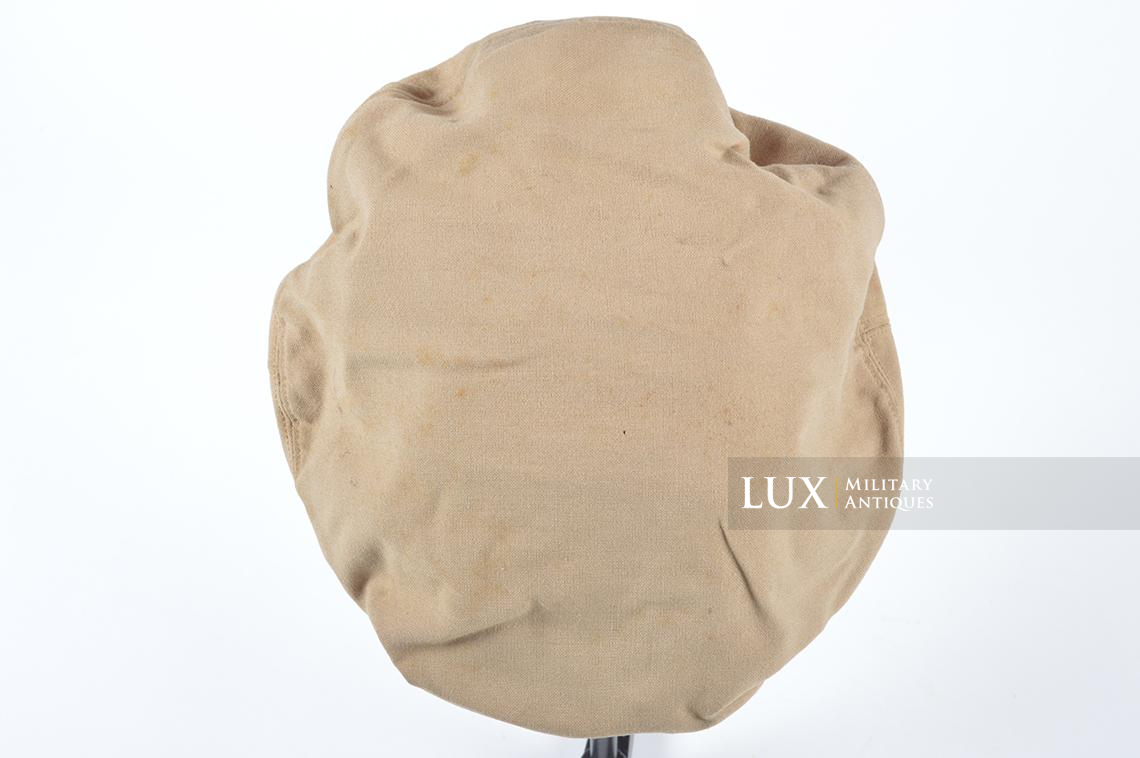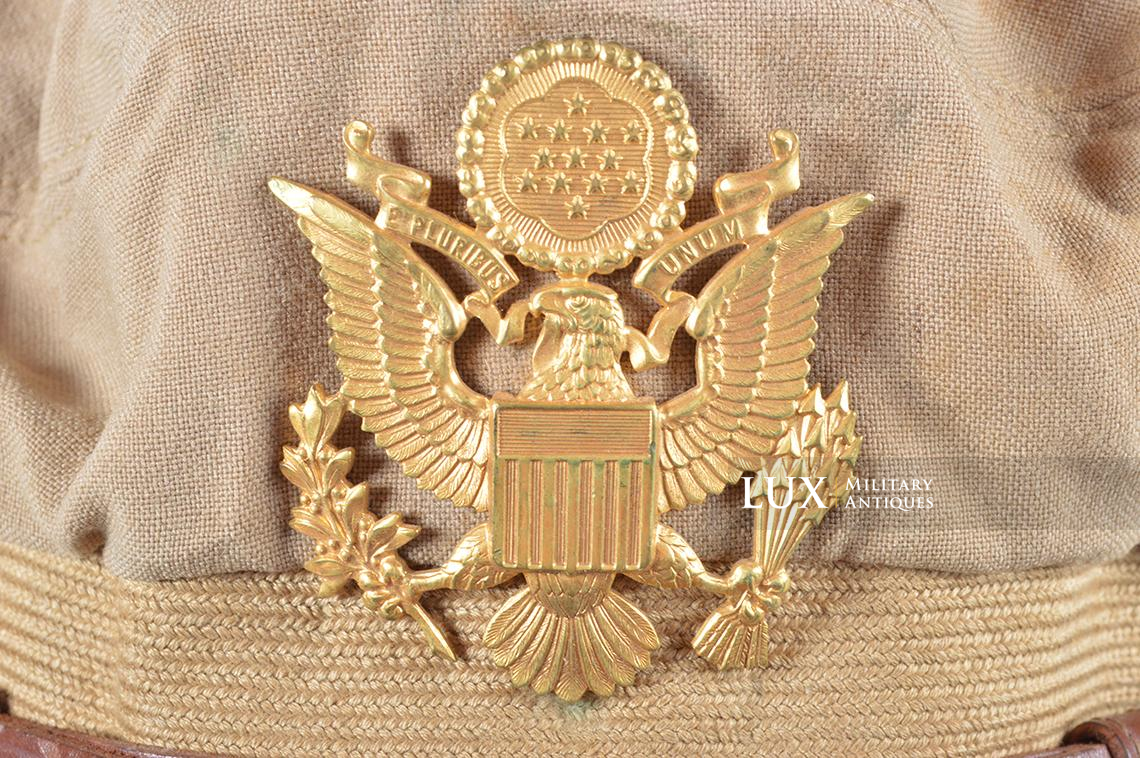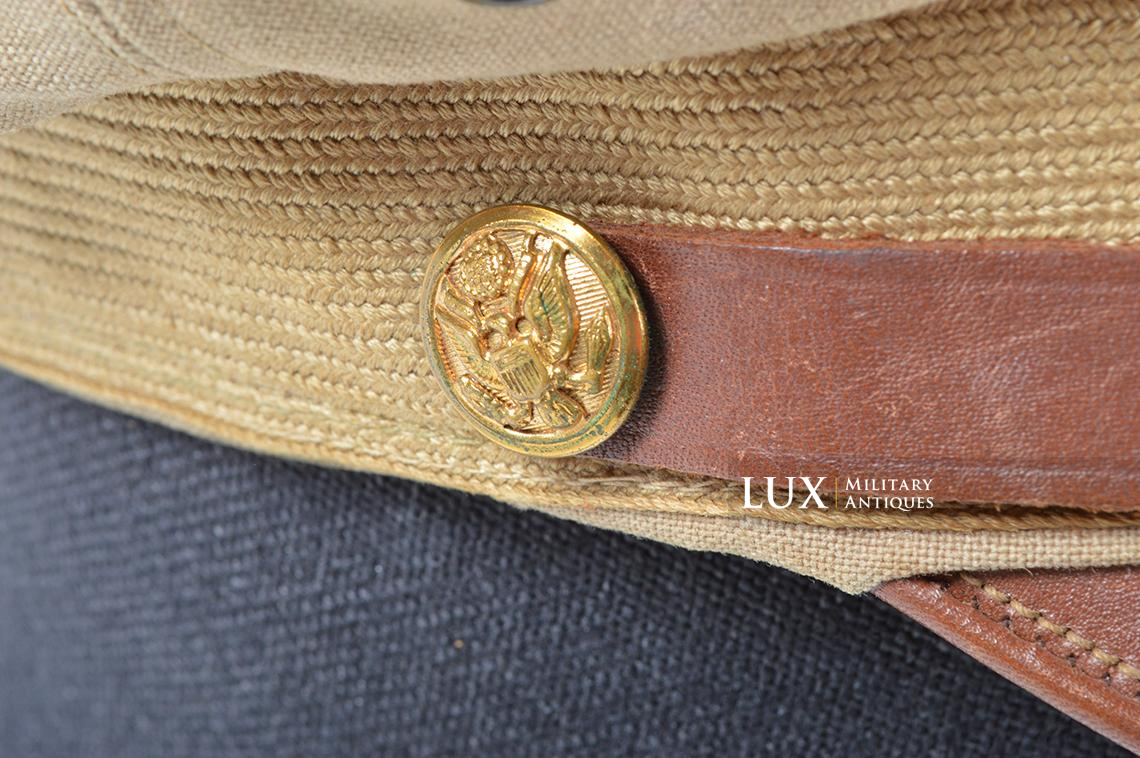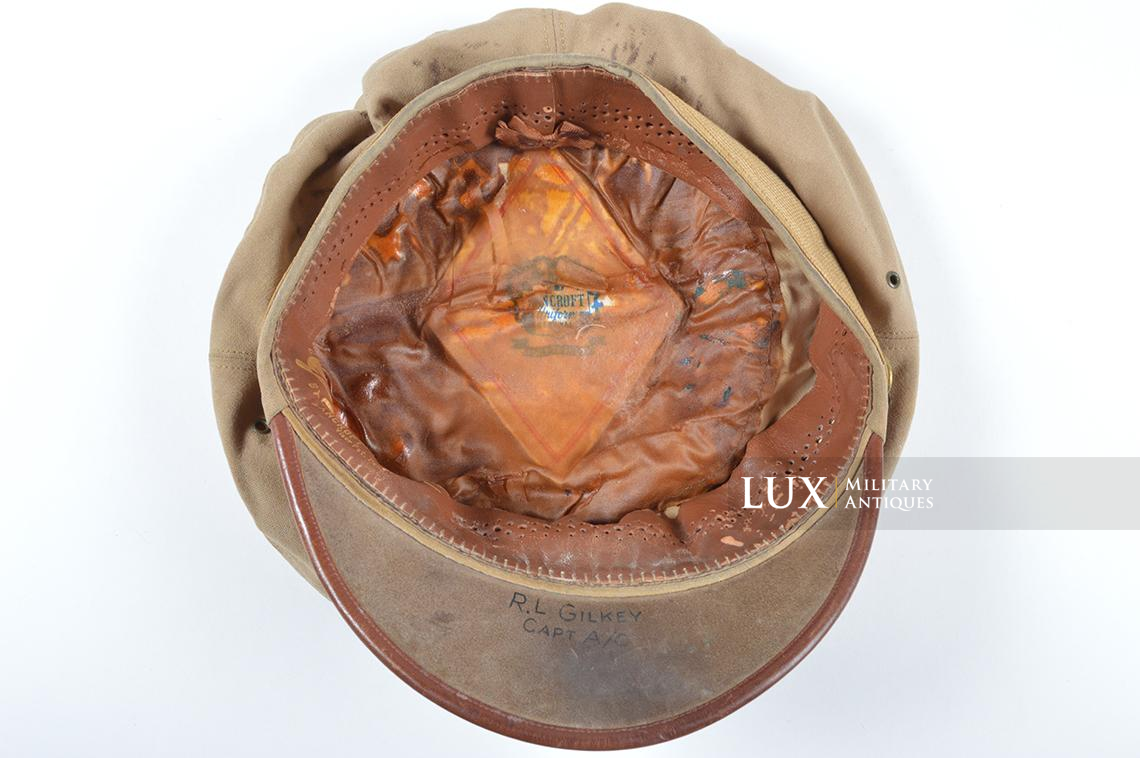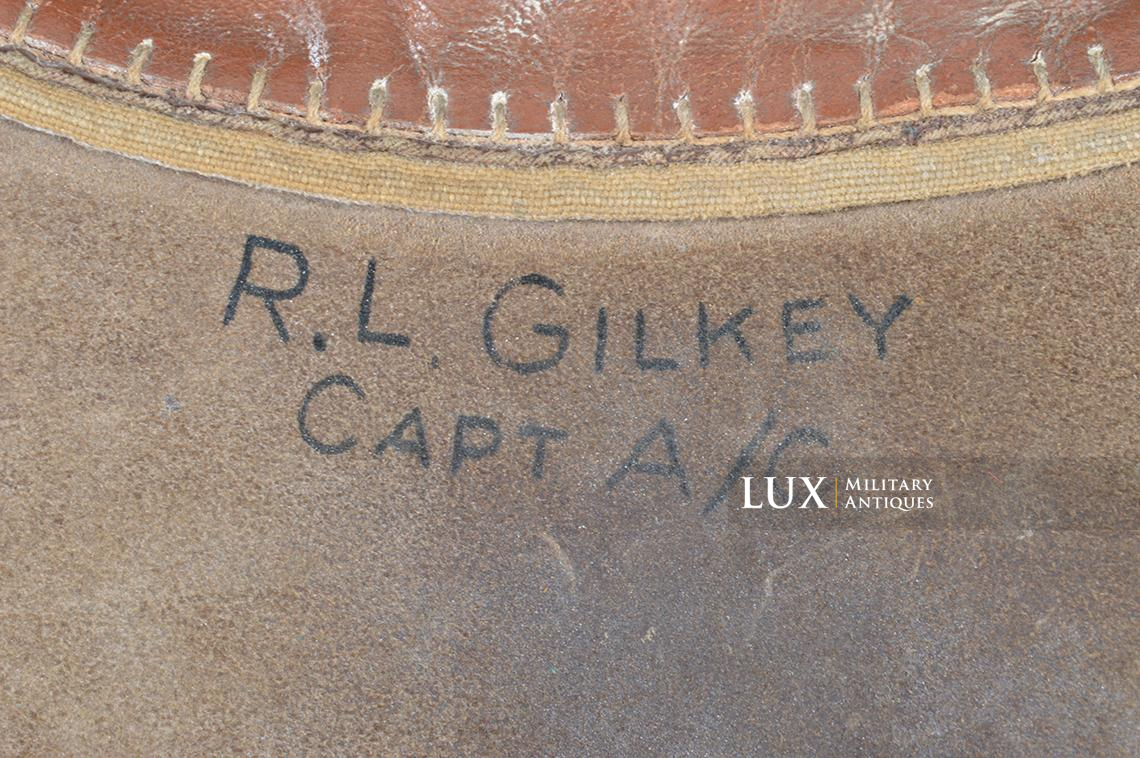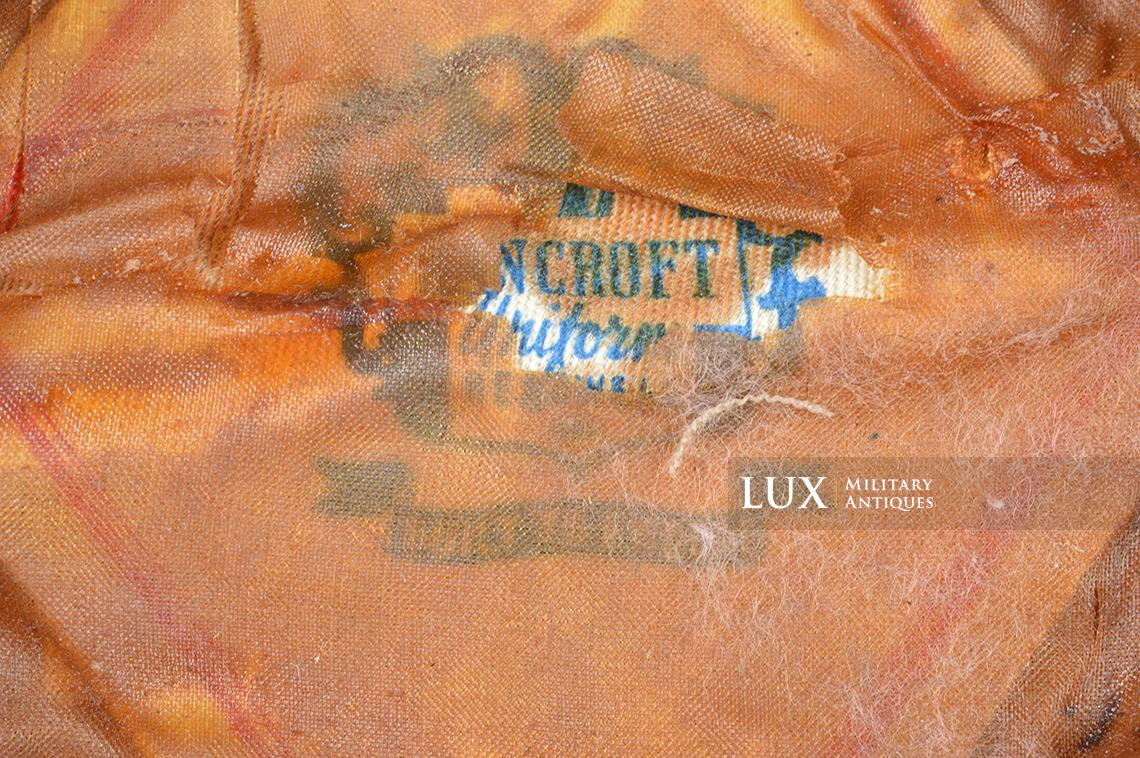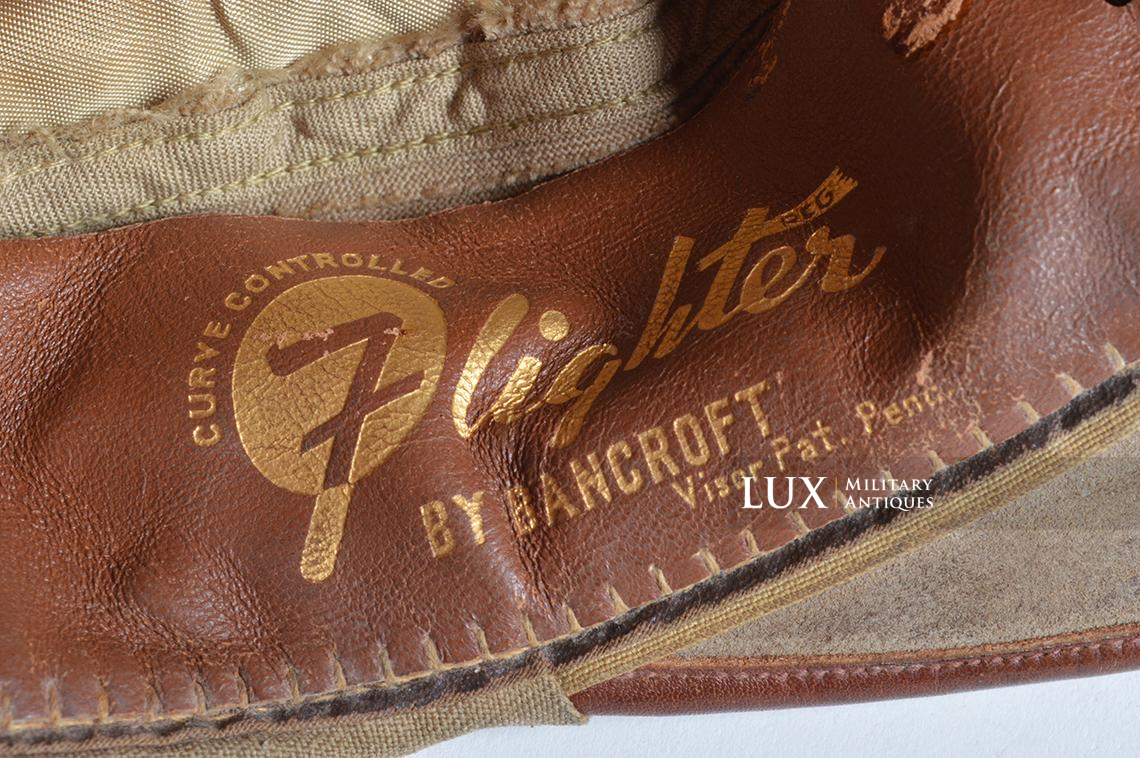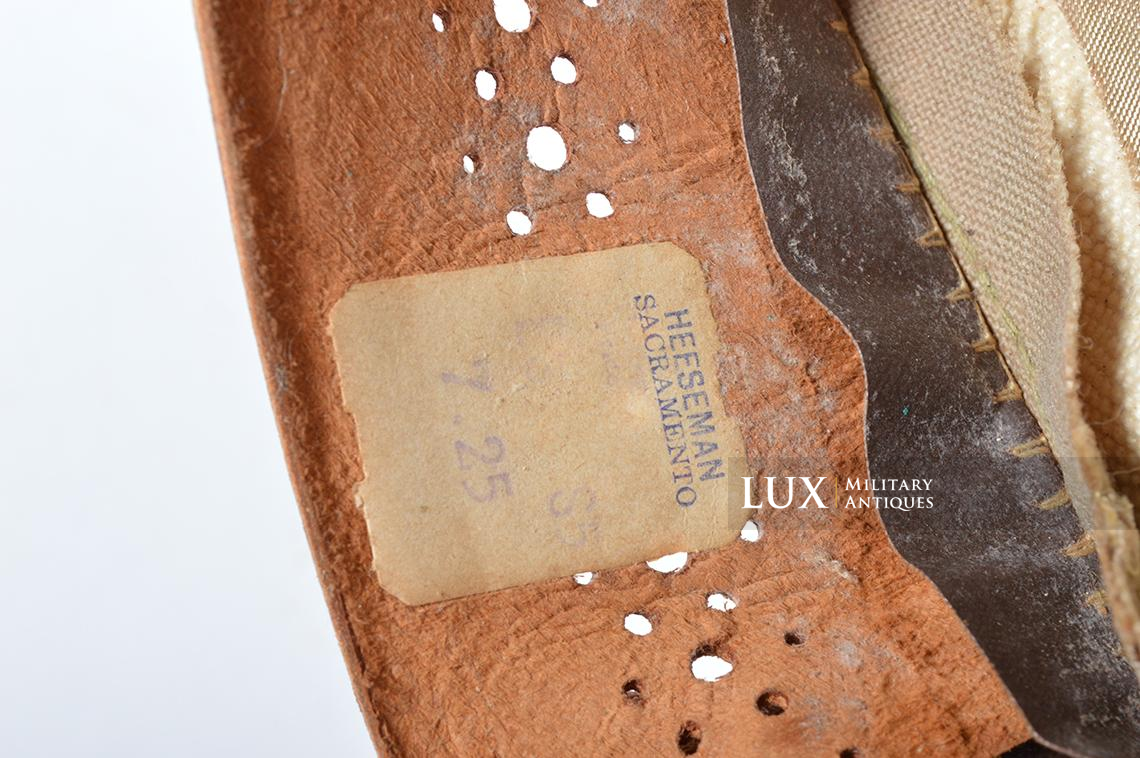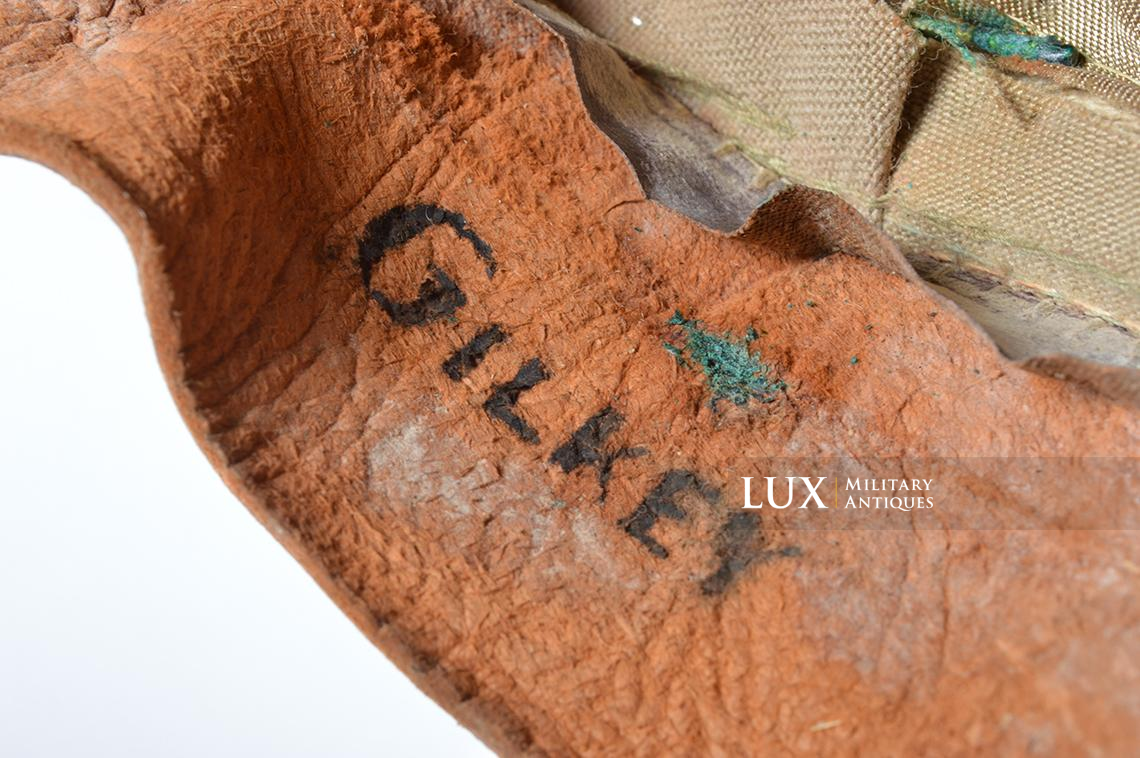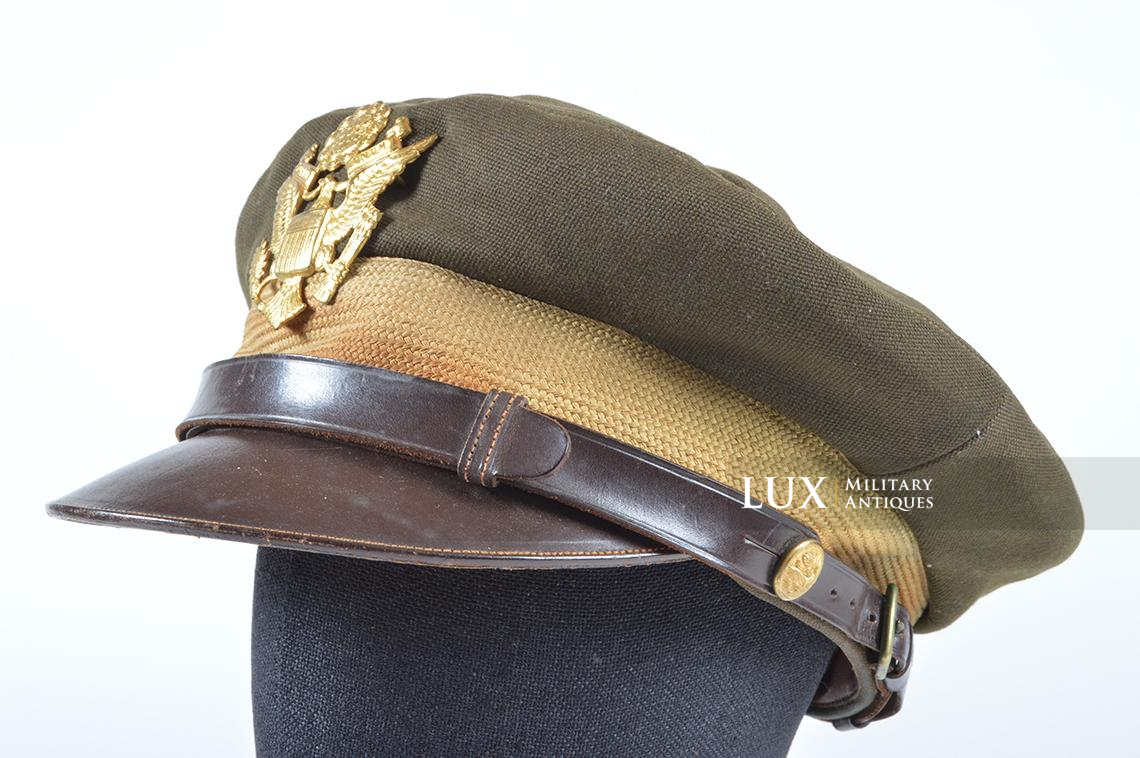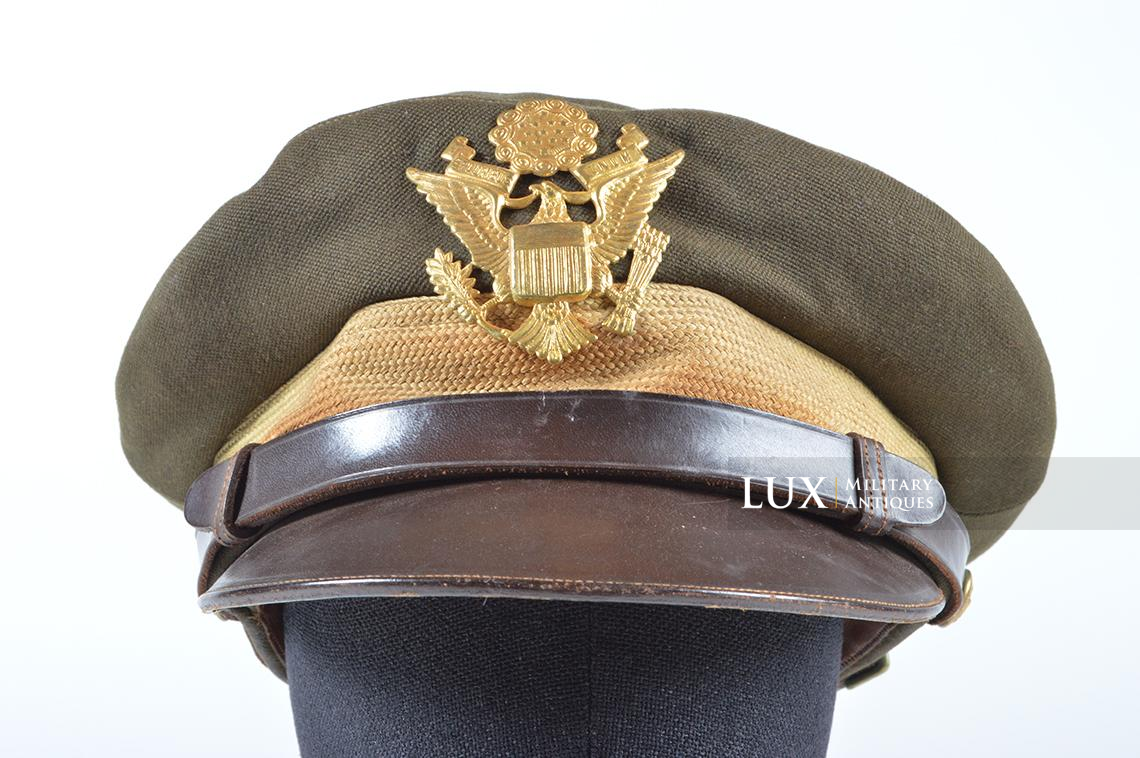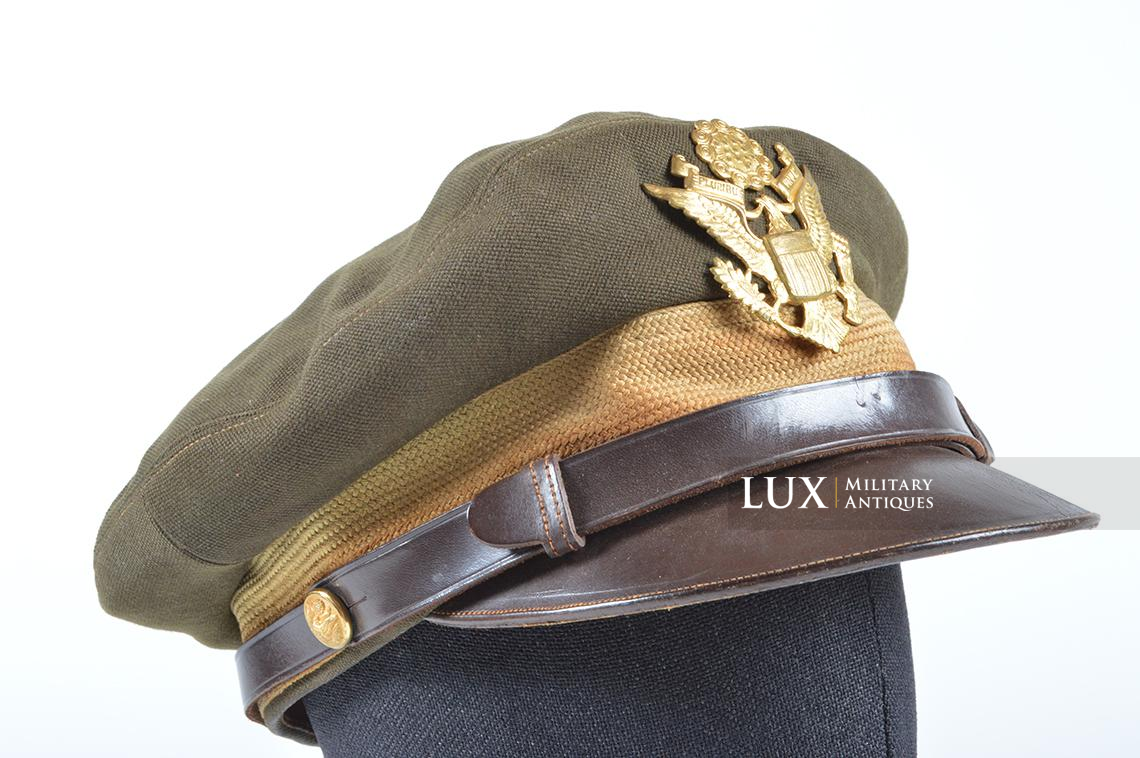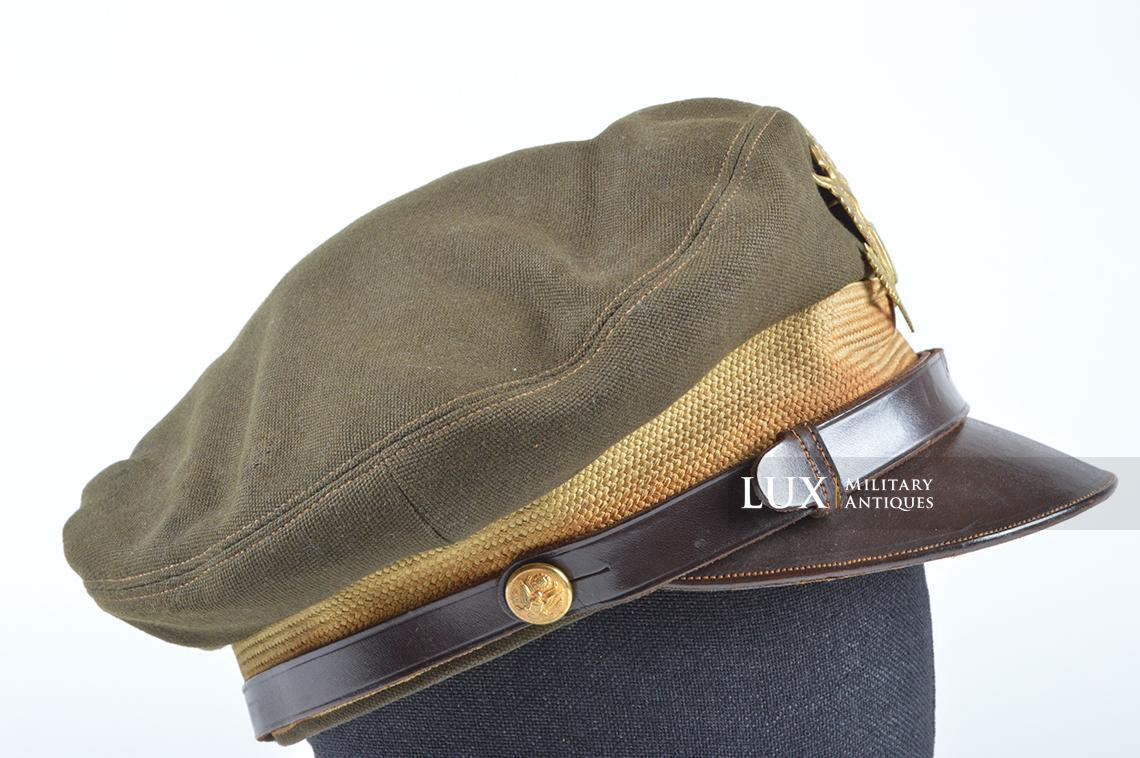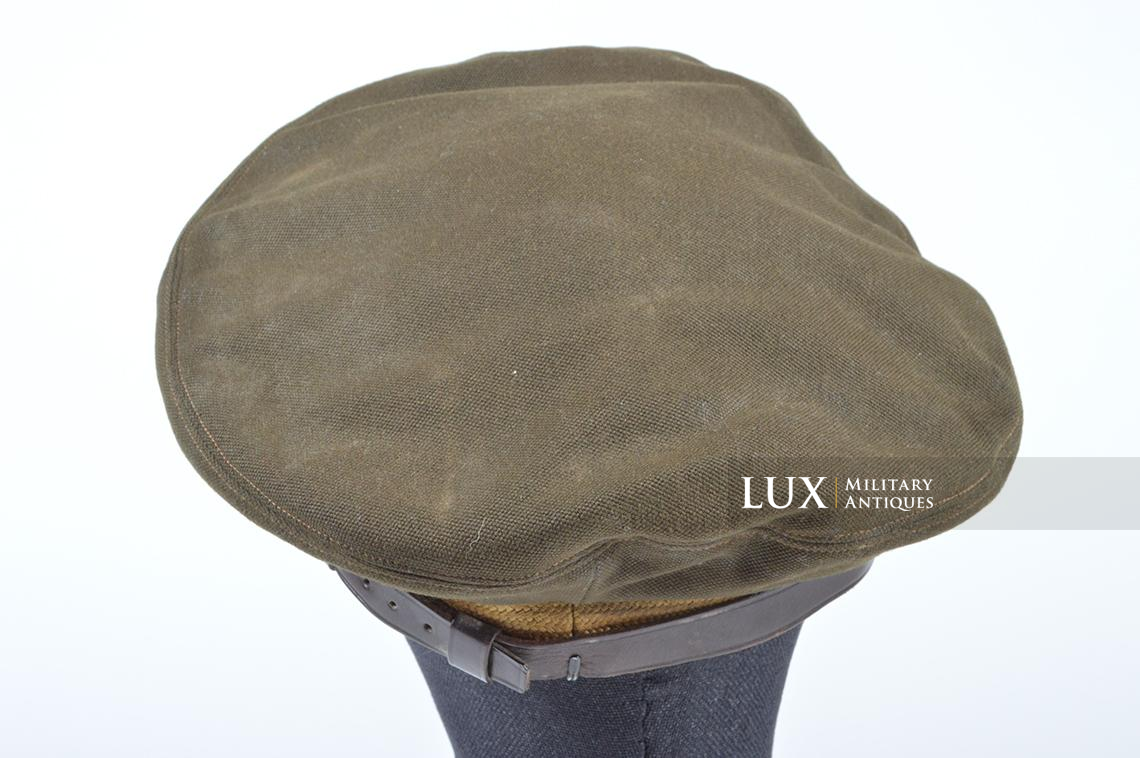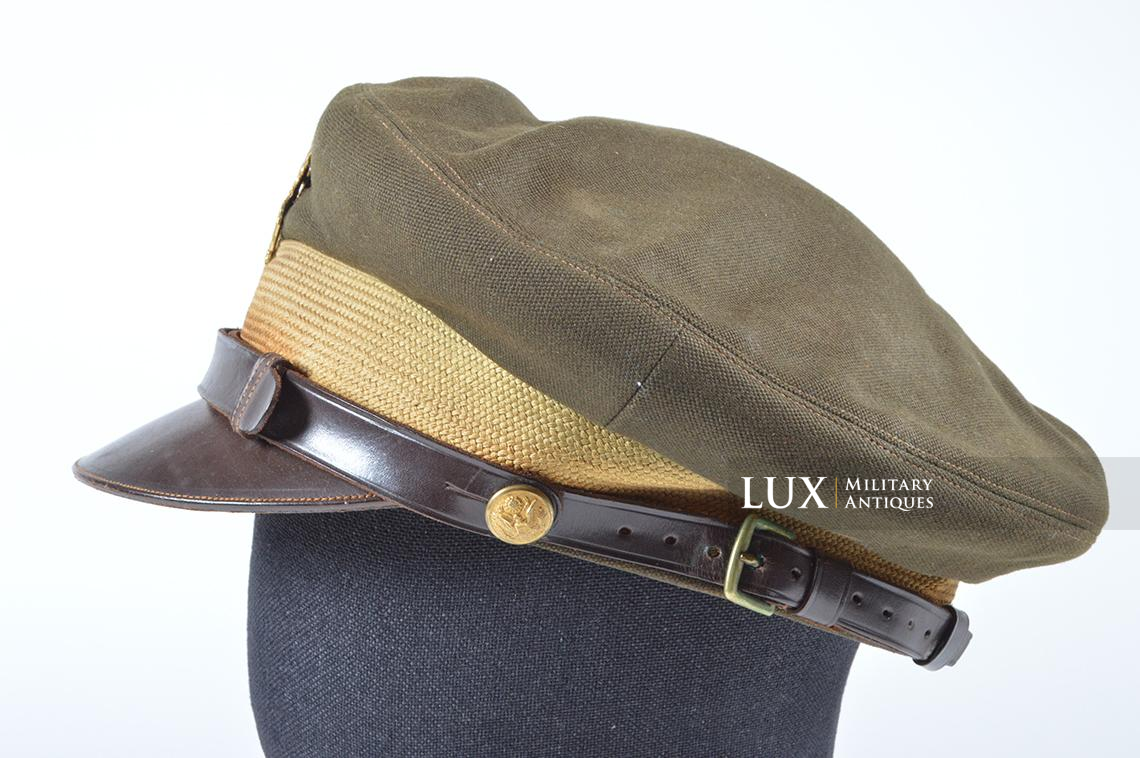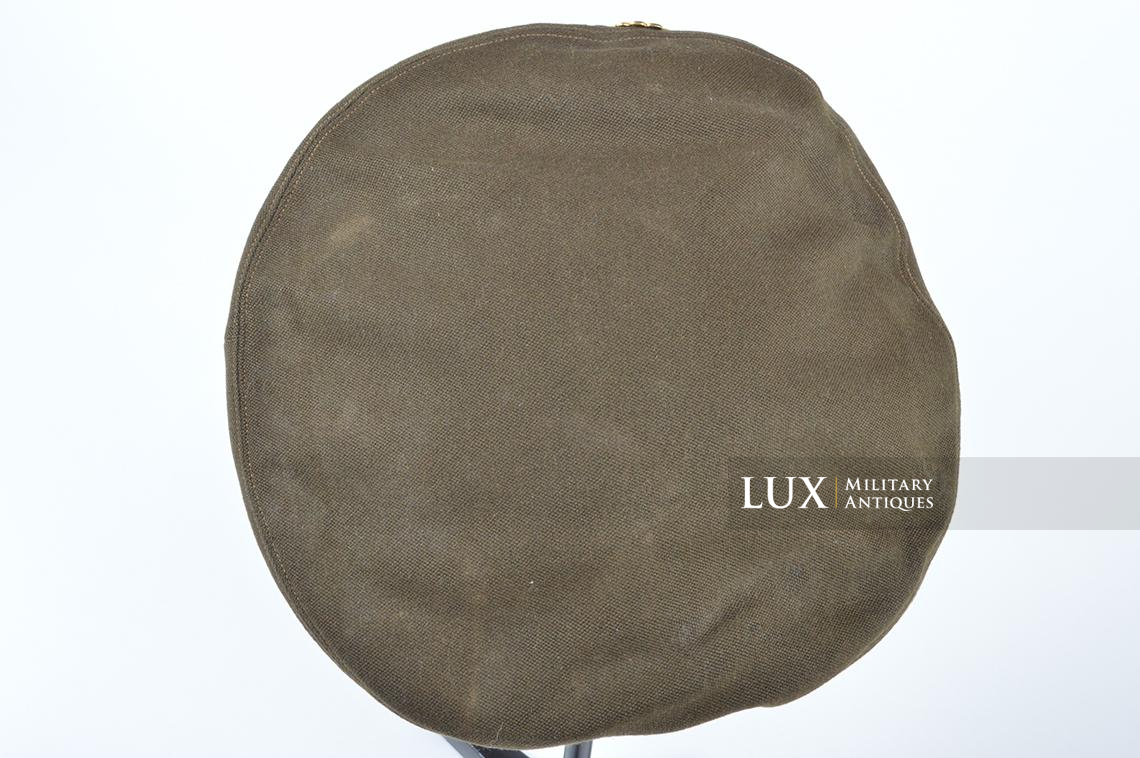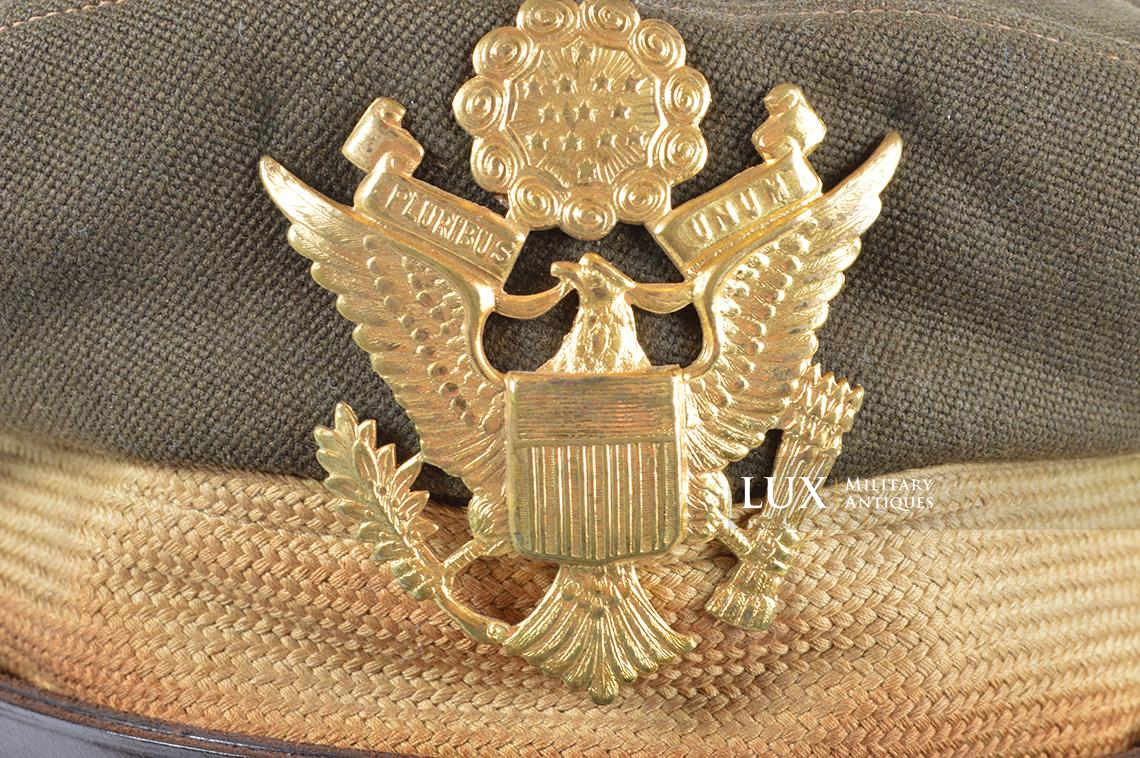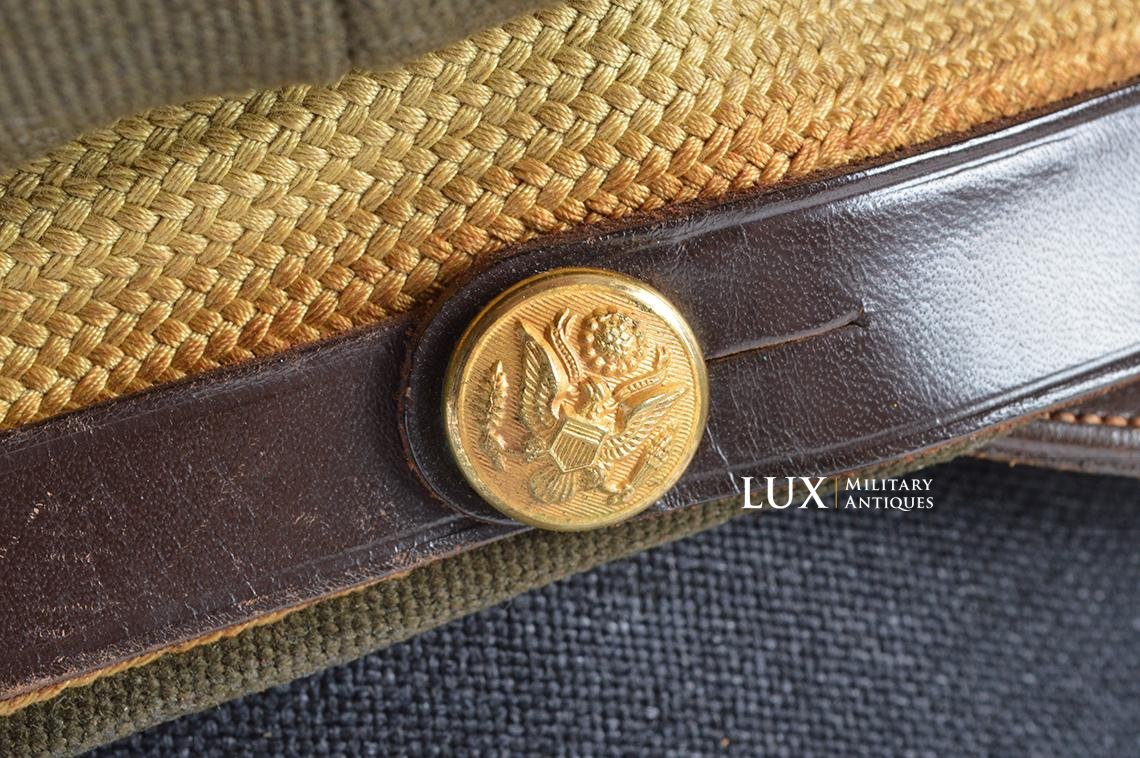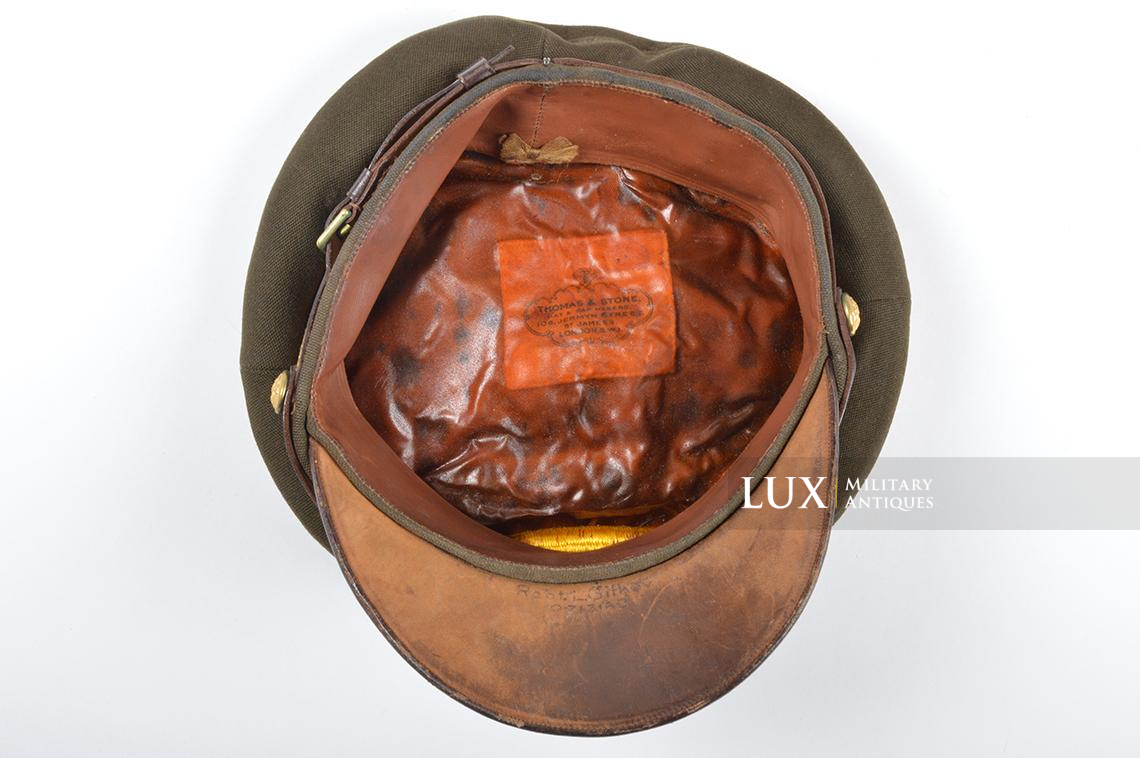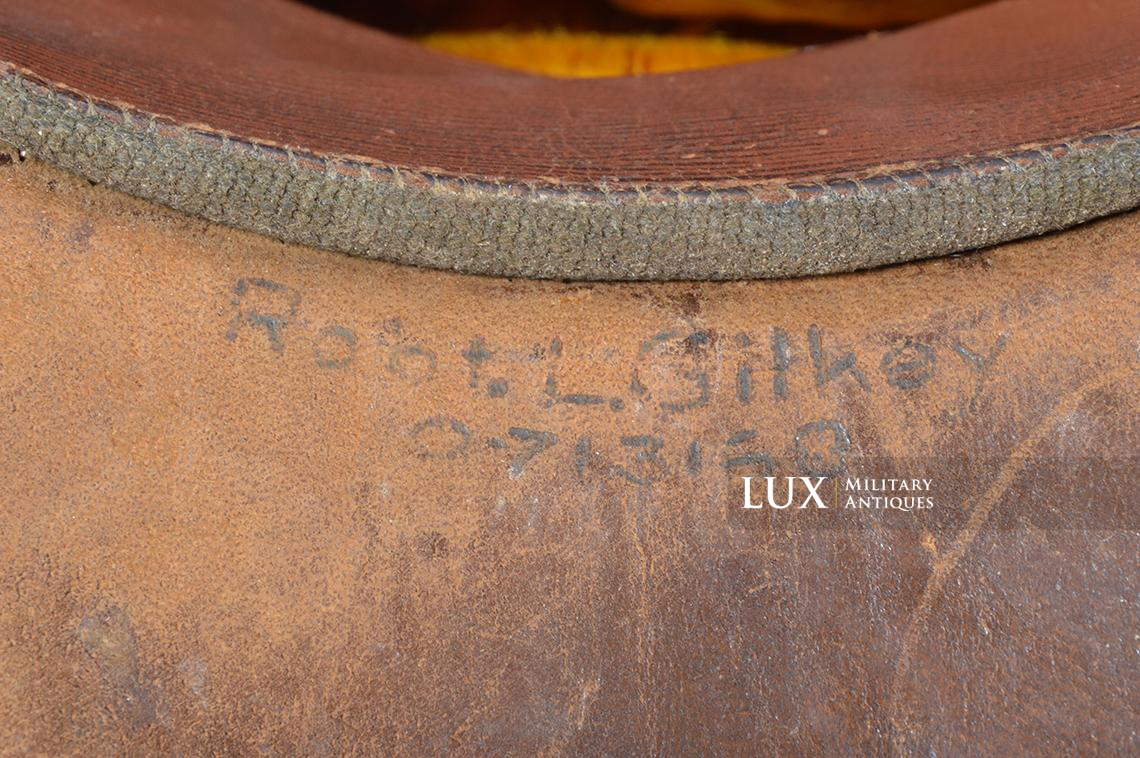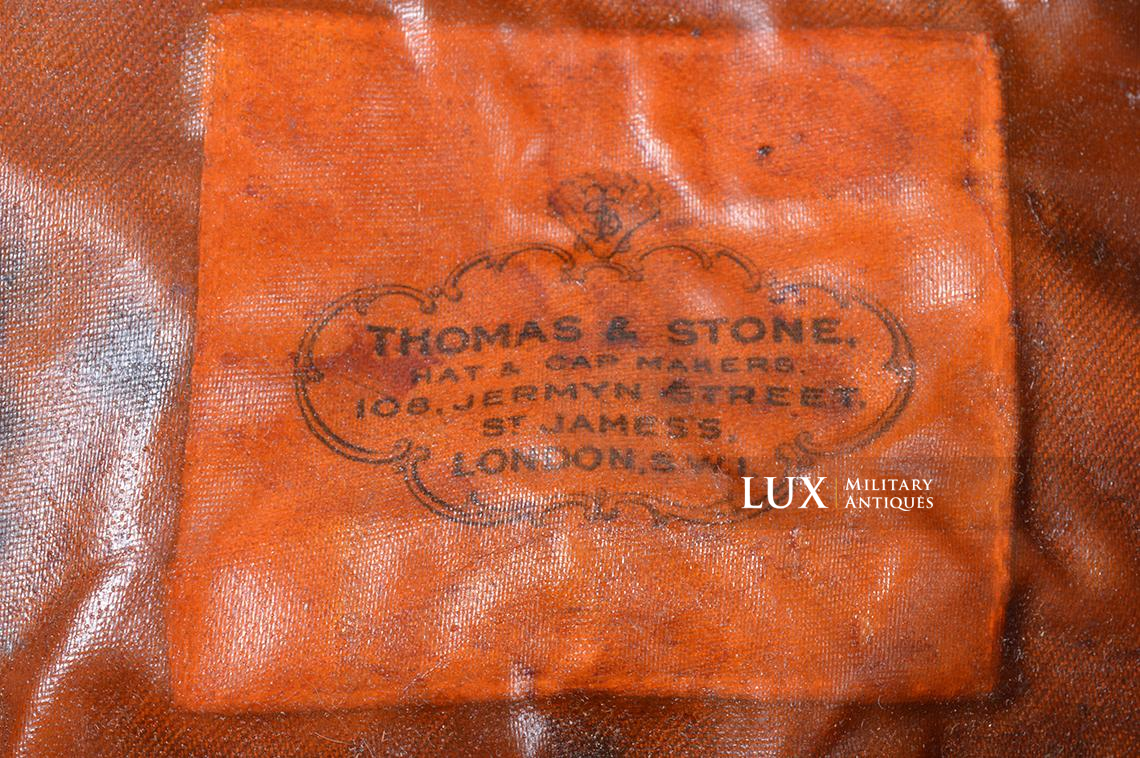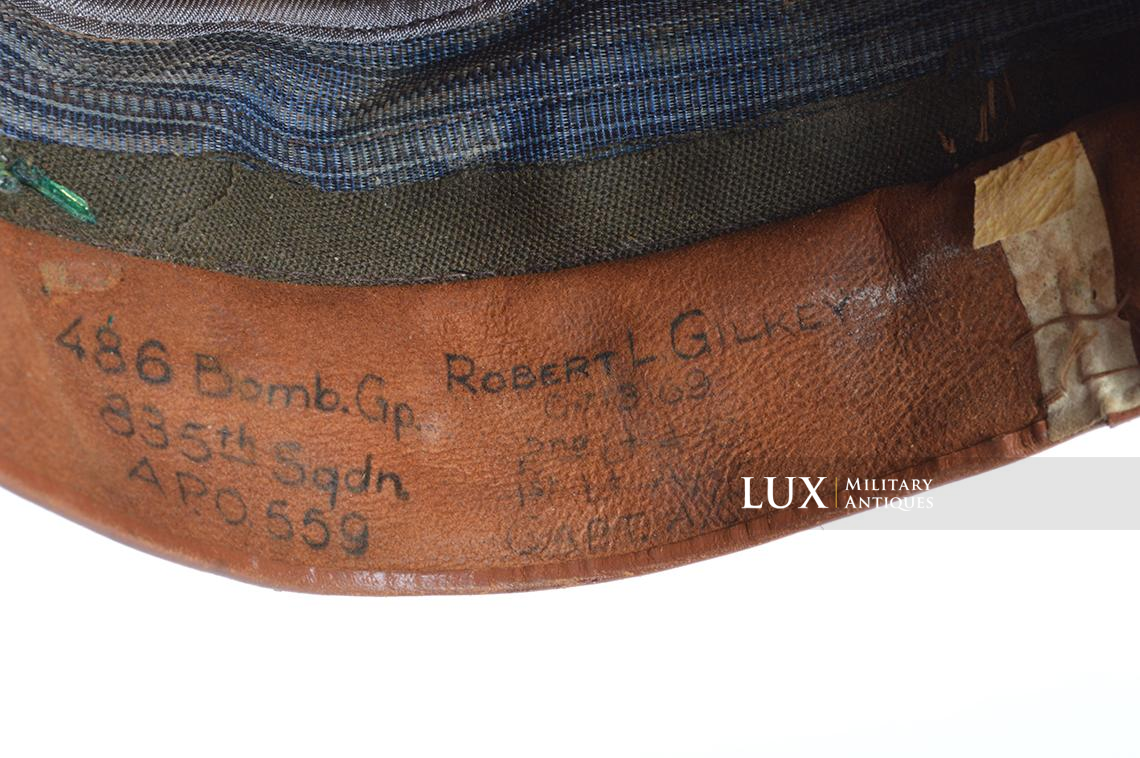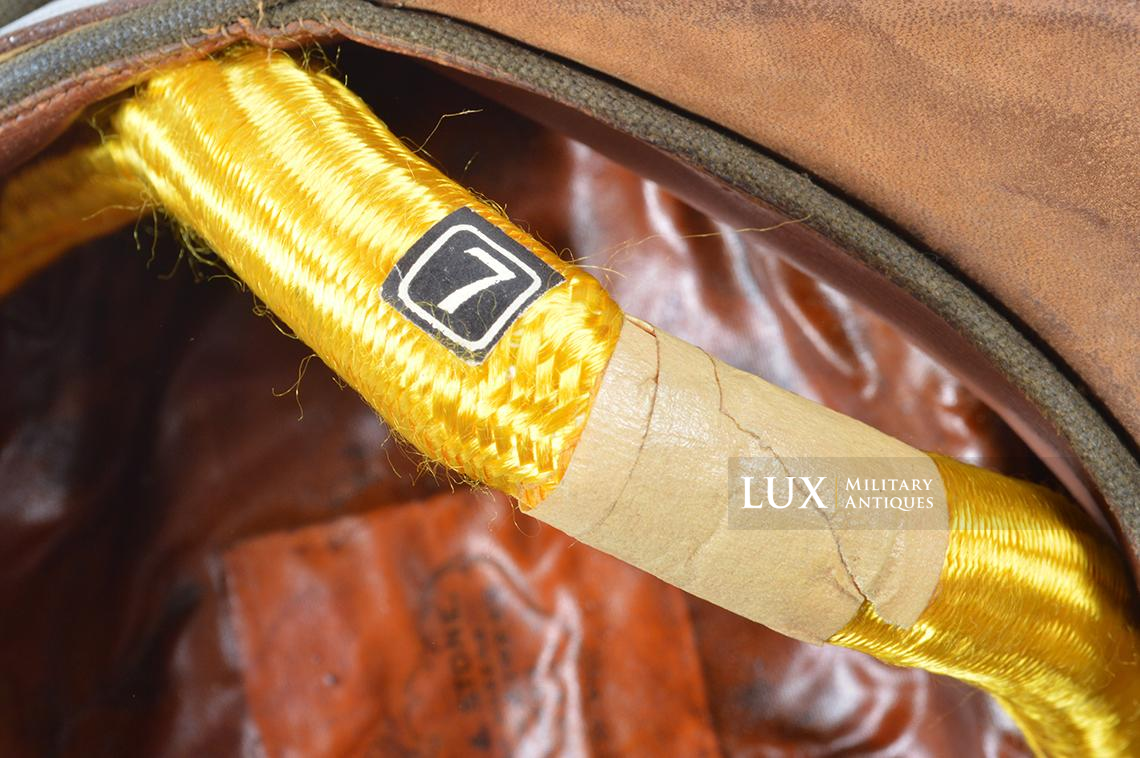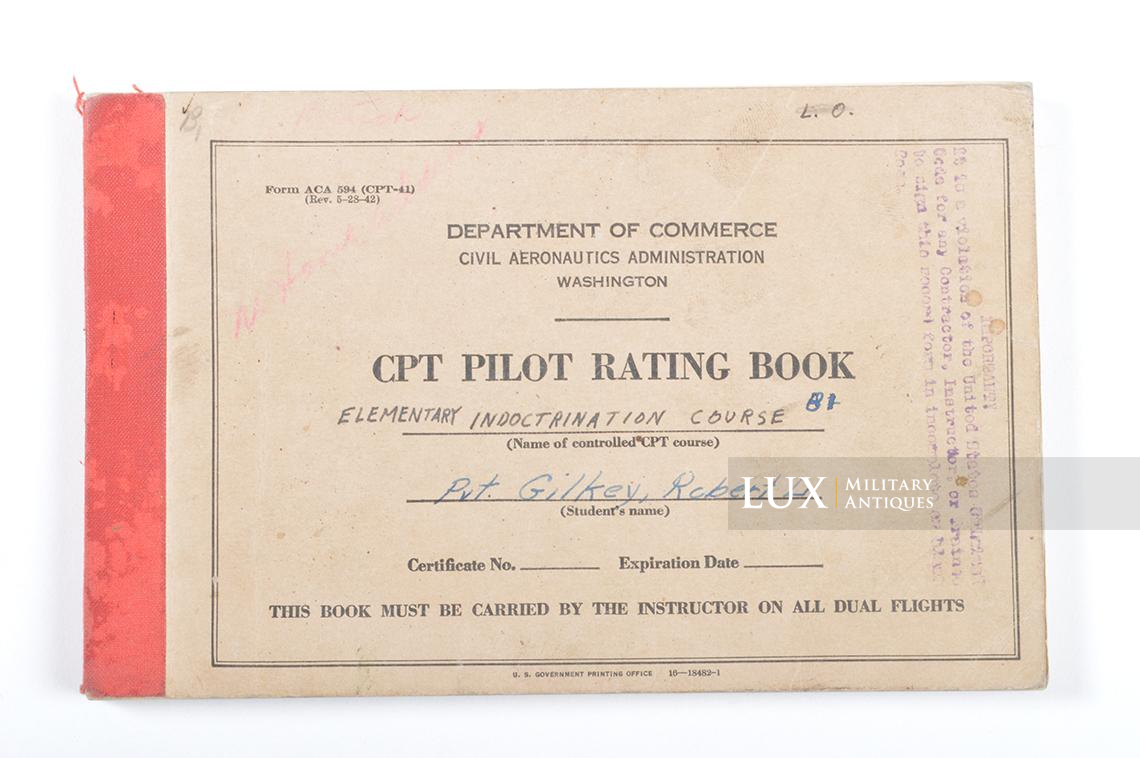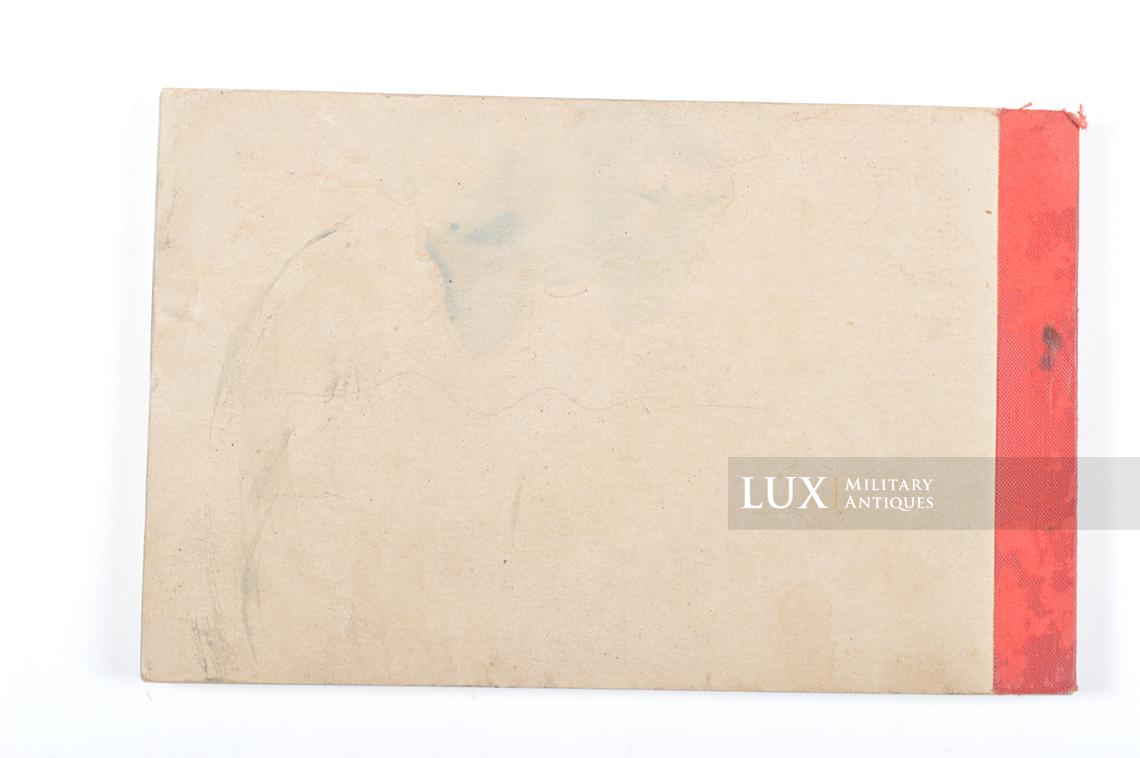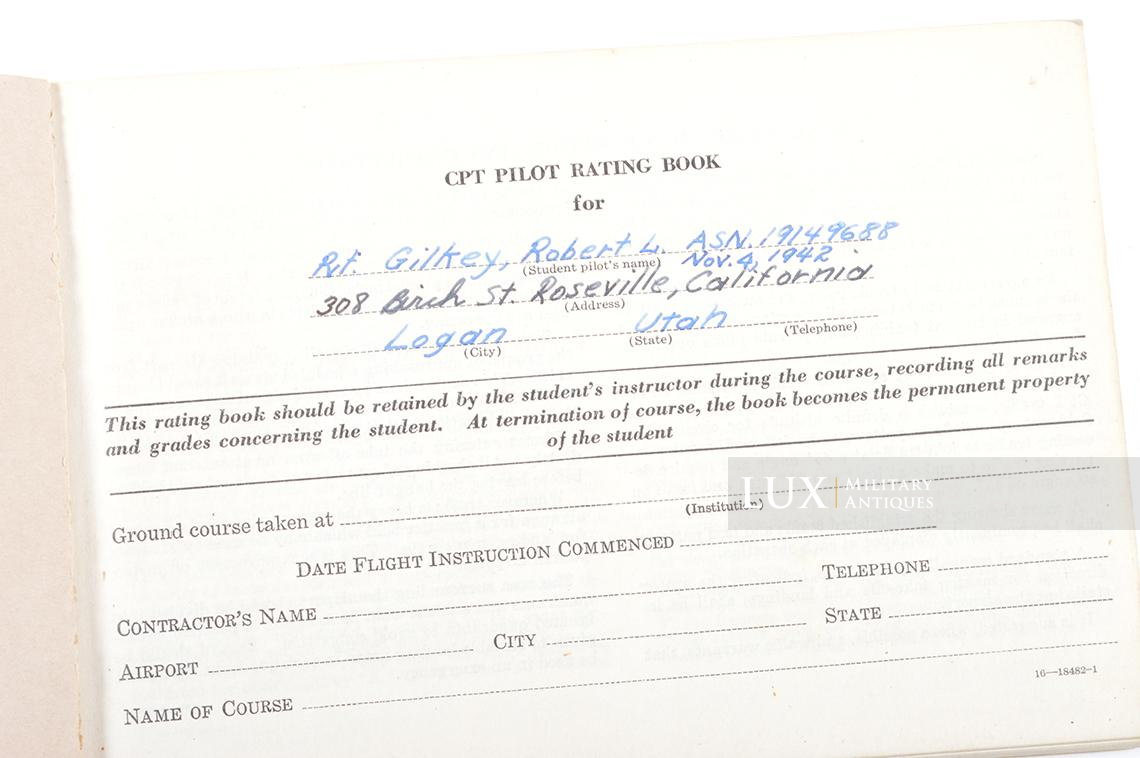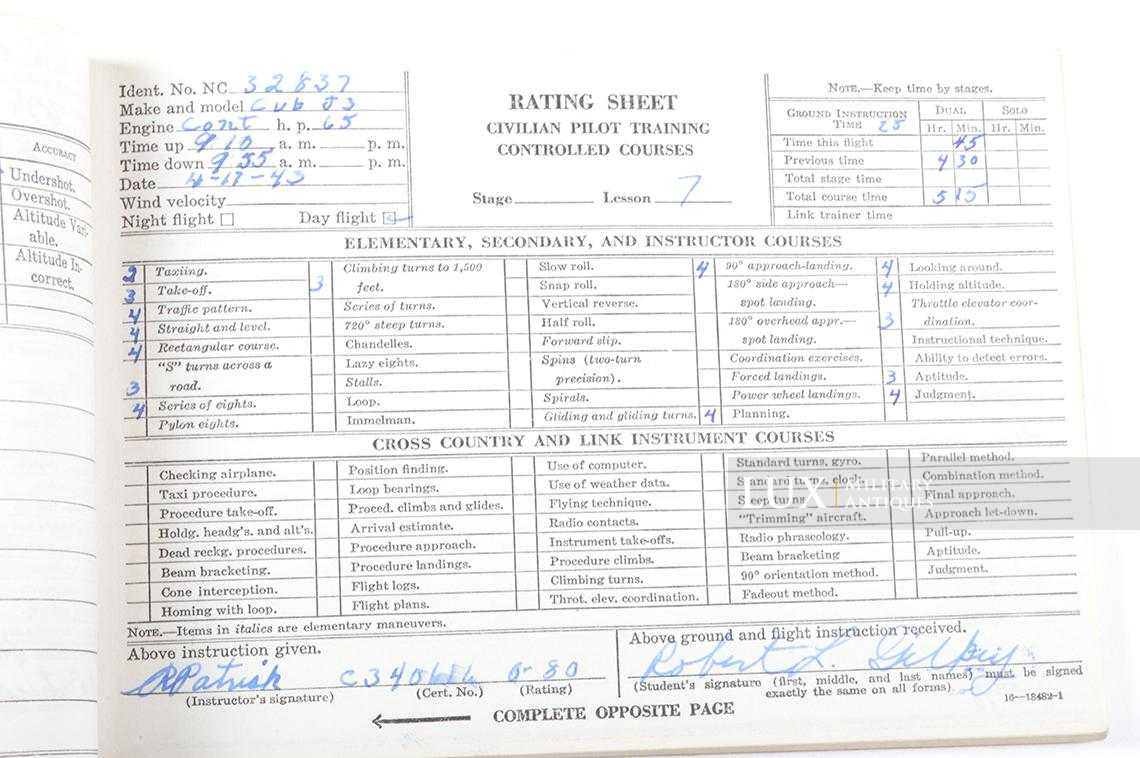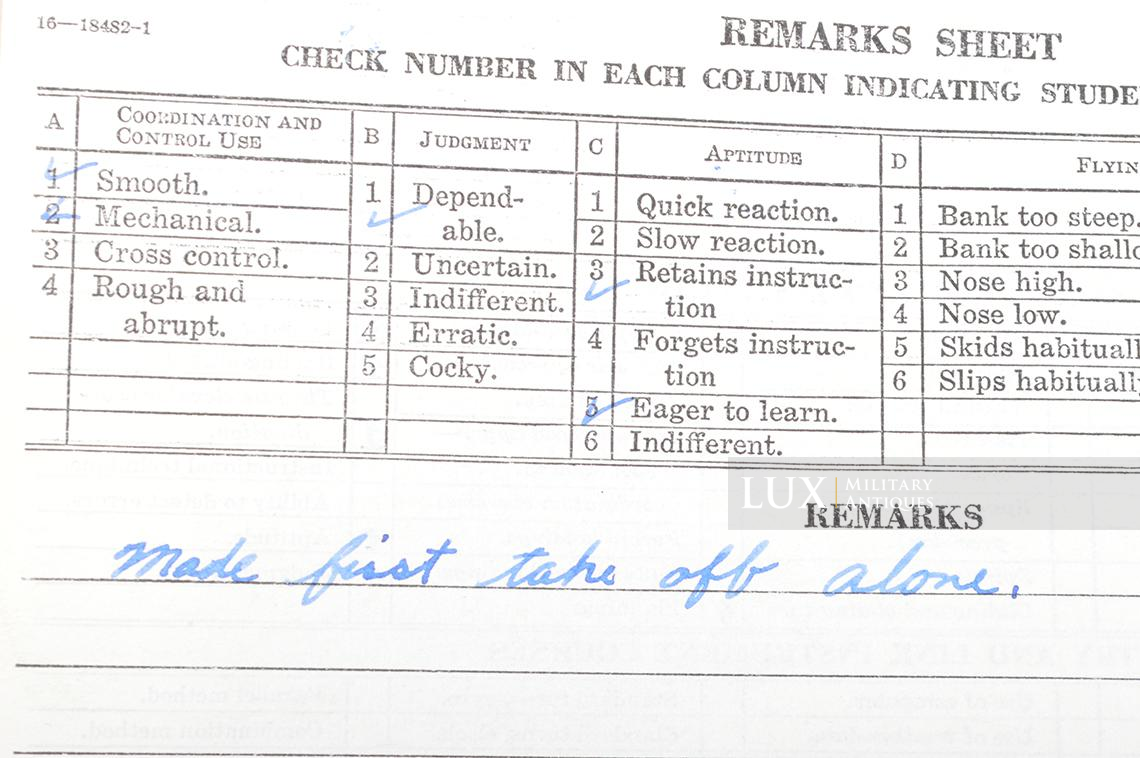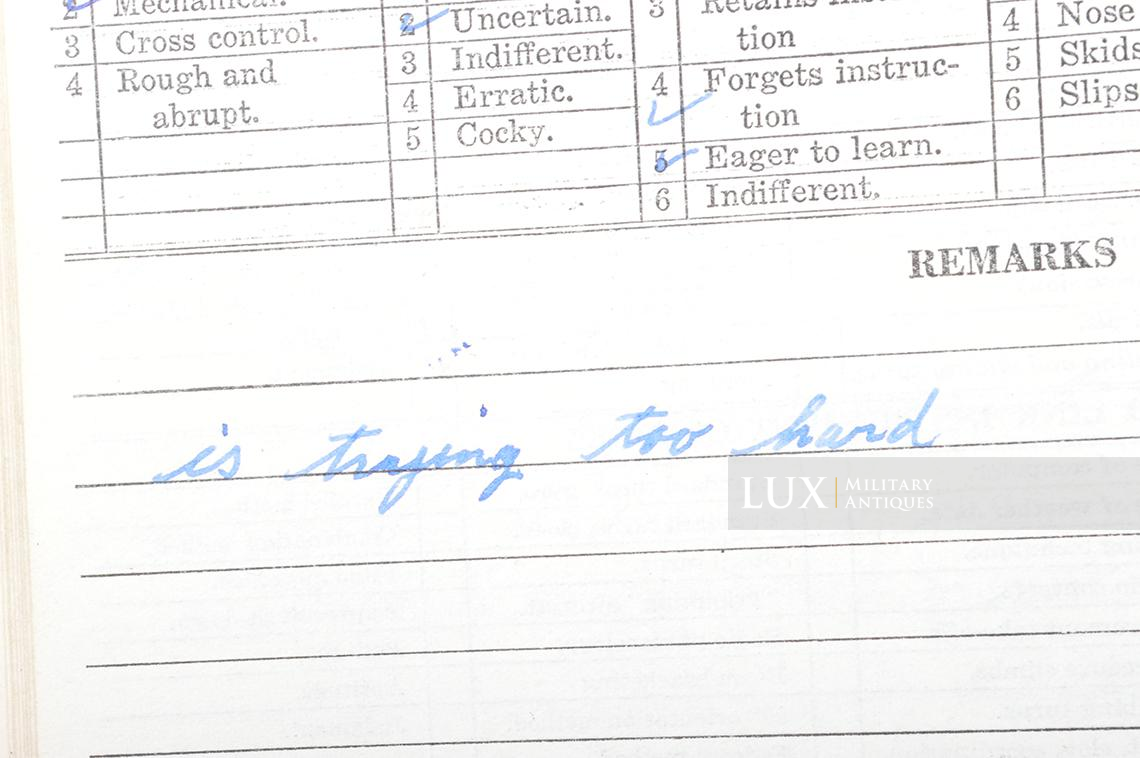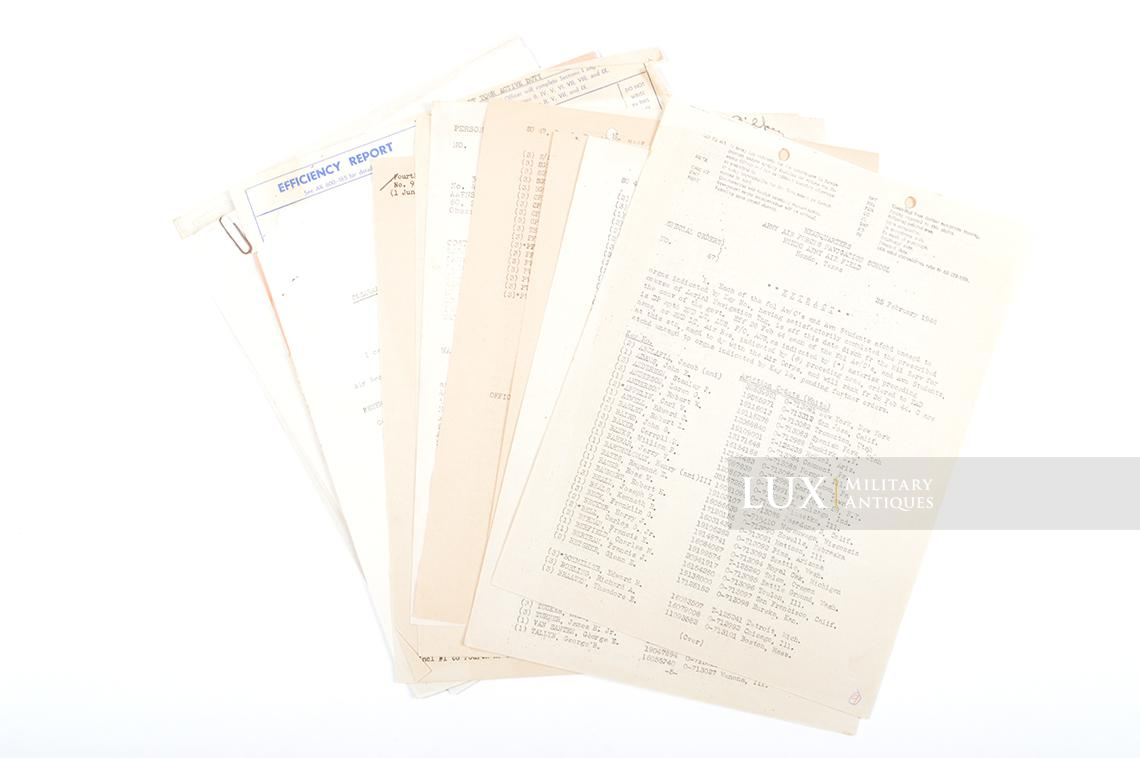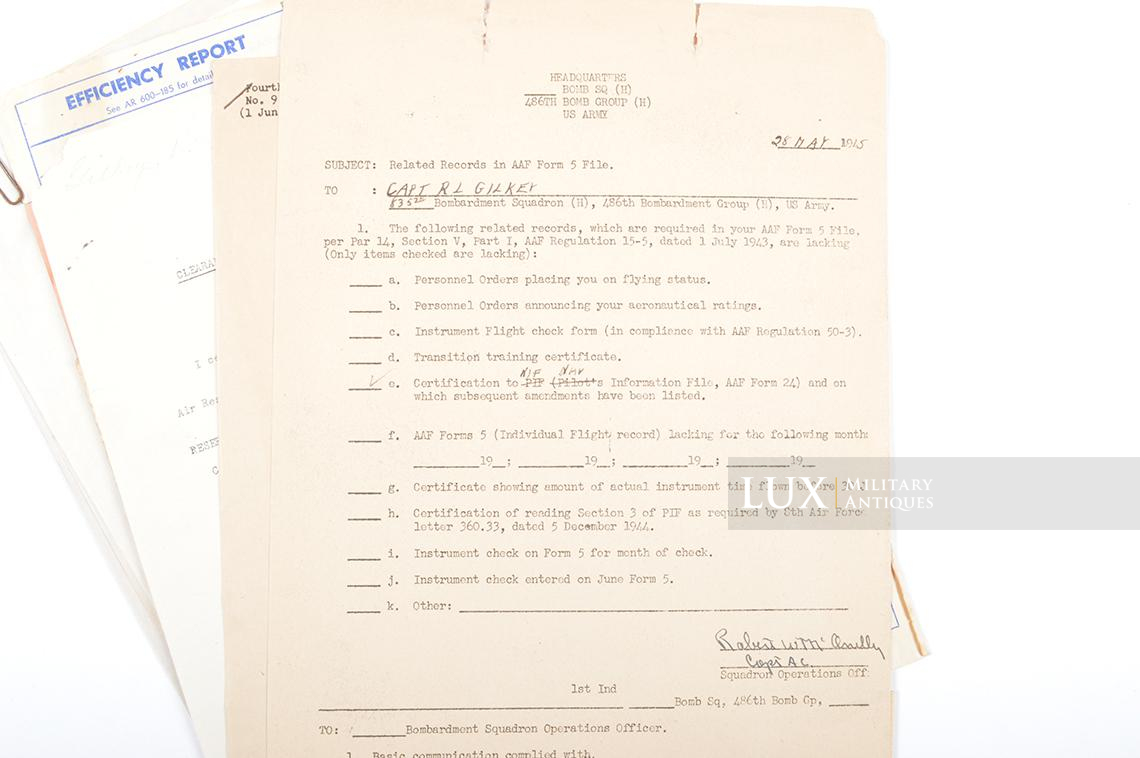 Garantie
Lux Military Antiques garantit l'authenticité ainsi que la valeur historique de ses pièces mises en vente. La reconnaissance de nos clients est due tant pour notre sérieux, que pour la qualité et l'authenticité de notre matériel. Pour chaque article commandé, nous pouvons délivrer un certificat d'authenticité, pour cela il vous suffit de choisir l'option d'achat « Avec Certificat d'Authenticité » avant de passer votre commande. L'utilité de celui-ci est pour votre assurance ou la future revente de votre objet.
Méthodes de paiement
Tous les paiements s'effectuent en Euros (€). Nous acceptions différents modes de paiement, les virements bancaires, les virements paypal, les paiements en espèce, ainsi que les paiements par cartes bancaires et cartes de crédit, ces deniers s'effectueront sur notre site via la plateforme sécurisée Ingenico ePayments.
Livraison
Les frais de port sont calculés automatiquement lorsque que la commande est passée, en se basant sur le poids total du colis, de ses dimensions et de l'adresse de livraison. Les livraisons sont prises en charge par la société TNT en envoi Economy Express, avec la possibilité de suivre votre colis durant son acheminement avec un numéro de suivi. Si vous souhaitez un envoi sécurisé et assuré par Fedex, il vous suffit de nous contacter, et nous introduirons une demande de tarif pour votre envoi.