USAAF type A-2 painted flight jacket « Lt Robert L. Gilkey » Grouping , 486th Bomb Group Heavy / 835th Bomb Squadron , 8th Air Force , ETO
Description
Painted and identified A-2 flight jacket grouping belonging to Lt. Robert L. Gilkey (AO - 713169) of the 486th Heavy Bomb Group / 835th Bomb Squadron « GREEN HORNETS ». This is the pinnacle of A-2 jacket groupings. The group consists of a patched and painted A-2 leather jacket that is named and fully identified with great history and provenance, two pieces of headgear and various paperwork with personal affects. The leather A-2 jacket is in excellent condition. Leather is perfect and free from dry rot, holes, rips, and tears. Original cuffs and knits with slight wear. The front of the jacket is patched with the hand sewn squadron patch of the « GREEN HORNETS » 835th Bombardment Squadron Heavy and on the right featuring a unique hand painted patch specifically for this crew « MAGICIAN » with the motto « LUX IN STIGIA ». Period applied officer bars on each shoulder. Jacket is manufactured by « POUGHKEEPSIE LEATHER COAT CO. INC » and sized « 42 ». Zipper is fully intact, functional, manufactured by « Talon » and has the unique period application of a British silver coin that has been soldered for easier access. The back of the jacket features the plane with its number « 453 » most likely the «RACK 'N' RUIN » under the command of Captain Jim Walker. 
http://www.486th.org/BS835/Walker.htm
The 486th Bomb Group flew both B-24s and B-17s, swapping from the former aircraft to the latter in late July 1944 after 49 missions. In total the Group flew 292 missions during the war and remarkably the 834th Bomb Squadron lost no aircraft or personnel on its first 100 missions. The Group bombed strategic sites in Germany and in northern France before D-Day, and after 6 June 1944, the Group undertook a greater number of missions in direct support of ground forces in France, Holland and on the Rhine. Walker and his crew completed a total of 44 missions. 
Link provided below from Captain Jim Walkers crew listing Lt Robert L. Gilkey as a « Mickey Operator ». Radar was invented by the British during WWII and the device was instrumental in the success of the 8th Army Air Force's bombing campaign. Often times targets were obscured by cloud cover which radar easily penetrated. The radar devices installed aboard the aircraft were known as « Mickey Sets », and were set up in the radio compartment. The gentlemen pictured below were trained to operate the « Mickey Sets » and were known as « Mickey Navigators ». The aircraft outfitted with radar were part of the Path Finder Force (PFF) and were often called « Mickey Ships ».
http://www.486th.org/Photos/Crew5/MO.htm
Service shirt and tie are in very good shape and both named to Gilkey. Bullion 8th Airforce patch included in the grouping. An early training booklet with Gilkey's name is also present.  Set of three dog tags with Gilkey's serial number and name are included in the group , boxed in cardboard shipping box. One excellent USAAF 50 missions crusher cap nicely named and identified to Gilkey with all the information marked on the interior of the sweatband. English manufactured cap by « THOMAS & STONE / LONDON ». Also included is a nice named summer crusher cap by « BANCROFT » also named to Gilkey. 
Inside the front pocket a love letter was found in an envelope dated 1943 from the girlfriend of Gilkey at the time. An emotional letter expressing her love to him and what would their future plans would be after/if the war when he returned safely back. This promise was kept. Gilkey married Betty after his return. The grouping was purchased from Betty before her entering a retirement home in California, USA. 
This is really a special opportunity to own the pinnacle of  painted A-2 jacket groupings, the likes of which do not surface often on the open market.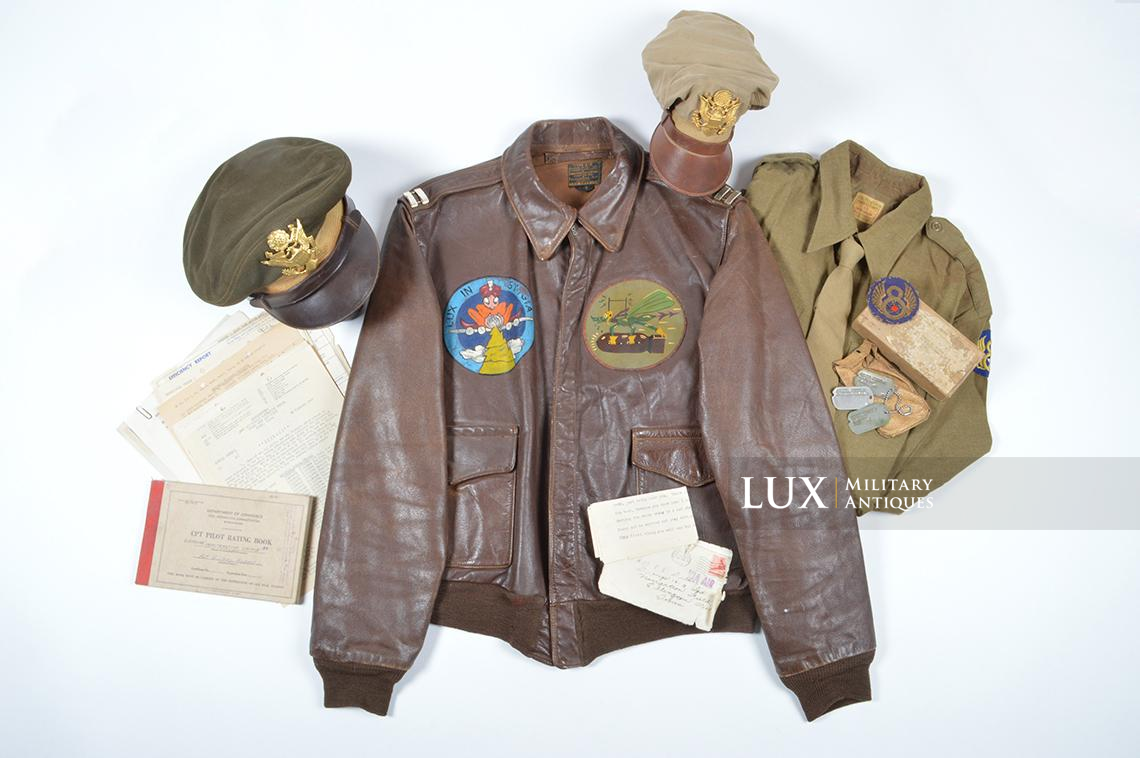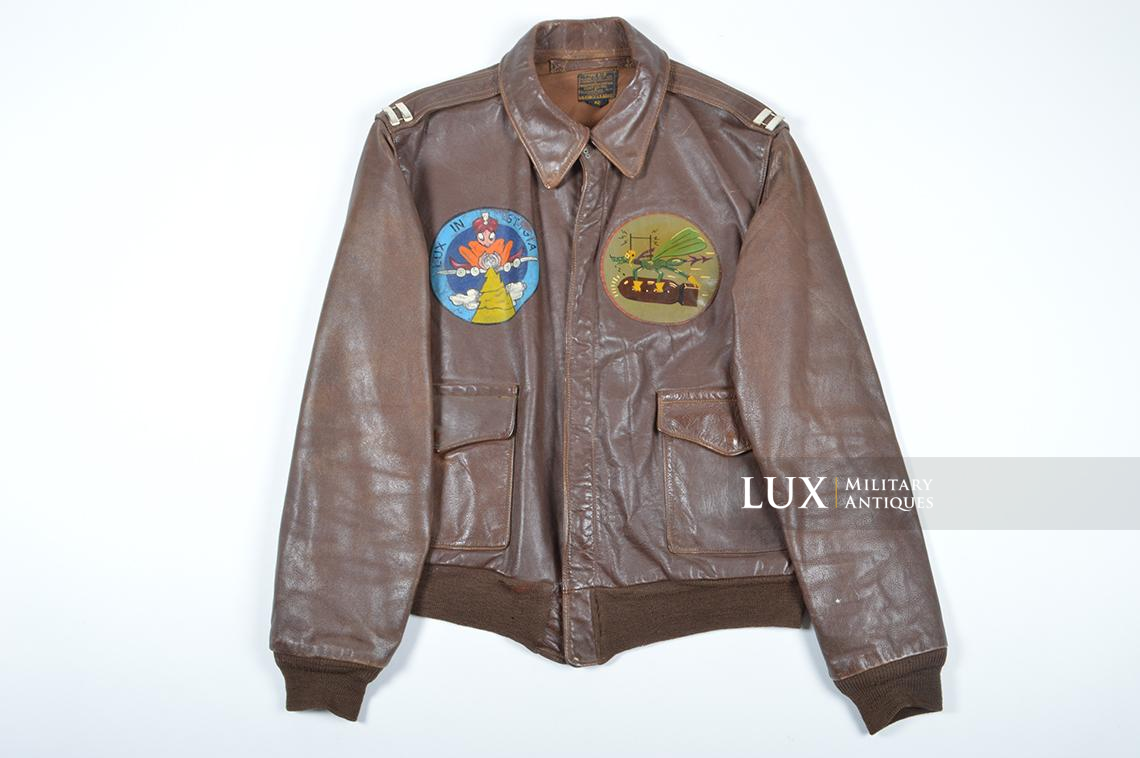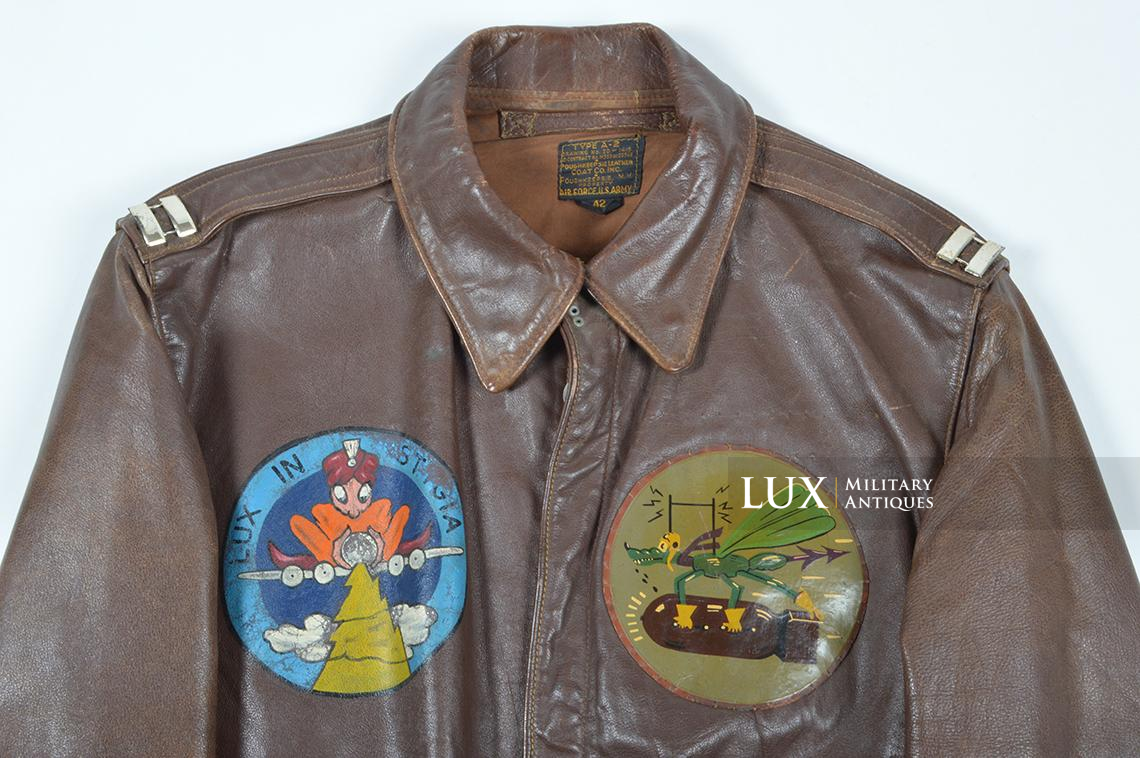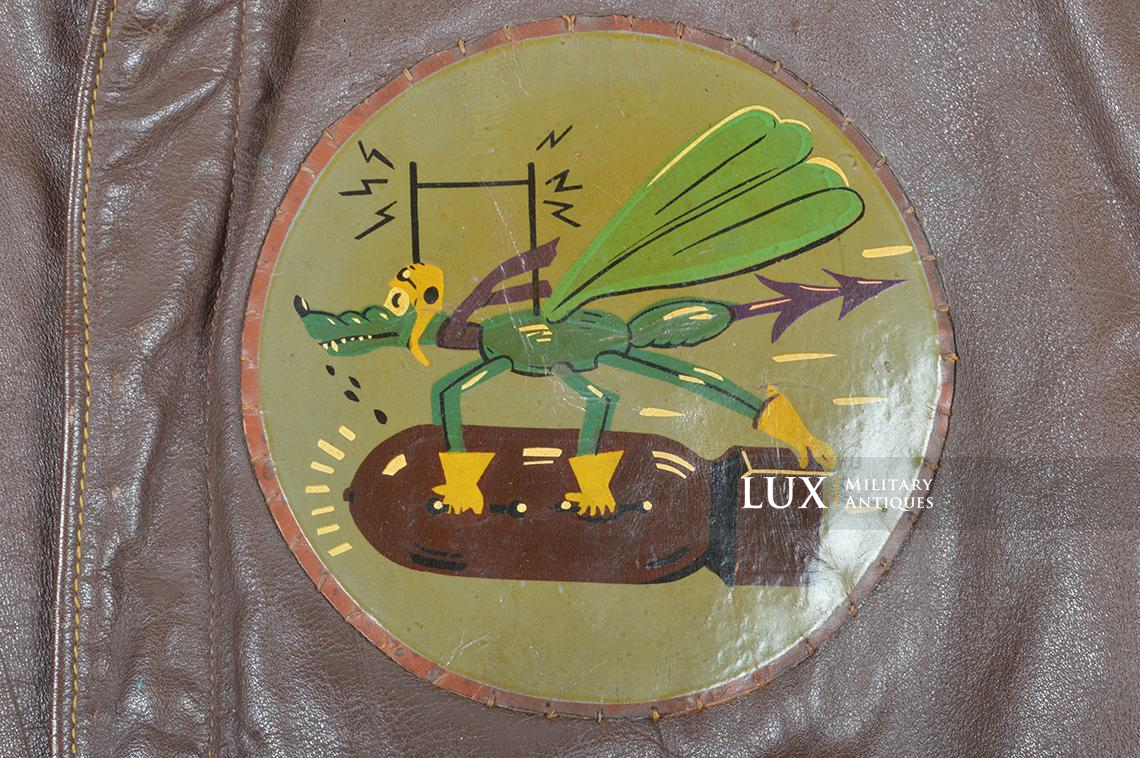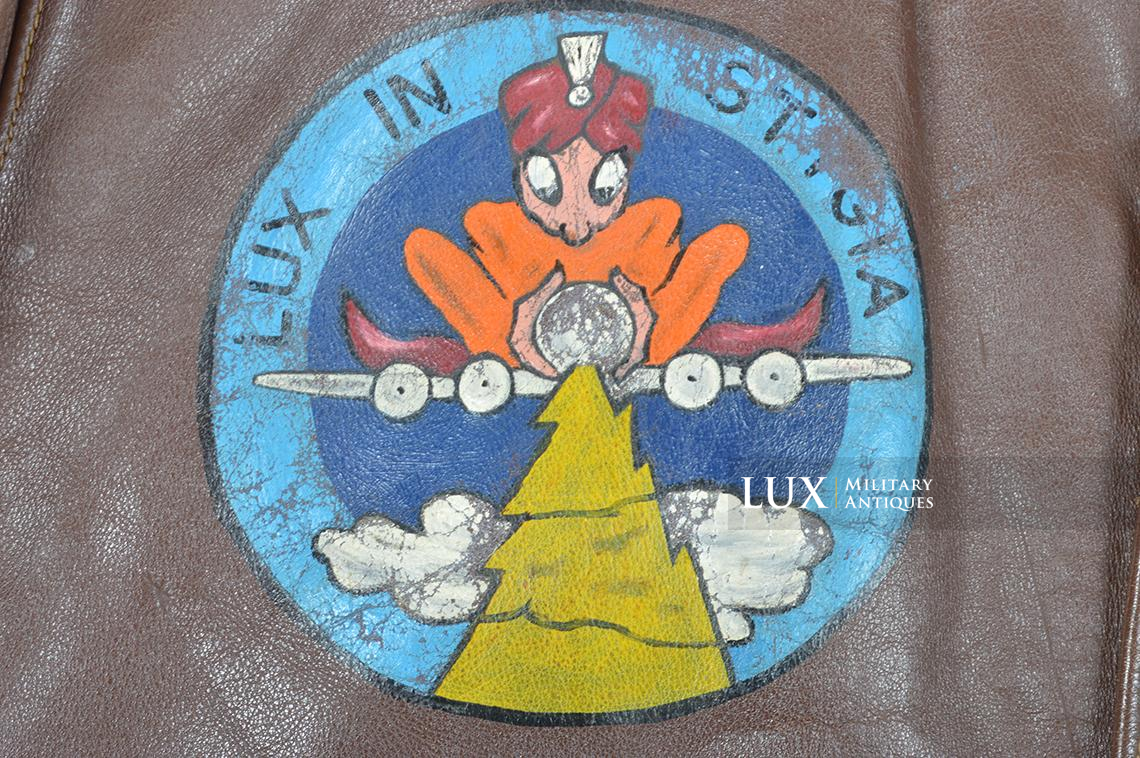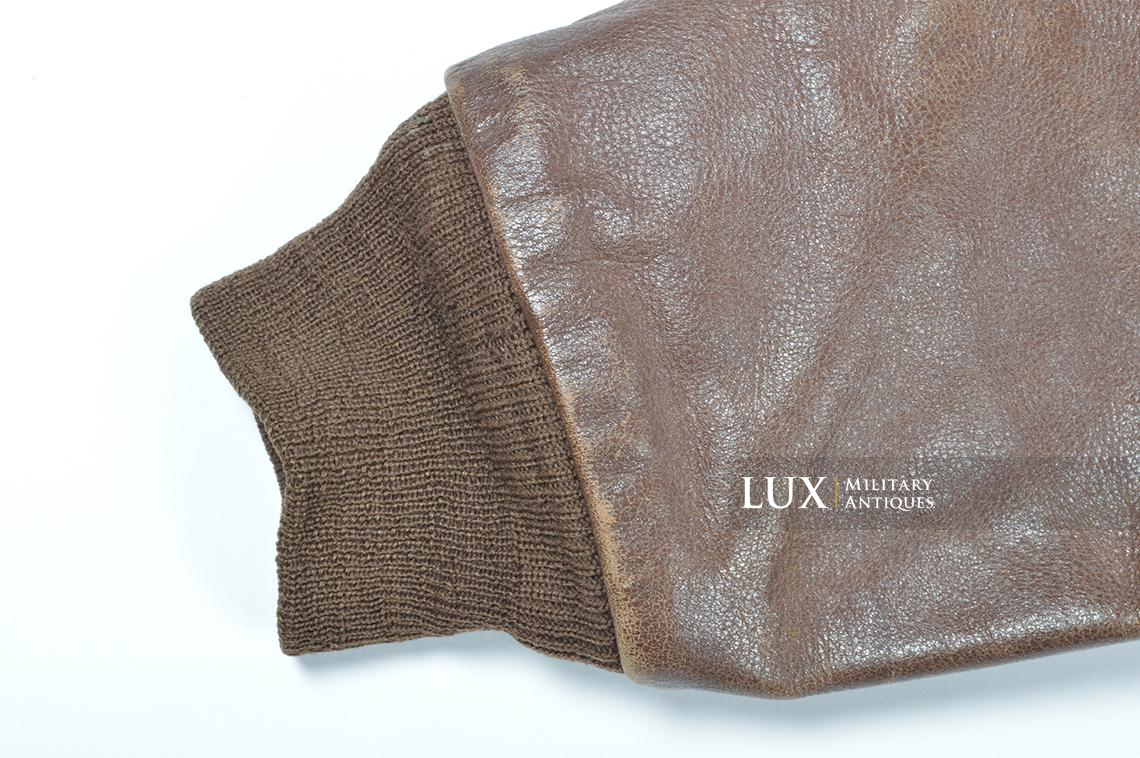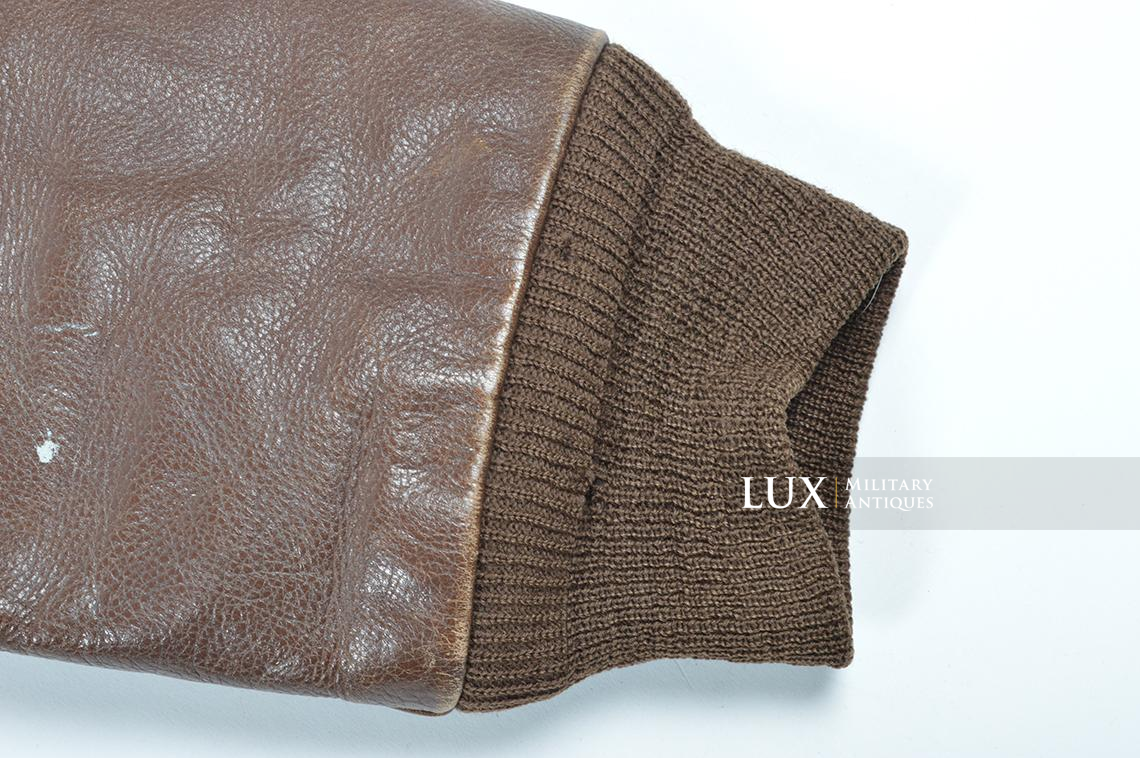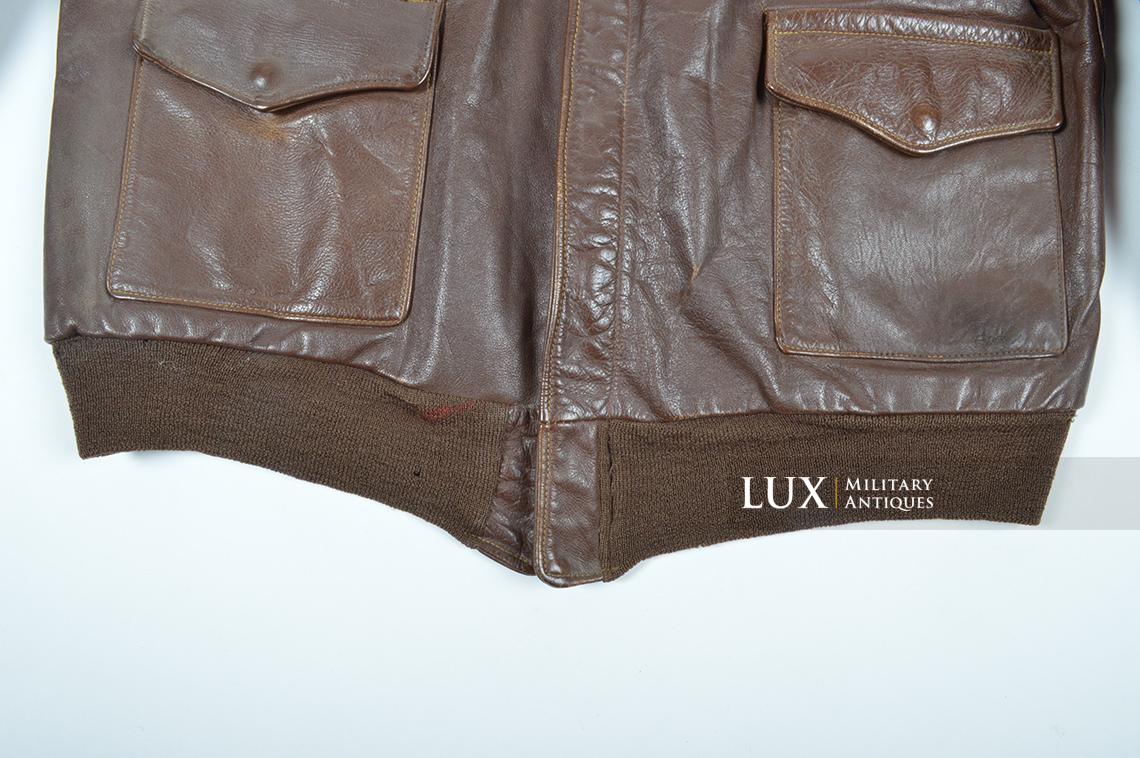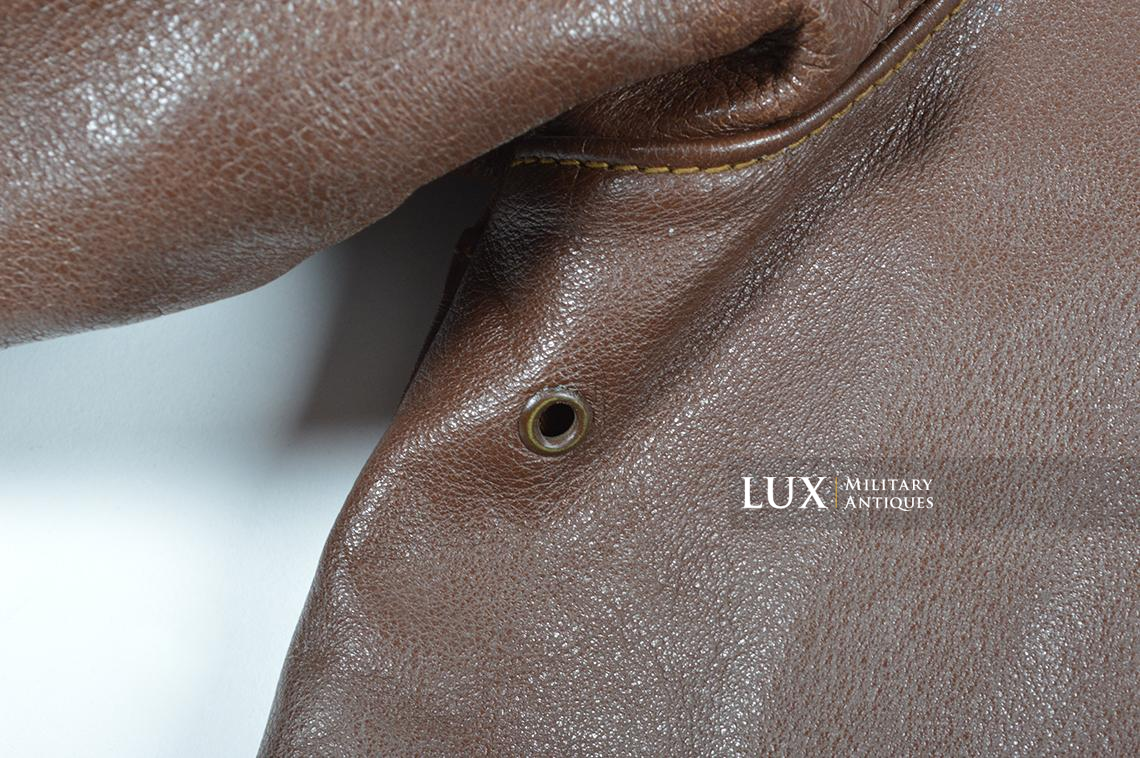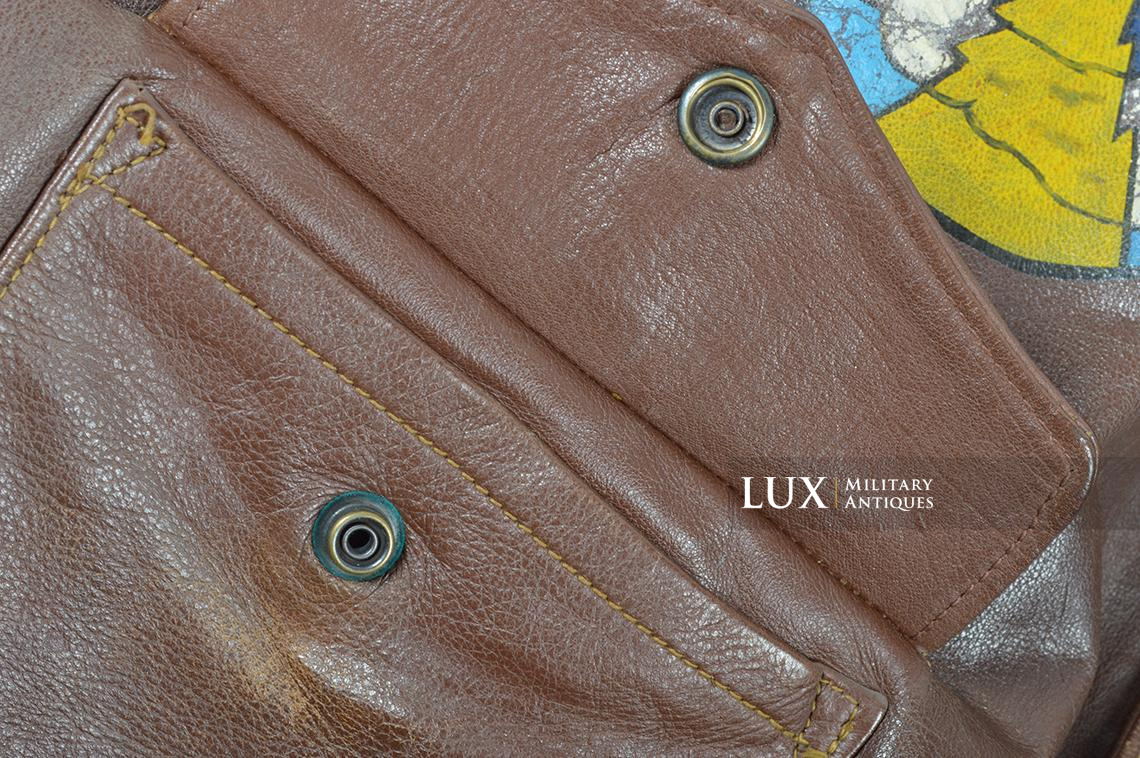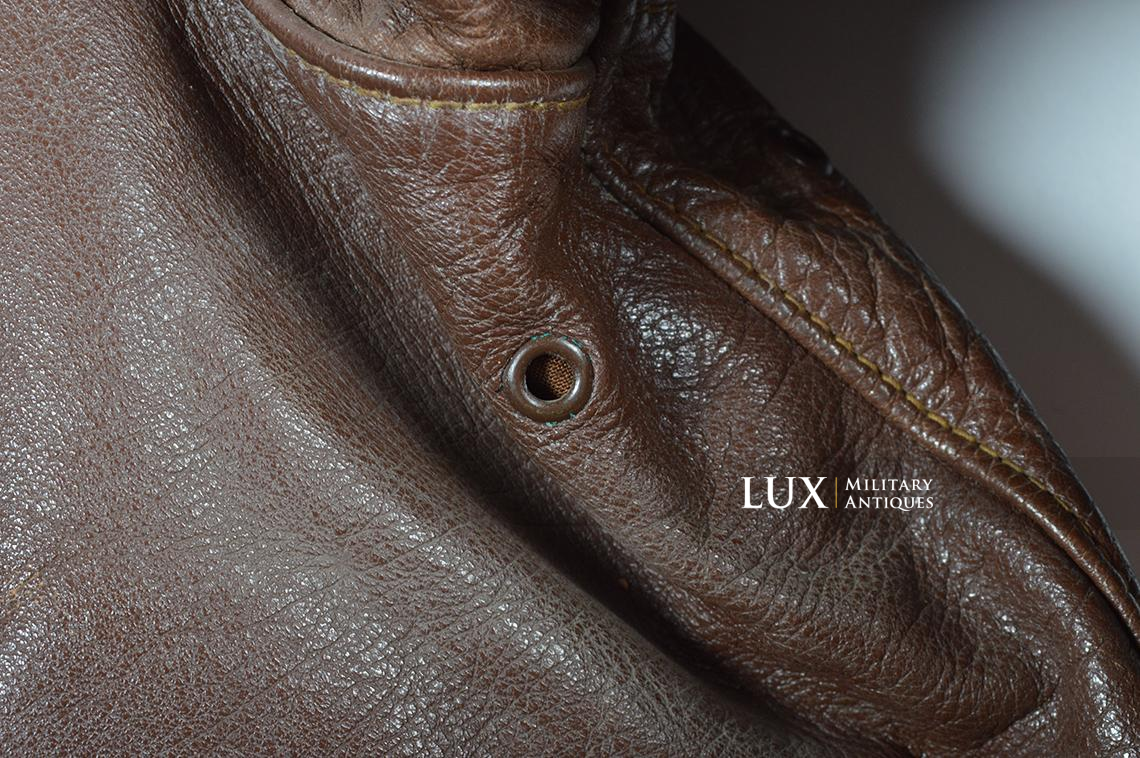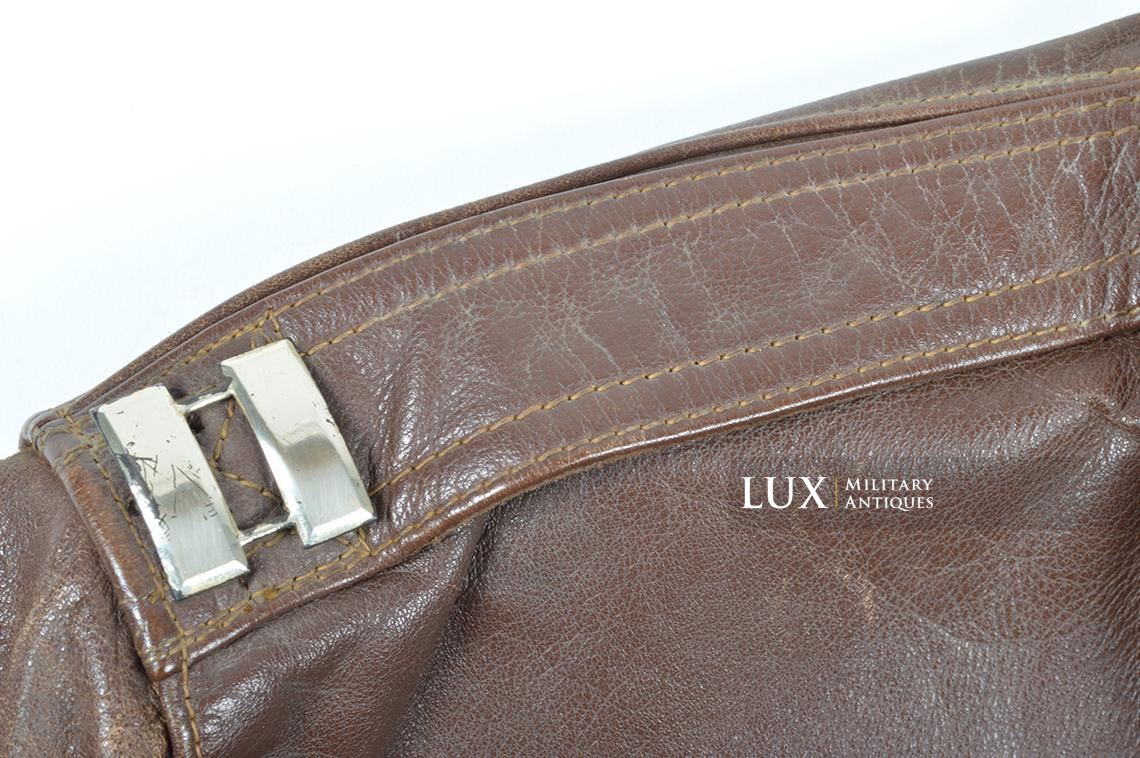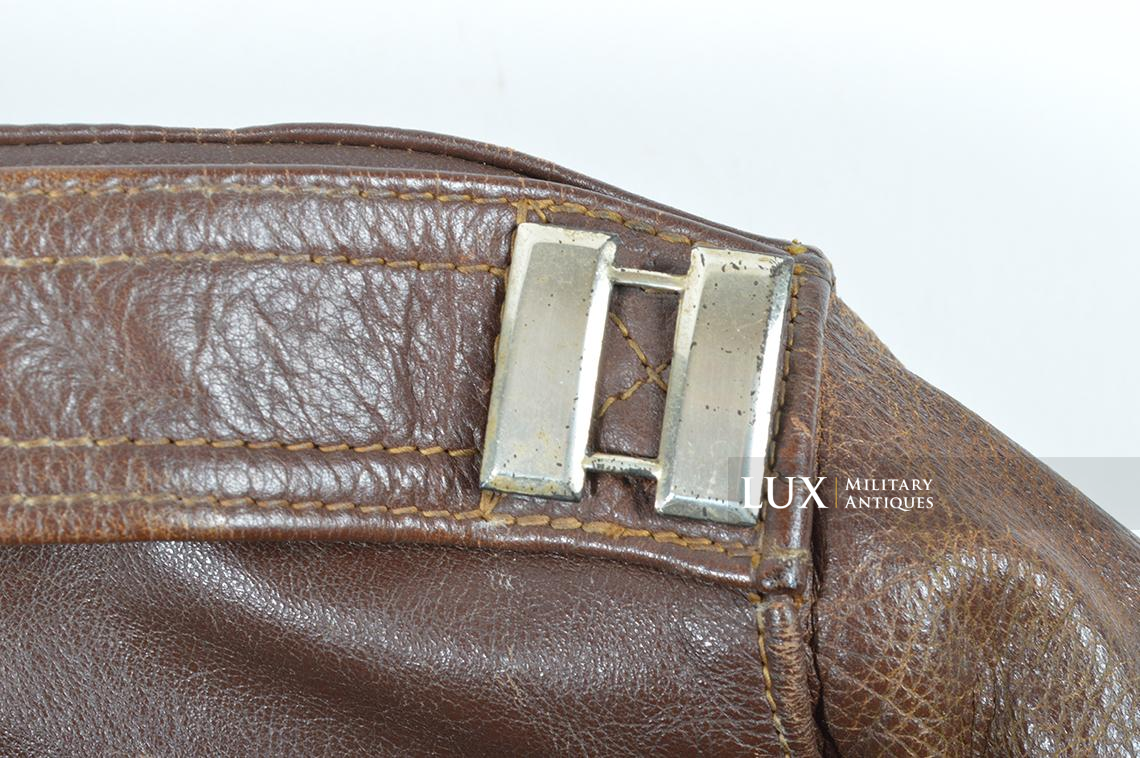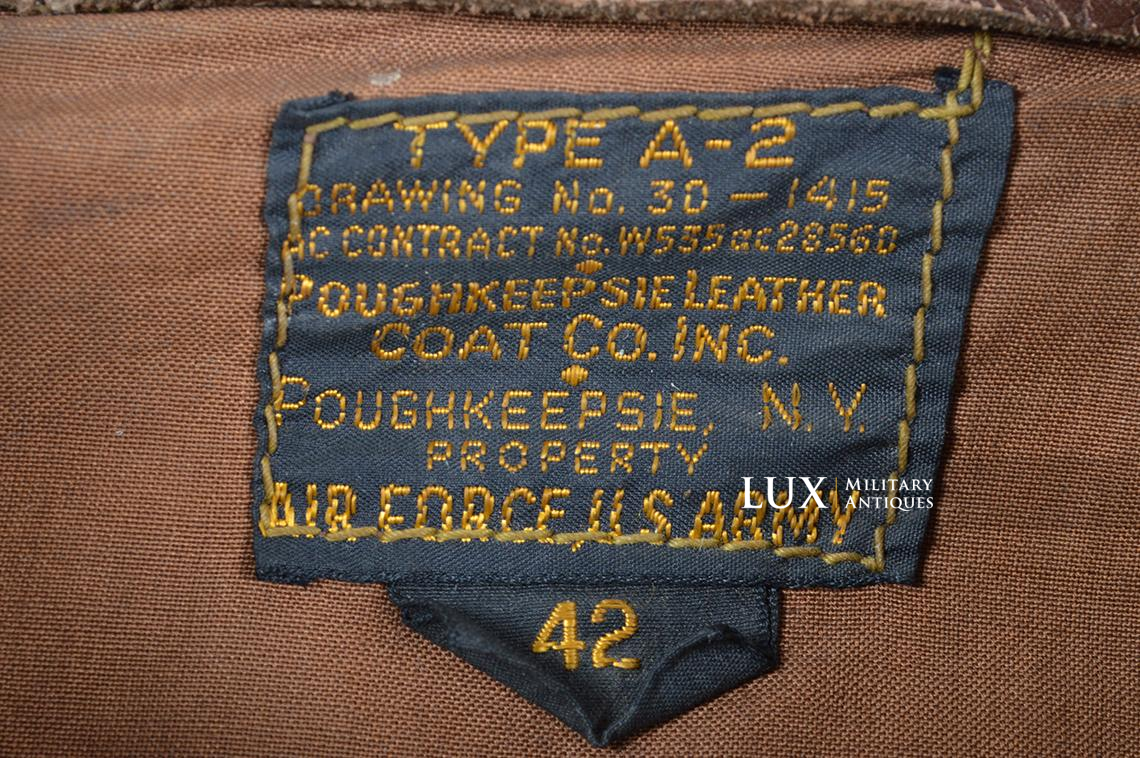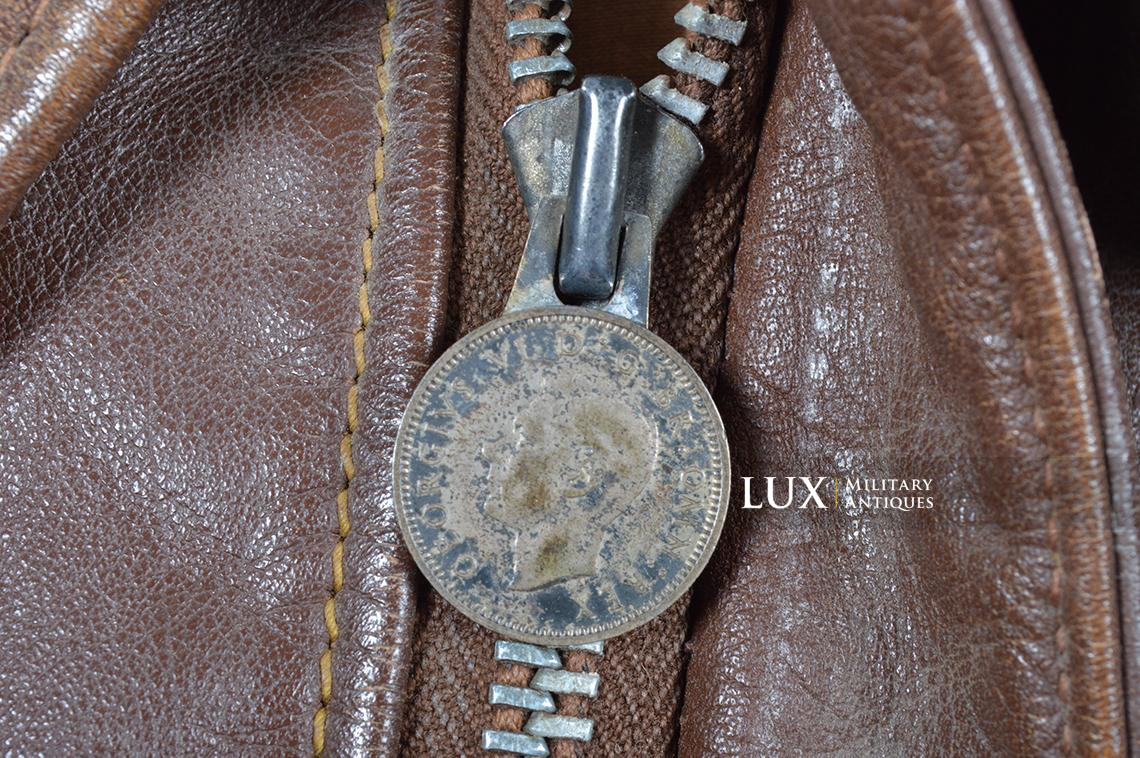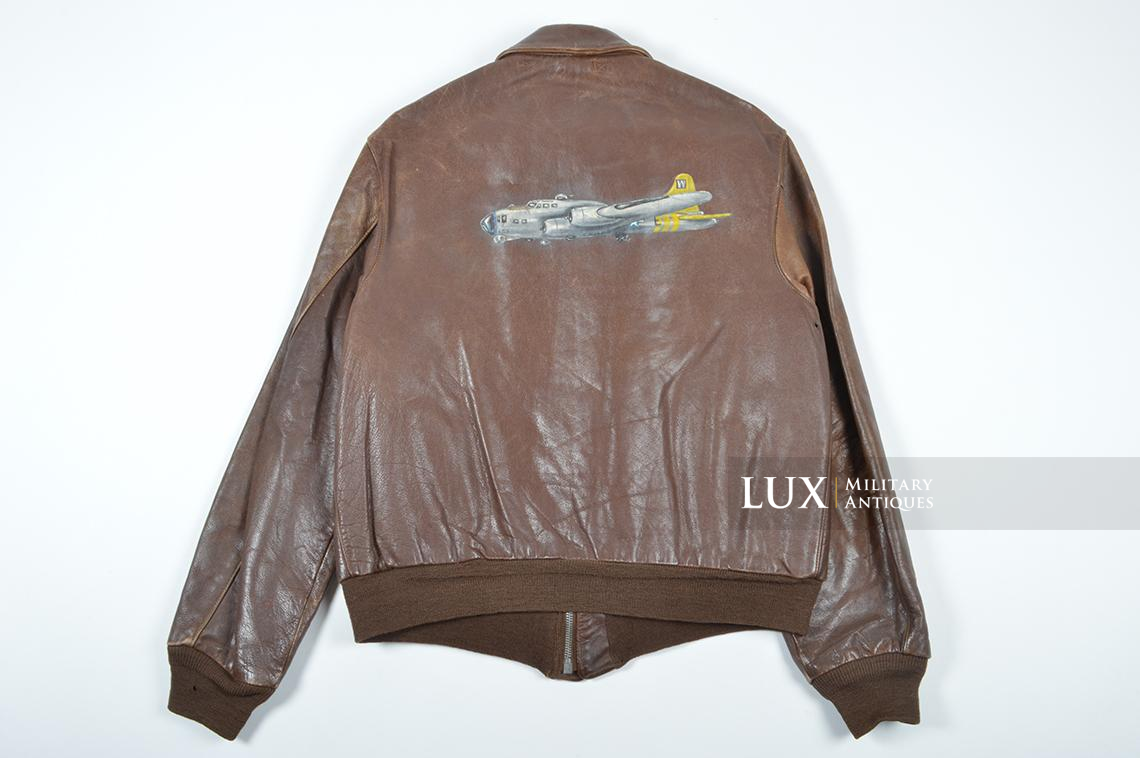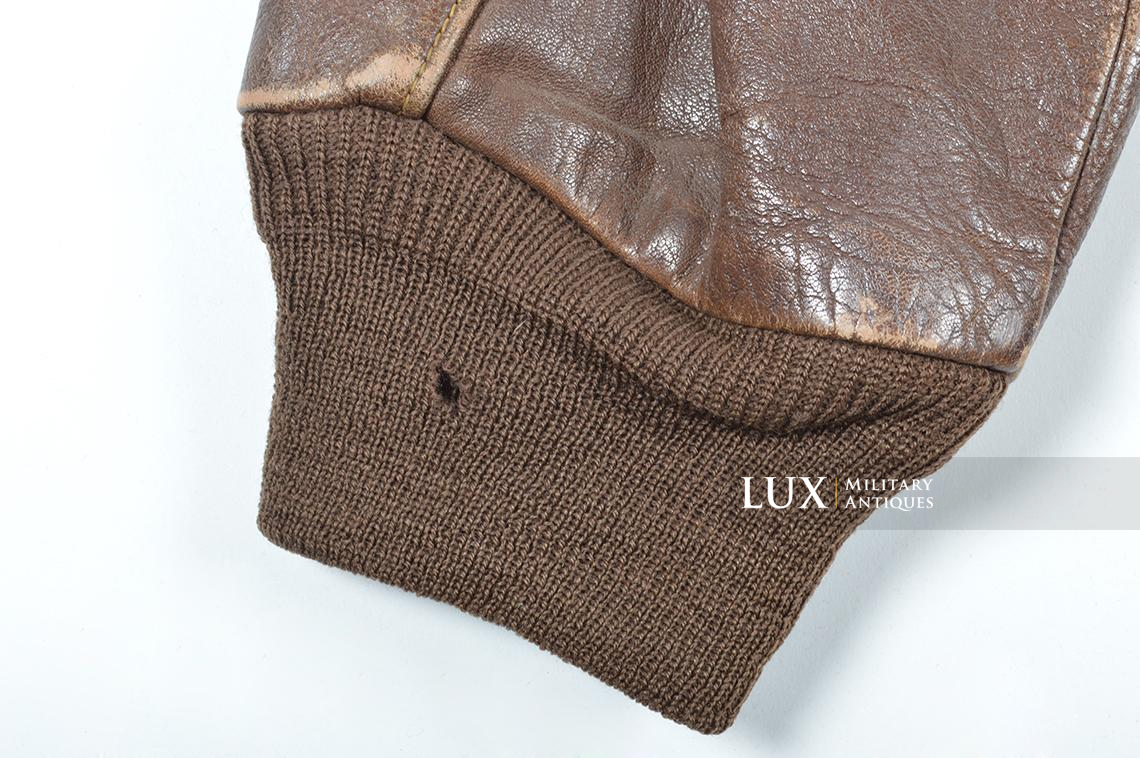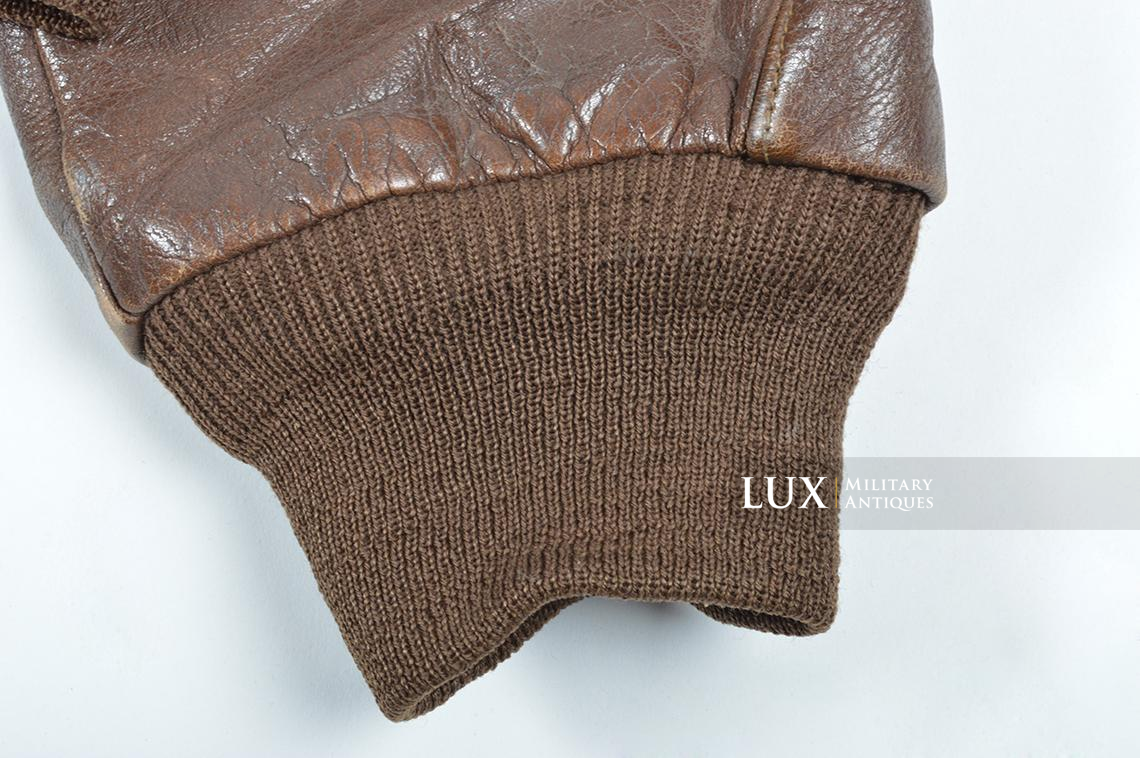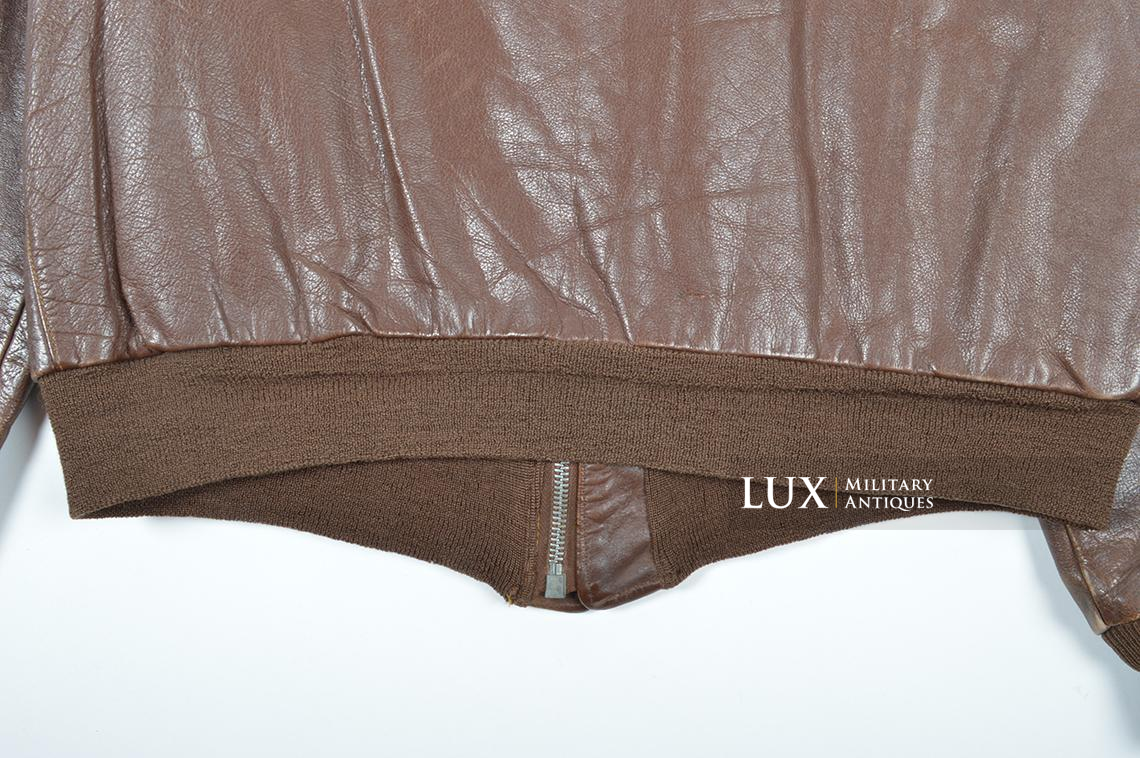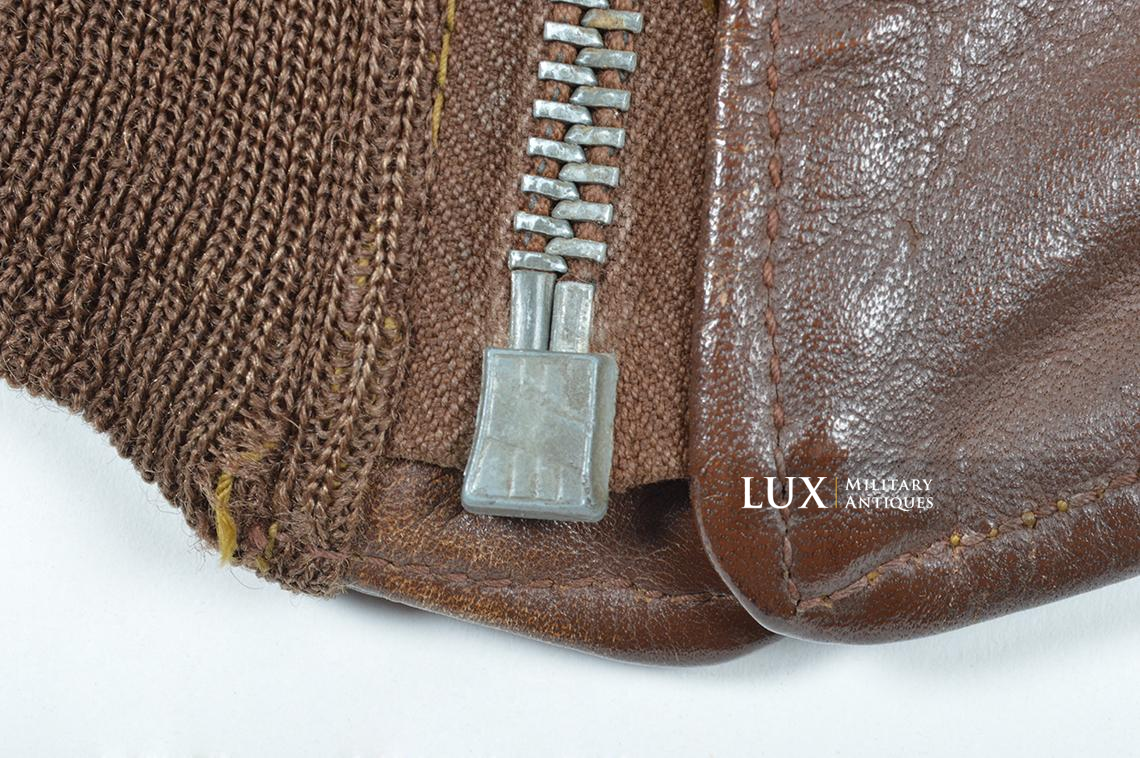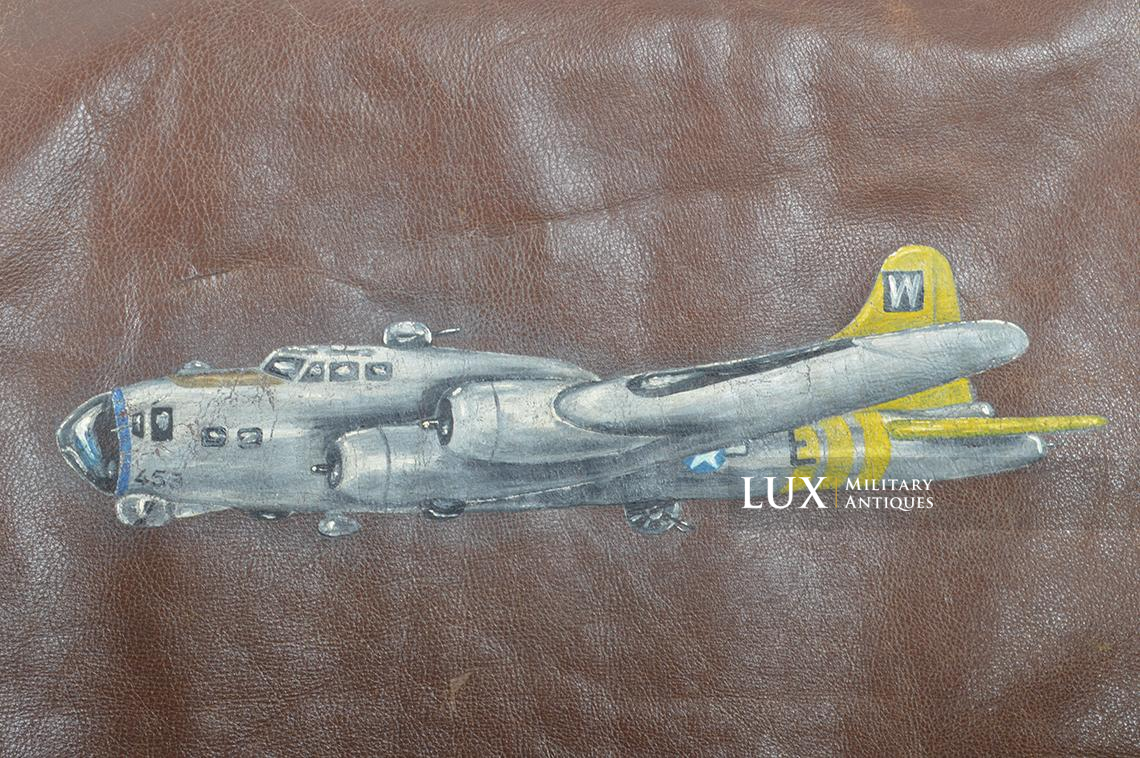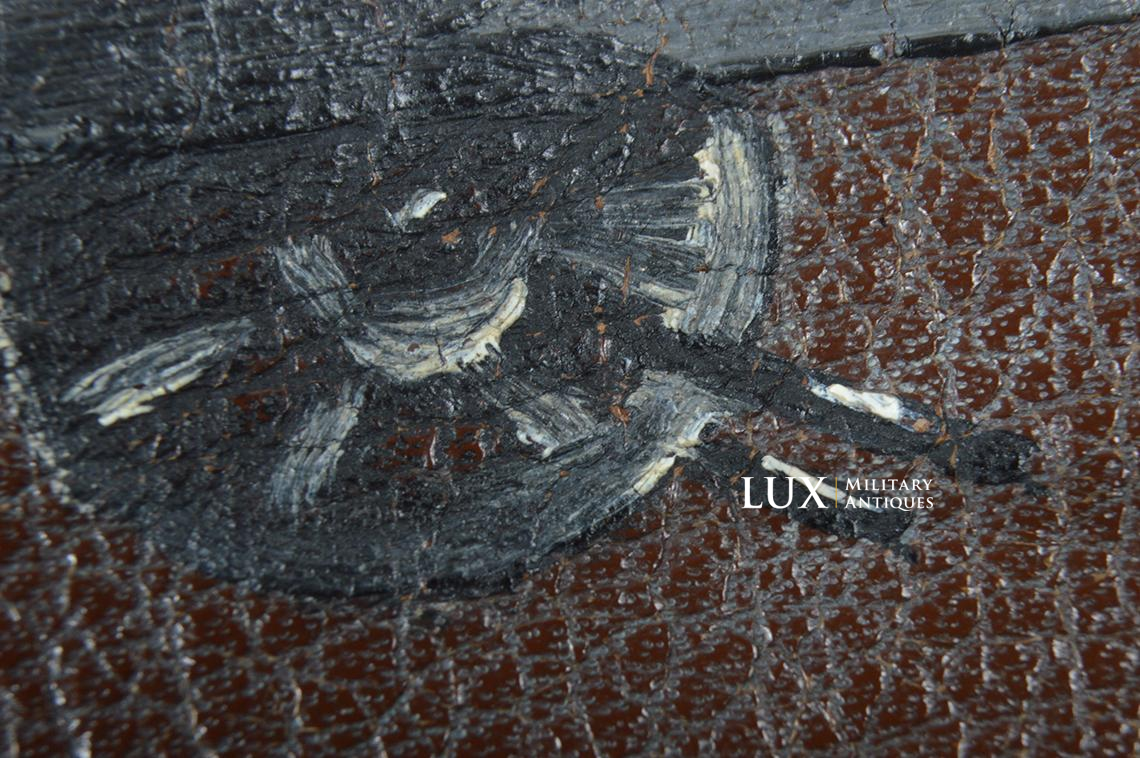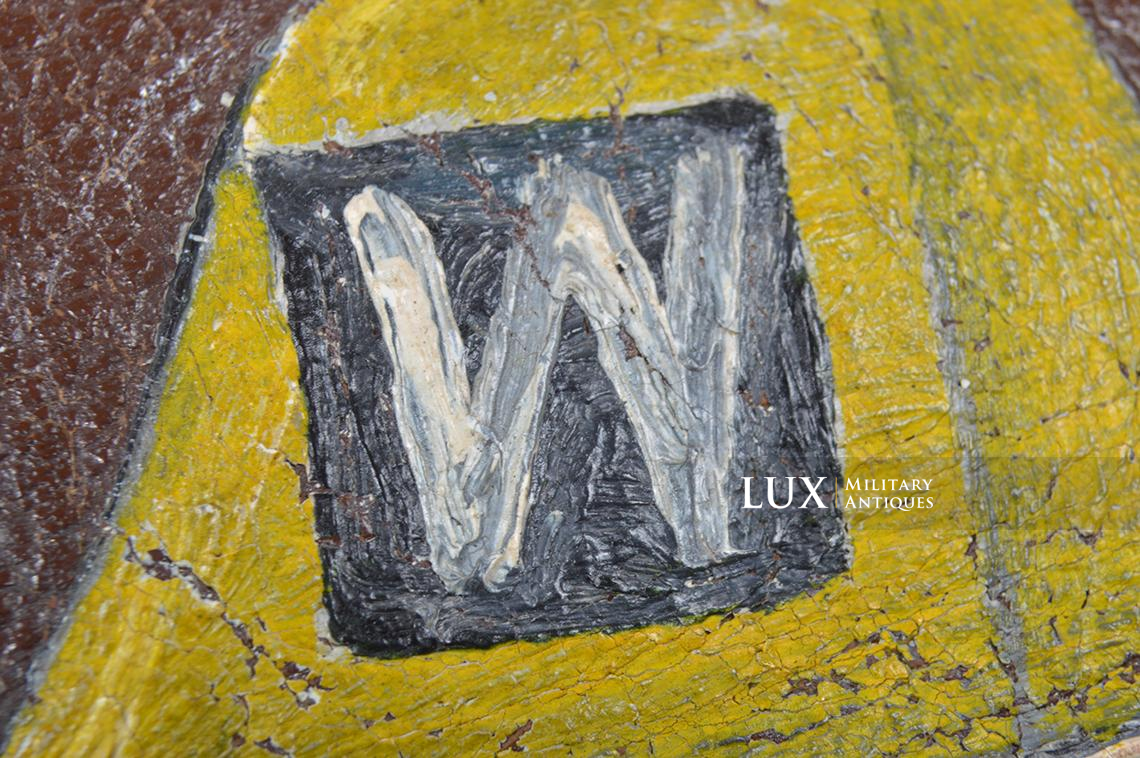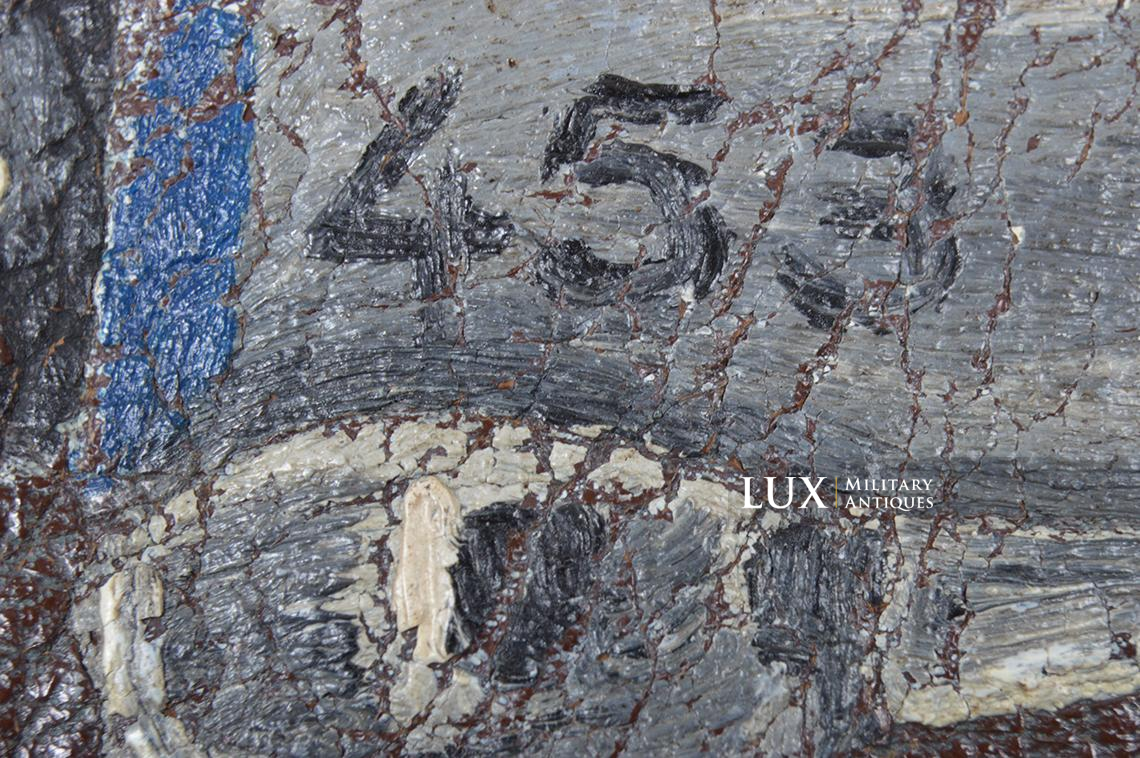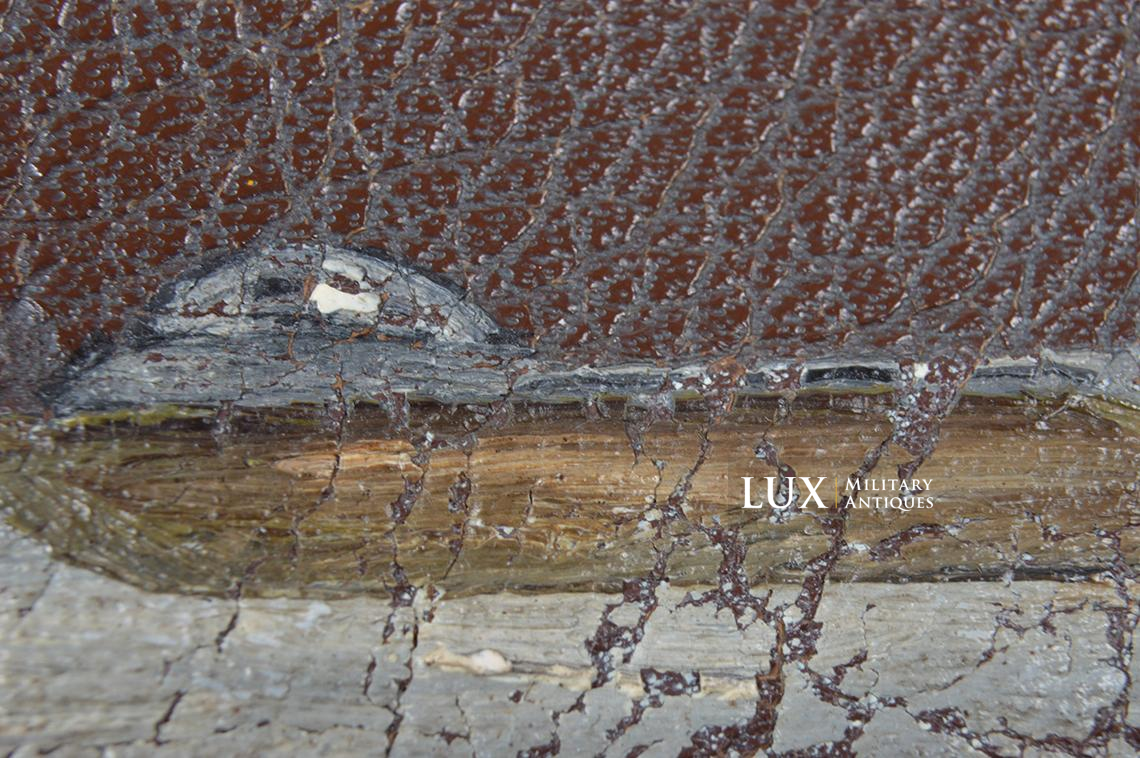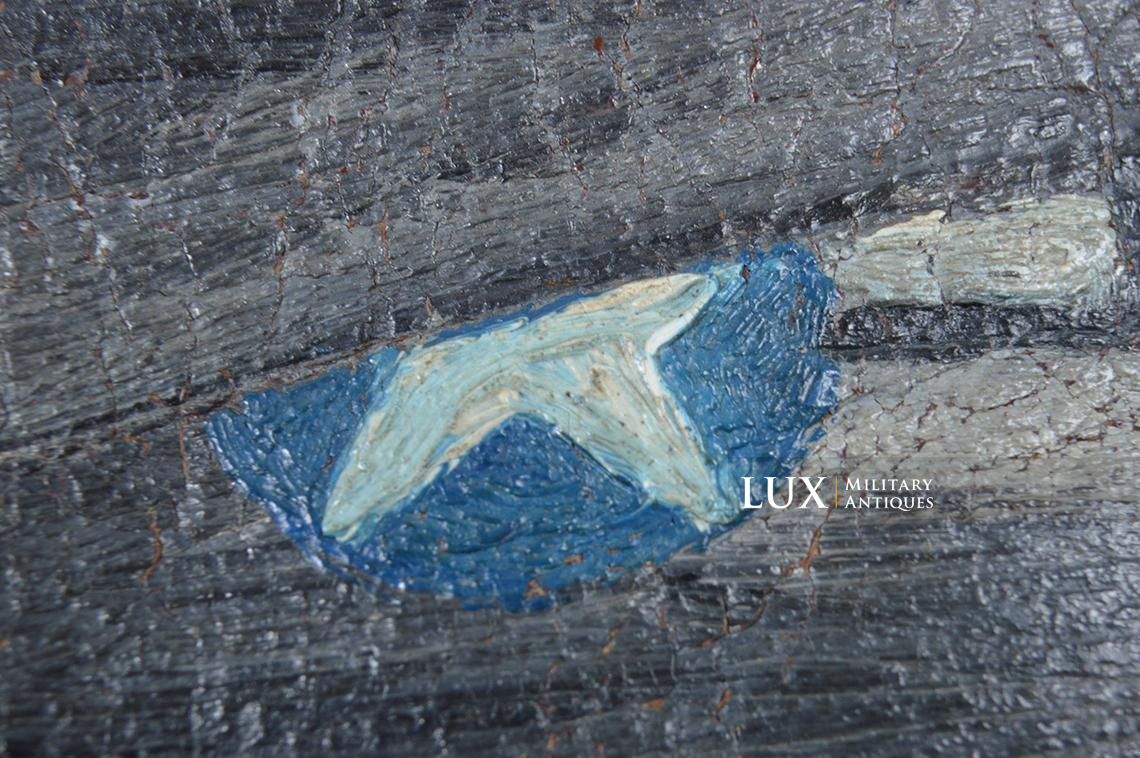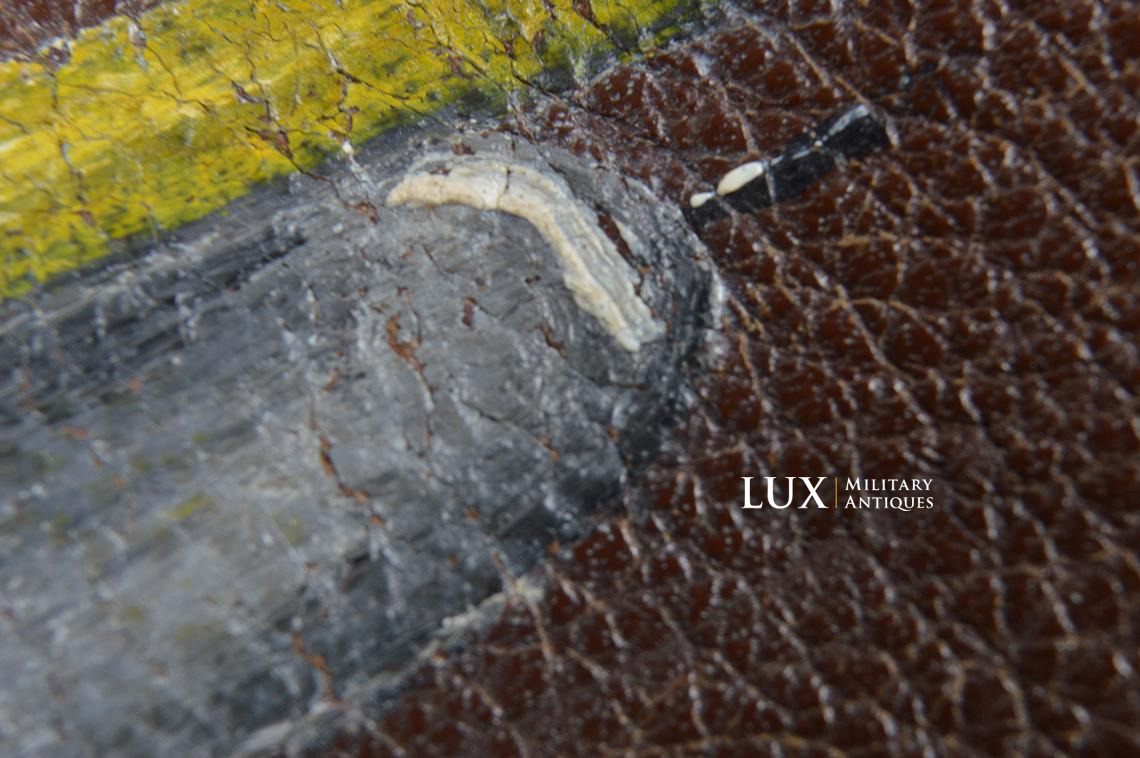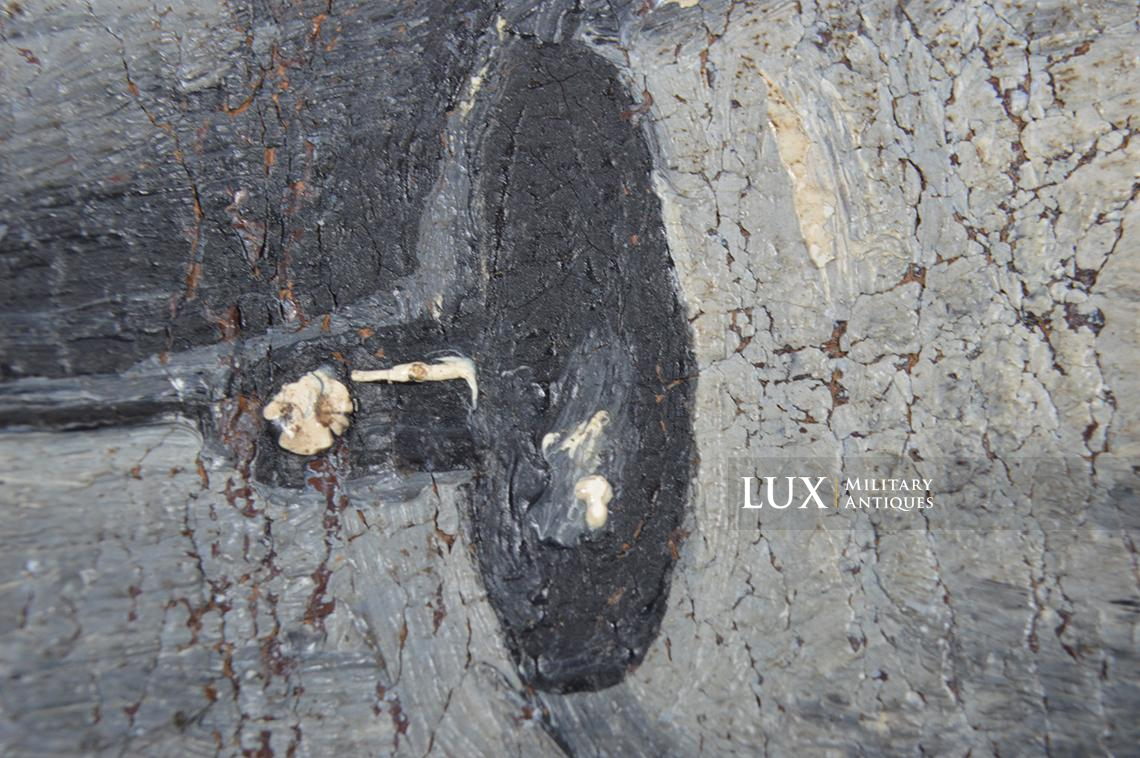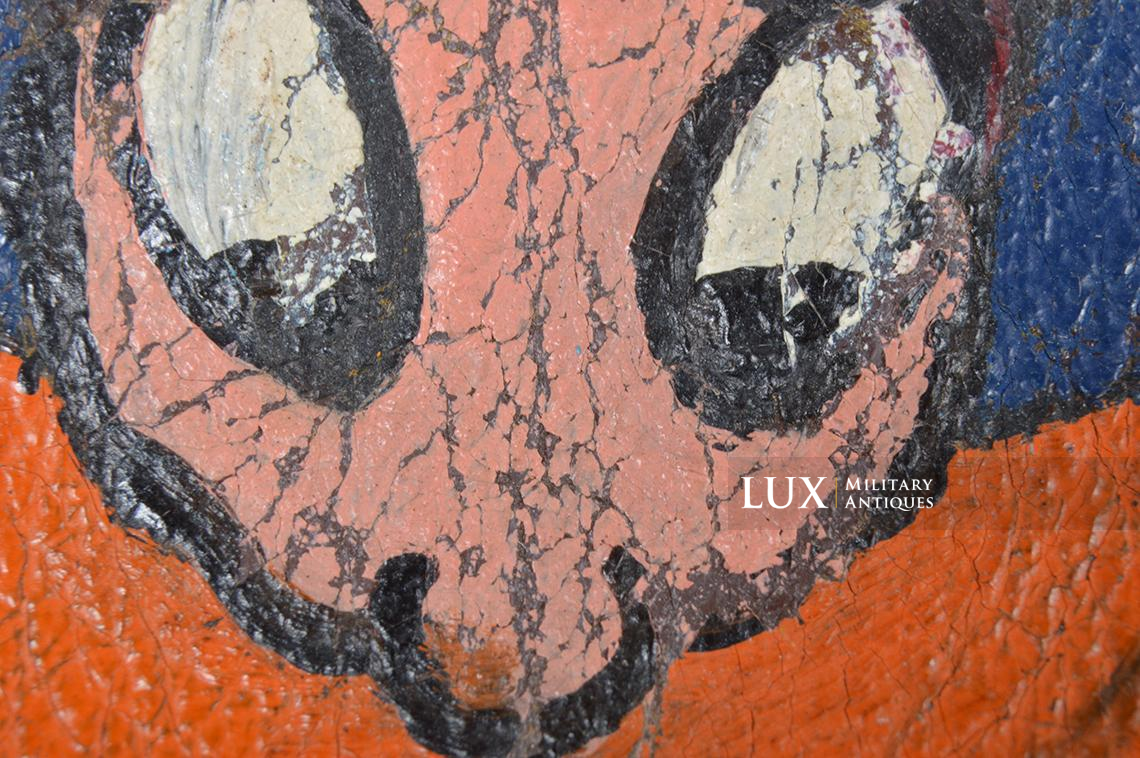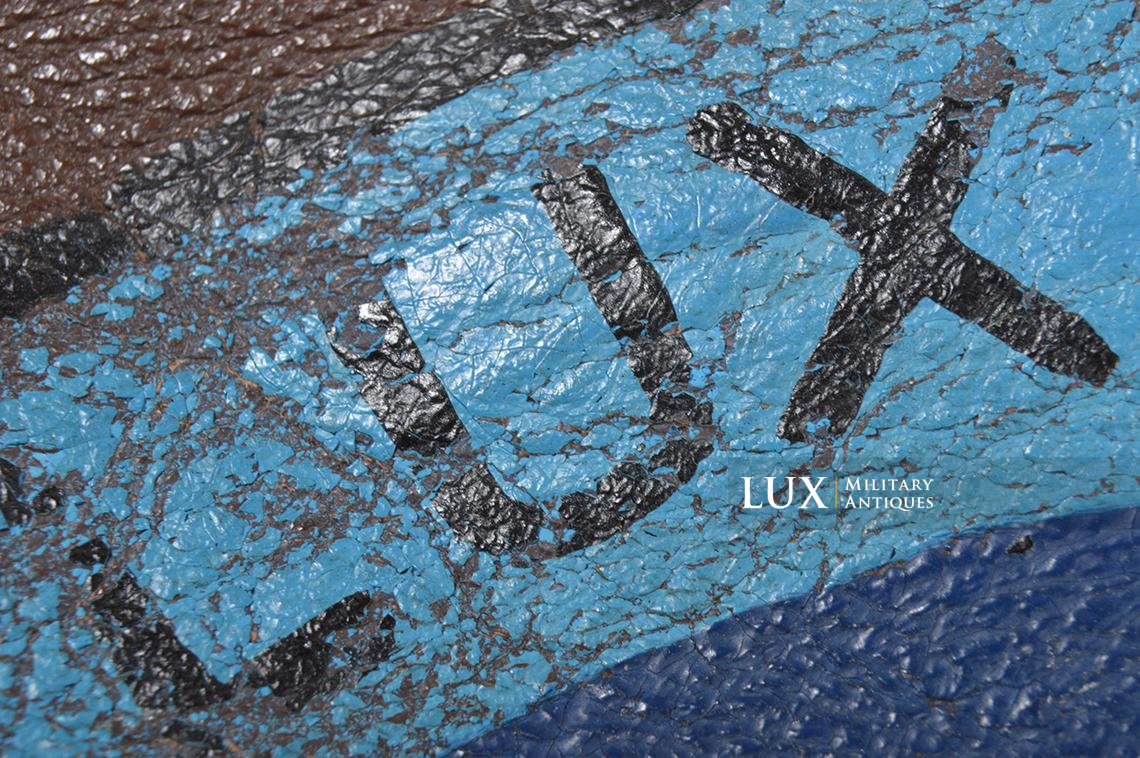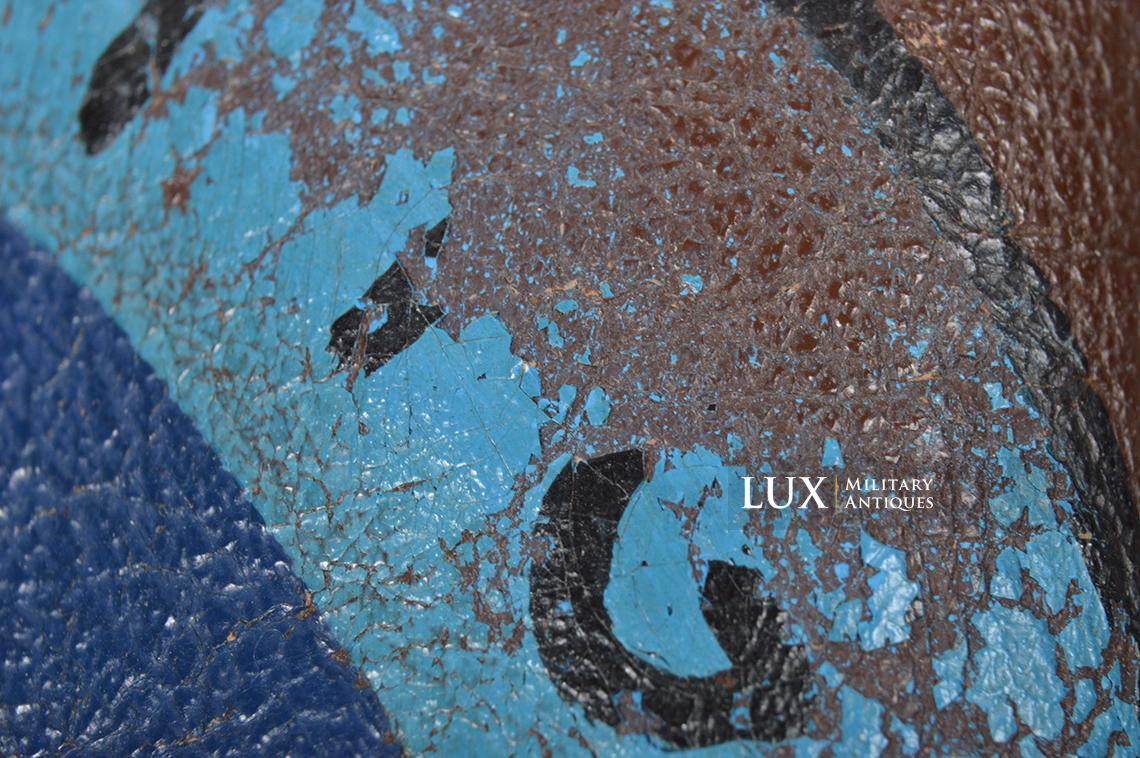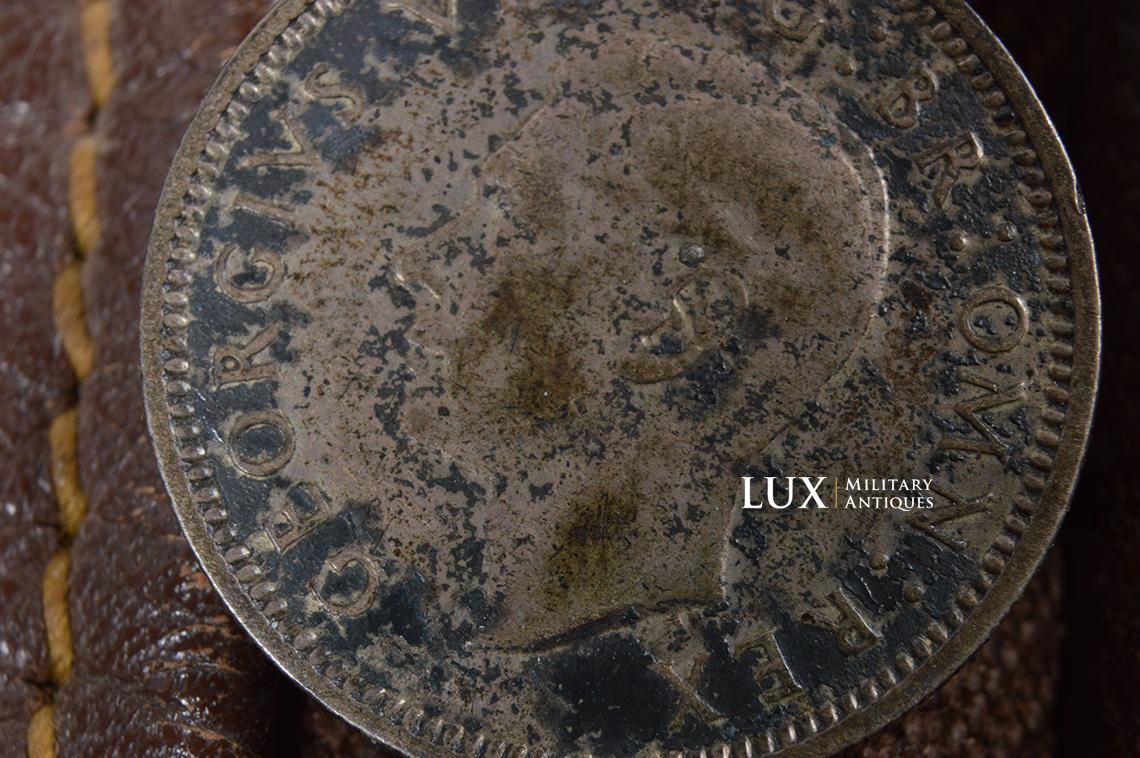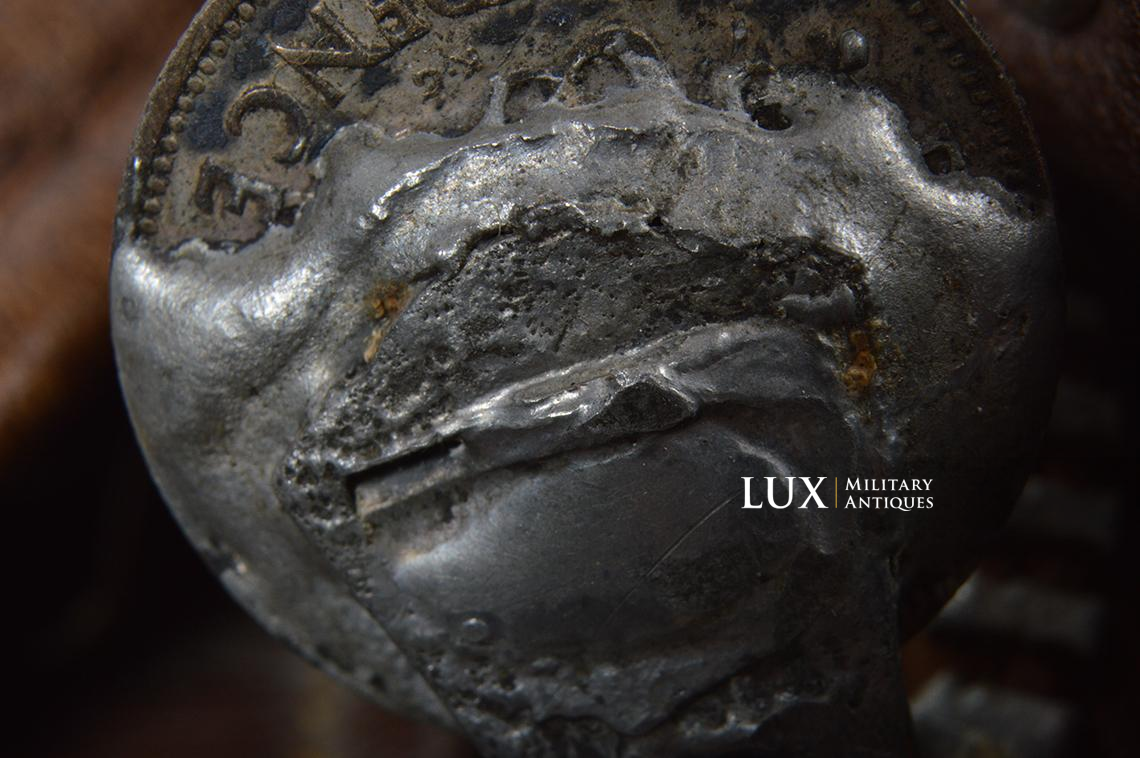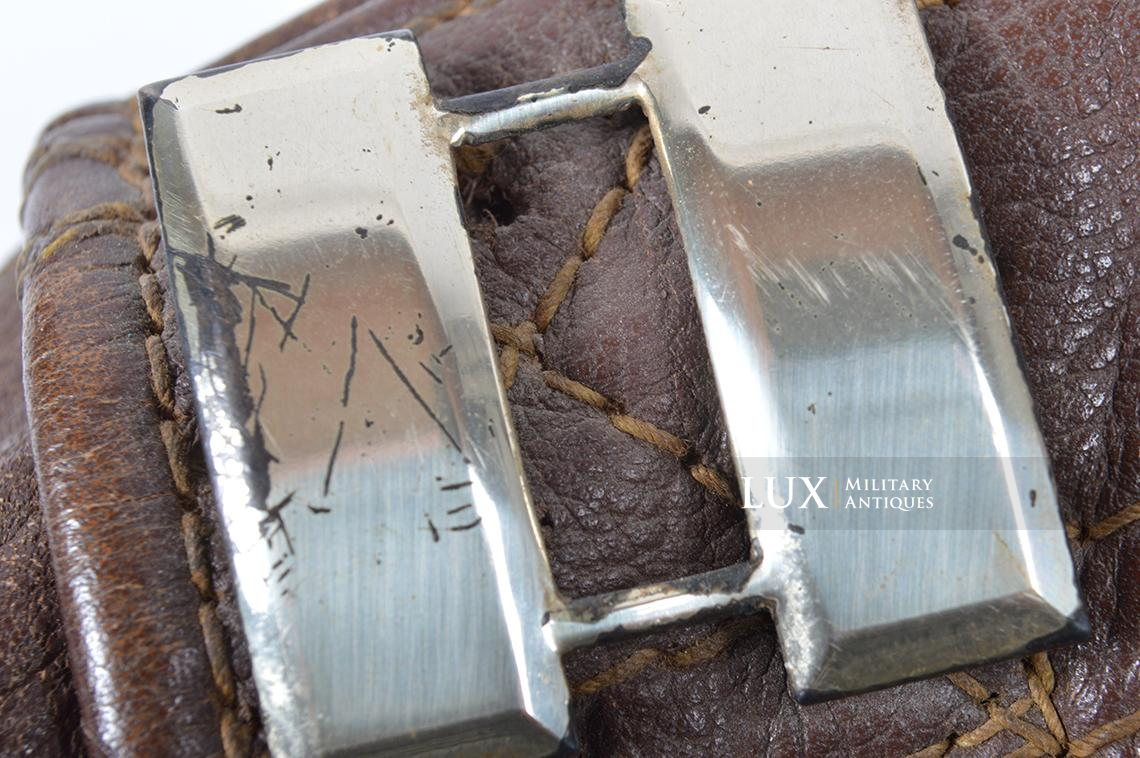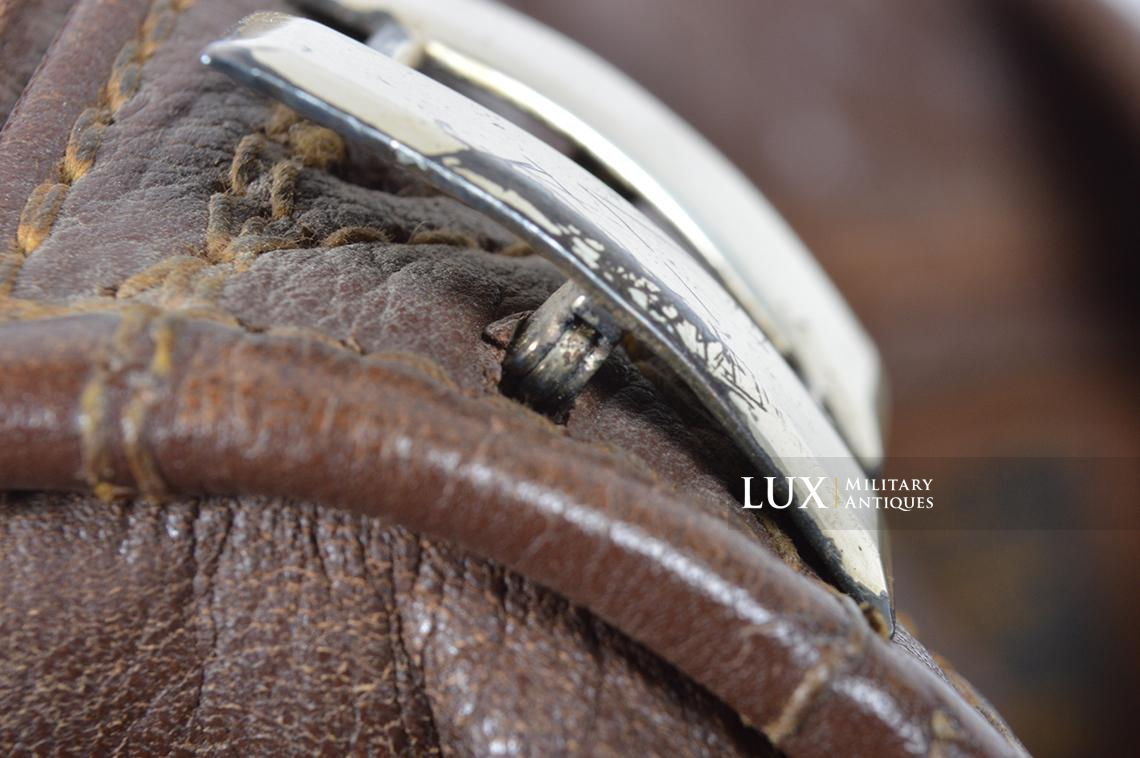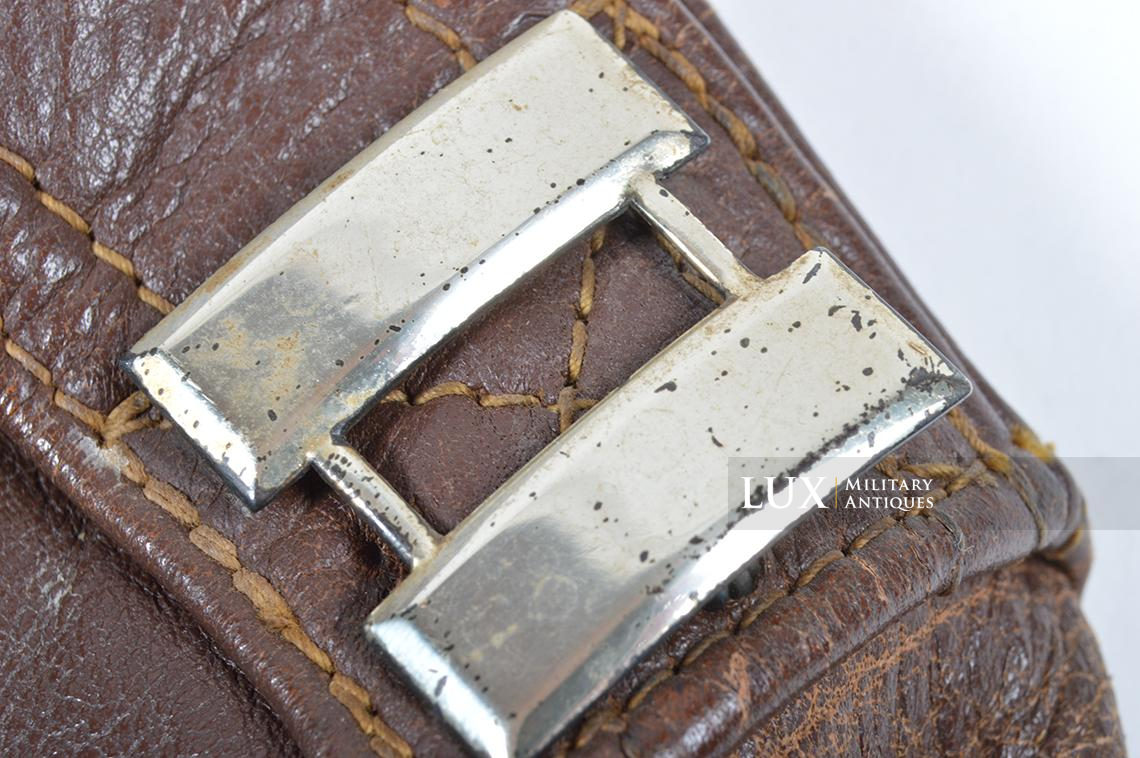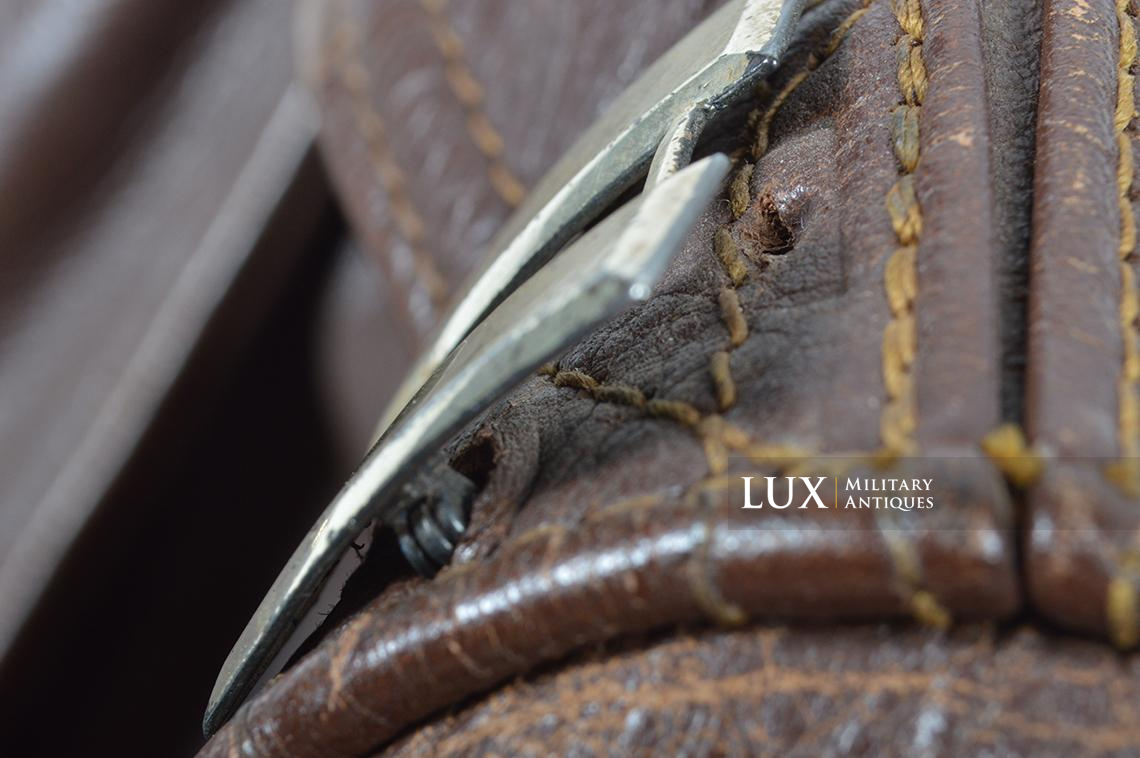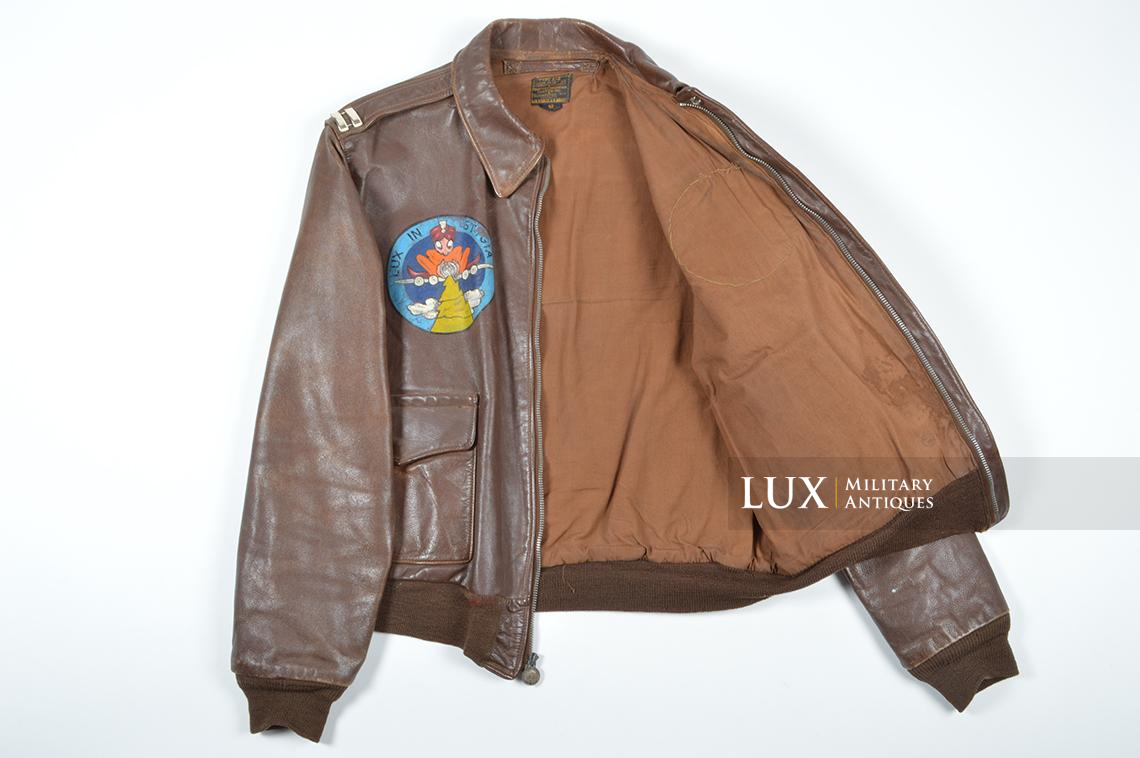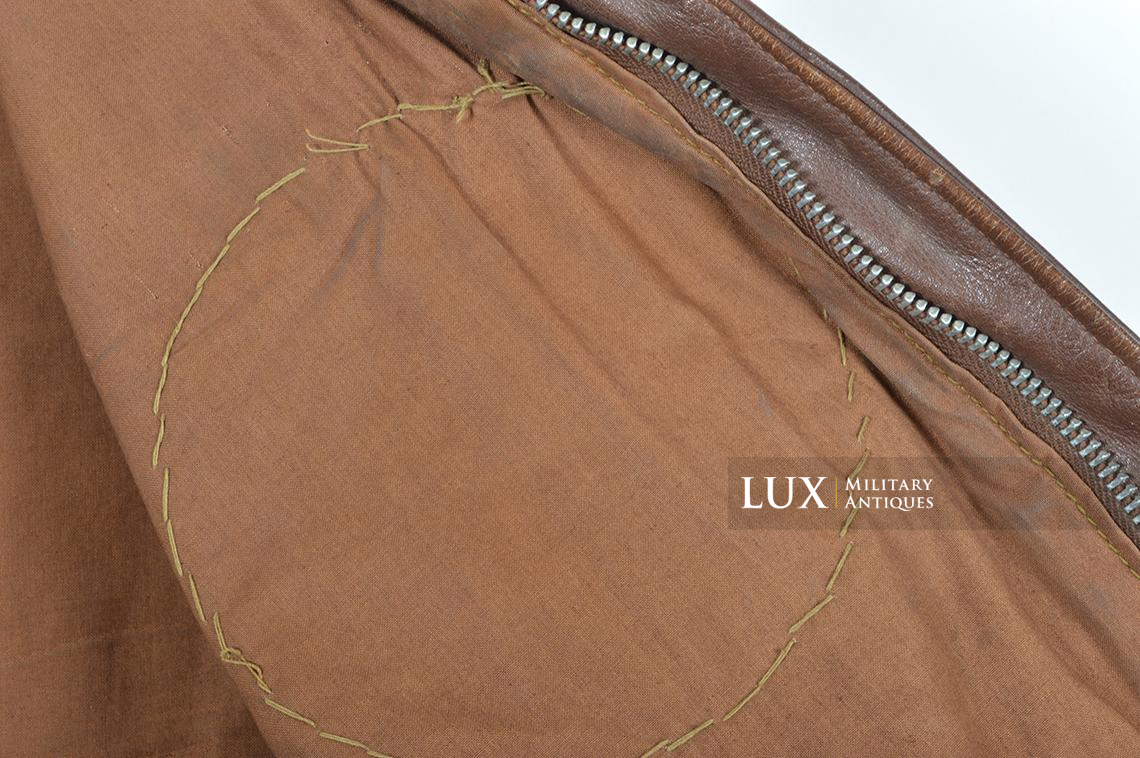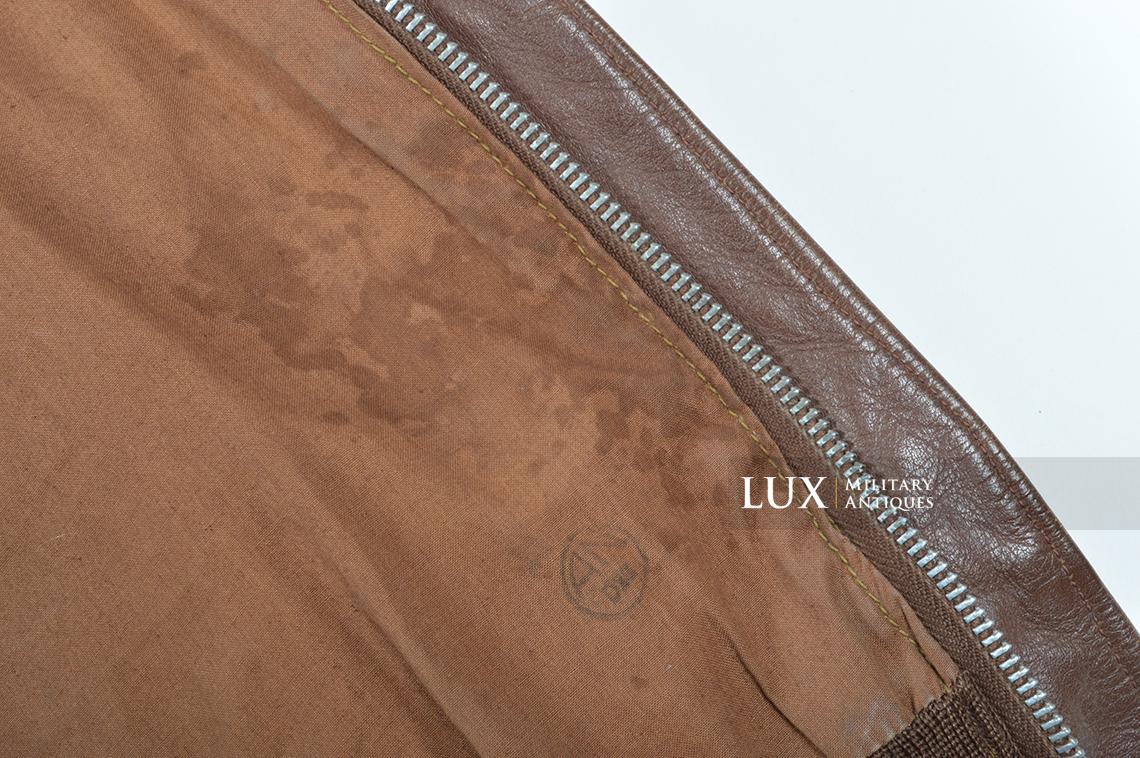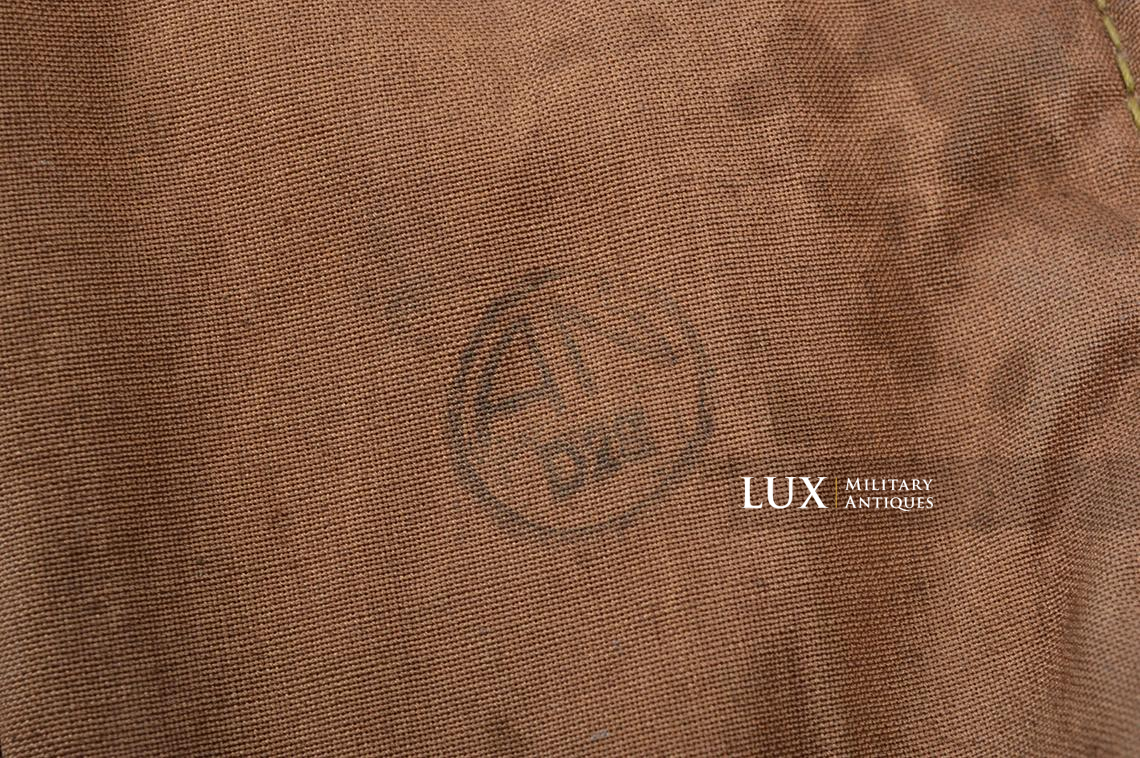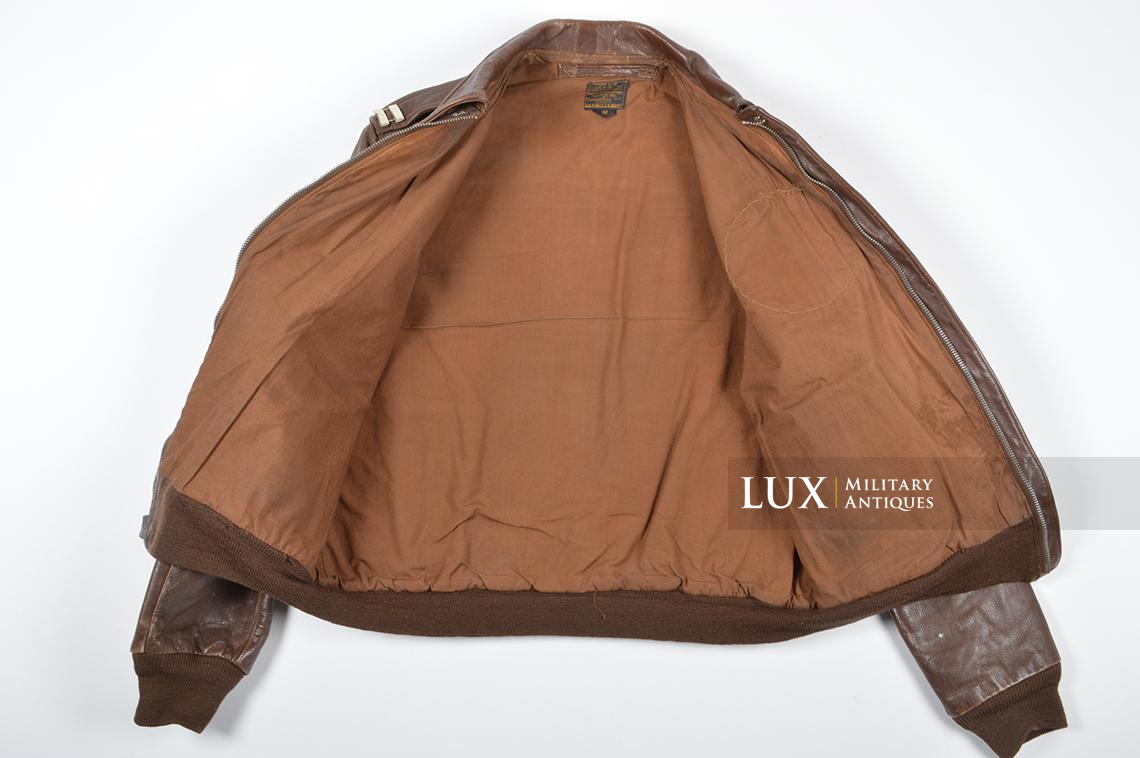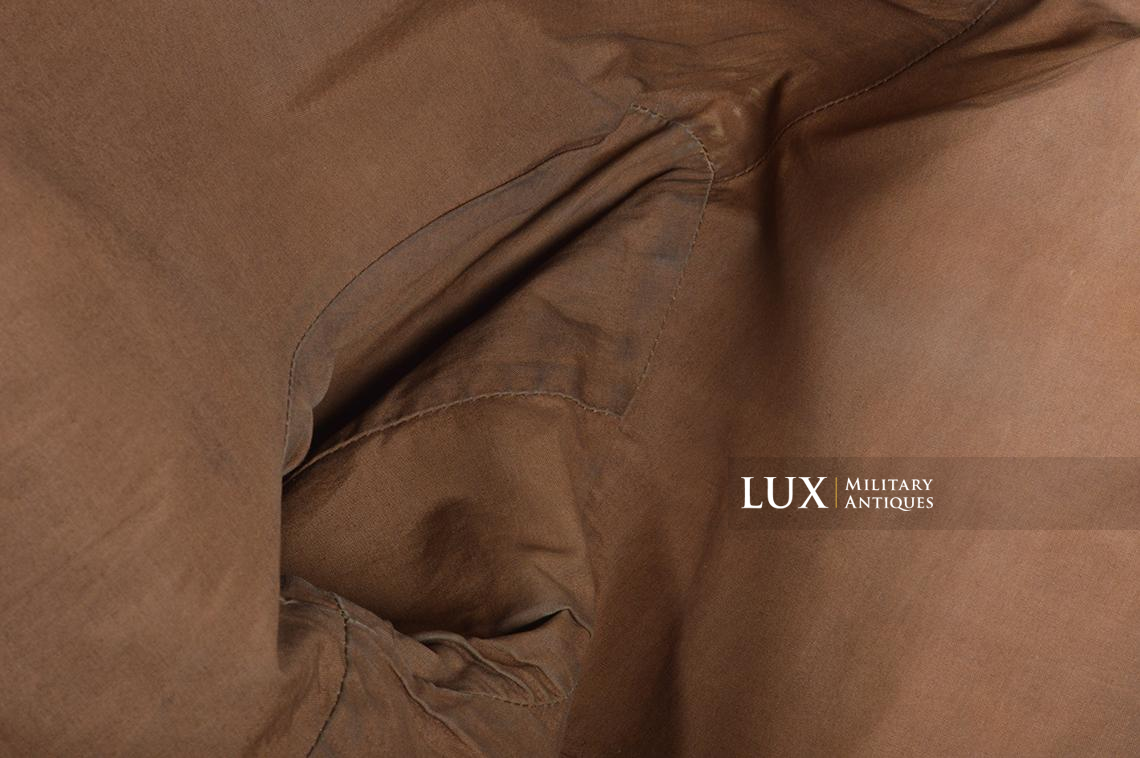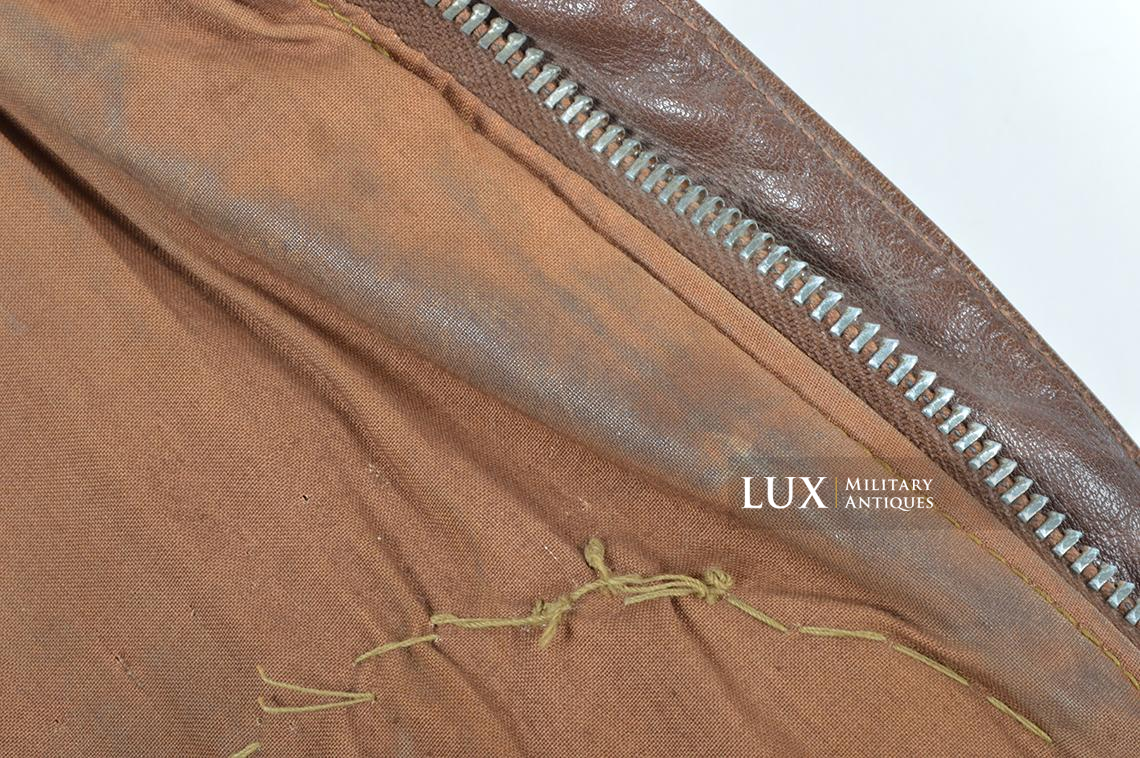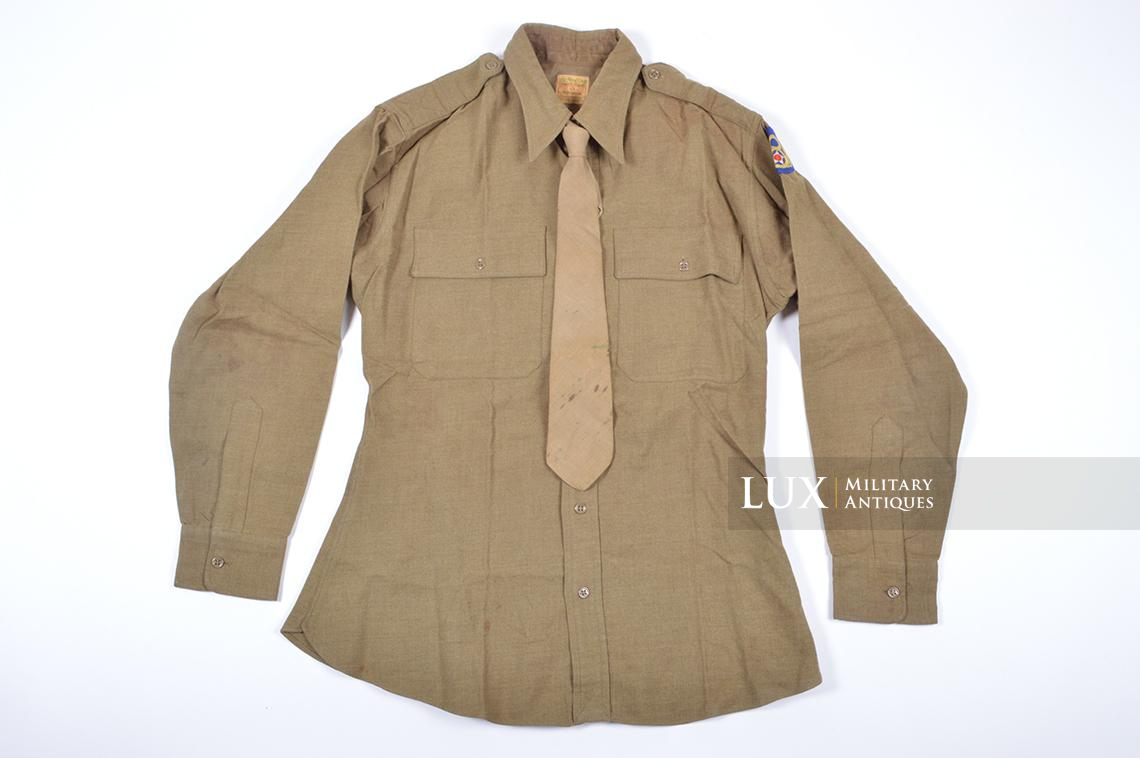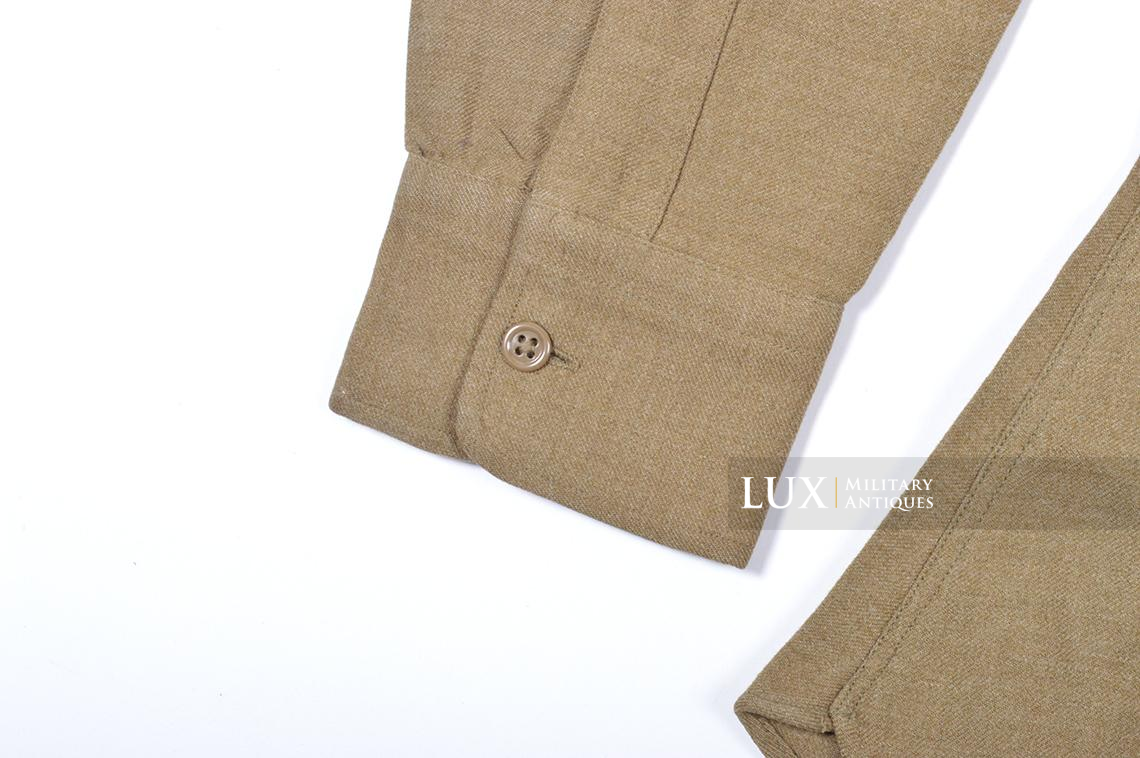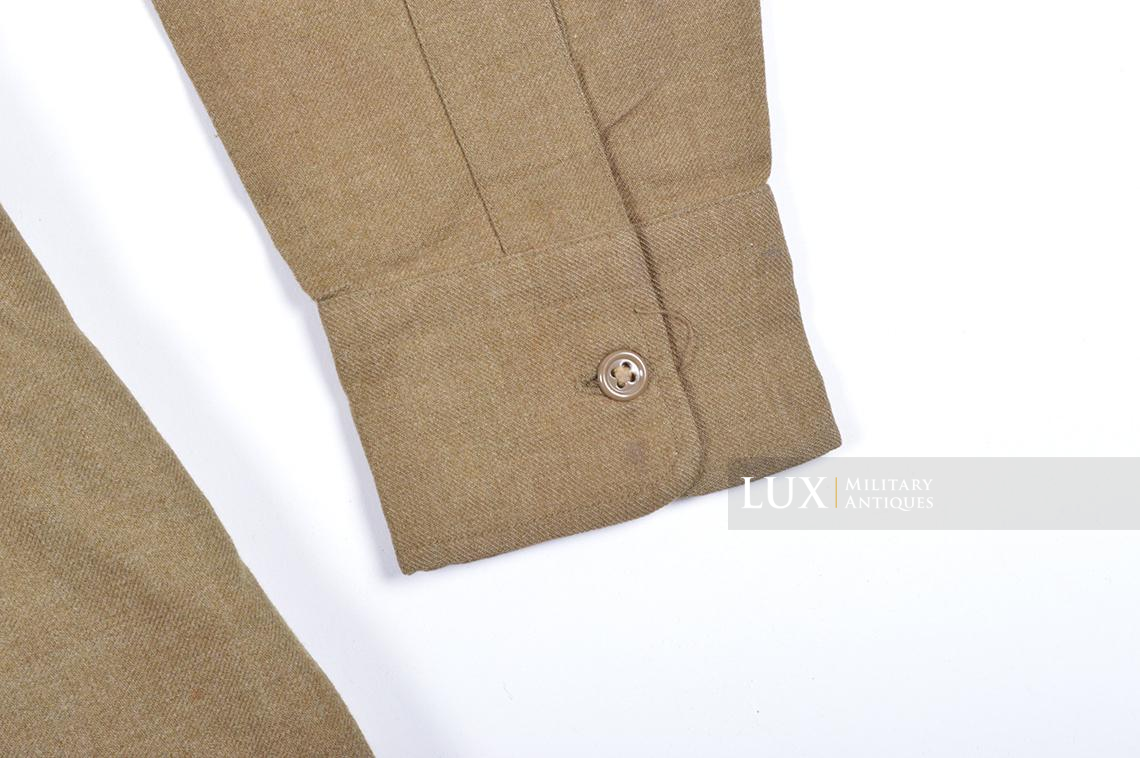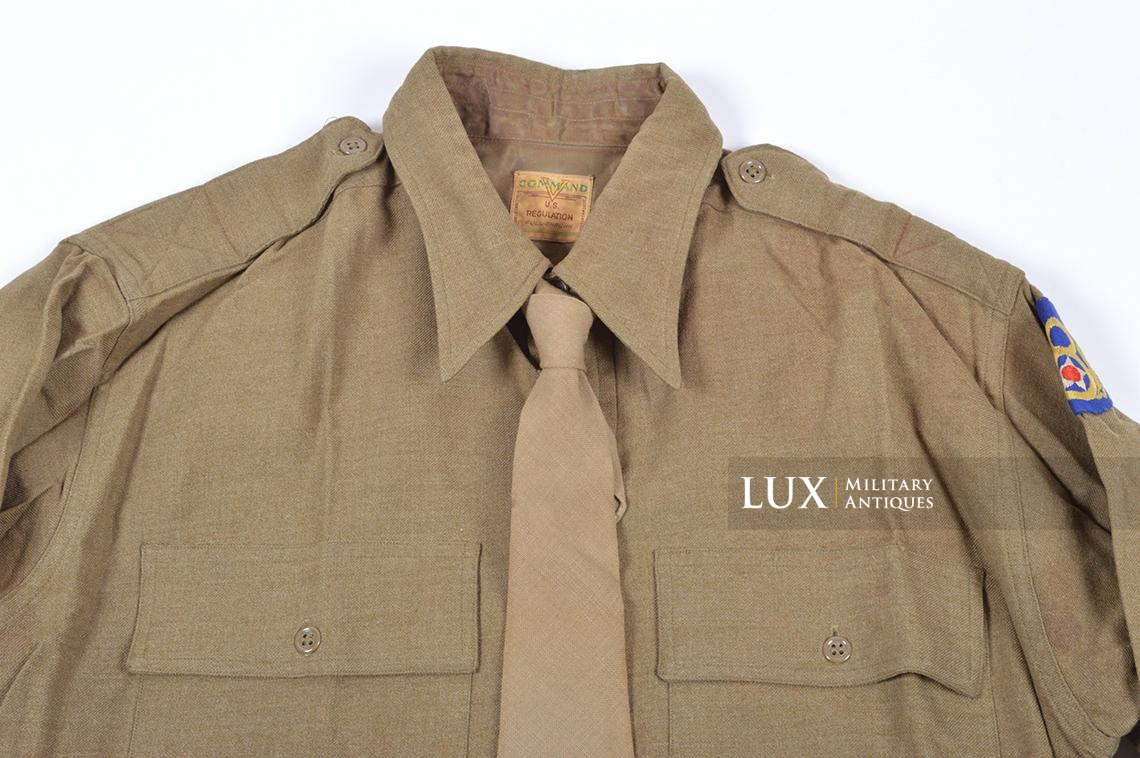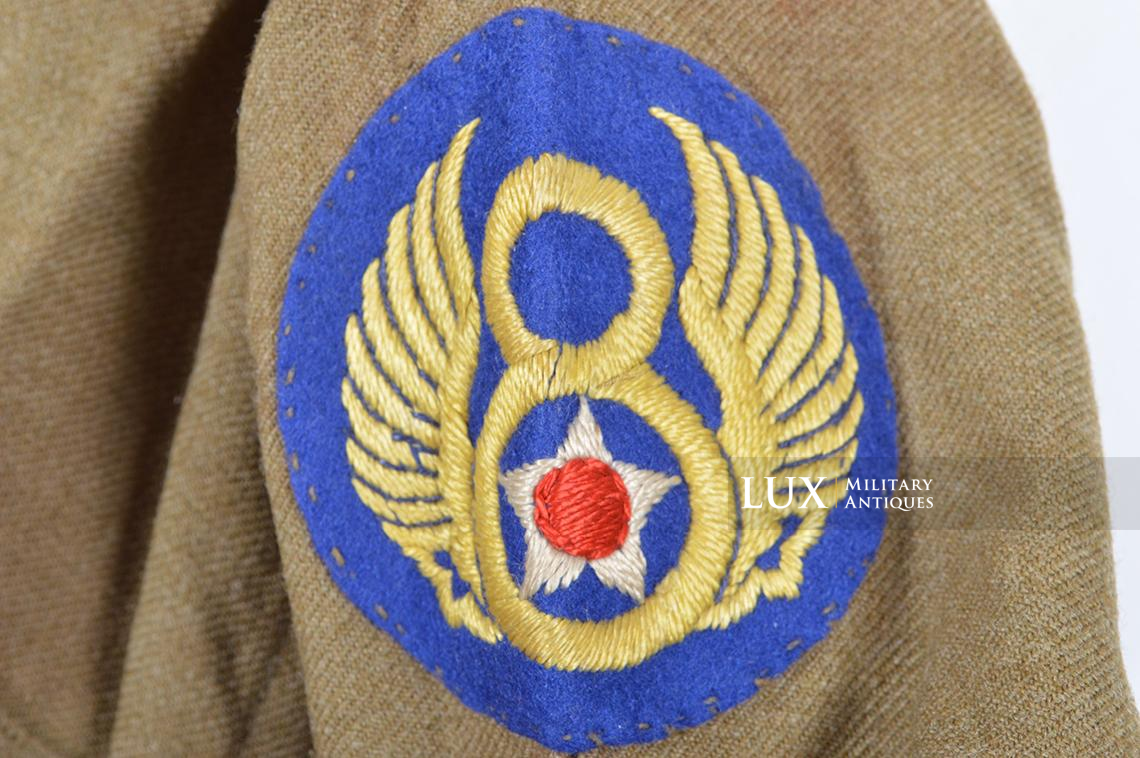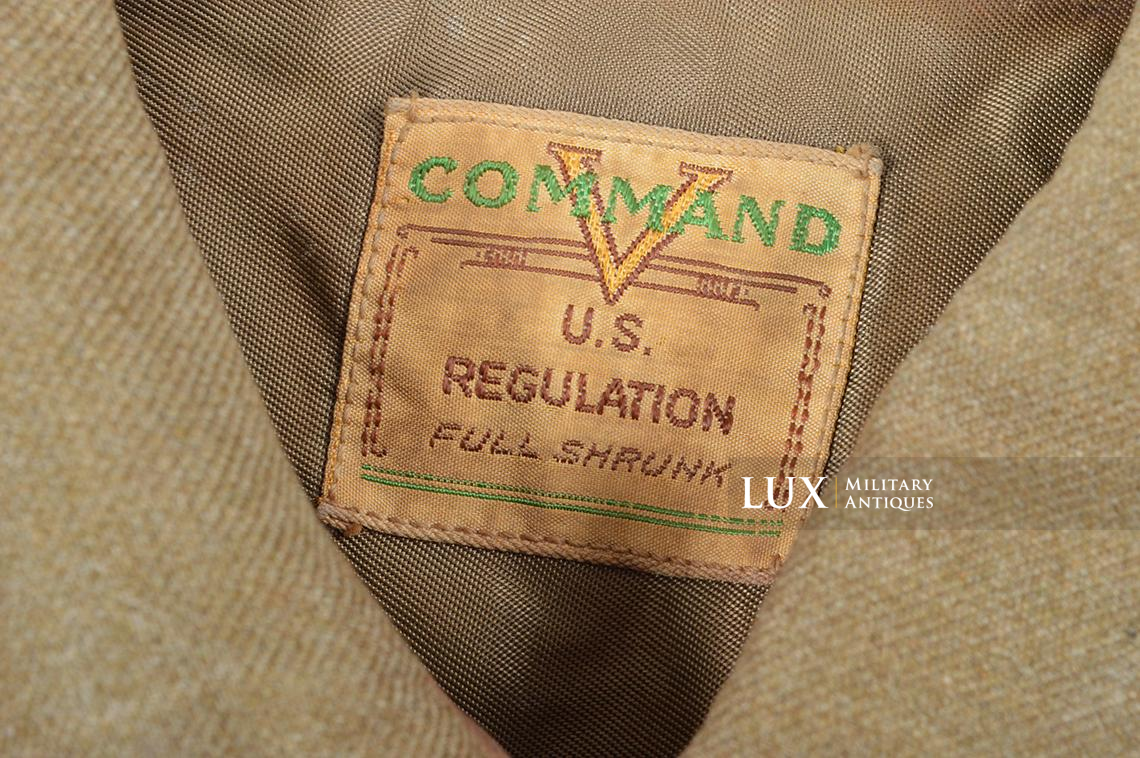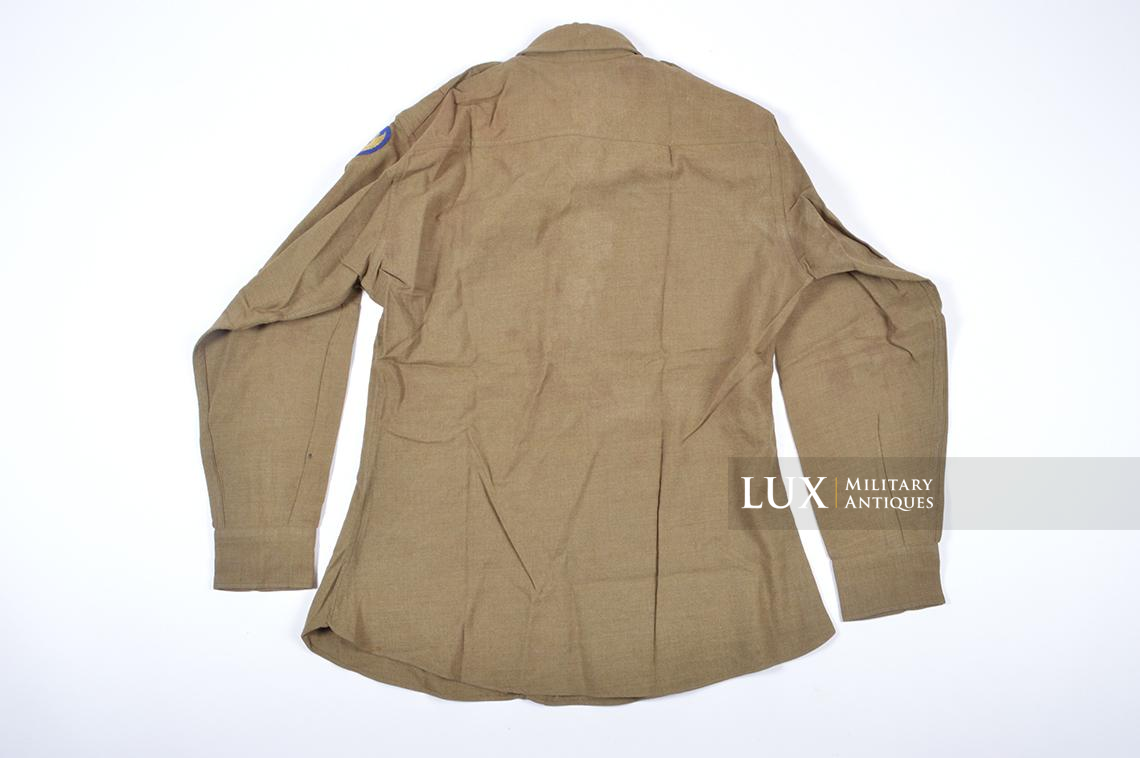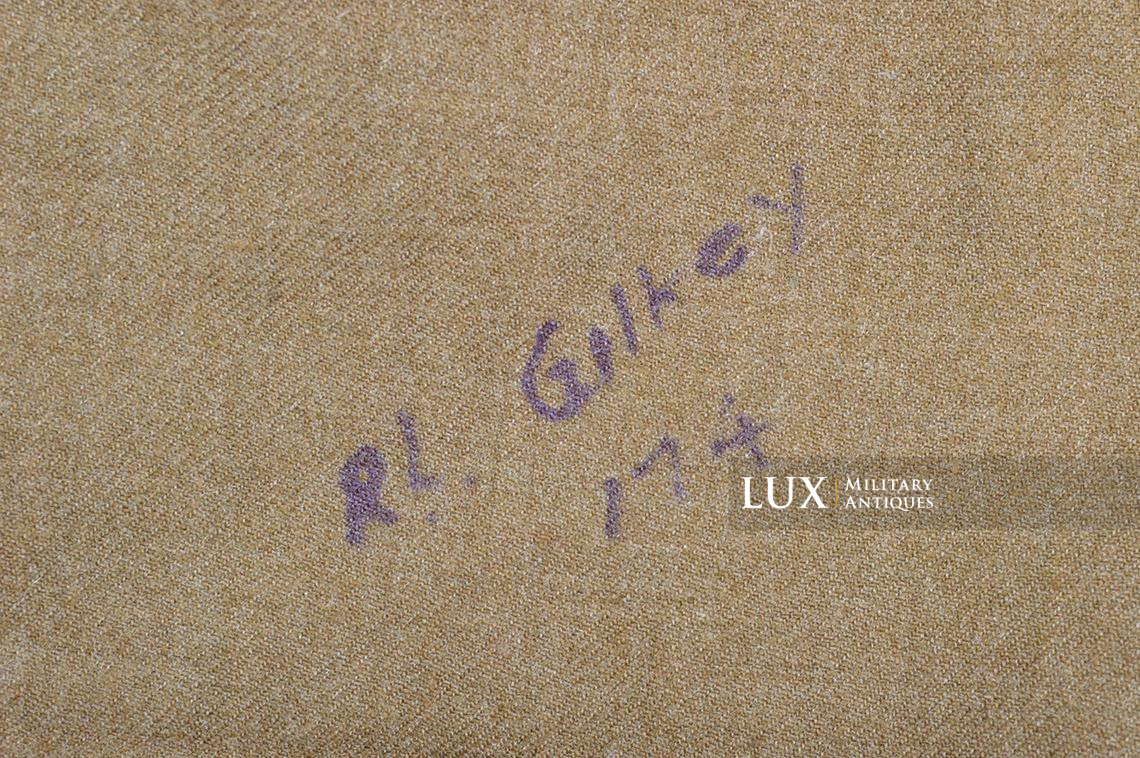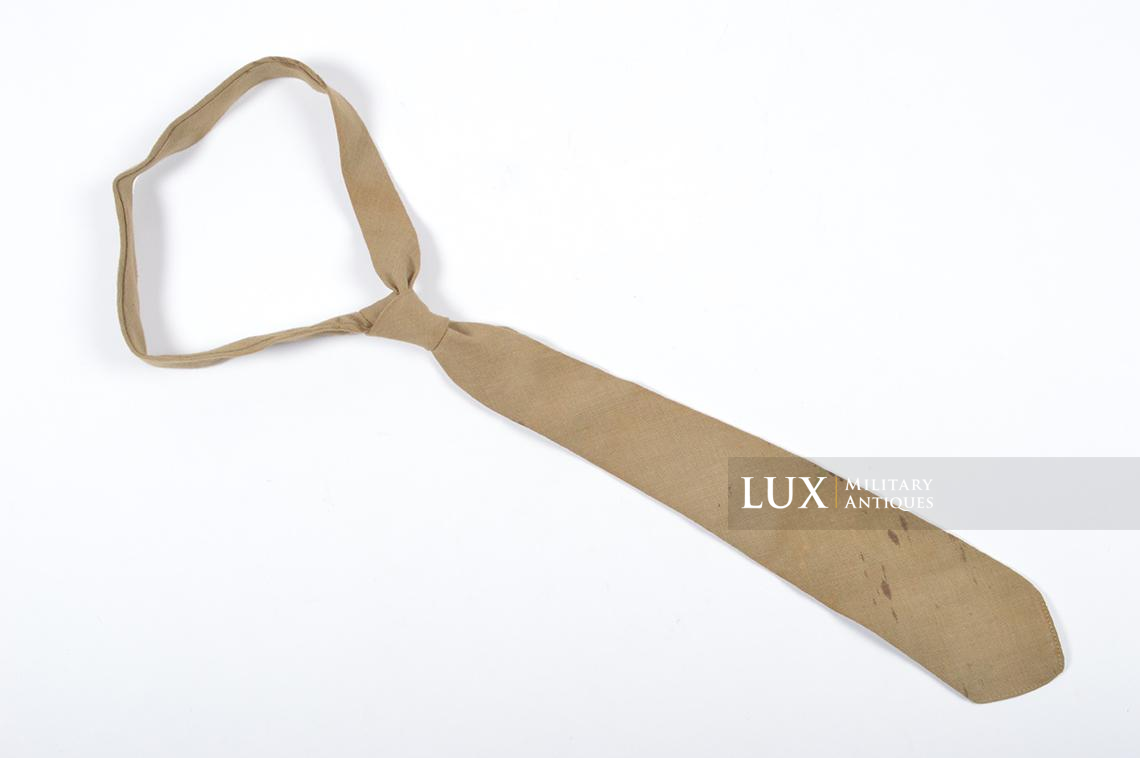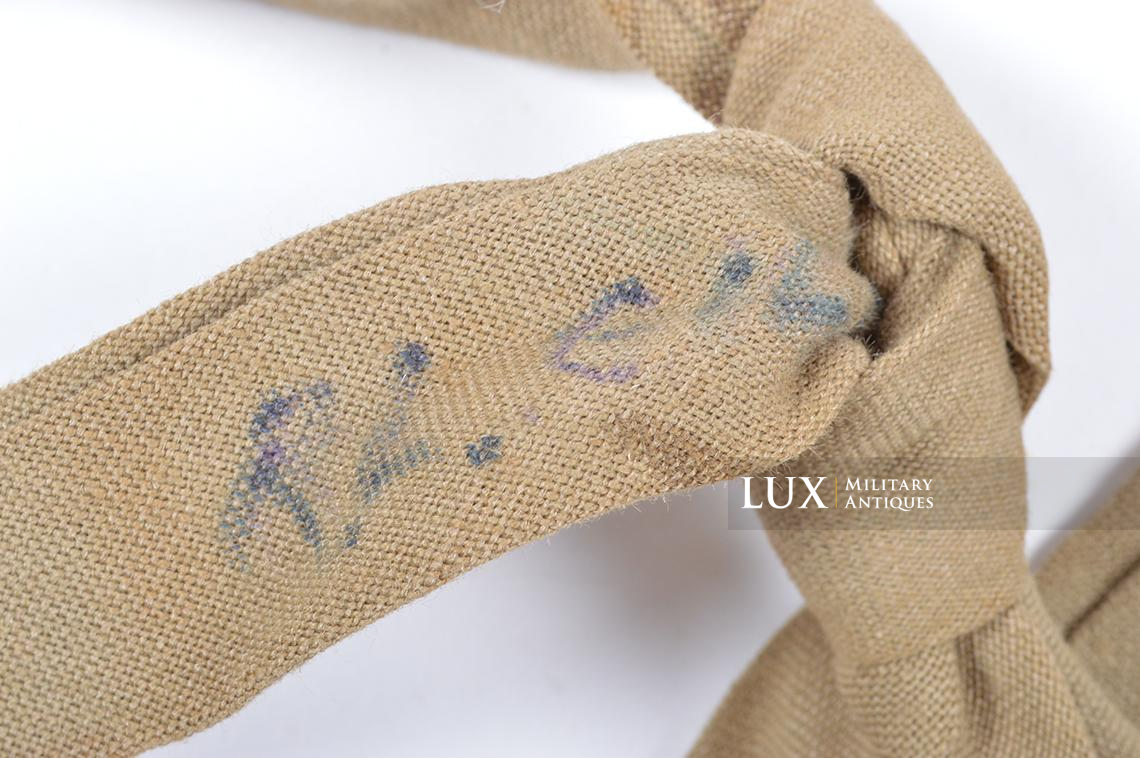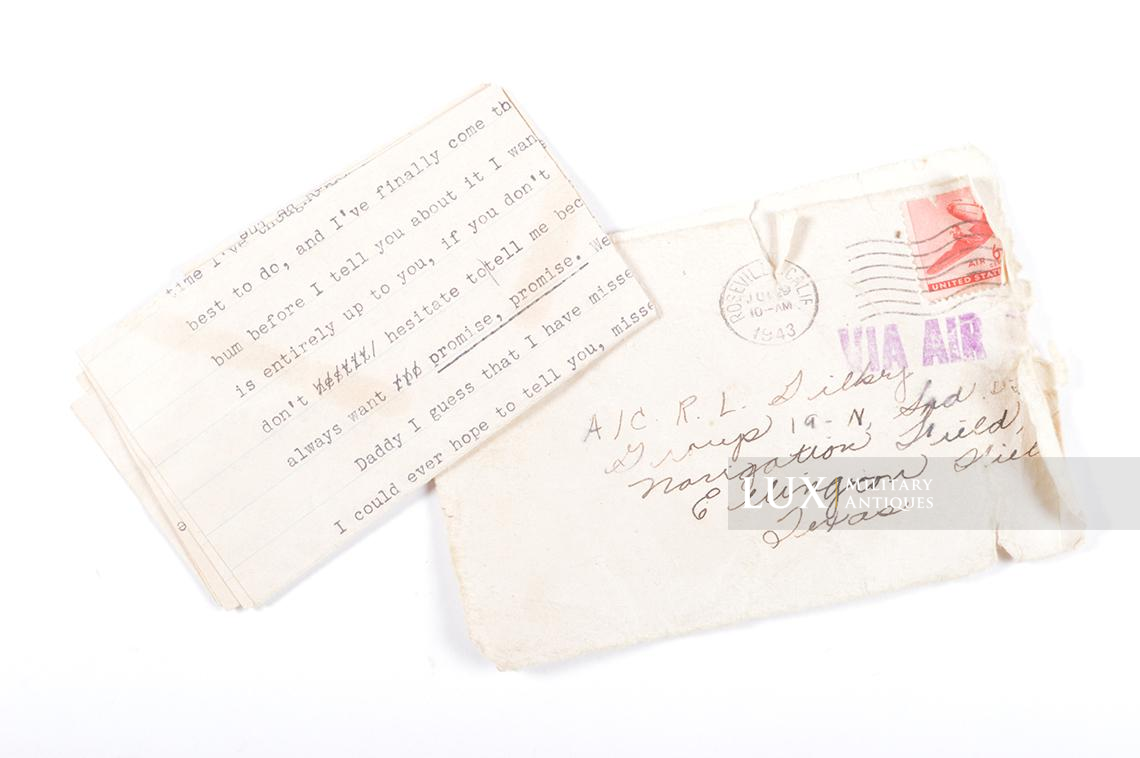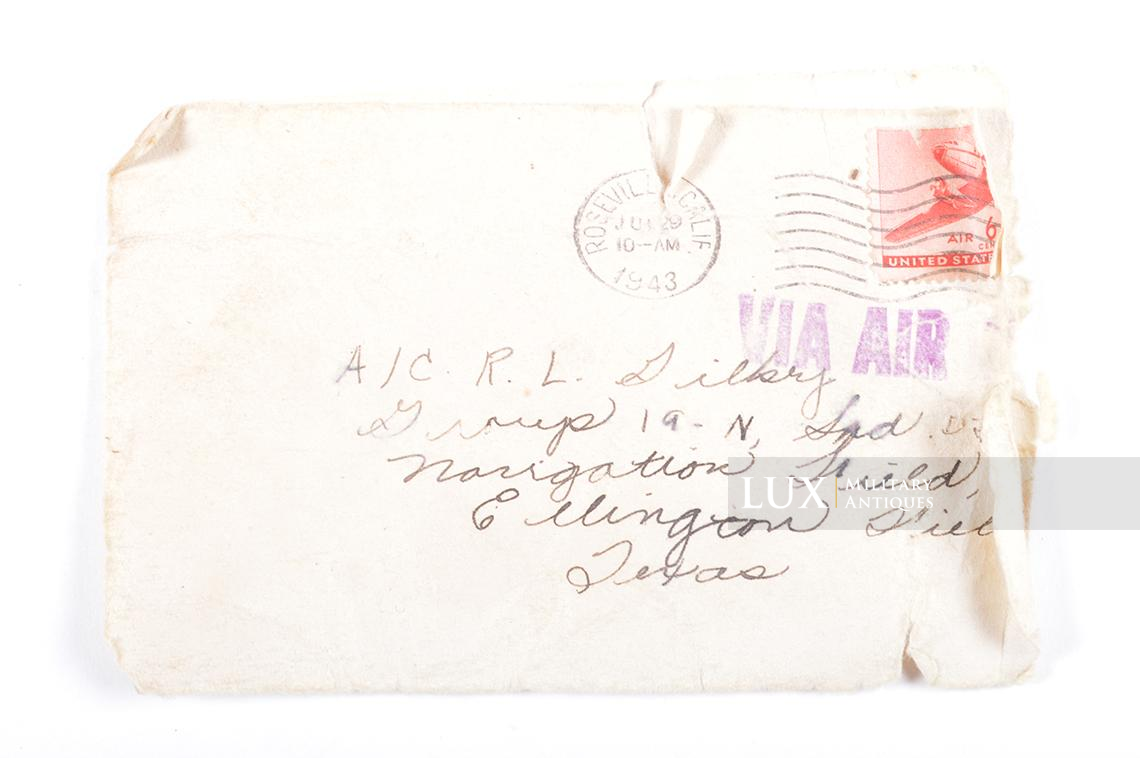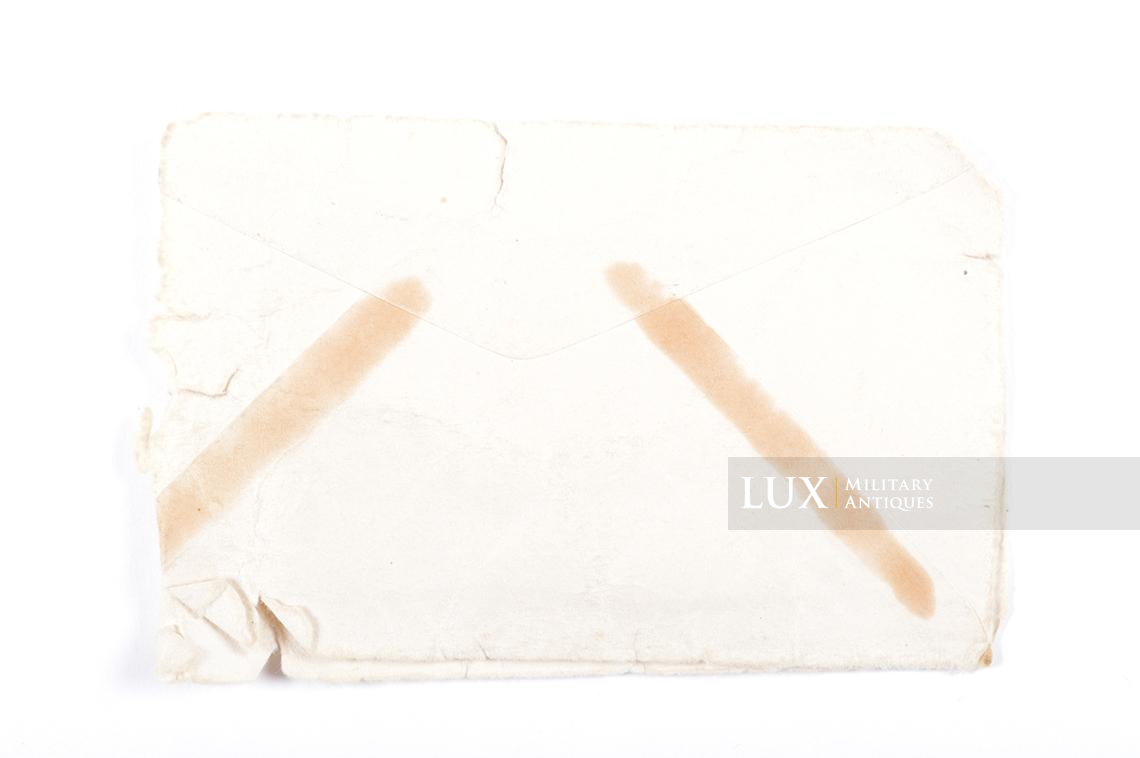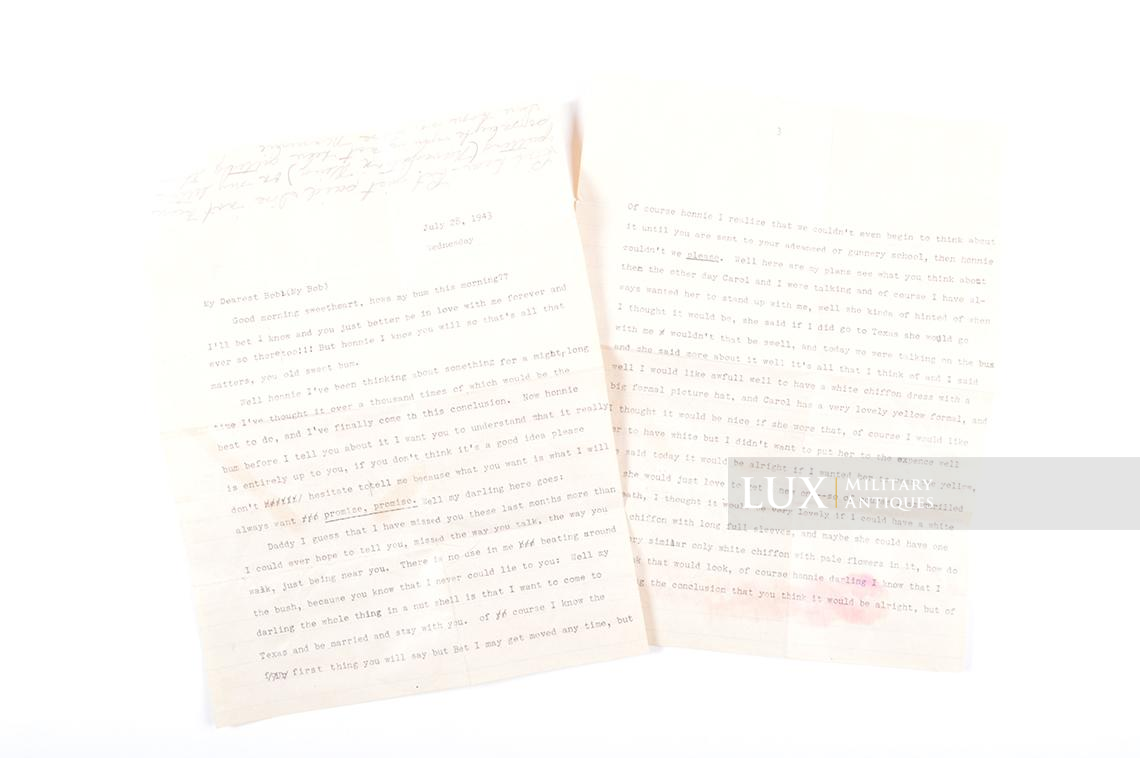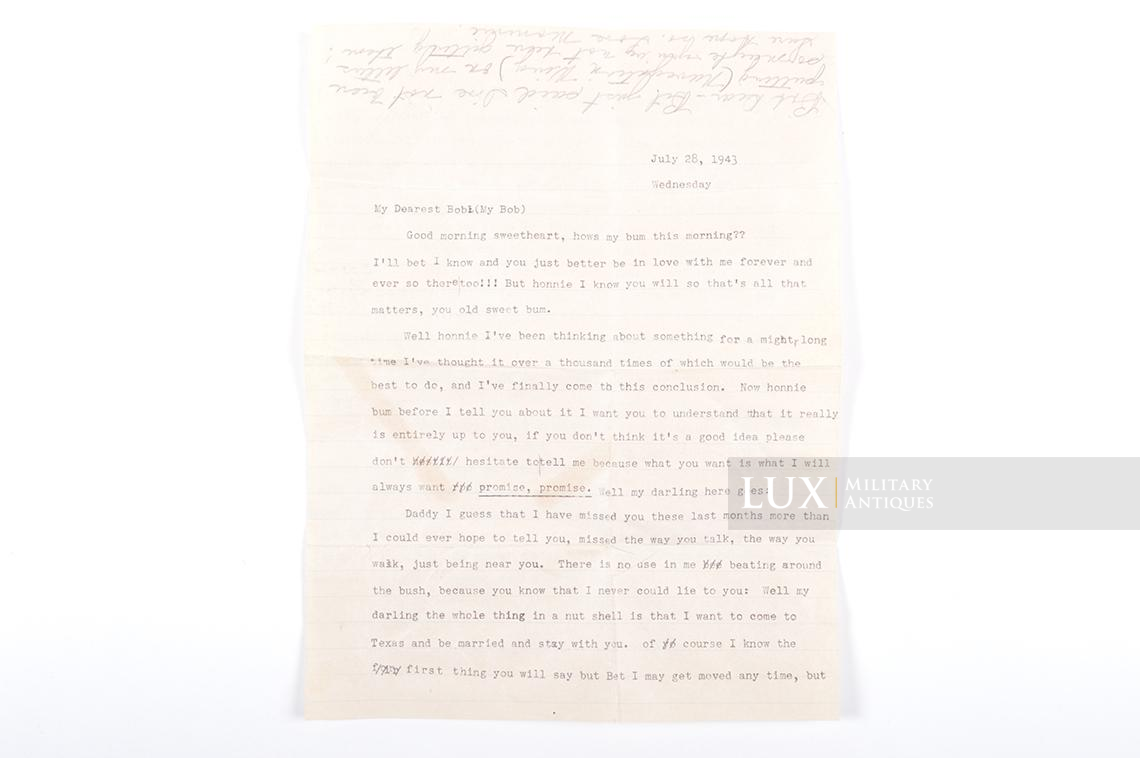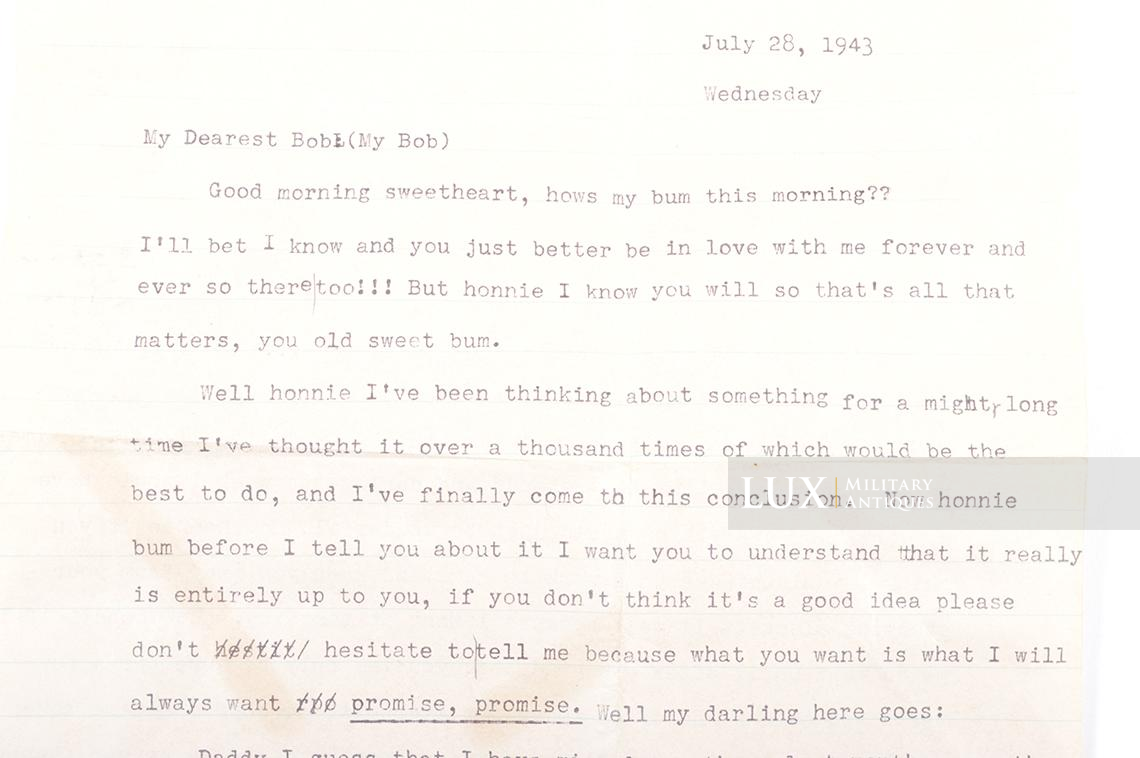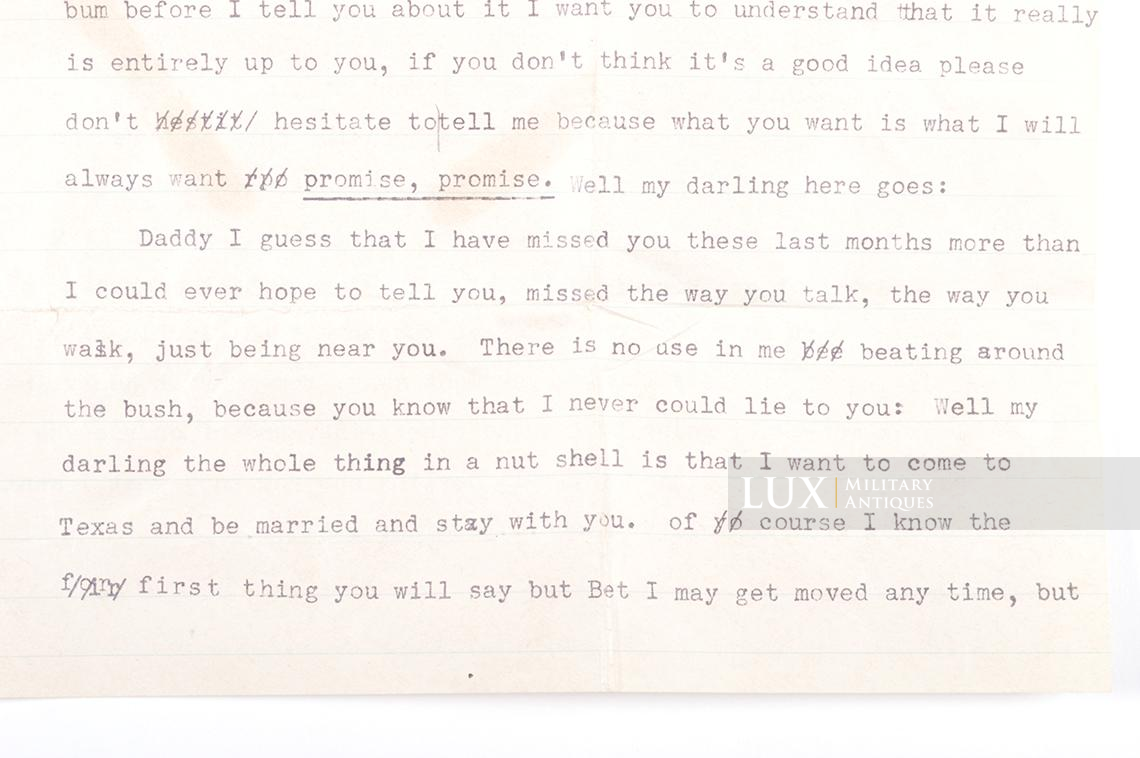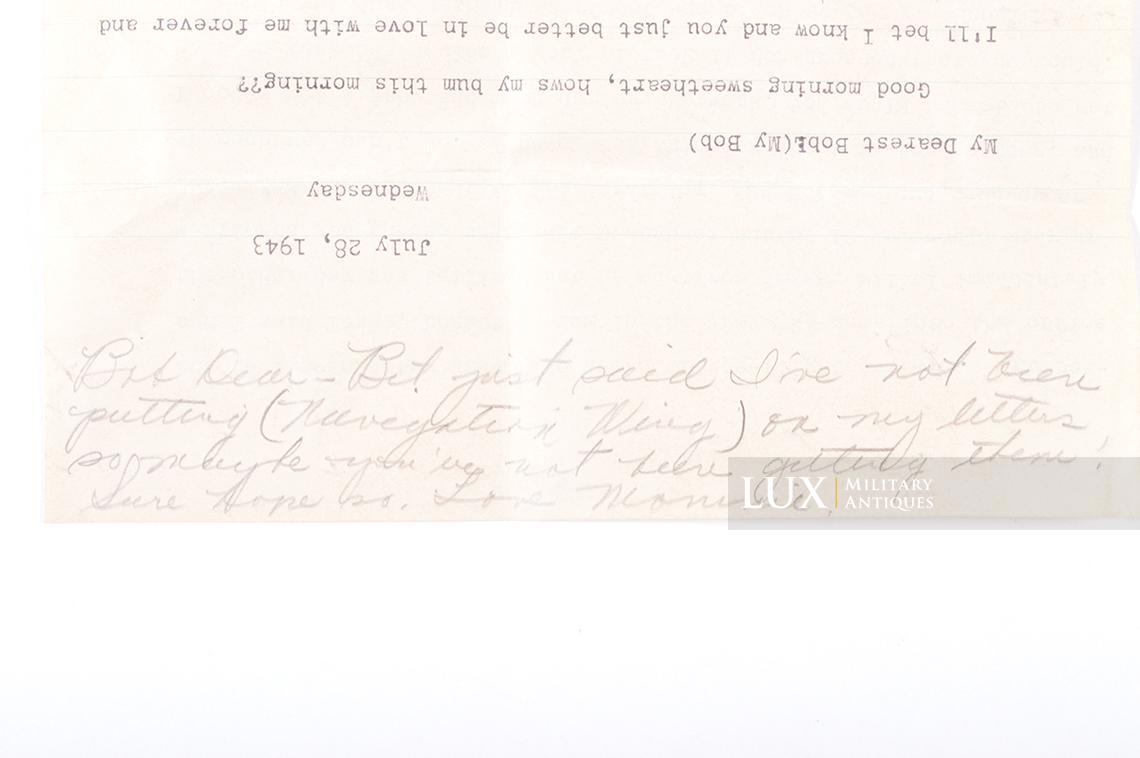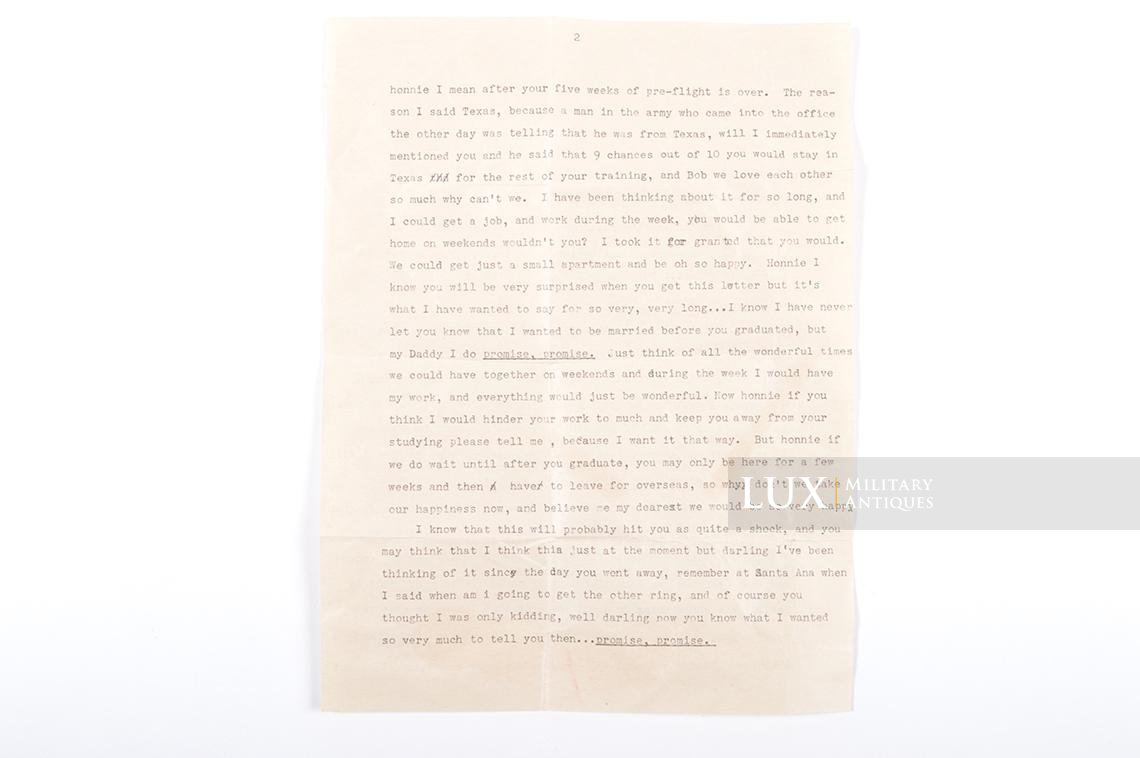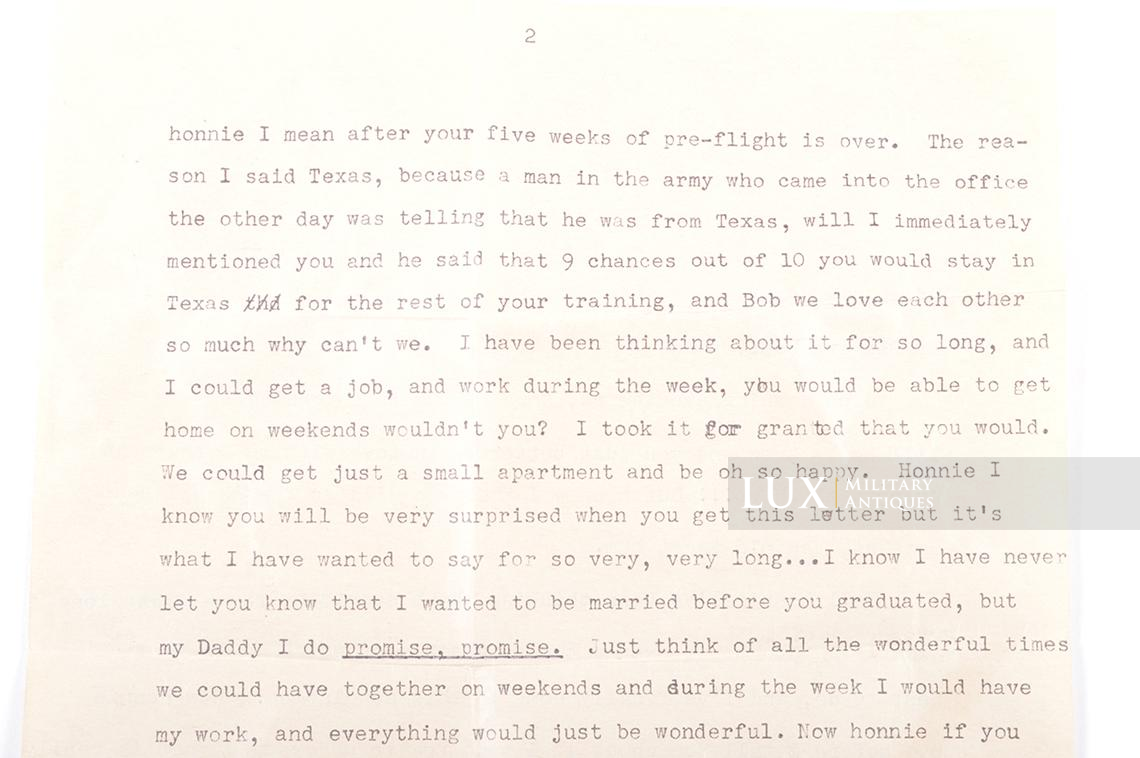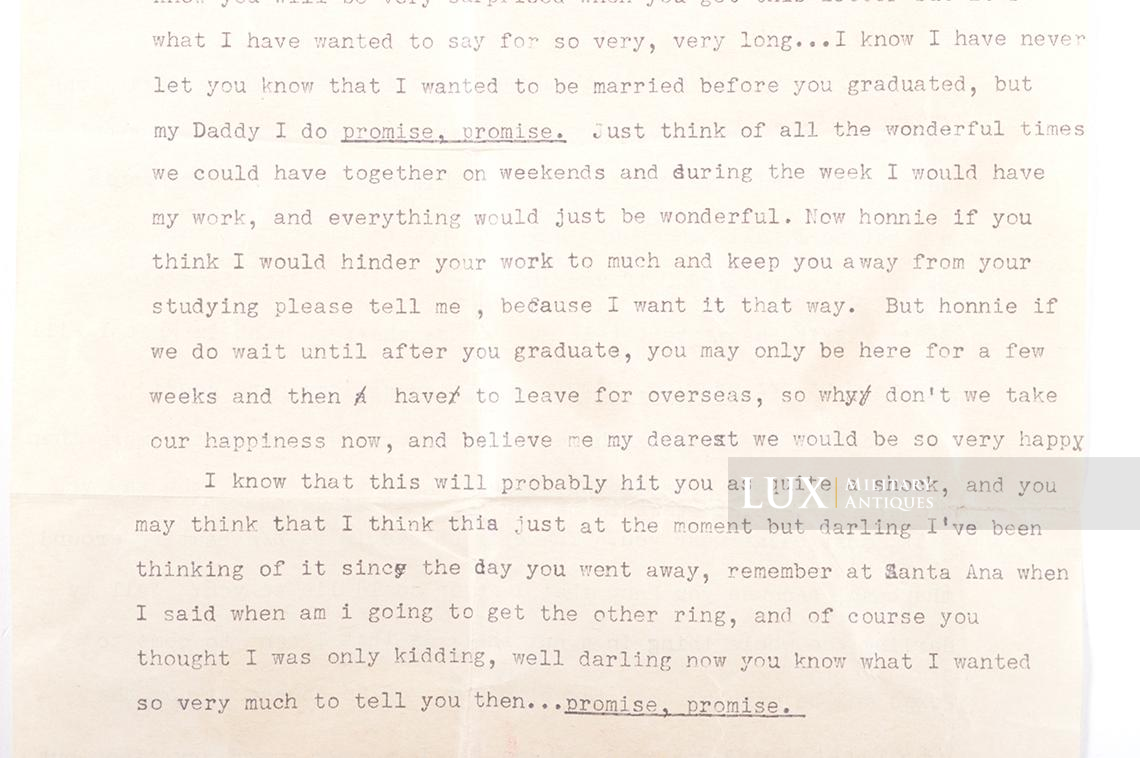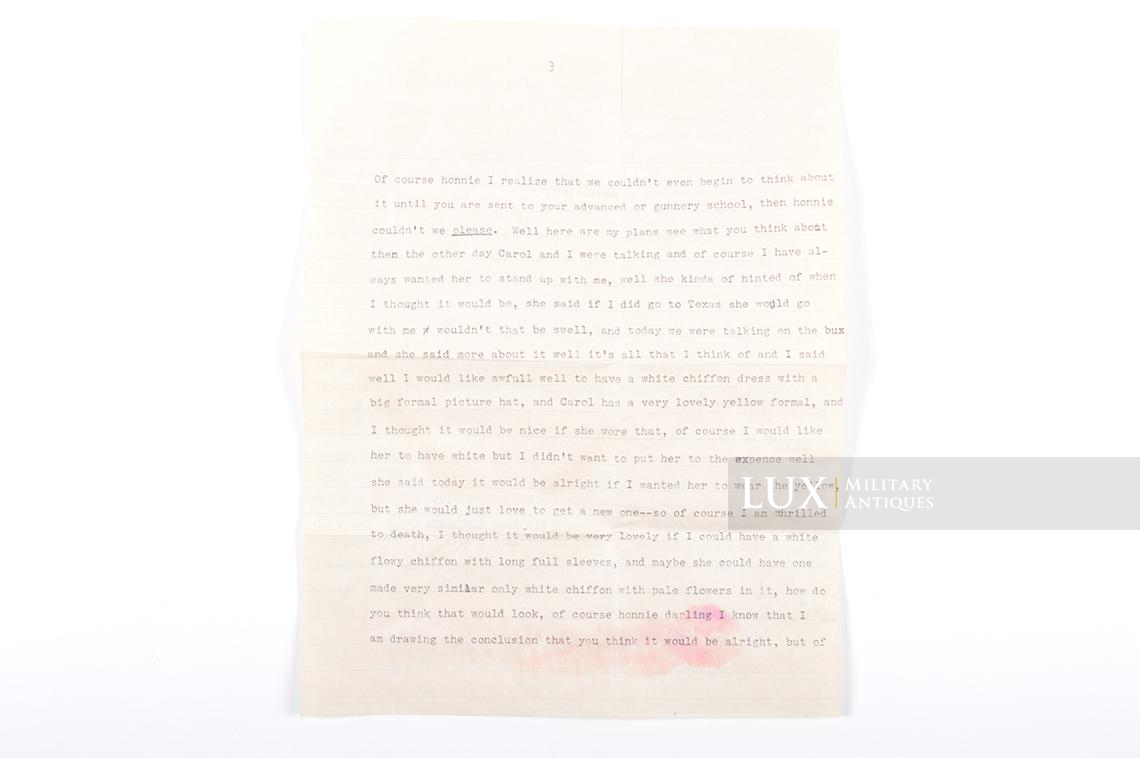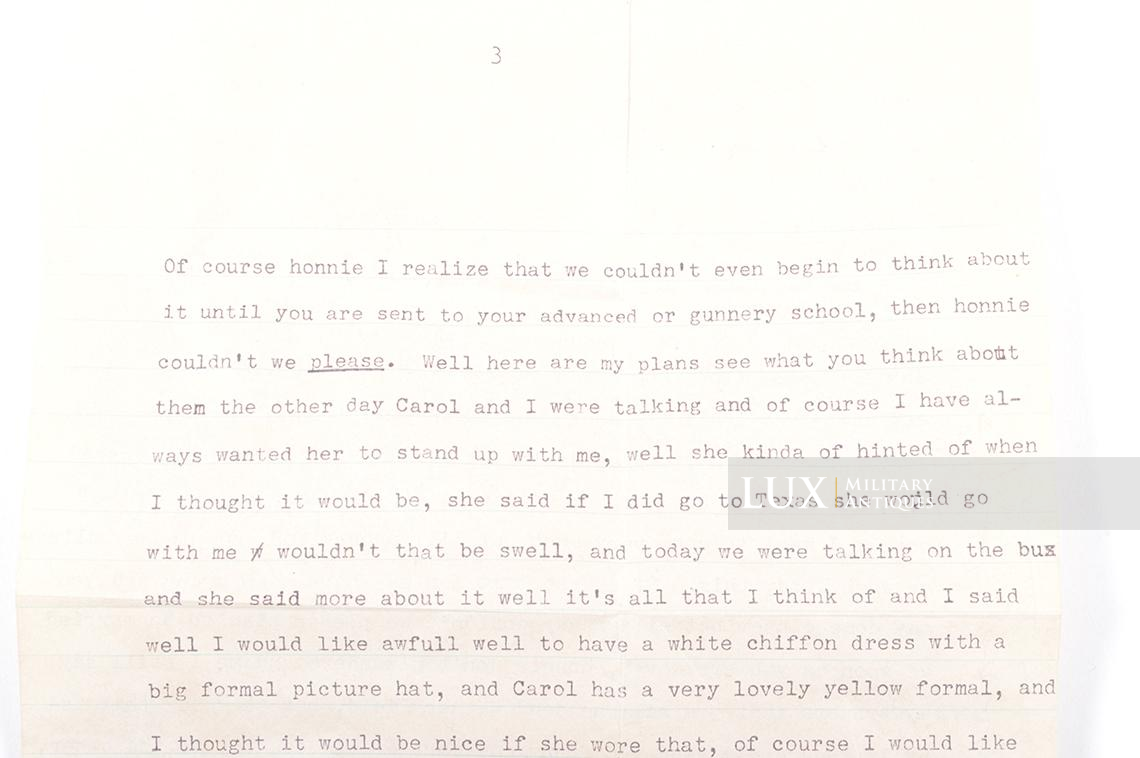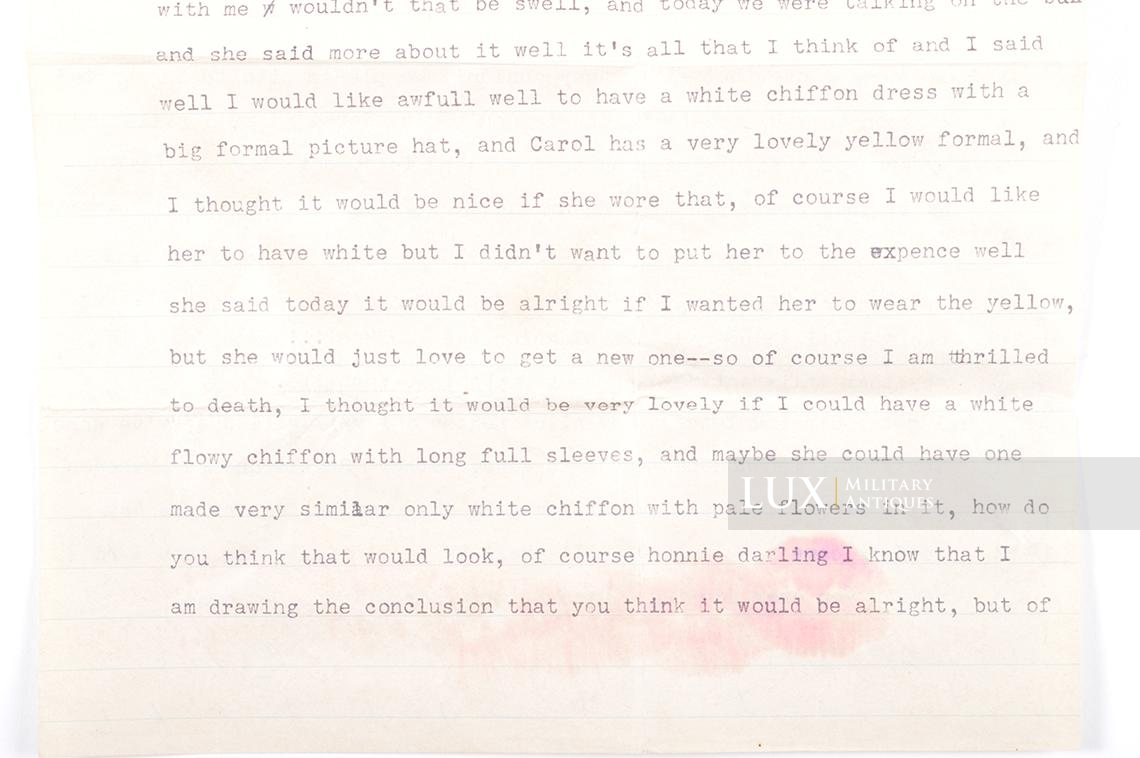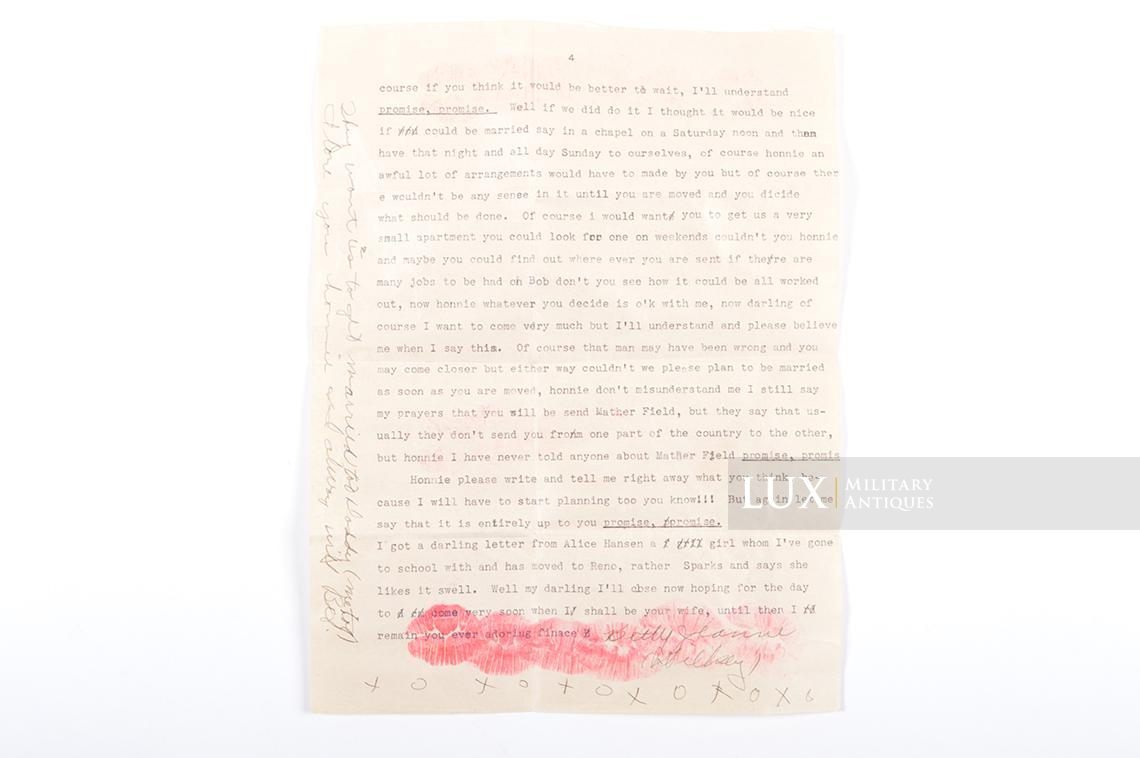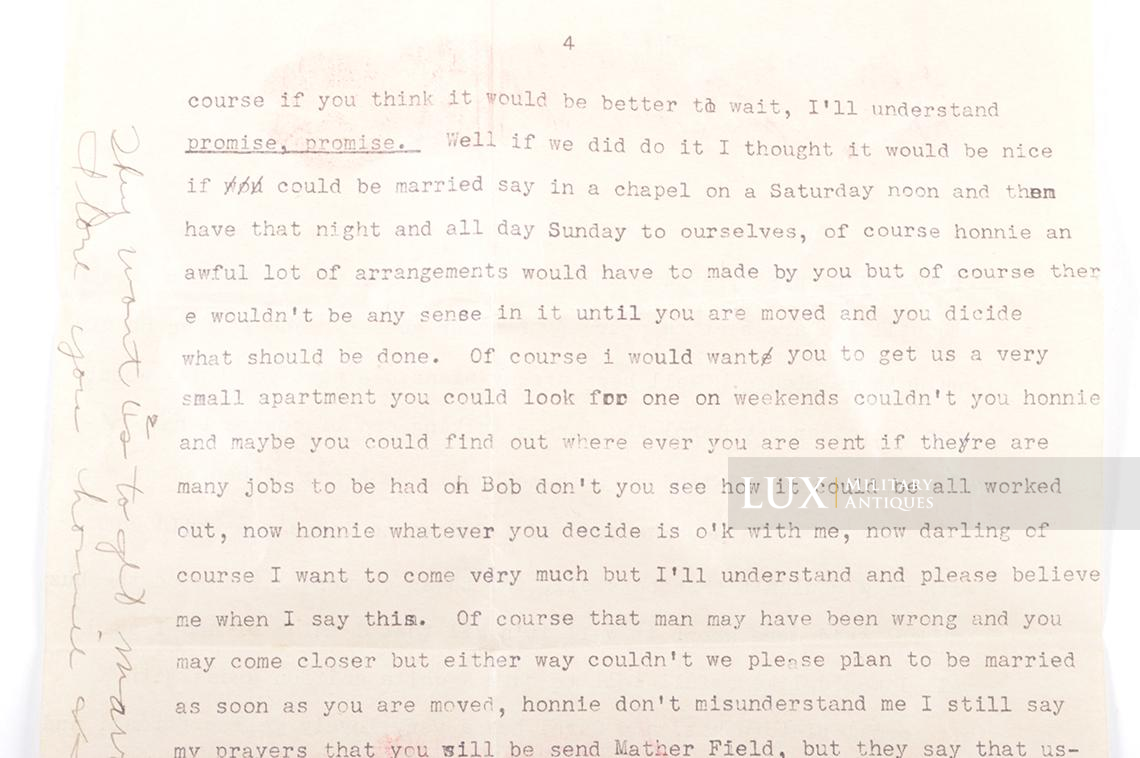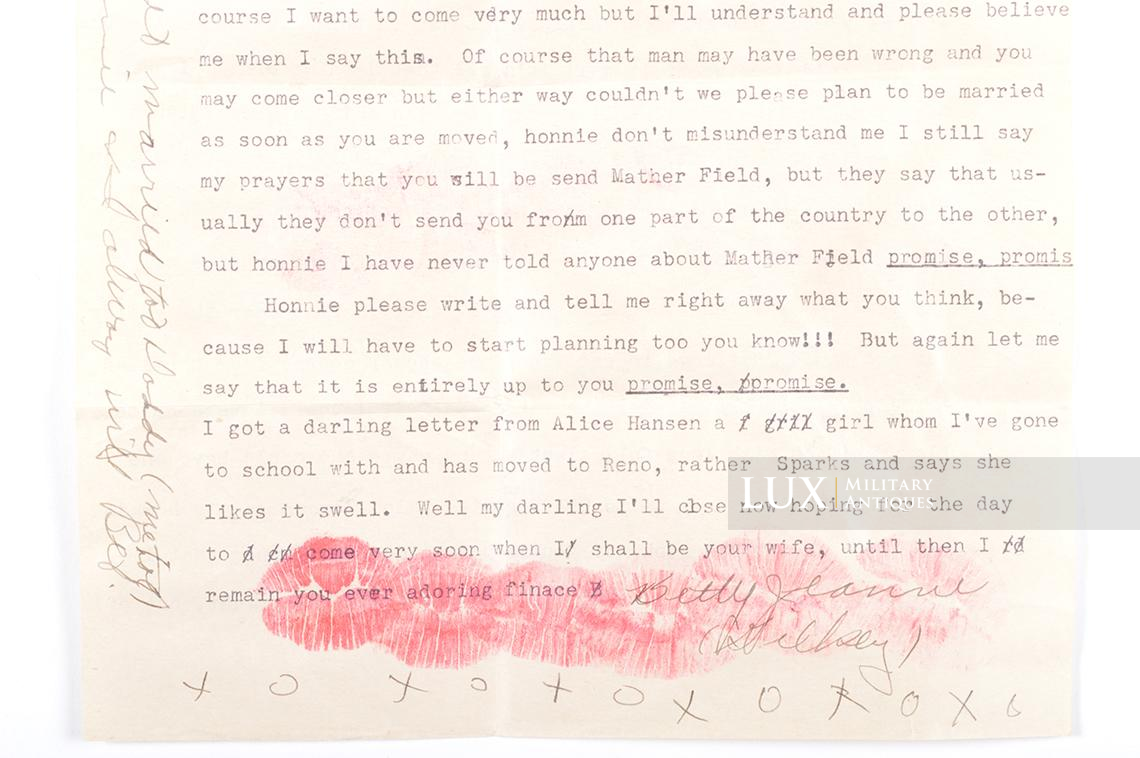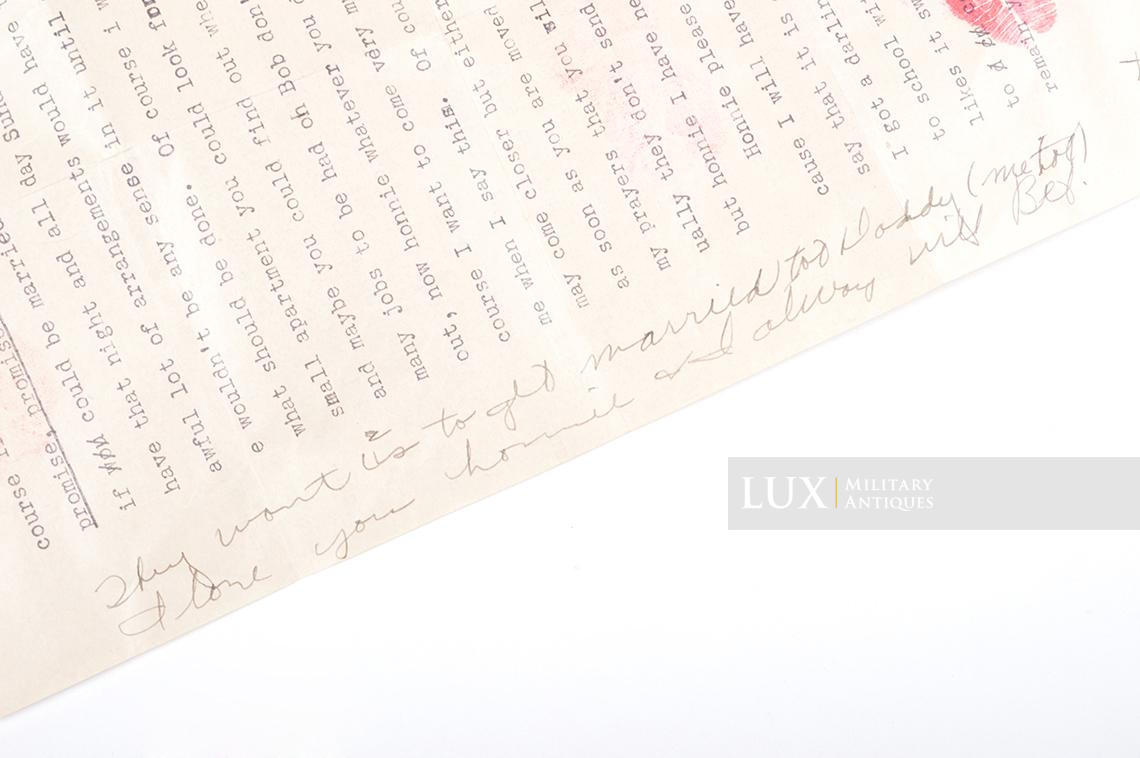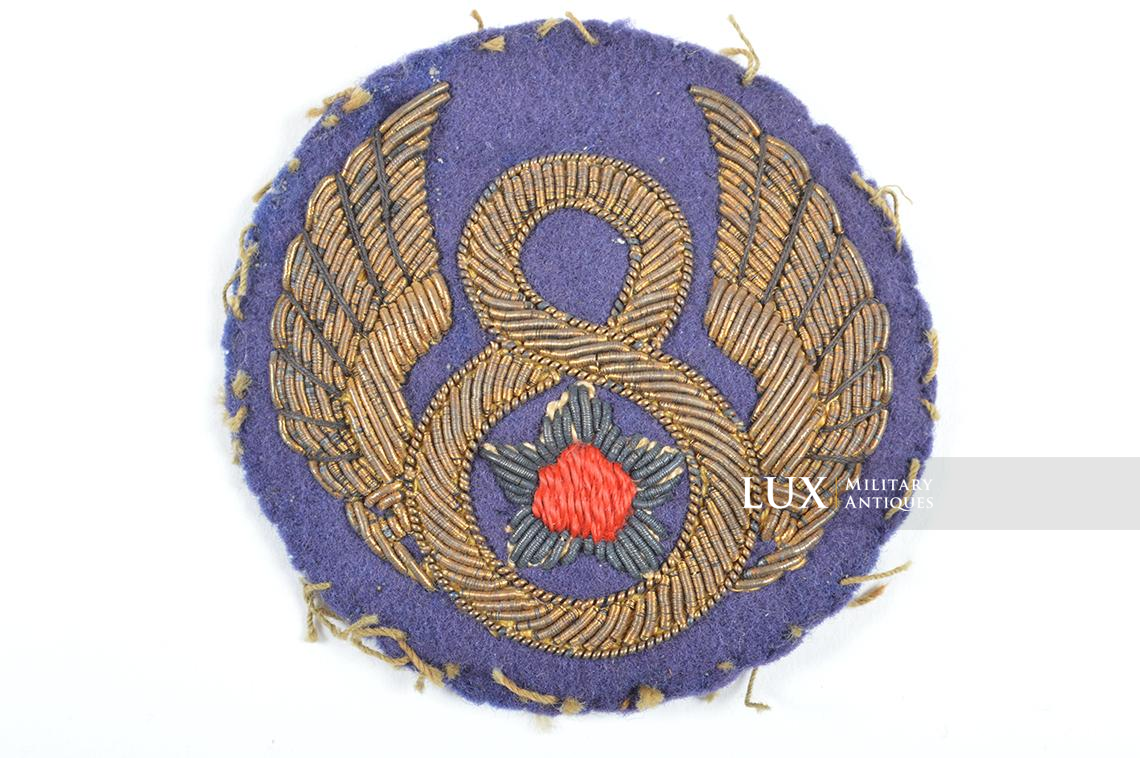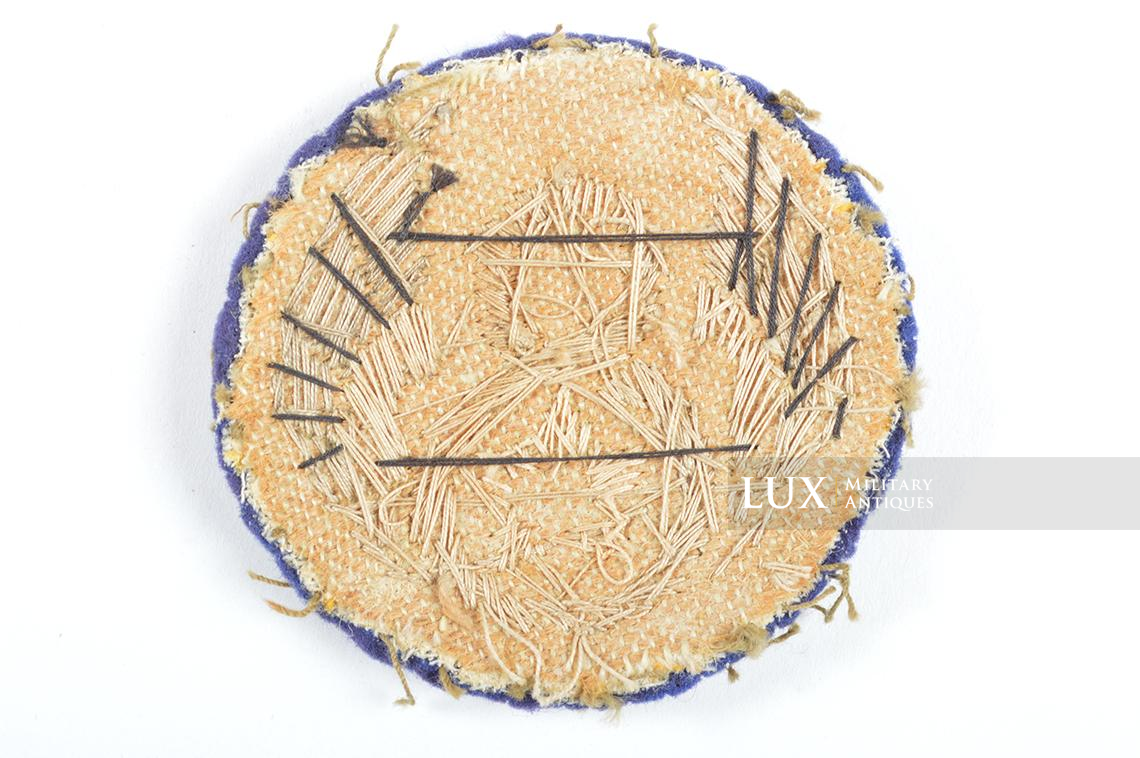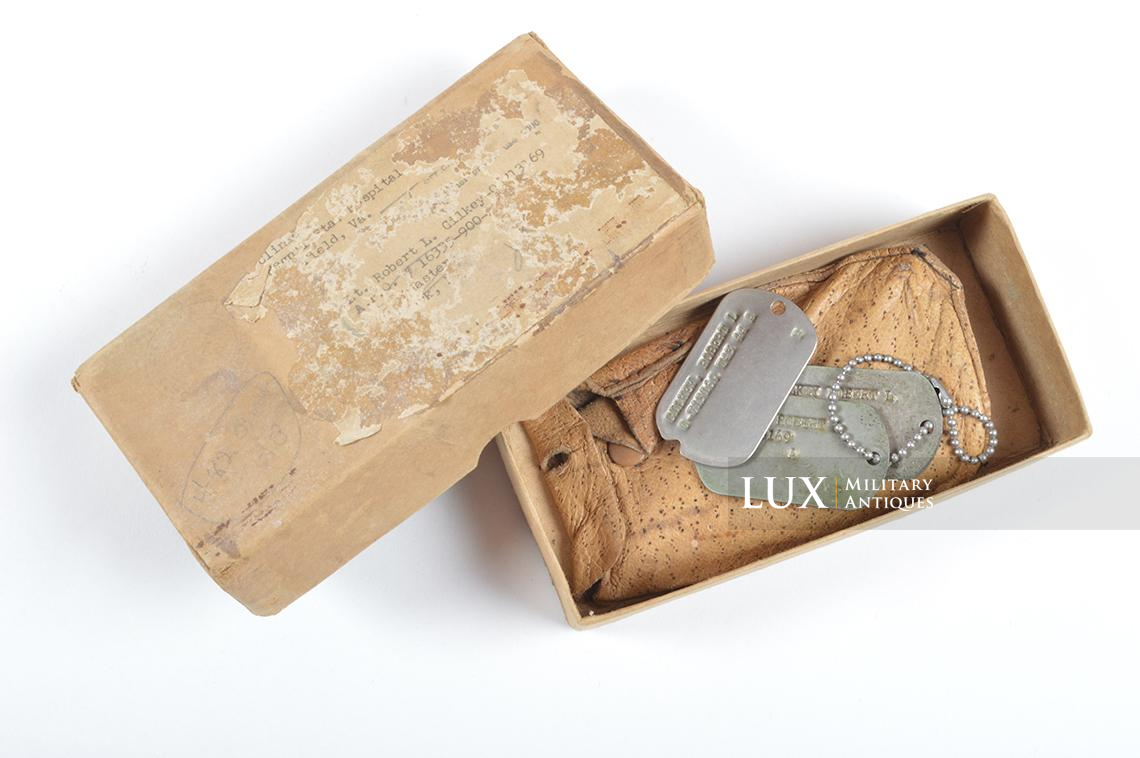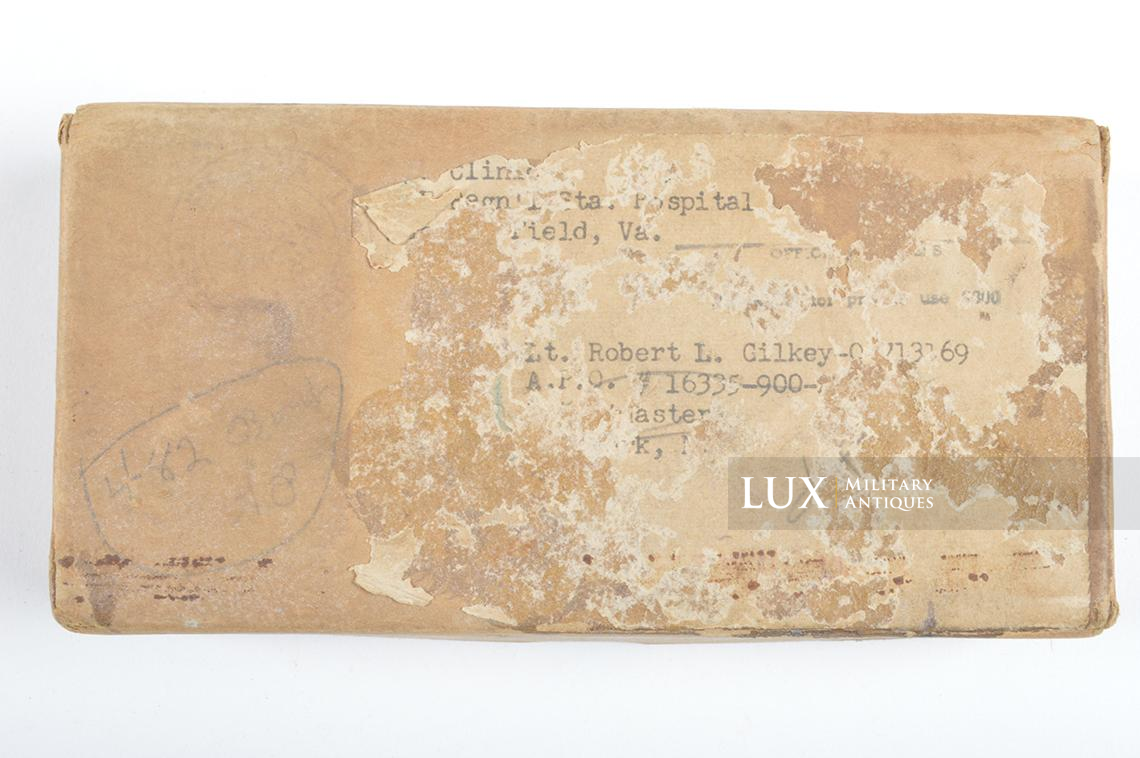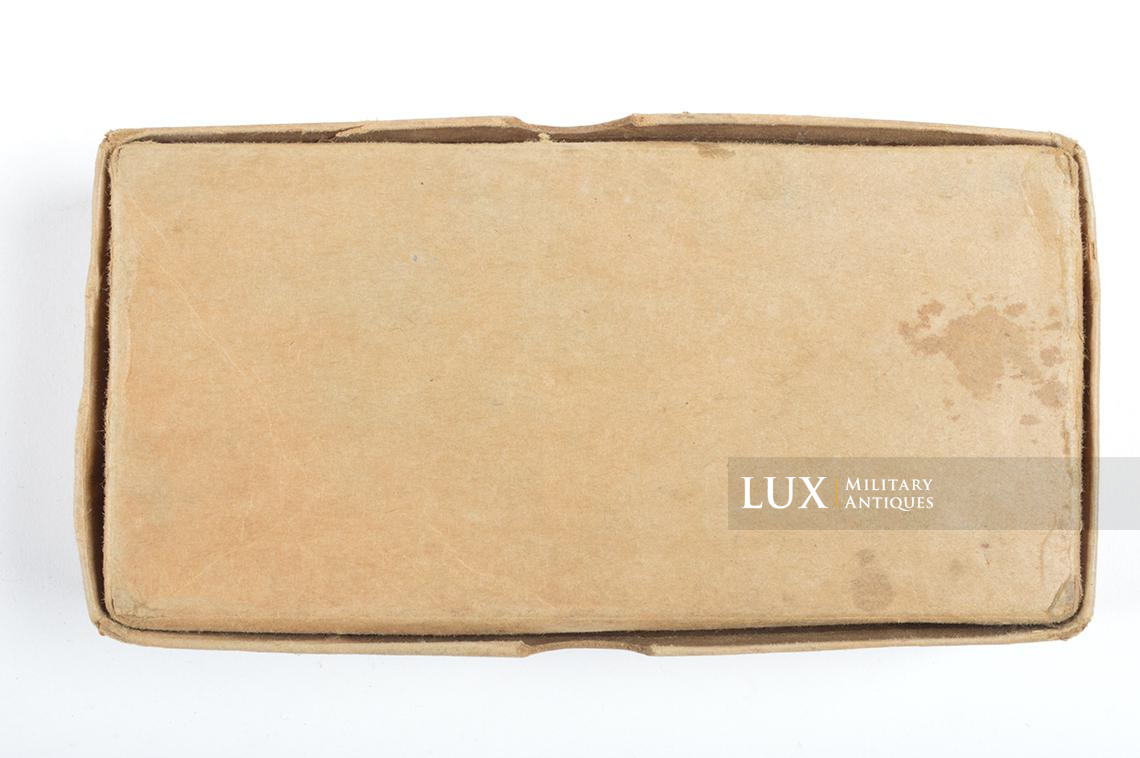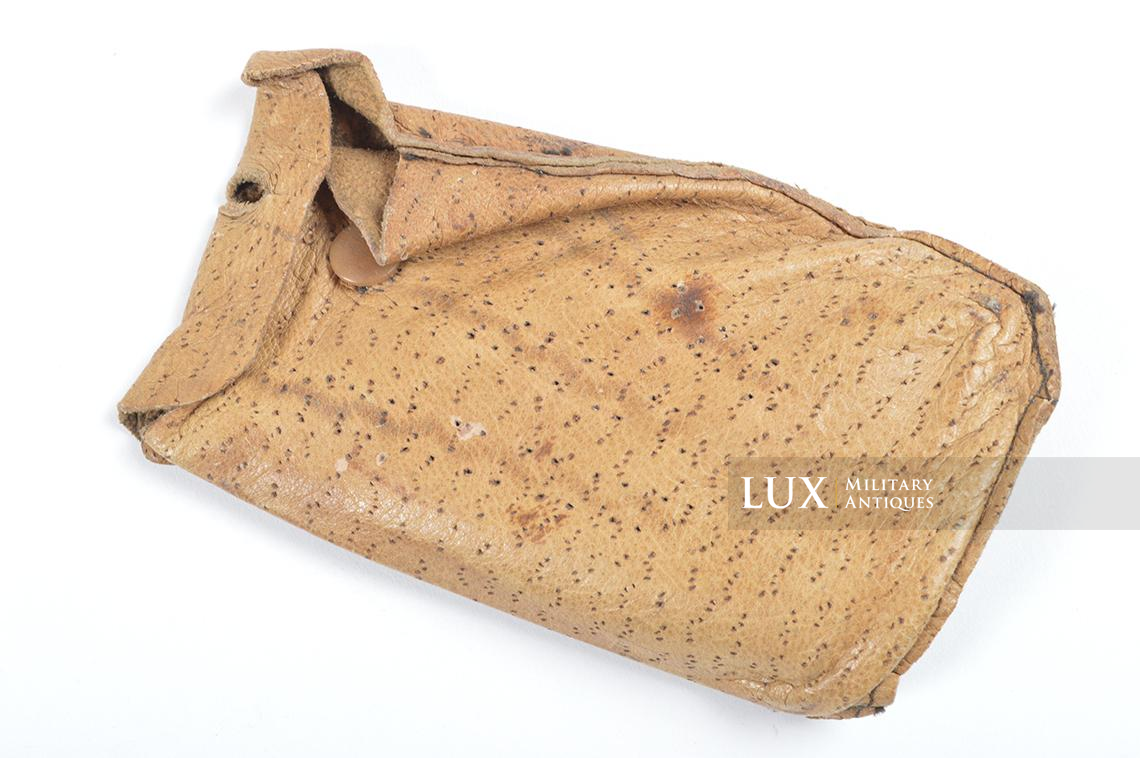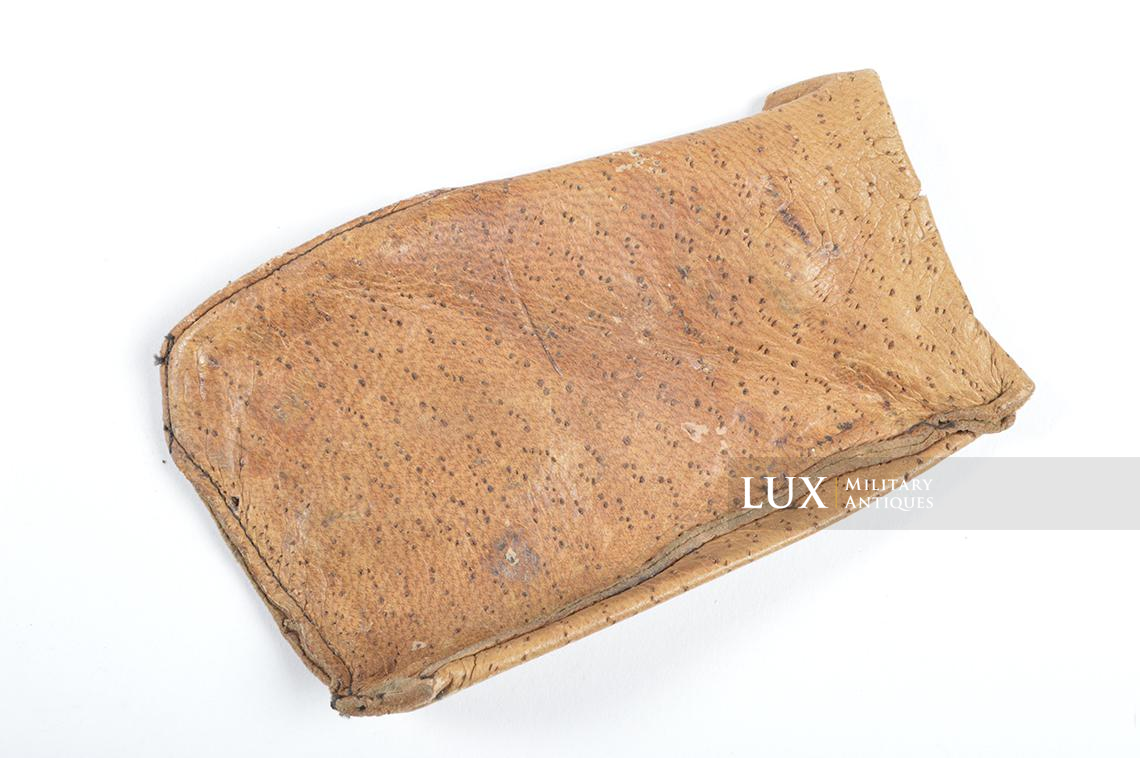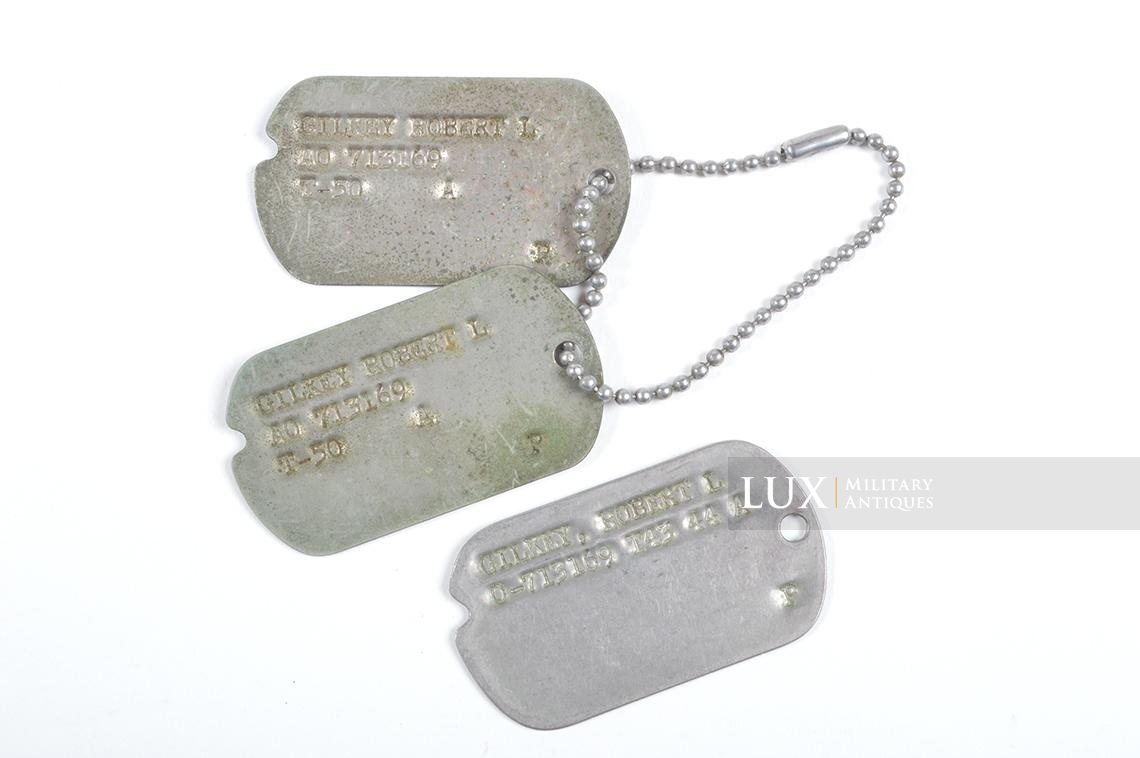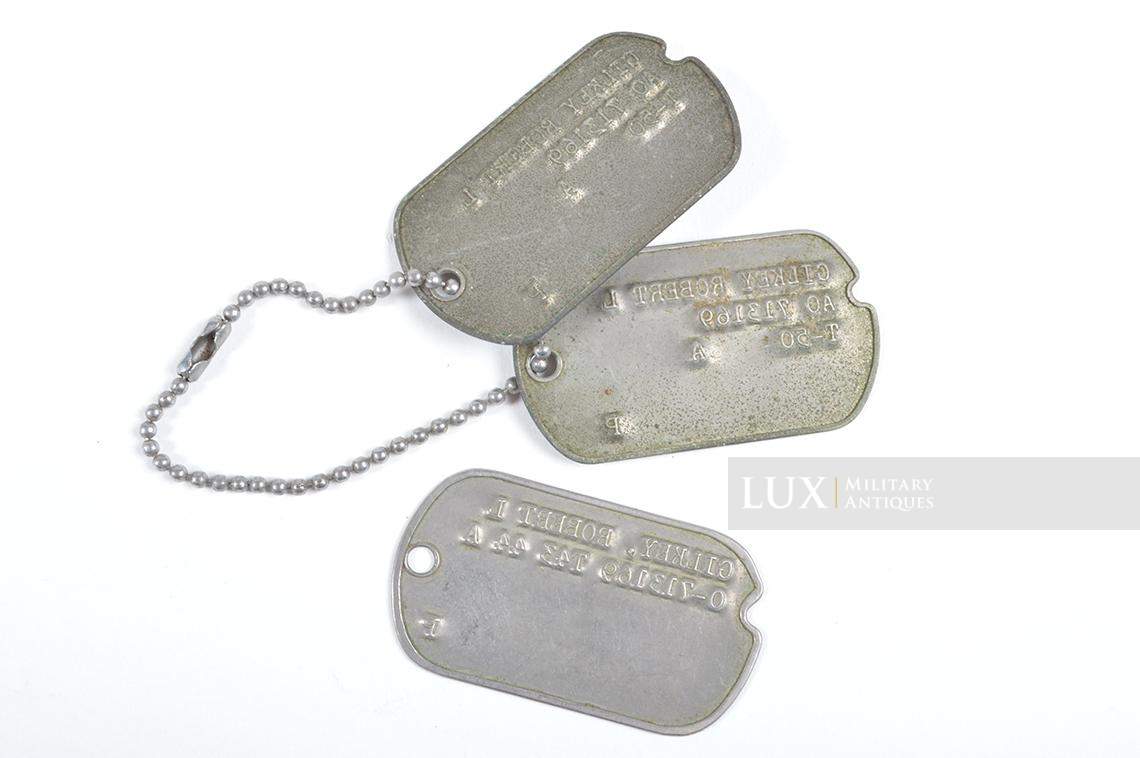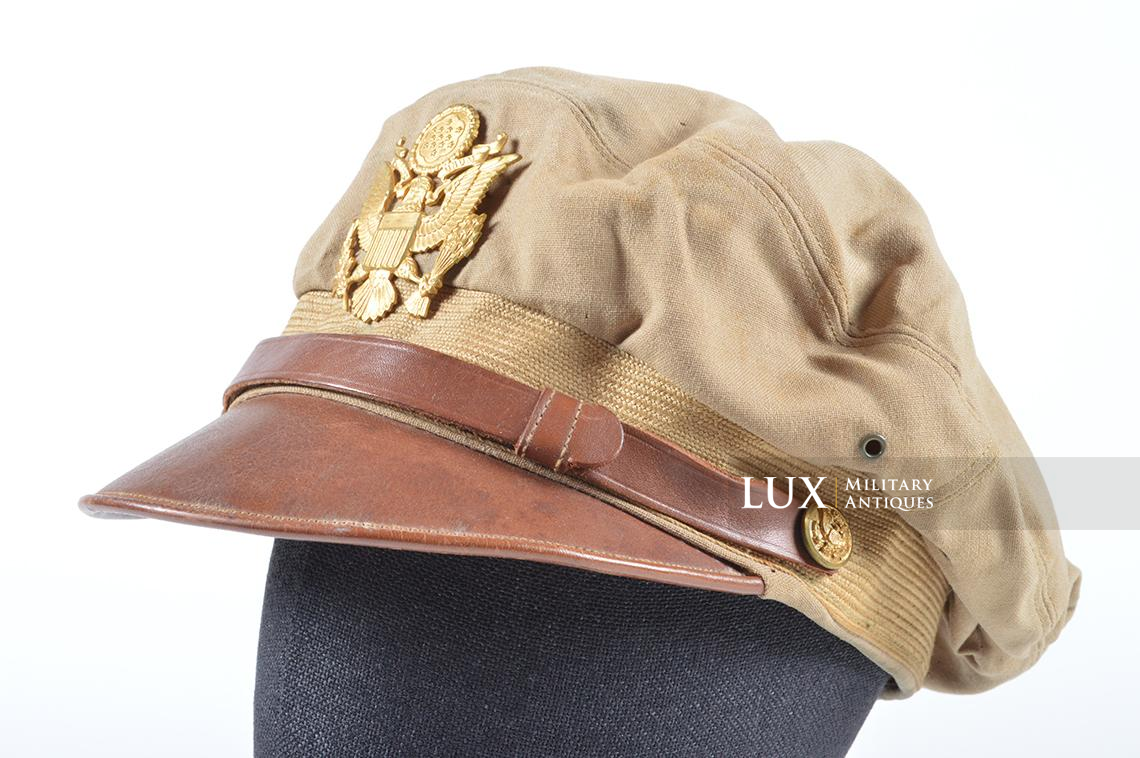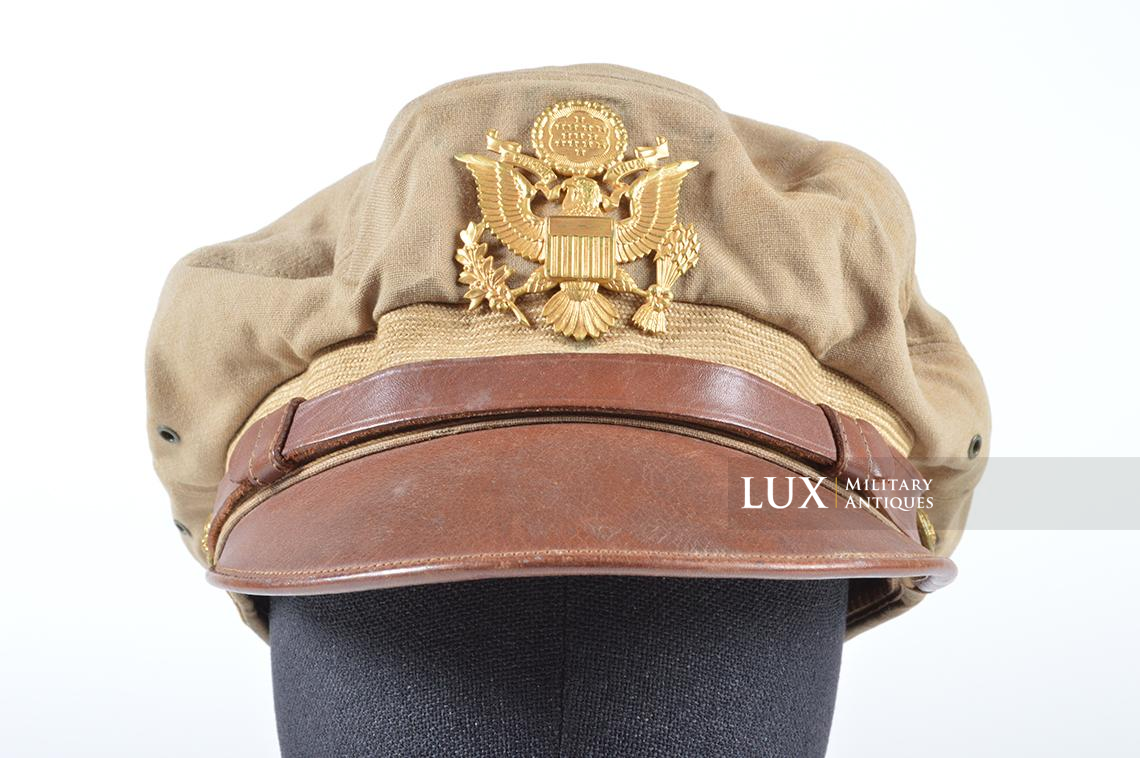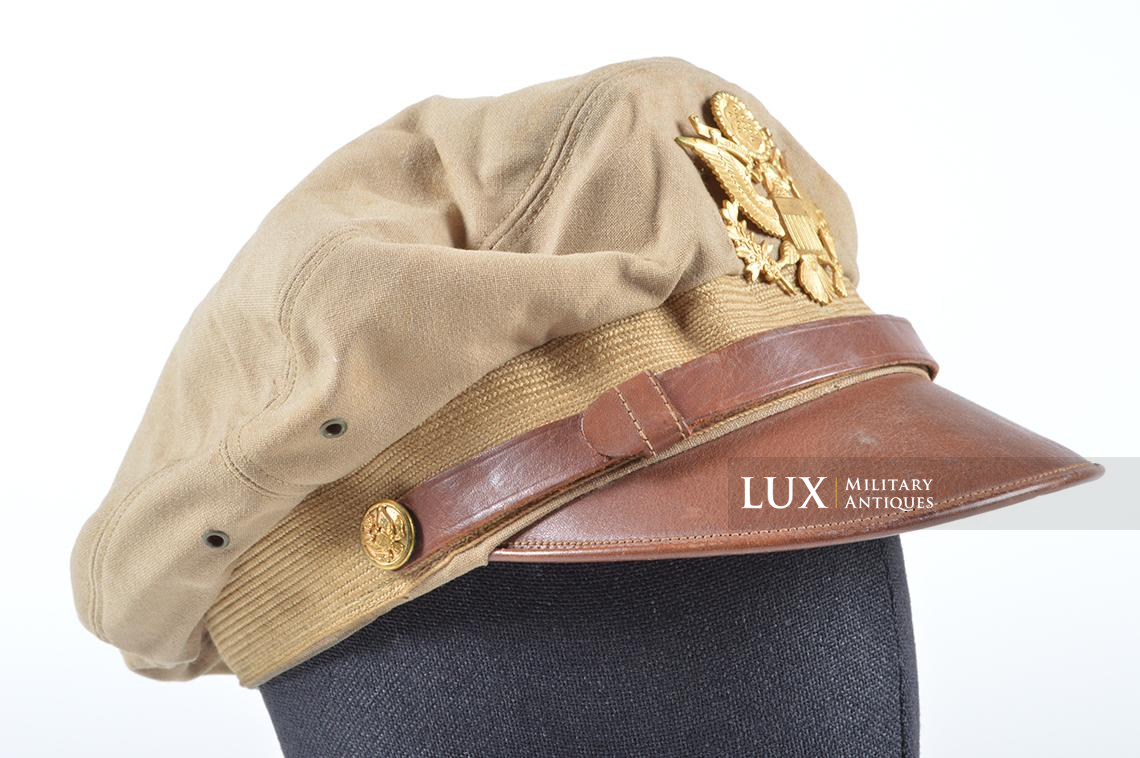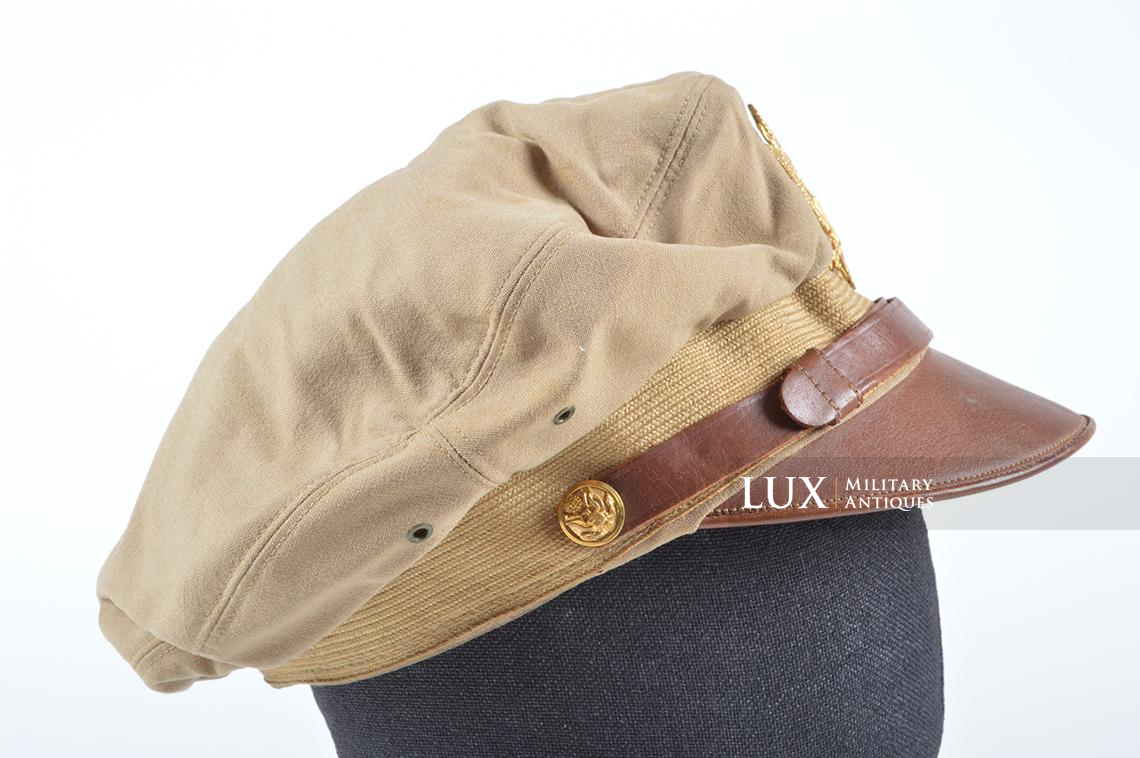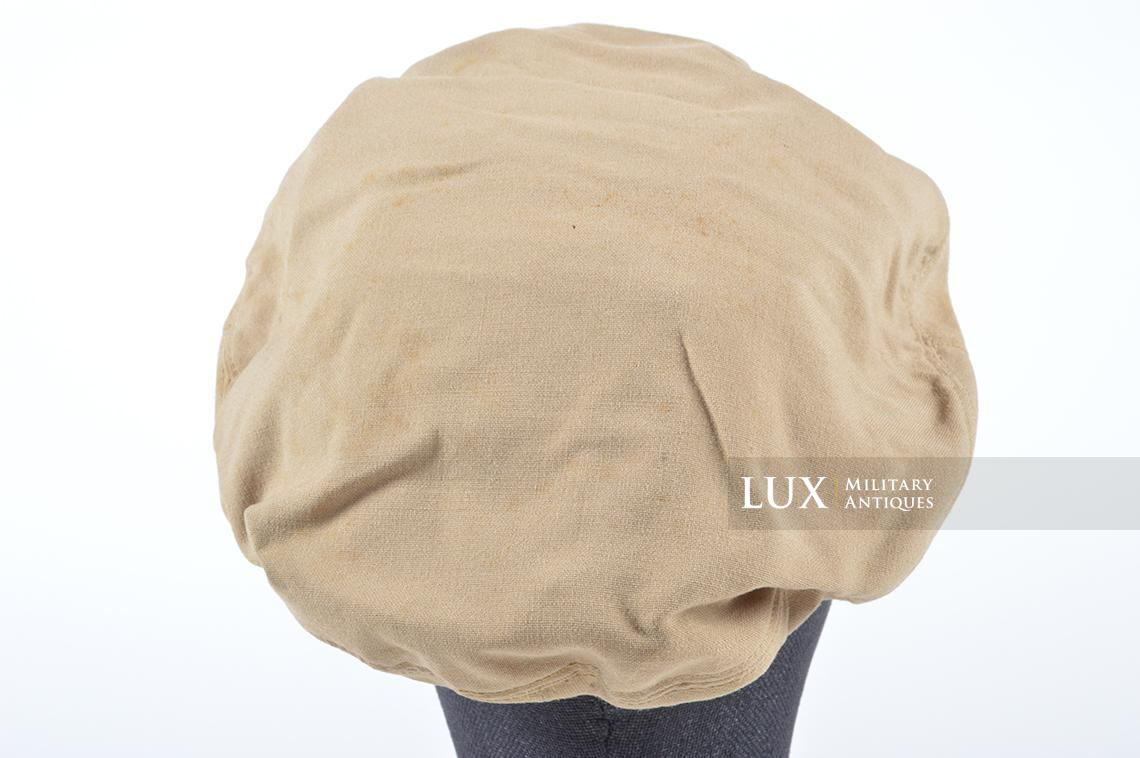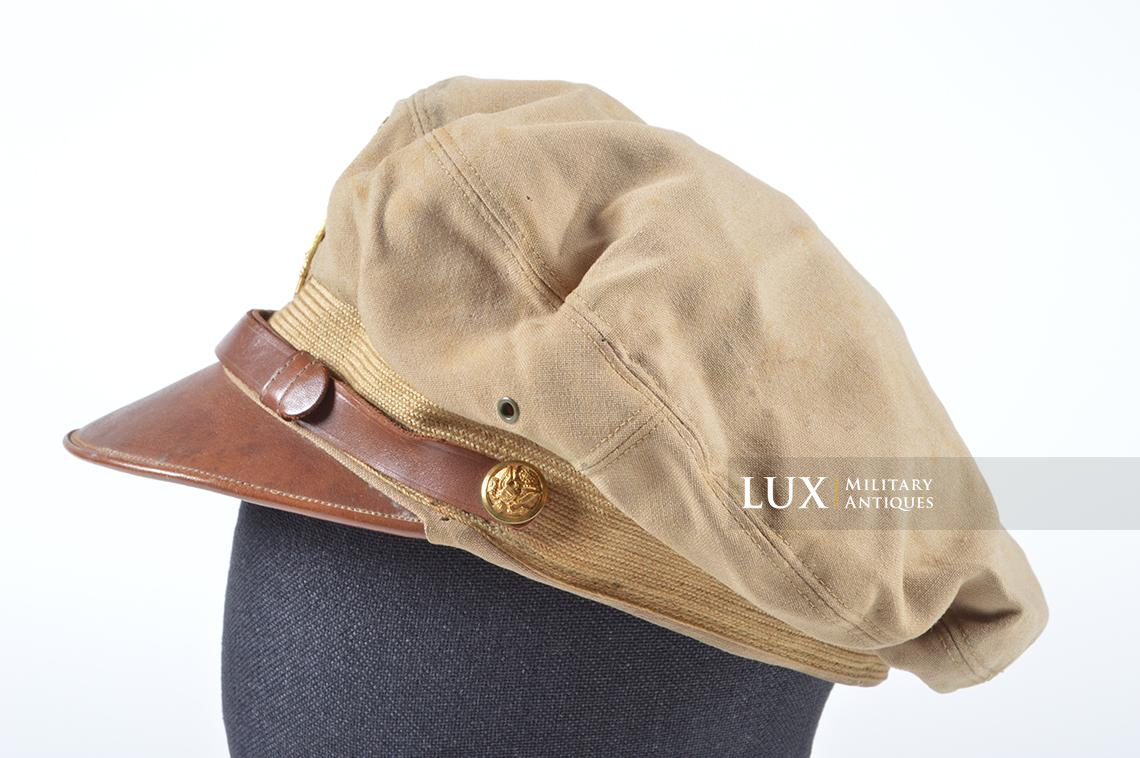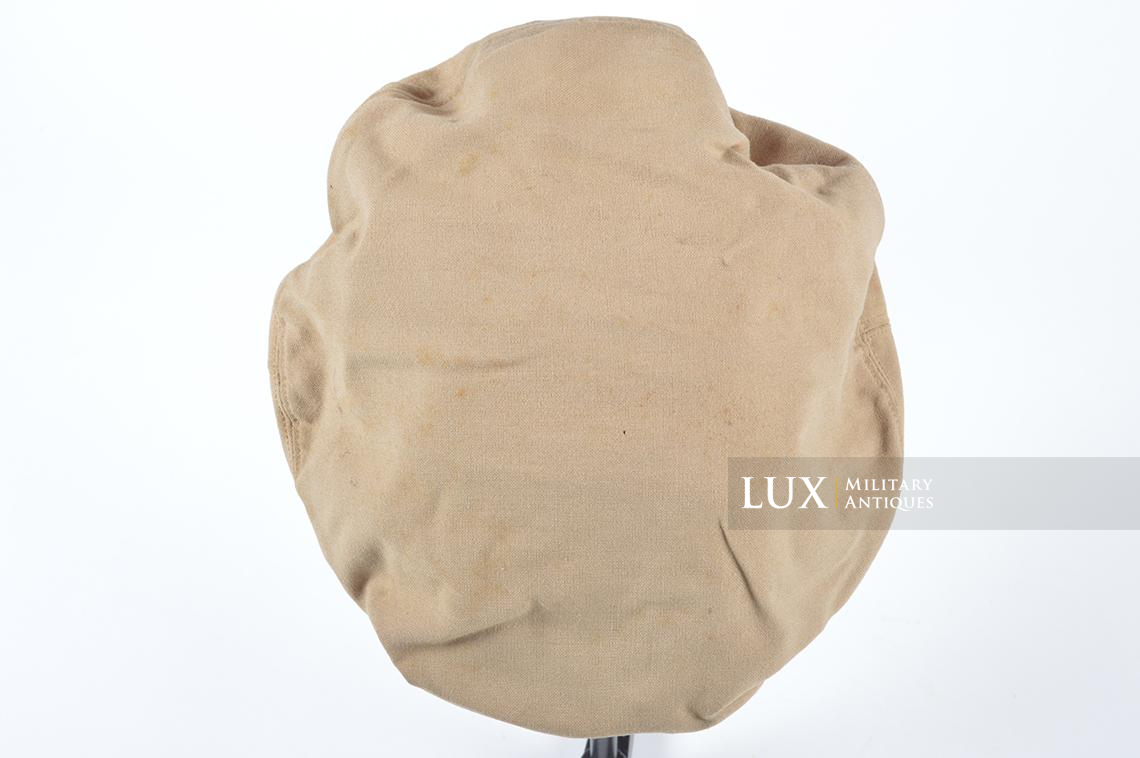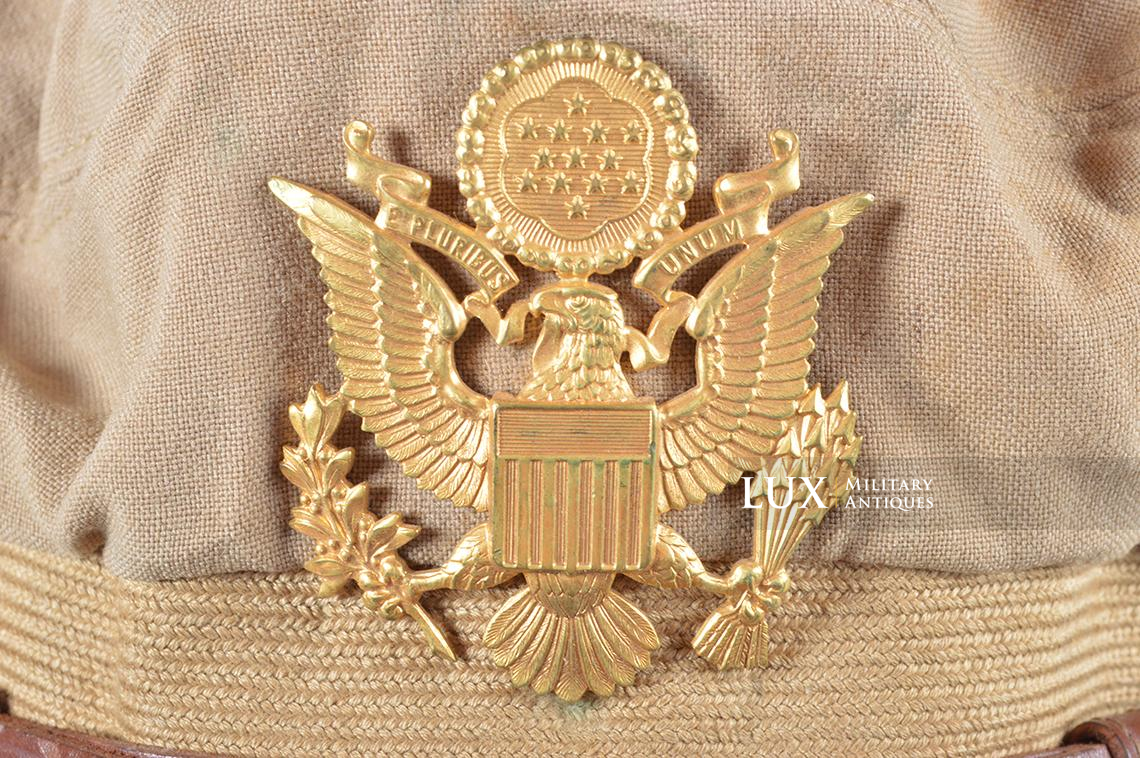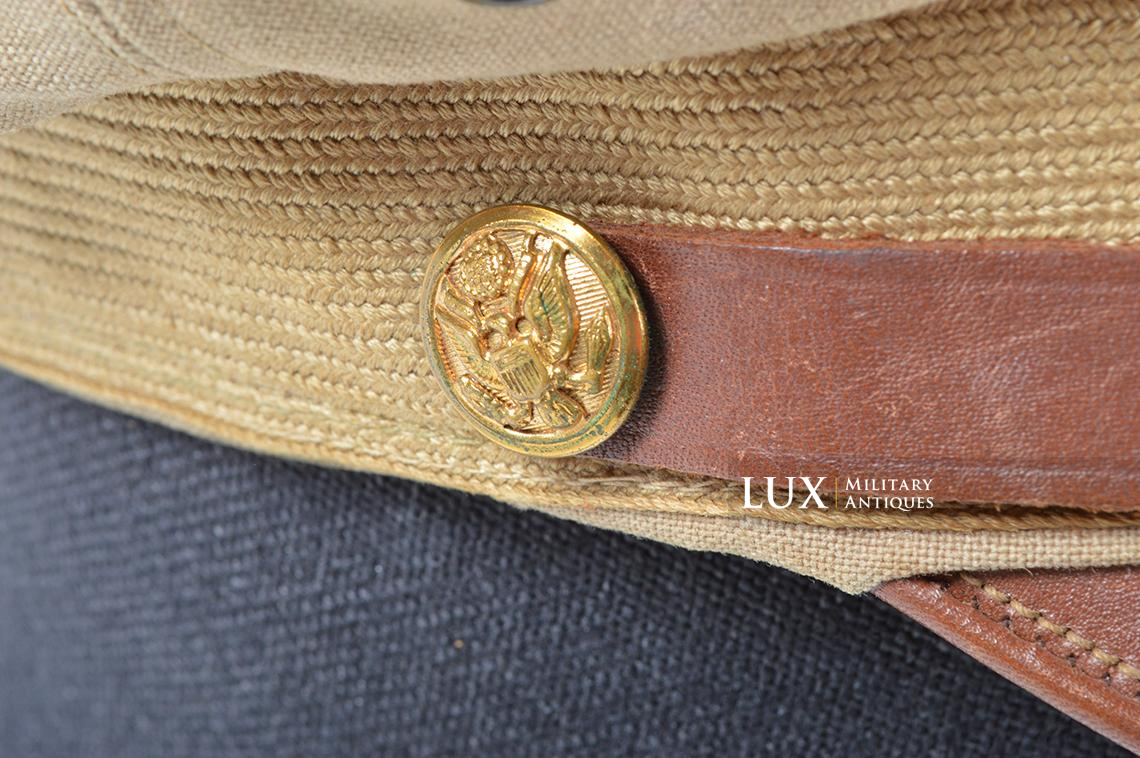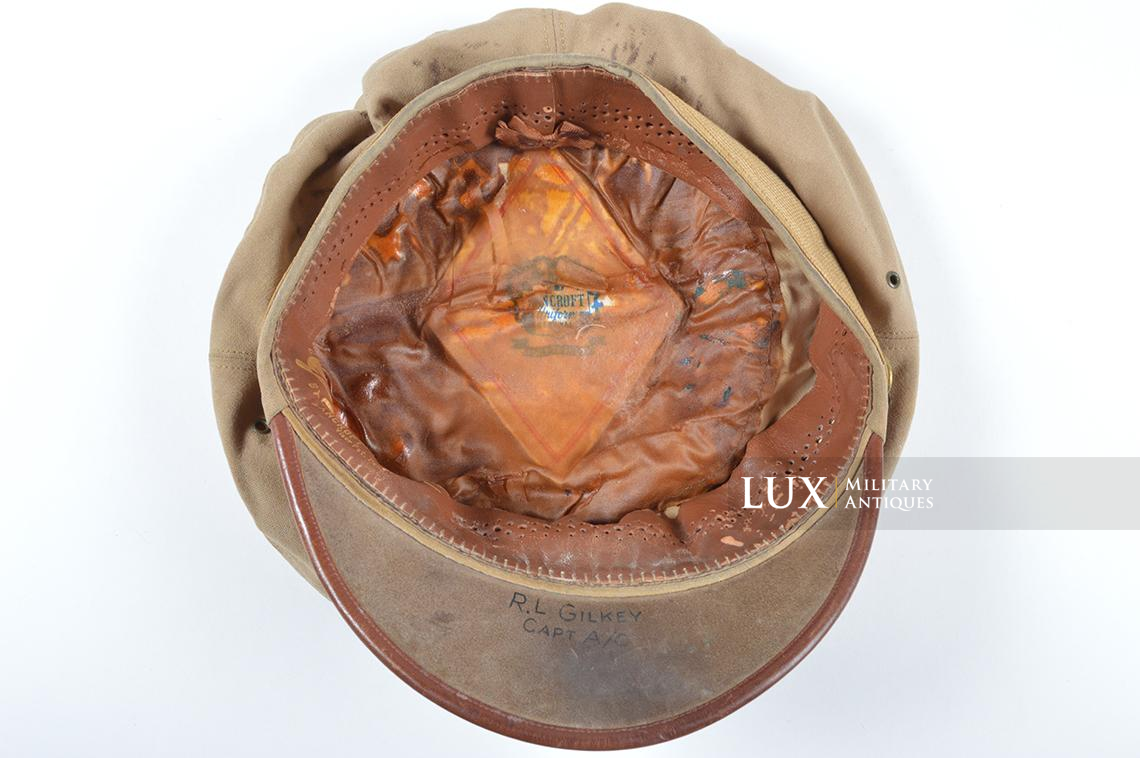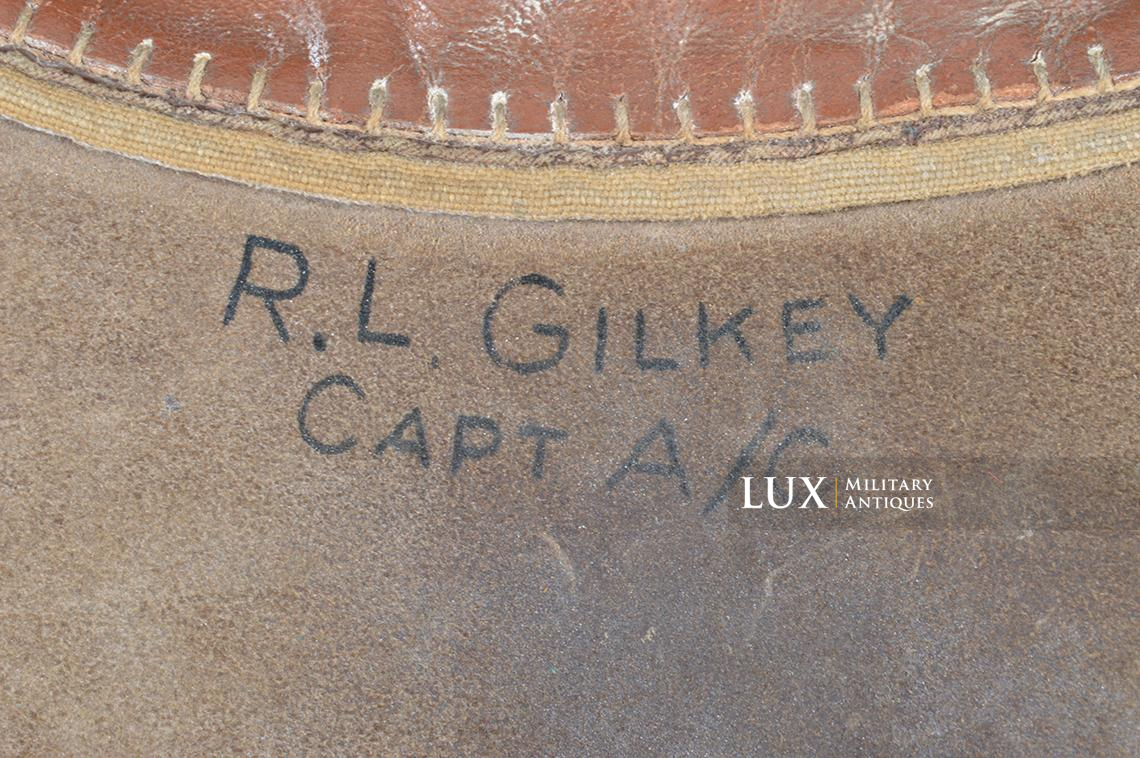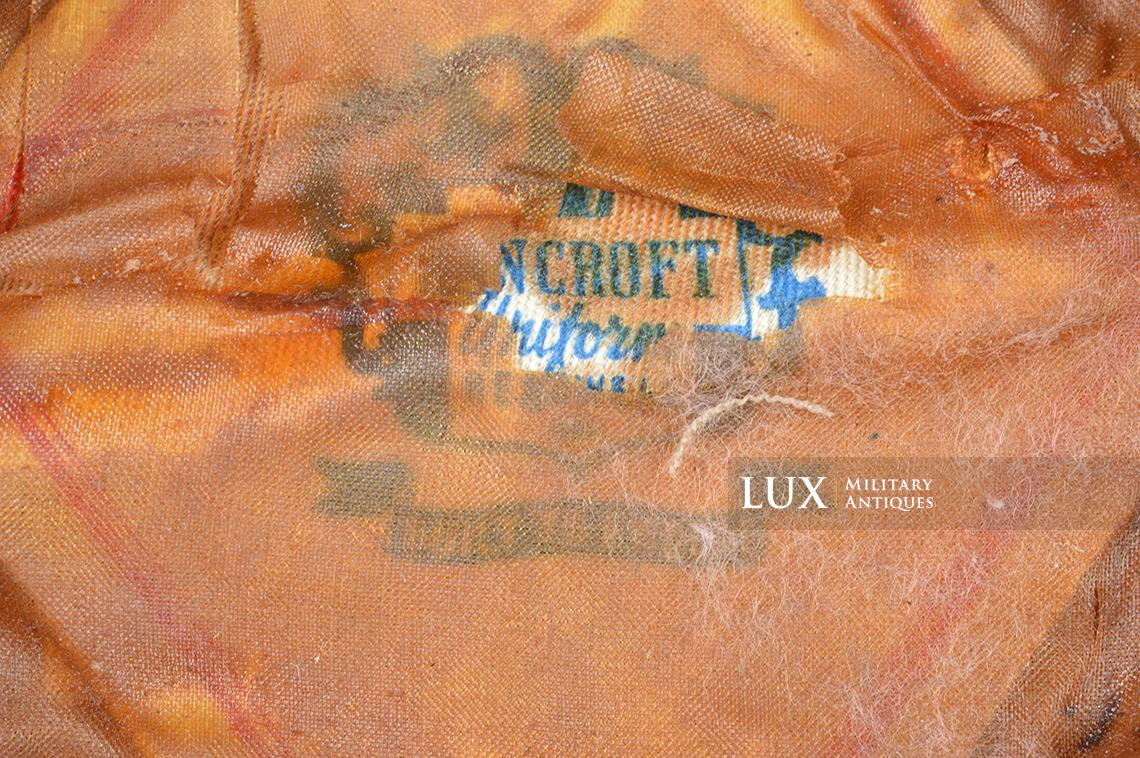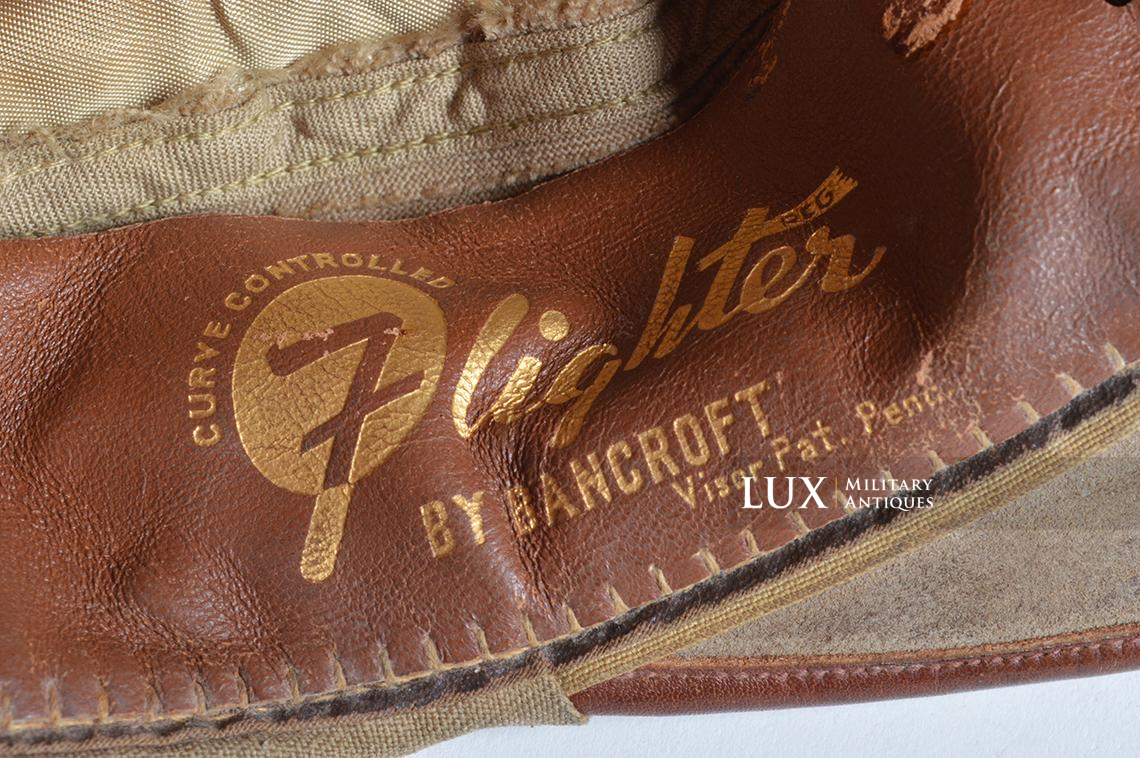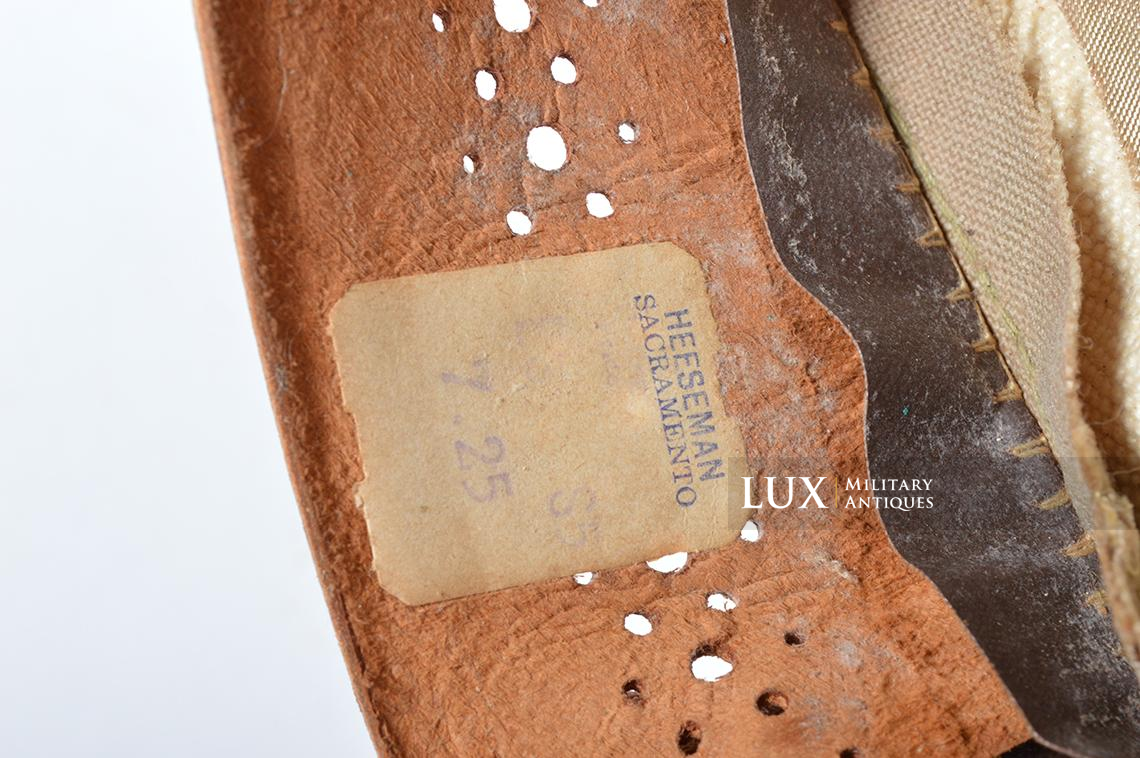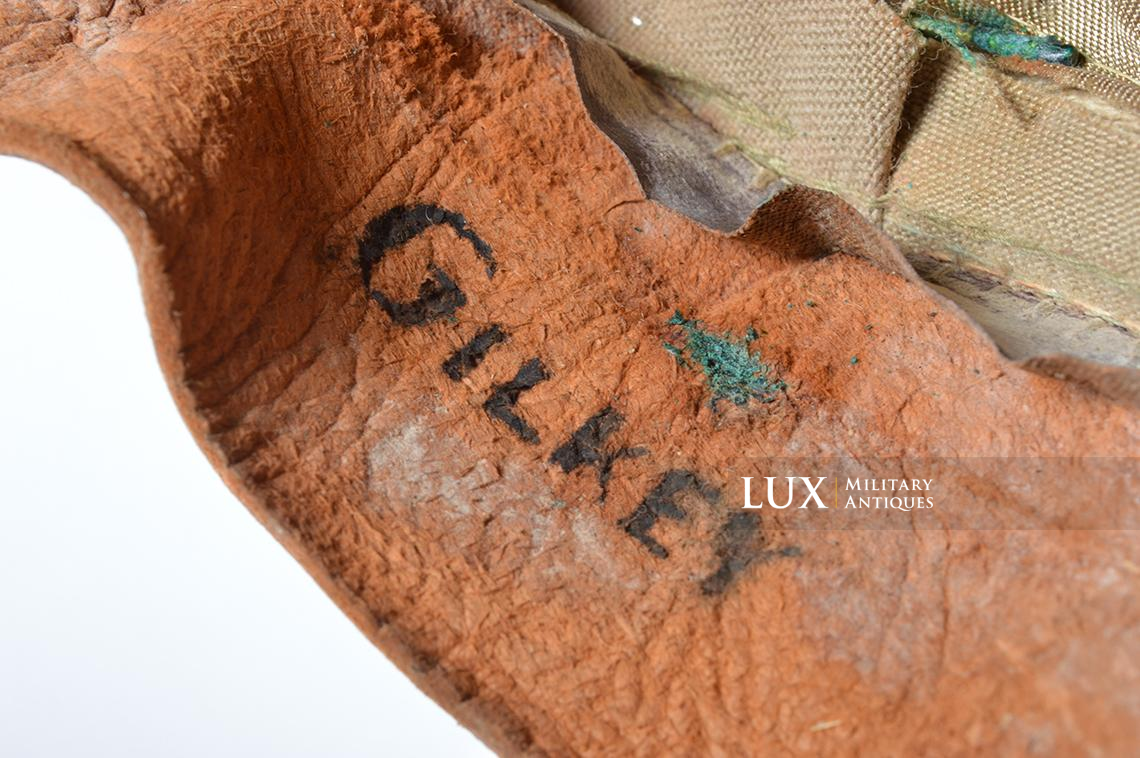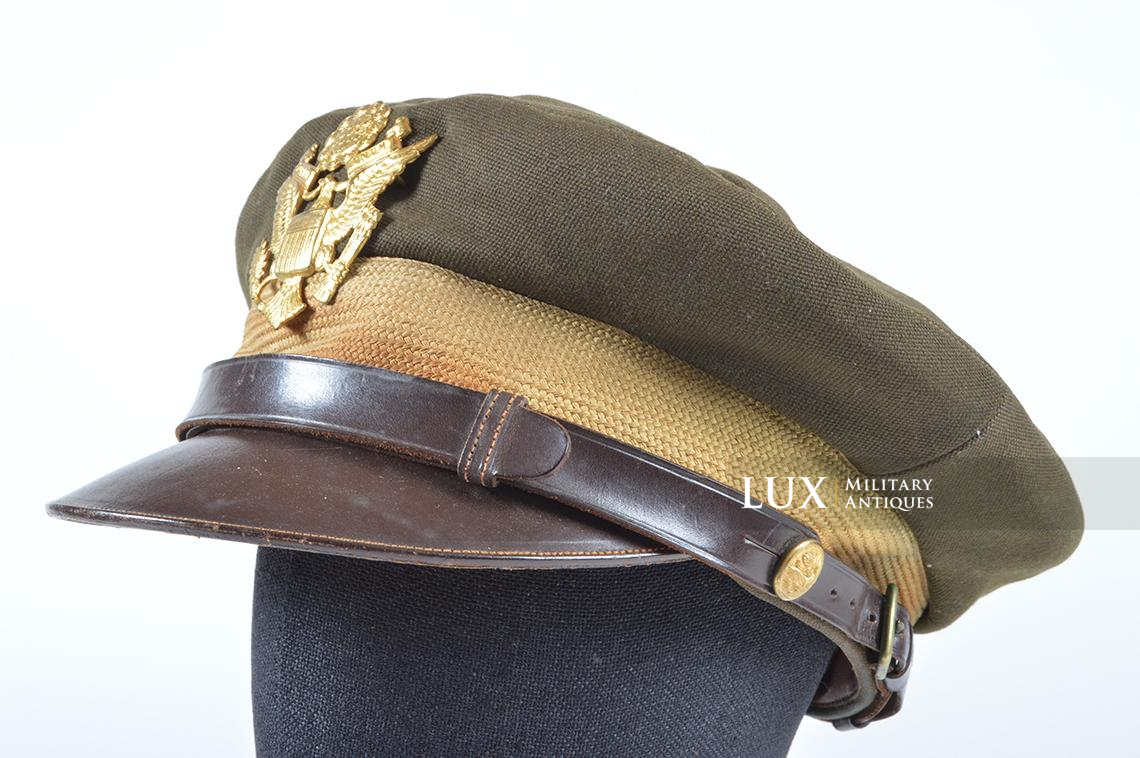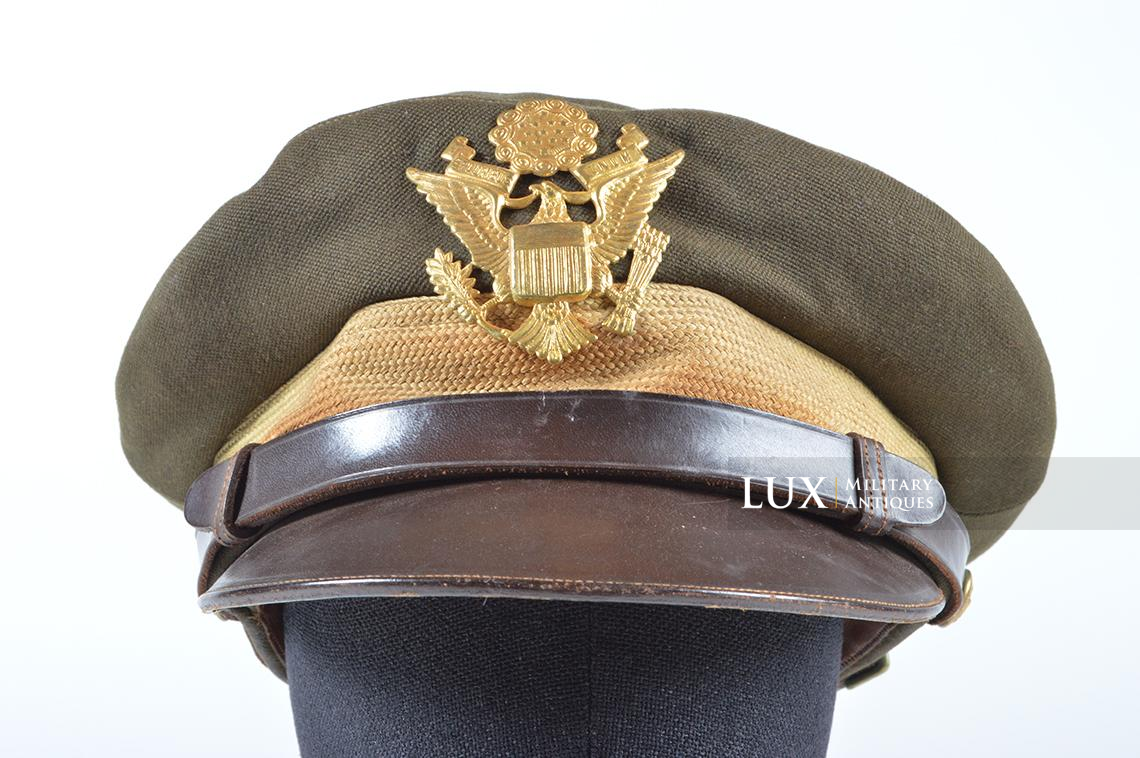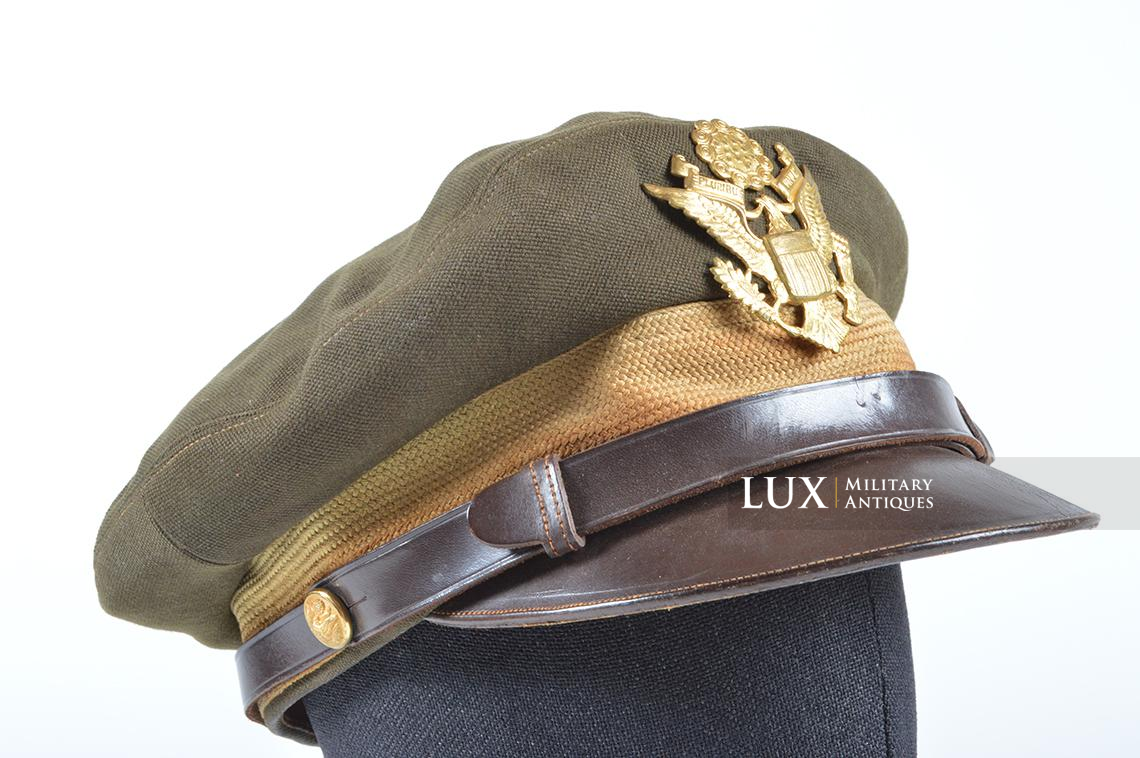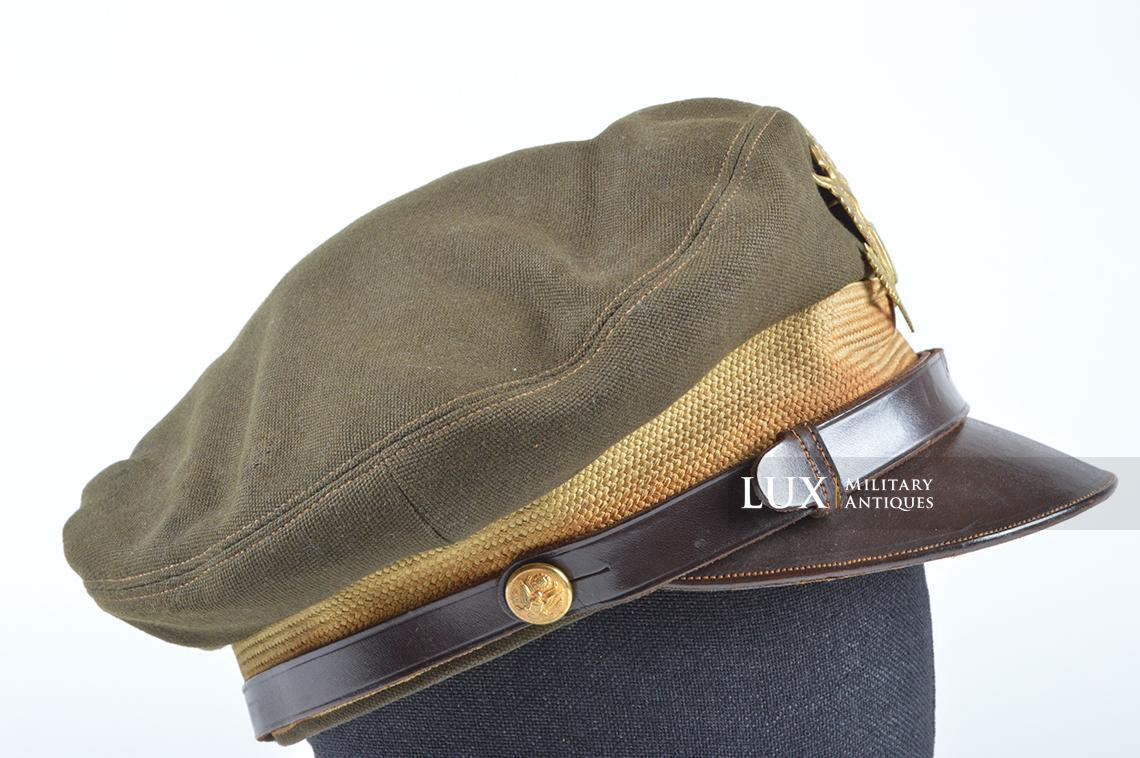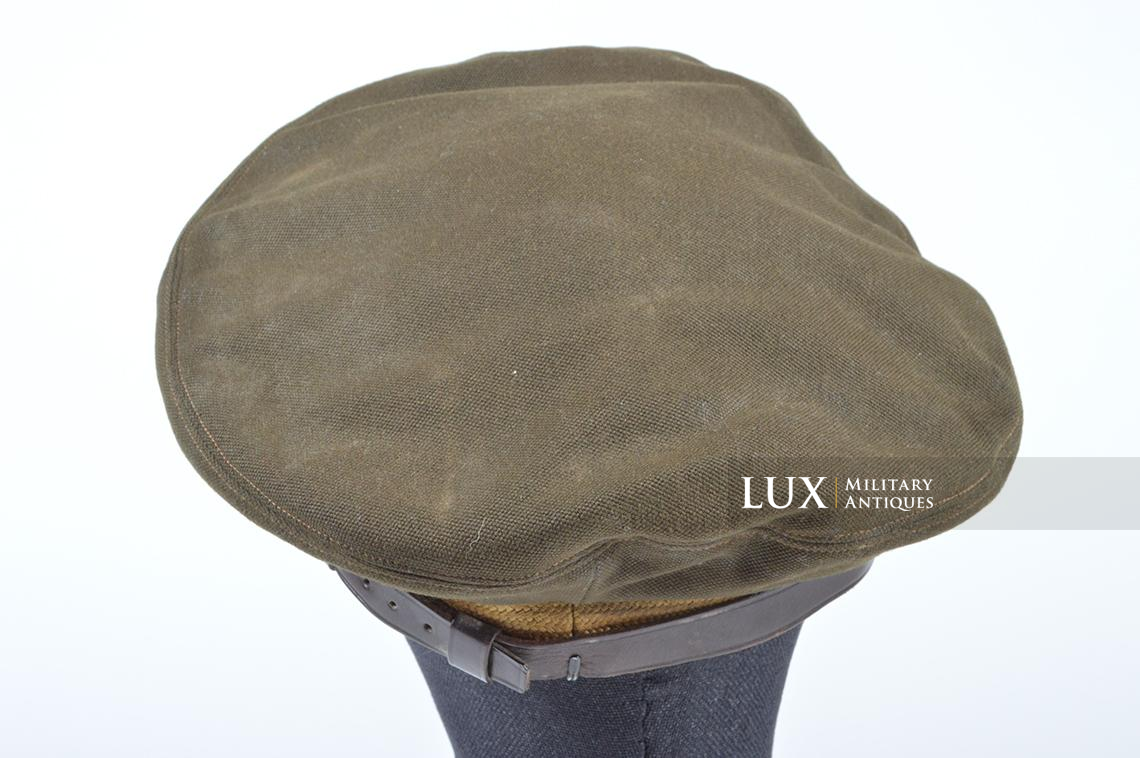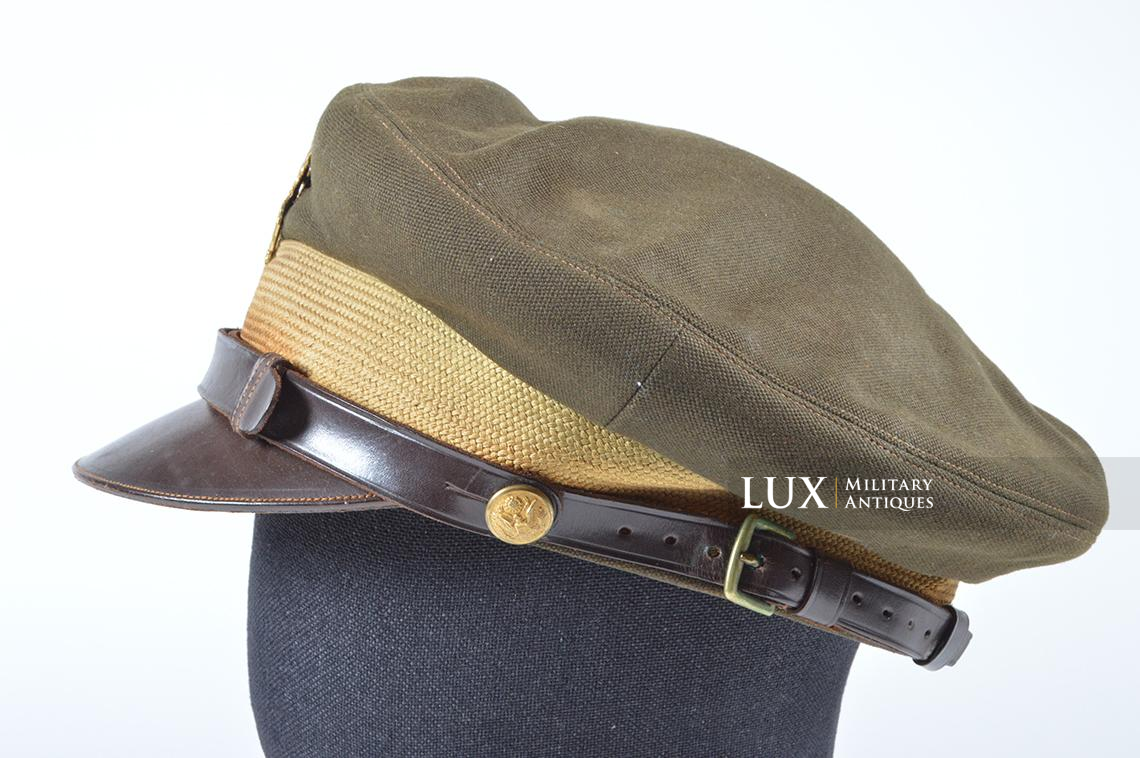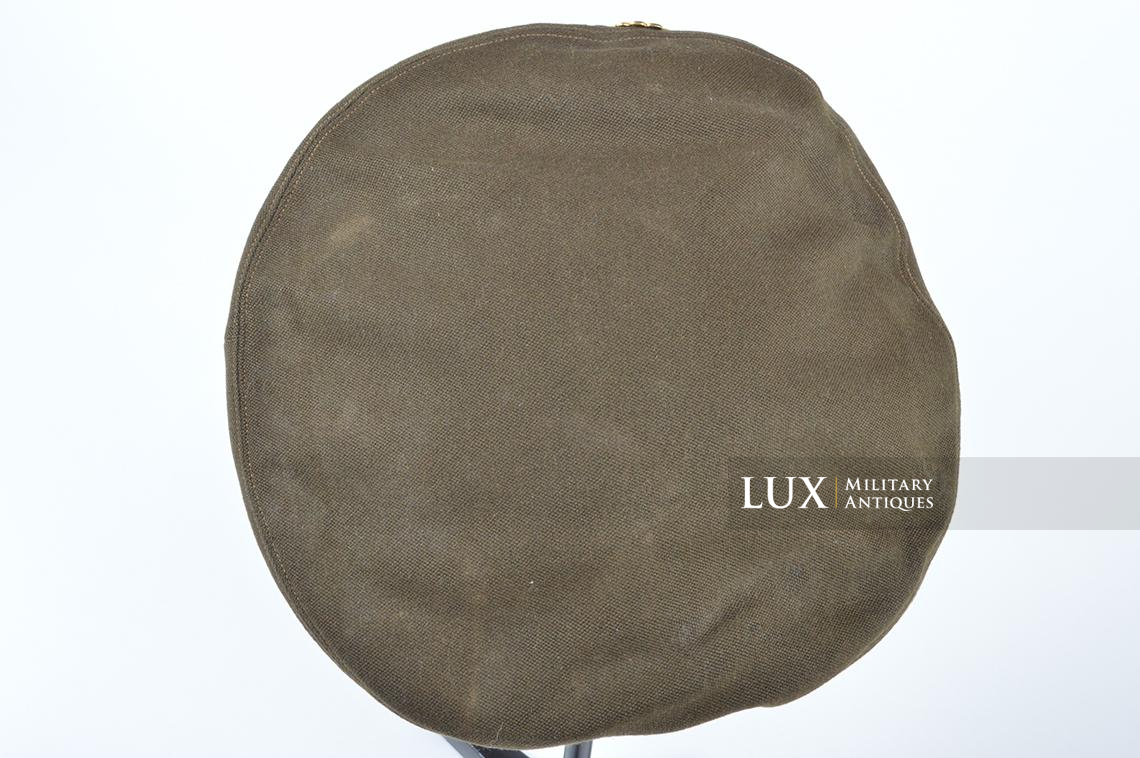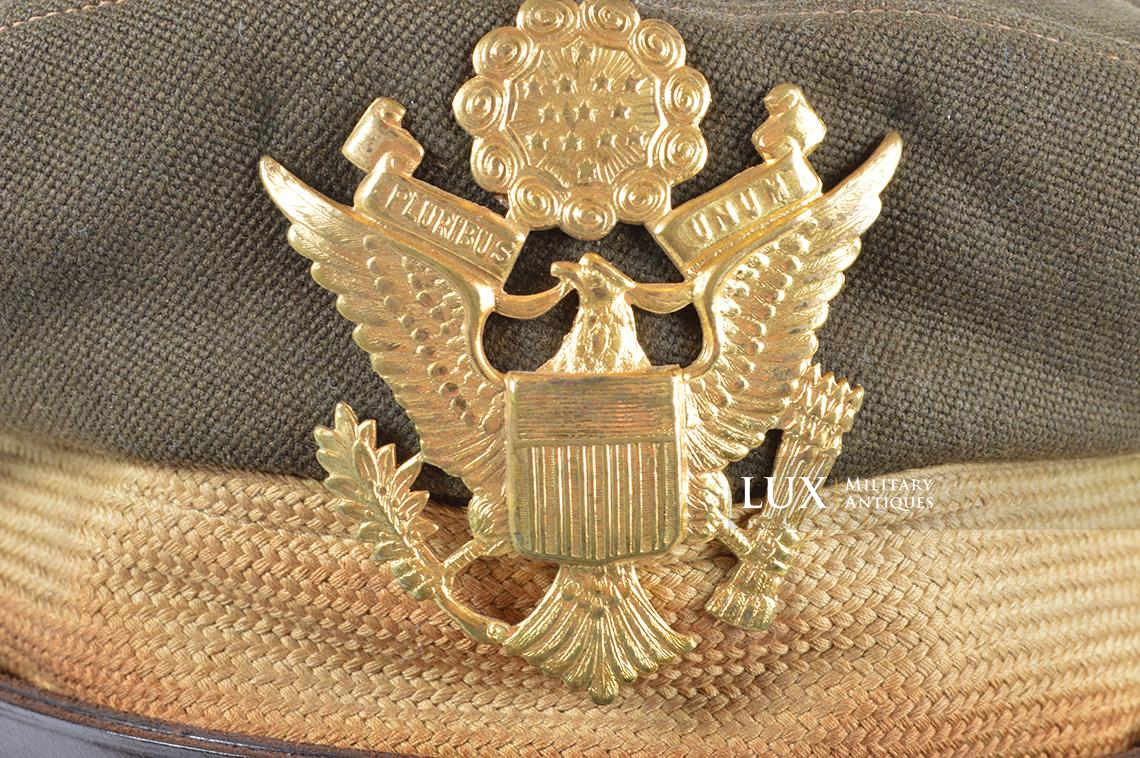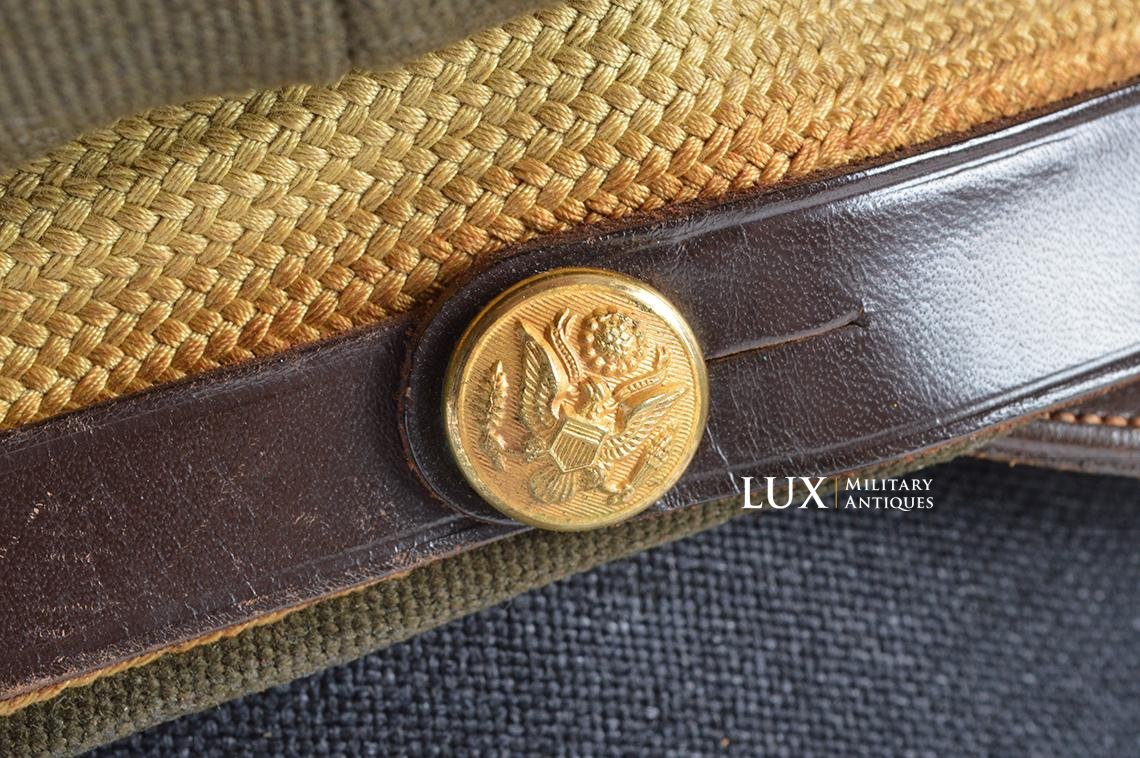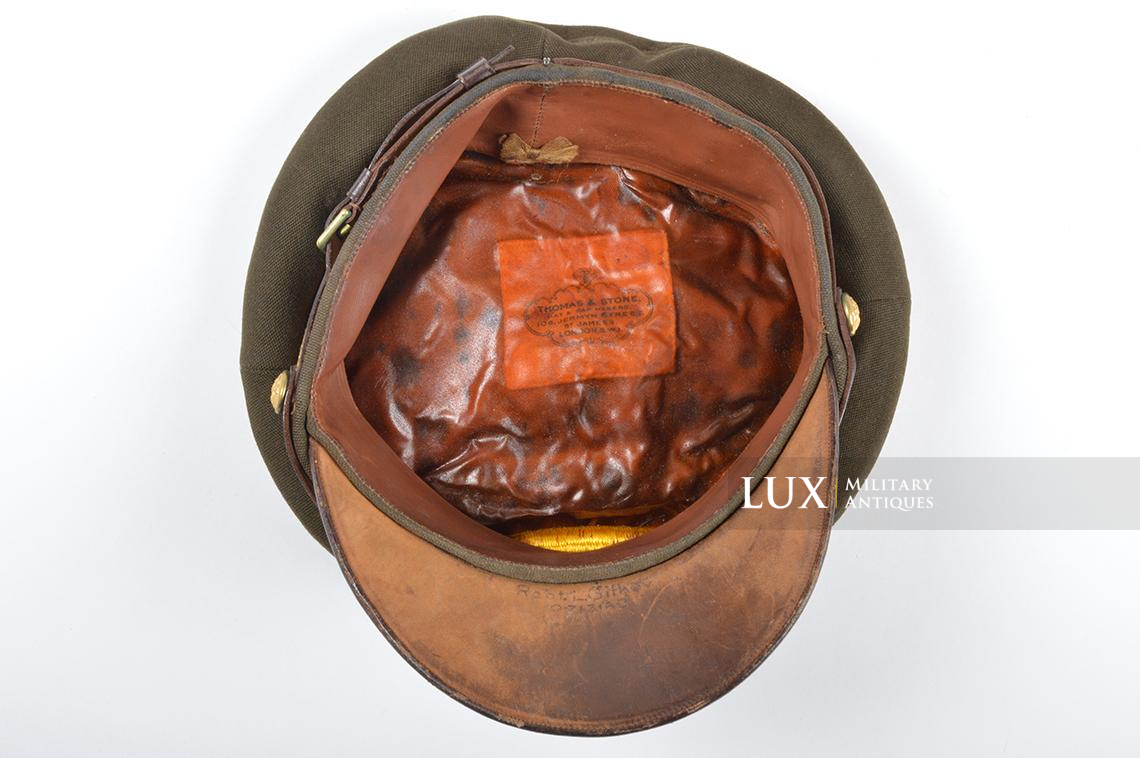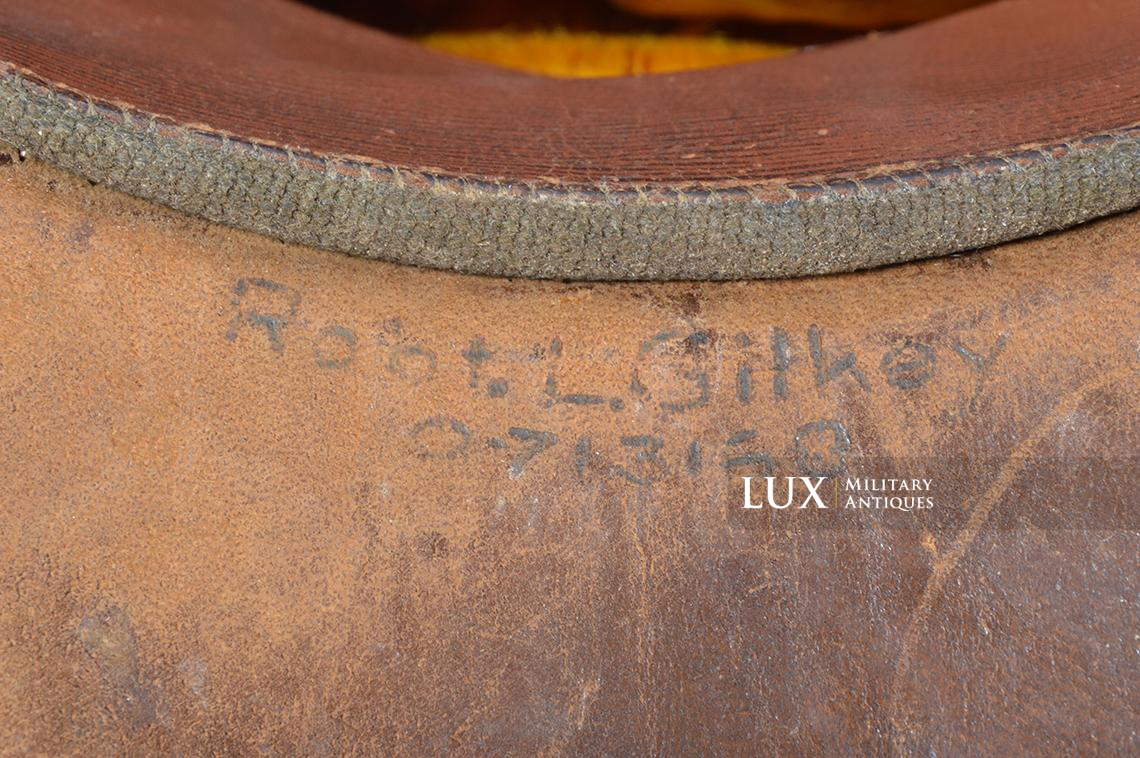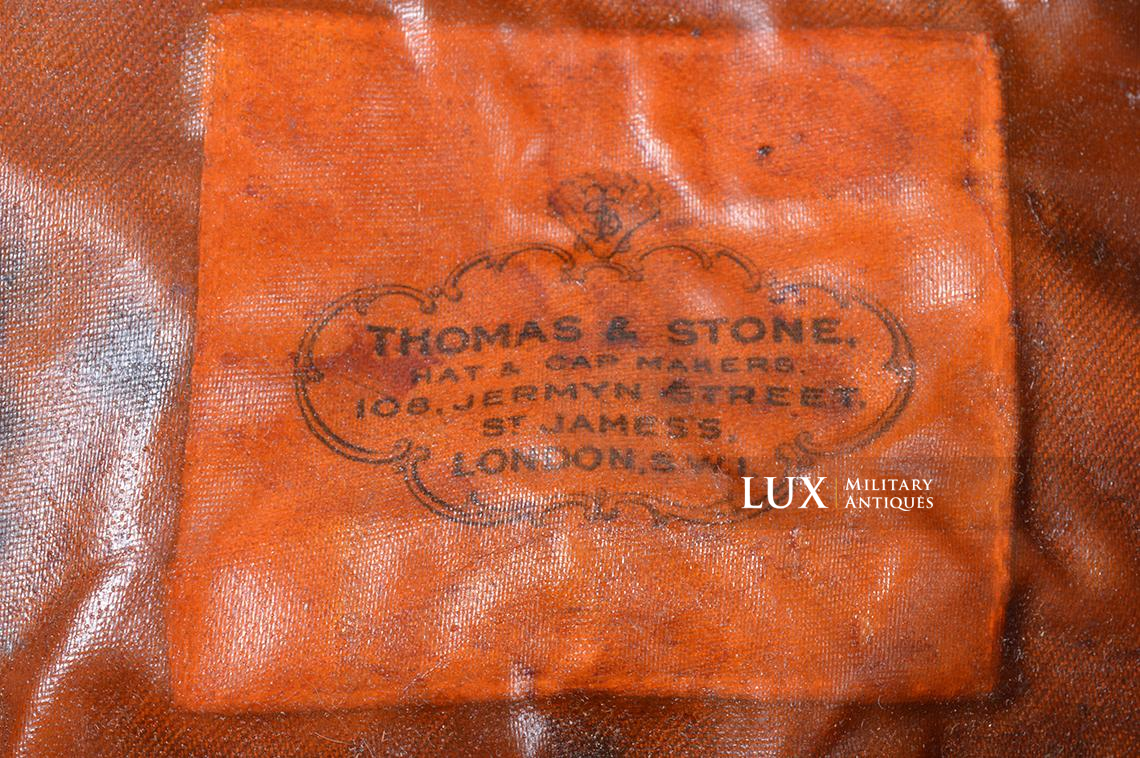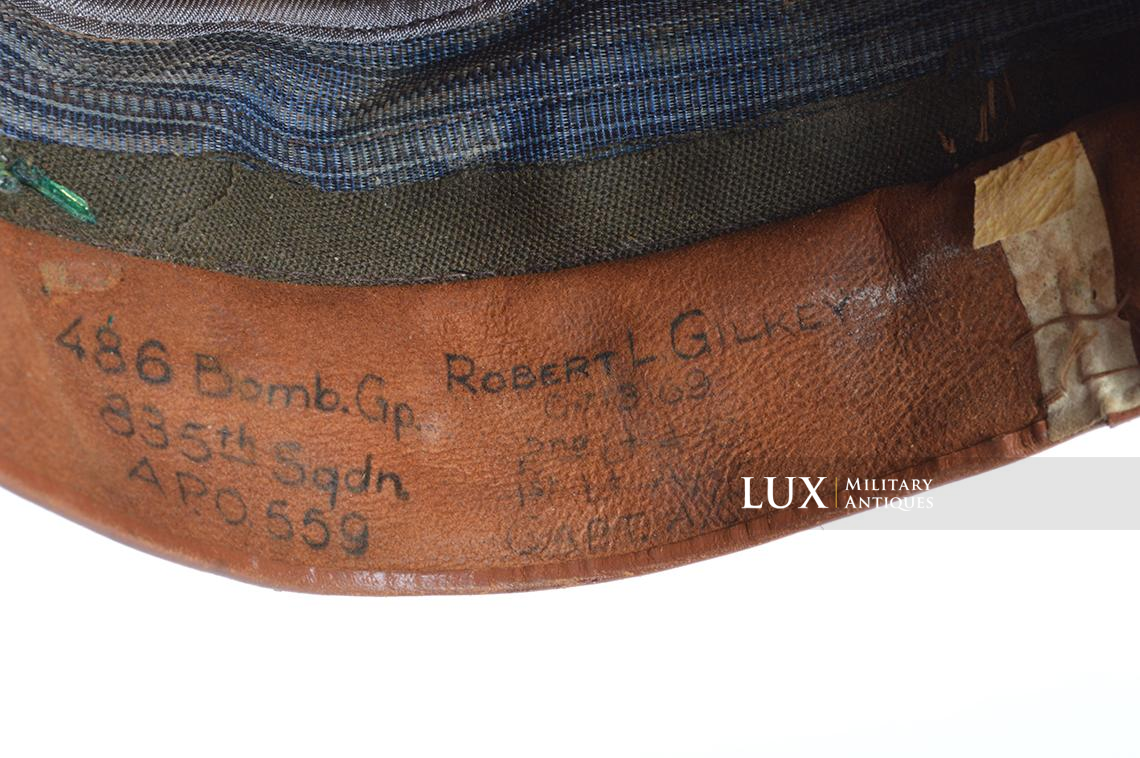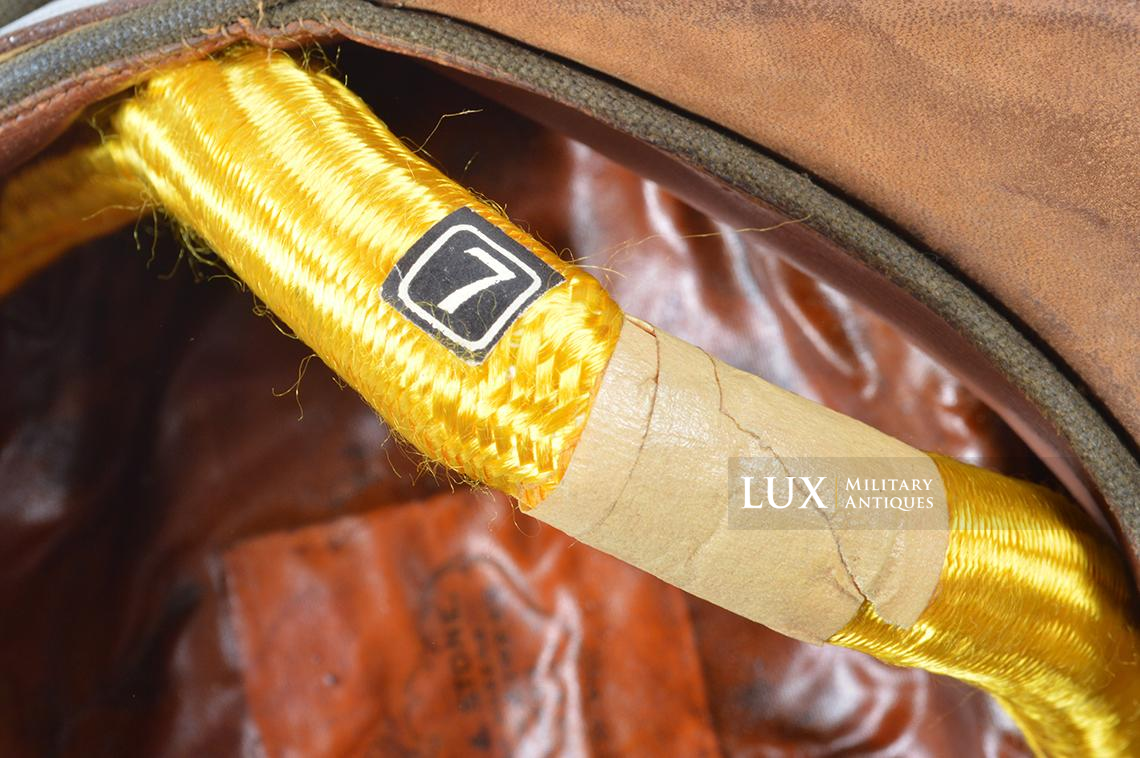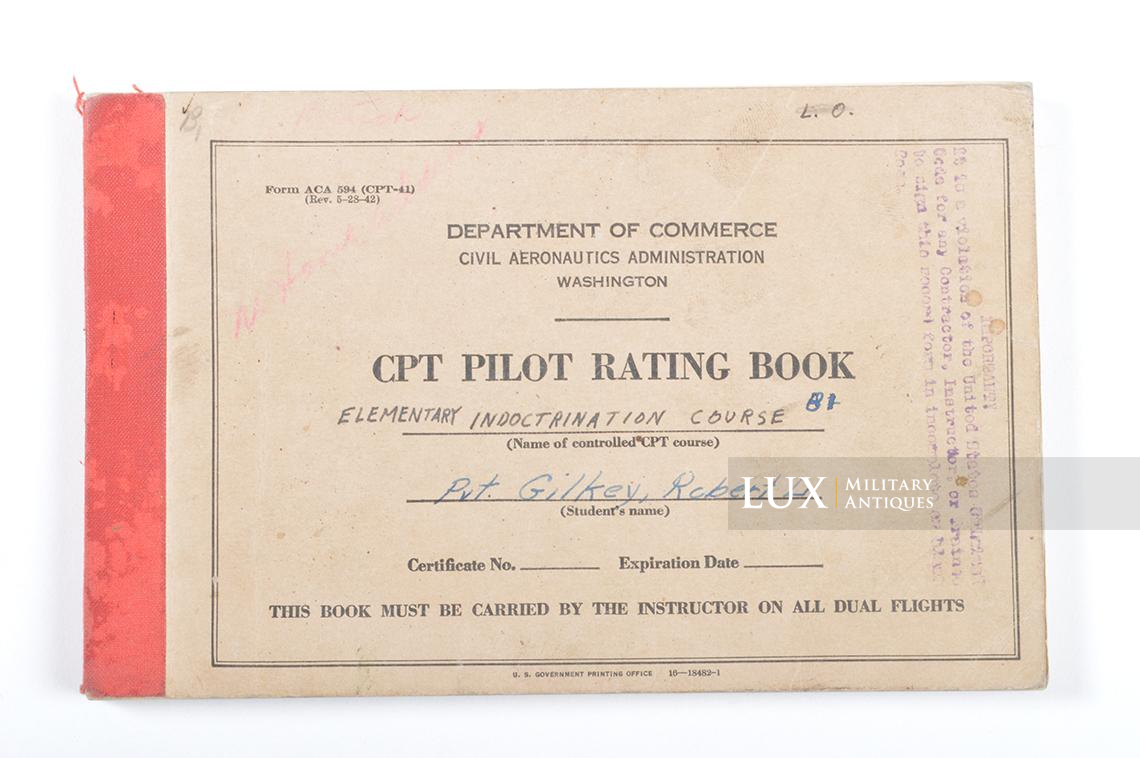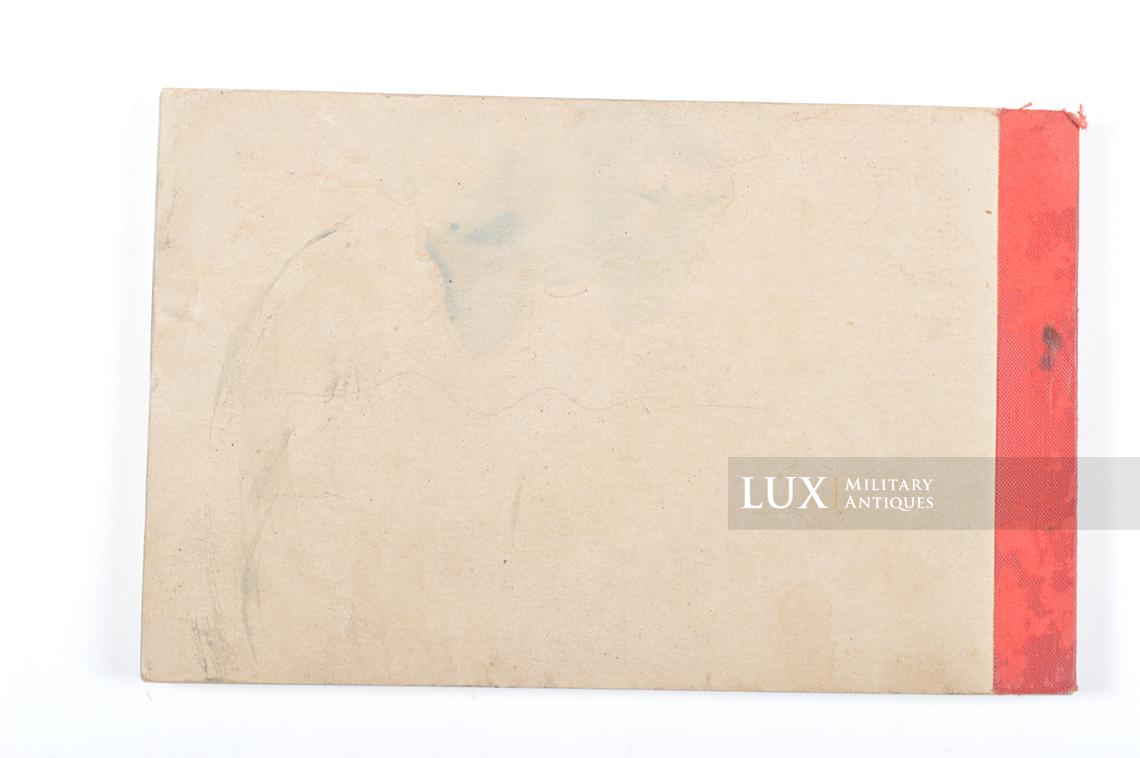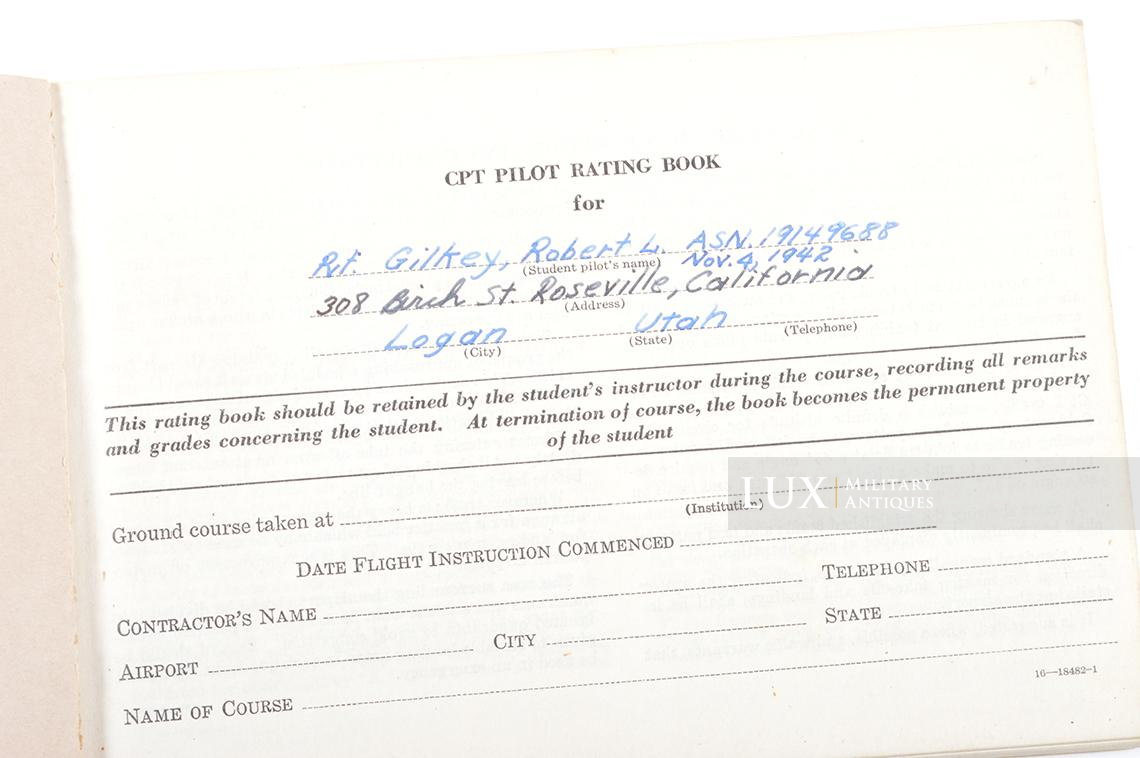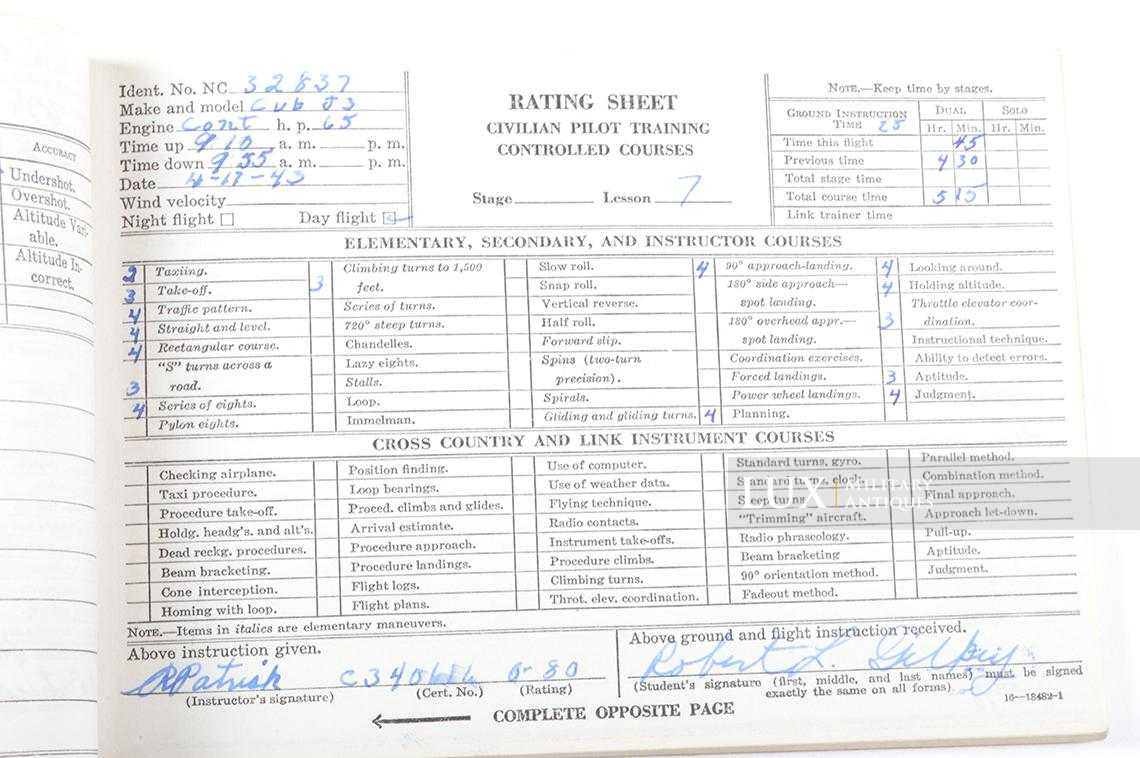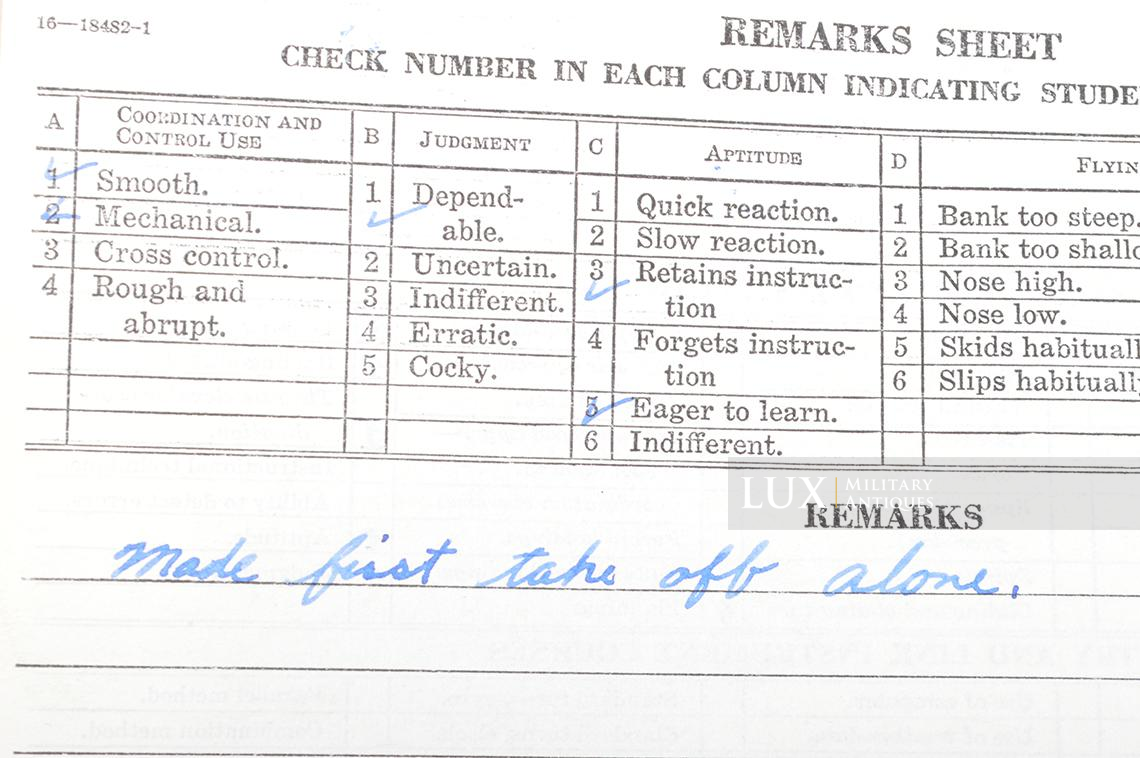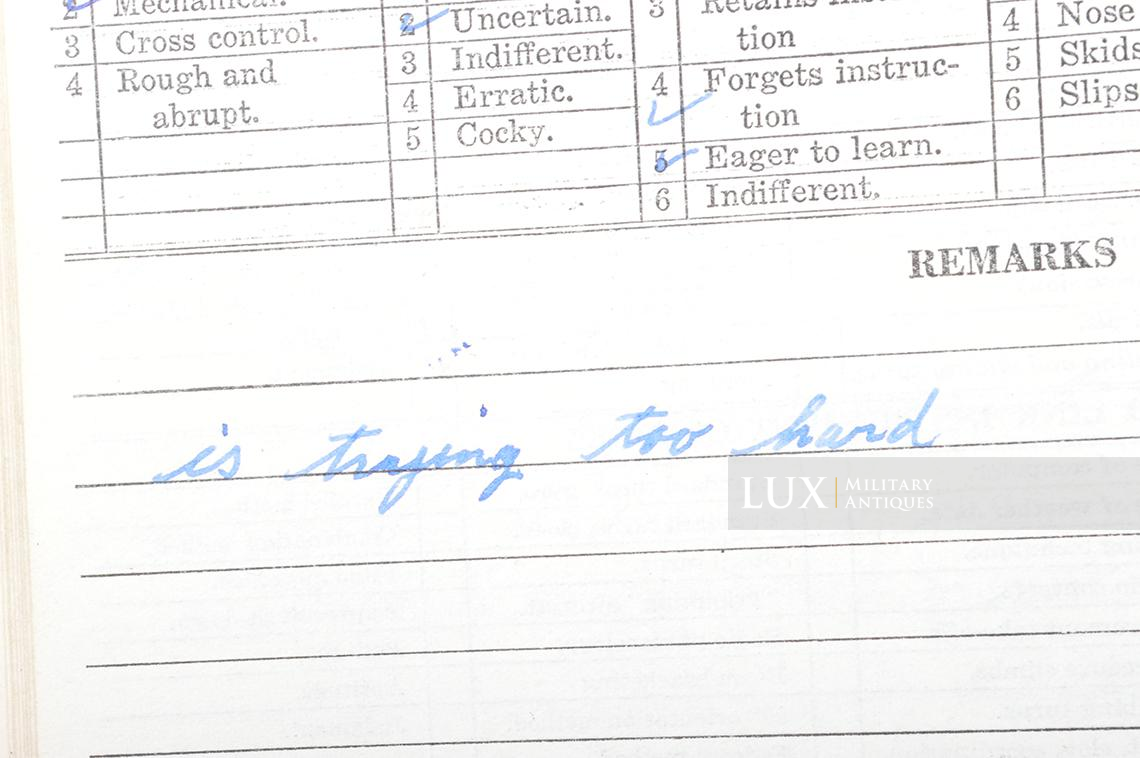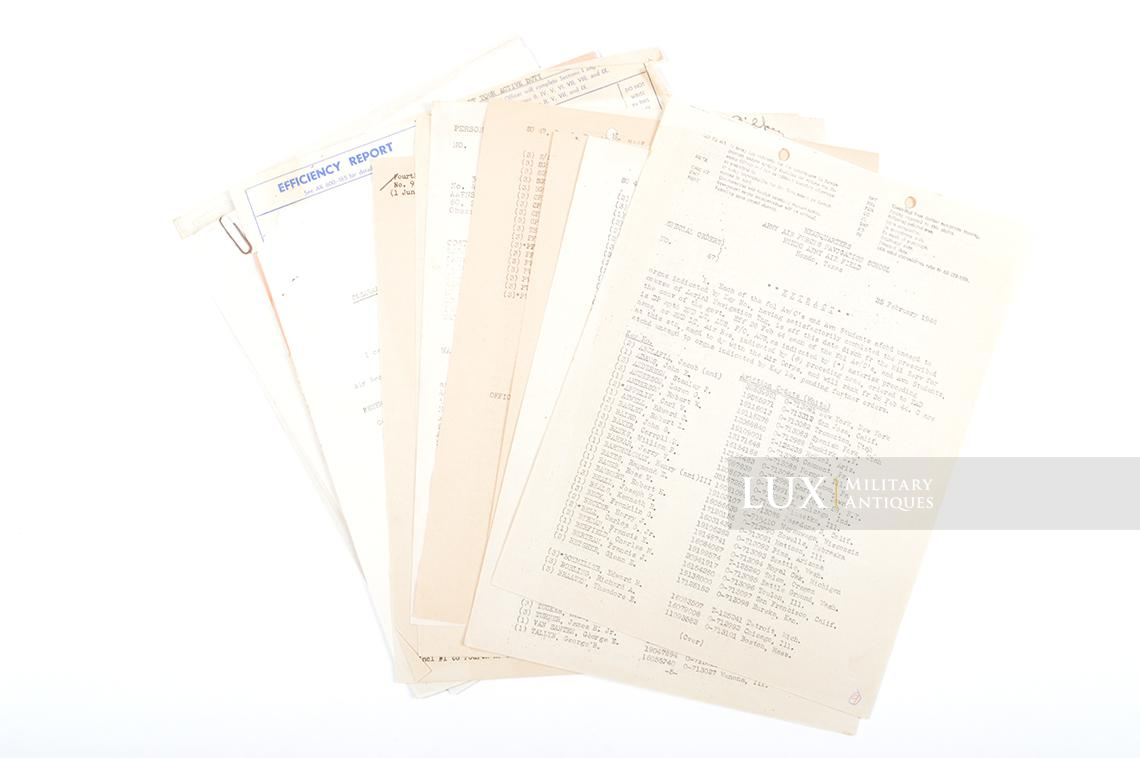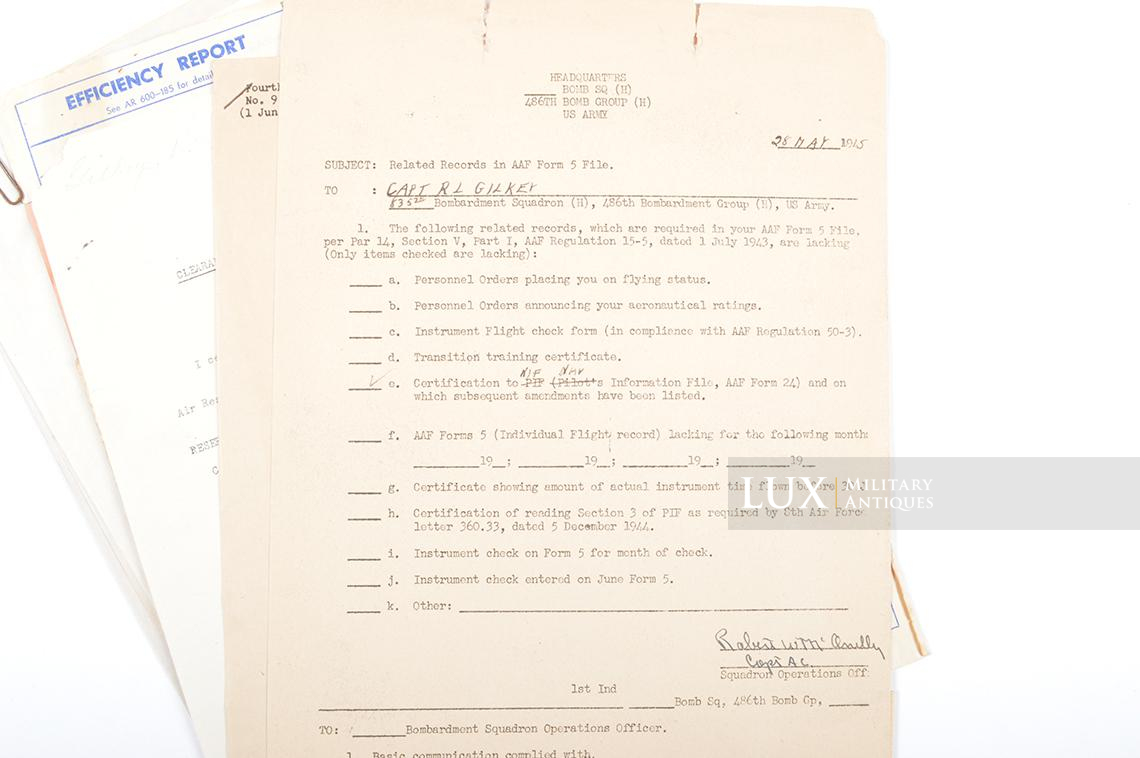 Guarantee
The items presented for sale by Lux Military Antiques are historical authentic period pieces. We are highly recognized by all our customers for our quality and authenticity of all the items presented on our site. We can issue a certificate of authenticity for each item ordered if desired. This can be done by simply choosing the "With Certificate of Authenticity" purchase option before placing an order. This can be useful for insurance purposes or for future selling of the item.
Payment Method
All payments are to be made in Euros (€). We accept various payment forms including: bank transfers , PayPal, cash payments, as well as credit cards. Credit card payments can be made on our site provided by Ingenico ePayments Security System.
Shipping Method
Shipping costs are automatically calculated based on the total weight/dimensions of the parcel and its delivery address. Deliveries are sent by the company TNT with the ability to track the package to its final destination. A tracking number and signature confirmation will be provided as well. If you prefer a more secure and insured shipment method by Fedex, simply contact us, and we will submit a request for a price for your shipment.